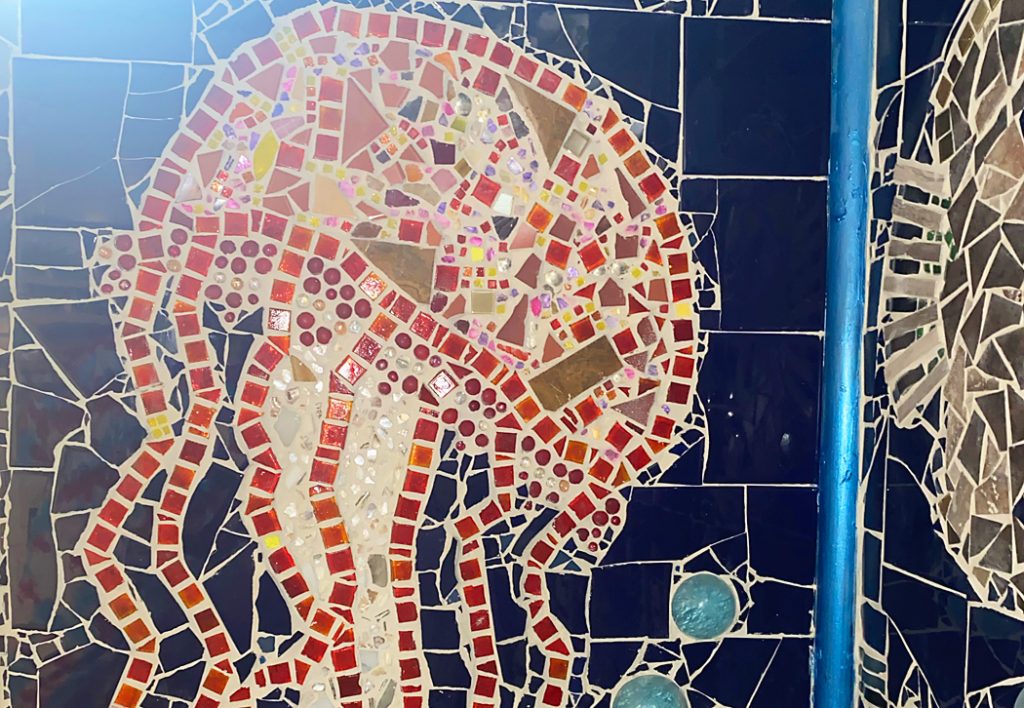 Spring brings a renewed verve for tackling home improvement projects, from closet cleaning and furniture rearranging to full-on redecoration and renovation. If you have the creative itch but need a little inspiration for your next project, let's talk about tile.
Fairfield resident Jessica Bennett and her mother, Karen Stone, recently created a beautiful ocean-themed bathroom mosaic, using tiles entirely sourced from Habitat for Humanity ReStores in Fairfield, Iowa City, and Cedar Rapids. The completed project is impressive, showing "what you can do with some imagination and some secondhand tile pieces," Bennett says.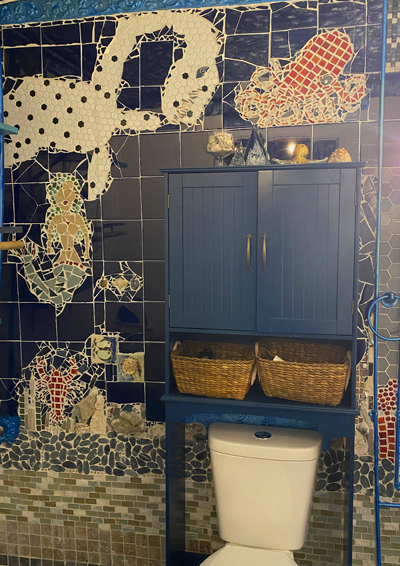 The mosaic project, part of a basement renovation, was born out of necessity. Bennett and her mother wanted to get the bathroom to match the new vibe, creating "a really unique space," Bennett says, and "something livable for a family." After tossing around some ideas on how to make the bathroom fun, functional, and creative, they settled on a mosaic. The original idea started out as a small central mosaic surrounded by regular tile. But once they got going, it was so much fun that it turned into a large wall mosaic spanning the entire room and featuring colorful sea creatures, including jellyfish, an octopus, and a mermaid.
Neither one had any tiling experience, but they didn't let that stop them. Bennett says they researched other mosaic projects and watched online tutorials, learning as they went. "We really just winged it and had a great time," she says. "We went from joking about the idea to buying tile and gathering supplies within the same week."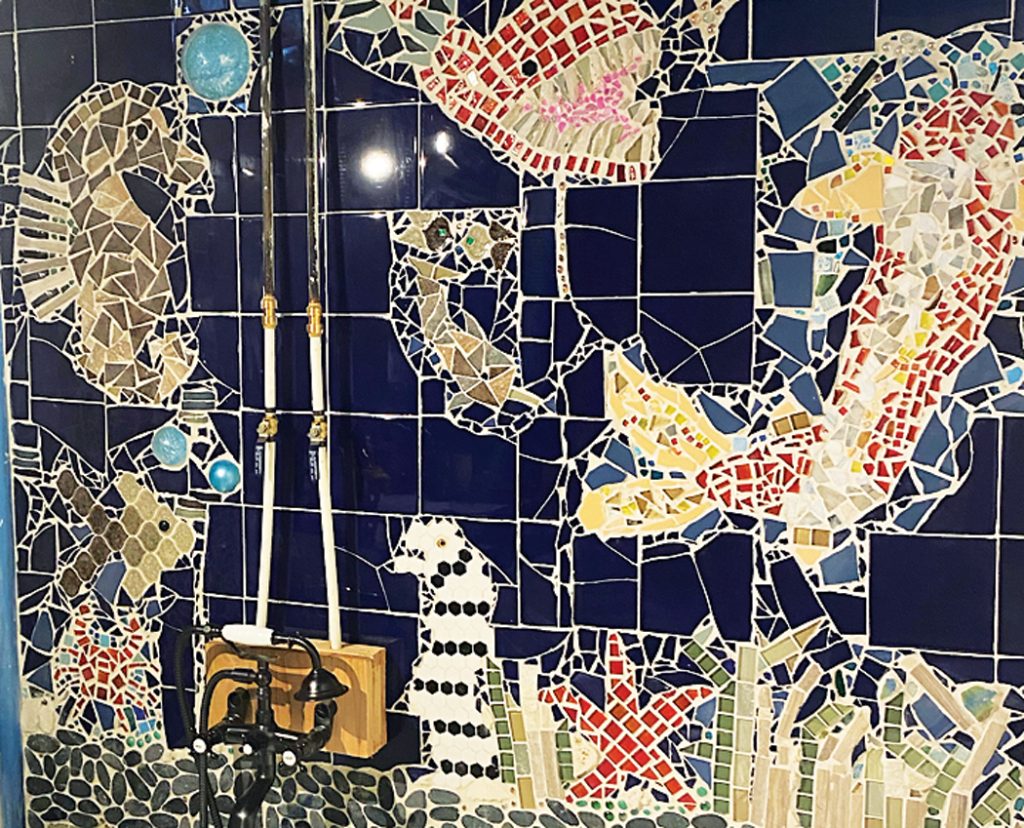 It took a day or two of watching tutorials before they felt confident enough to jump in. They spent a lot of prep time cutting and smashing tiles before assembling the mosaic. "There was a big learning curve," Bennett says. "We definitely made some things up as we went that weren't textbook, but it all turned out great anyway!"
She's very thankful that the local ReStores had reasonably priced tiles, since access to affordable materials played a major part in making the project possible. "We never would have been able to afford doing a project like this buying tile anywhere else," Bennett explains.
She adds that the variety of materials and colors available at the various ReStores helped them choose a theme and shaped their ideas. "We were at a ReStore every weekend for a month at least, seeing what new tiles were there. There was always something new every visit."
The Habitat for Humanity ReStores are a valuable resource for every kind of building material, new and used, at very reasonable prices. They carry an everchanging variety of goods, from home furnishings and appliances to construction, renovation, and redecoration supplies.
For others contemplating home improvement projects, Bennett exhorts, "Don't be afraid! Use your imagination, and if you have the urge to create, don't let your budget stop you. If there's a will, there's a way!" Adding more encouragement, she says, "Don't ever think you aren't capable of something. With enough time, patience, and a good imagination, anything is possible."