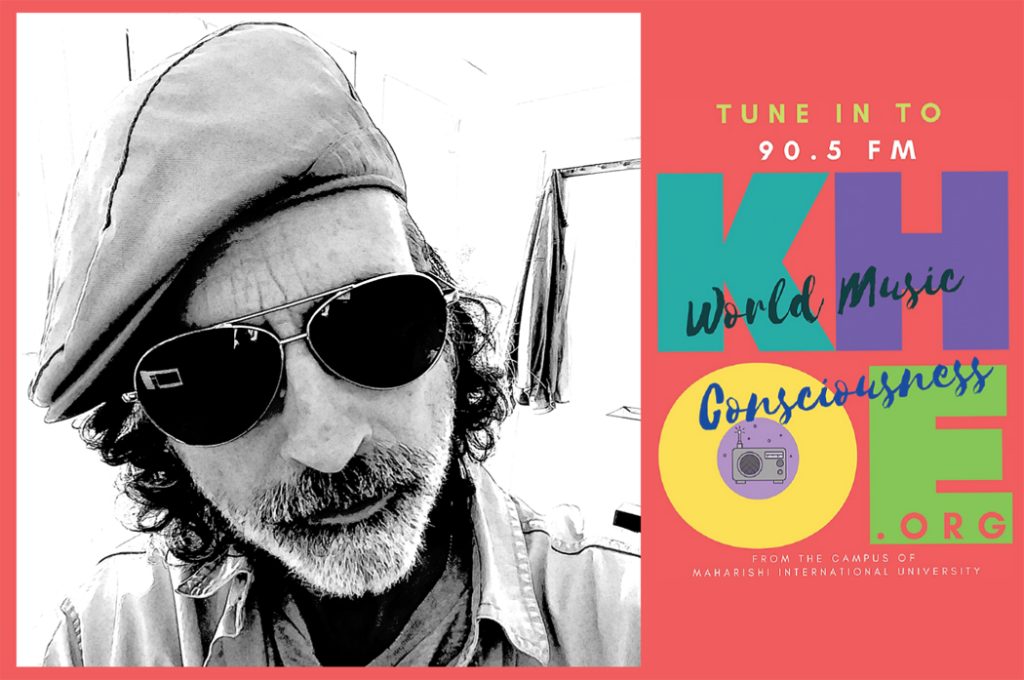 If you've been a long-time reader of The Iowa Source, you may remember me from my years as a loquacious music editor. You might also know me as the station manager of solar-powered community radio station KRUU-FM—a glorious ride that for 11-plus years brought together scores and scores of hosts and volunteers sharing their creativity and passions, week after week.
At its most mundane, radio is what you switch on in the car when you're bored. At its most divine, it can be the glue of a community—even a lifeline. Which brings me to my current assignment.
KHOE
There's another local community radio station in this town: KHOE (a.k.a. "K-Heaven On Earth"), broadcasting from Maharishi International University at 90.5 FM on your radio dial locally, and streaming worldwide at KHOE.org.
The station's slogan is "the world is my family," and its mission is to provide uplifting, entertaining, and educational programming and a forum for students, faculty, and alumni to share information unique to Maharishi International University. If MIU is a groundbreaking international university, a place that unites the voices and cultures of thousands of people from all over the world, KHOE is its microphone—broadcasting not just locally, but globally online.
Its rich musical programming spans the gamut, from classical and jazz to rock and pop. Maharishi Gandharva Veda music is featured from midnight to 6 a.m. and at 9 p.m. each night. TM Talks showcases interviews with changemakers, faculty, and visiting guests; Local Issues presents regular city council and county supervisor sessions.
Other highlights include Writers Voices with Monica Hadley and her mother Caroline Kilbourn, Footlight Parade presented by the Musical Theater Project; Sheila Moschen's heartfelt Let Your Heart Sing; and Hometown Highlights, featuring articles from The Iowa Source. KHOE also houses an up-to-date Emergency Alert System, as required by the FCC.
Three Decades of Broadcasting
KHOE began broadcasting on August 15, 1994, with its simple educational mission and local reach. It has grown to have a worldwide presence, connecting alumni and friends to the powerful knowledge of MIU. Nonprofit and noncommercial, the educational radio station is a Class Non-Commercial FM Station with 100 watts of power.
When I was asked to take over the station three and a half years ago, it was to fill the shoes of KHOE's radiomaster maestro Stan Stansberry. His decades of keeping the airwaves of Fairfield and Vedic City filled with positive vibes have left an indelible mark. I quietly took the wheel, learned the ins and outs of KHOE's operations, and upgraded where I could with help from station engineer Phil D'Agostino.
You see, there's a lot that goes into a radio station behind the scenes to keep everything going—licensing for music publishing rights, meeting emergency alert requirements and upgrades, maintaining FCC licensing, and keeping up the technical equipment like the transmitter, antennas, and computers.
But I think the best is yet to come: think of what KHOE could be. More content from MIU's amazing 50 years of archives, airing student podcasts, connecting alums, even live broadcasts. As the world gets more complex and disconnected, the art of conversational storytelling, the science of life-transforming knowledge, and the precious balm of curated music programming become valued treasures that not only inspire and inform but unite.
Three Ways to Support KHOE
Things have gotten a little tighter these days, hence the birth of the Spring Fundraising Drive. Our target is a modest $20,000 and we've already received pledges over $5,000. Here's how to show your support.
Donate. Go to KHOE.org and click on the "donate" link in the lefthand column. It takes you to a restricted giving page where you fill in the details. In the box labeled "Specify the project your restricted gift supports," be sure to enter "KHOE World Radio." That's it.
Underwrite. Support KHOE by bringing attention to your business or highlighting upcoming events. For $100, we produce and air 25 30-second underwriting spots. Contact KHOE at (641) 469-5463 or email khoe@miu.edu.
24/7 Gandharva Veda. You can support the station while the station supports you! By leasing a receiver, you can enjoy 24/7 Maharishi Gandharva Veda music from our exclusive sideband broadcast. (Our broadcast only reaches the Fairfield vicinity.) These classical vedic melodies are known for their life-supporting influences. Call or email to get started: (641) 469-5463 or khoe@miu.edu.
KHOE gives us the opportunity to bring us all together right from the heart of MIU. With your help, KHOE can continue as a communications lighthouse for years to come.