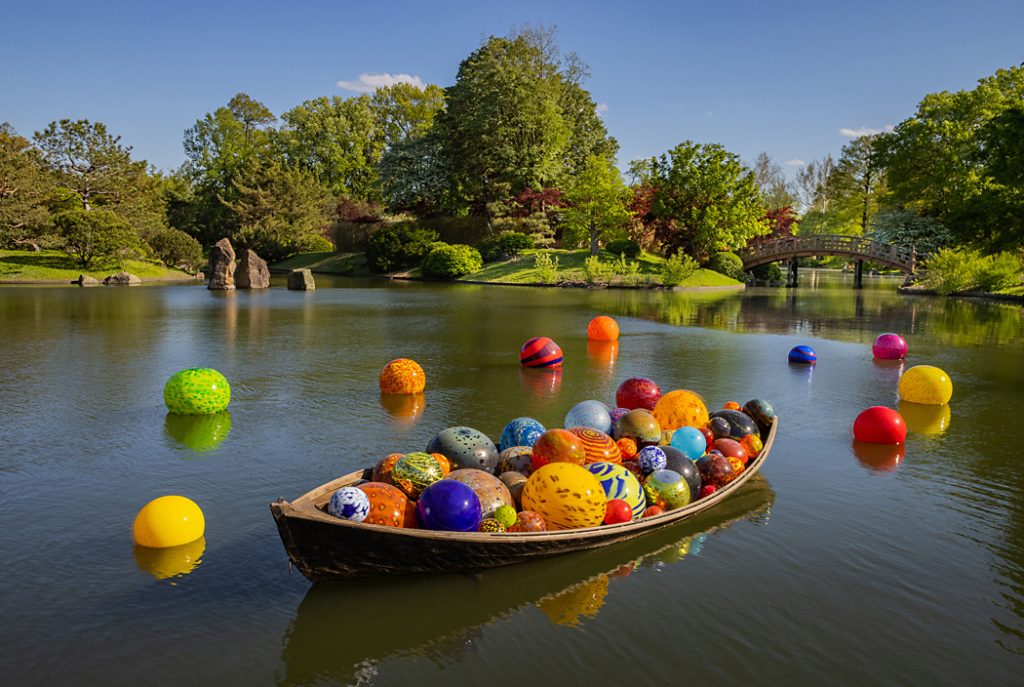 As if you needed an excuse to visit St. Louis, the Missouri Botanical Garden is now hosting a spectacular art installation by world-renowned glass artist Dale Chihuly. On view through October 15, Chihuly in the Garden 2023 includes 18 breathtaking sculptural pieces placed throughout the grounds. This installation marks Chihuly's return to the Missouri Botanical Garden―his last work at the Garden was in 2006, and Chihuly in the Garden 2023 is his only full-scale exhibition this year, outside of the long-term Seattle exhibition, Chihuly Garden and Glass.
Chihuly has exhibited at botanical gardens for over 20 years, creating installations inspired by the natural world. He crafts otherworldly multi-piece glass sculptures imbued with a sense of wonder and motion—they can flow like windswept reeds, writhe like a sea anemone, or curve gently like an enormous seashell. Chihuly in the Desert was his most recent two-part exhibition, held at the Desert Botanical Garden in Phoenix, Arizona, and Taliesin West in Scottsdale, Arizona. Chihuly has also exhibited at the New York Botanical Garden, Gardens by the Bay in Singapore, the Royal Botanic Gardens in Kew, London, and many other major botanical gardens around the world.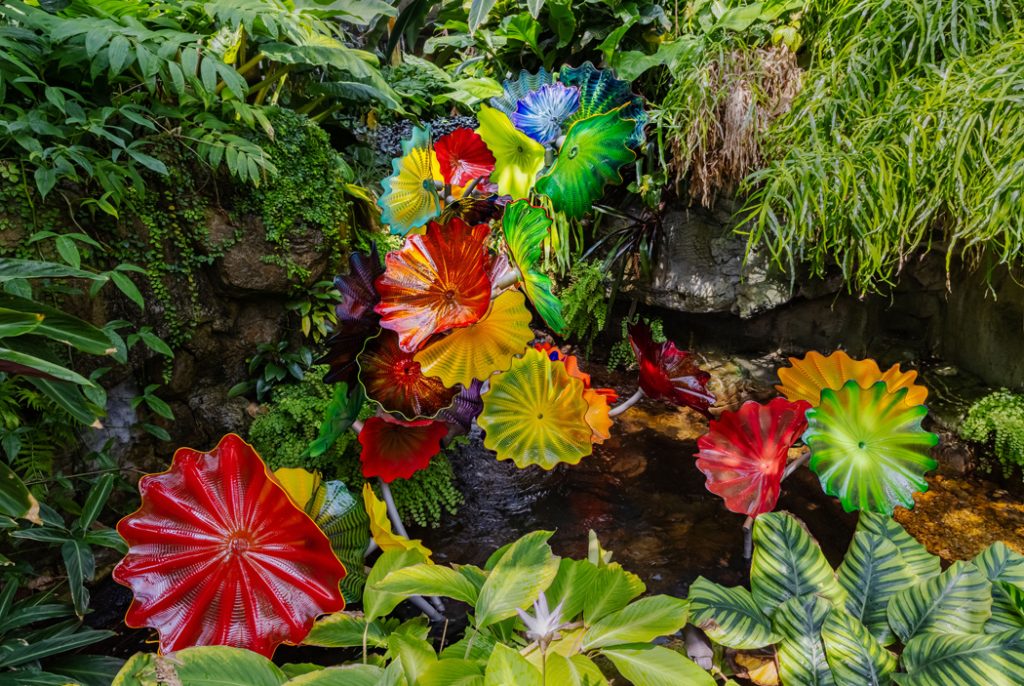 His stunning installations are carefully crafted and placed with consideration for the surrounding environment, bridging the gap between art and nature, creating unique artistic experiences. "Chihuly's approach is always to first consider the environment and then to site artwork that will affect the space with something unexpected," says Danielle Zarrella, Chihuly Studio's communications manager. "We work closely with horticultural teams to ensure that once the artworks are installed, the experience between art and nature is seamless."
Chihuly's intention is to enhance the beauty of nature and amplify visitors' appreciation of the natural world, using form and color to ignite joy. "Every Chihuly exhibition is unique to its environment," Zarrella says. "The Missouri Botanical Garden offers a wonderful, natural canvas for Chihuly's work, creating an experience that enables appreciation for both artwork and nature."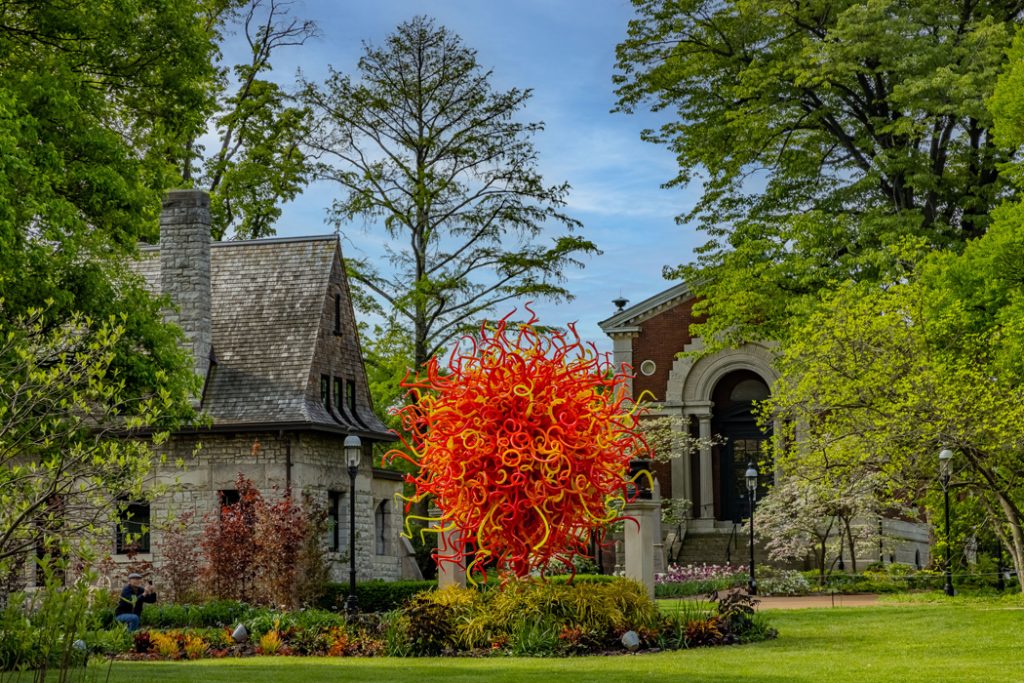 Adding to the experience, the sculptures are illuminated at night, creating a phantasmagorical garden experience. "Lighting Chihuly's work for nighttime viewing enables a different experience with the artwork," Zarrella explains. "Light is an essential element when working with glass. Whether natural or artificial, light exposes the transparency of the material. The experience with the artwork during the day is quite different from what visitors will see at night, when the artwork is illuminated against the evening sky."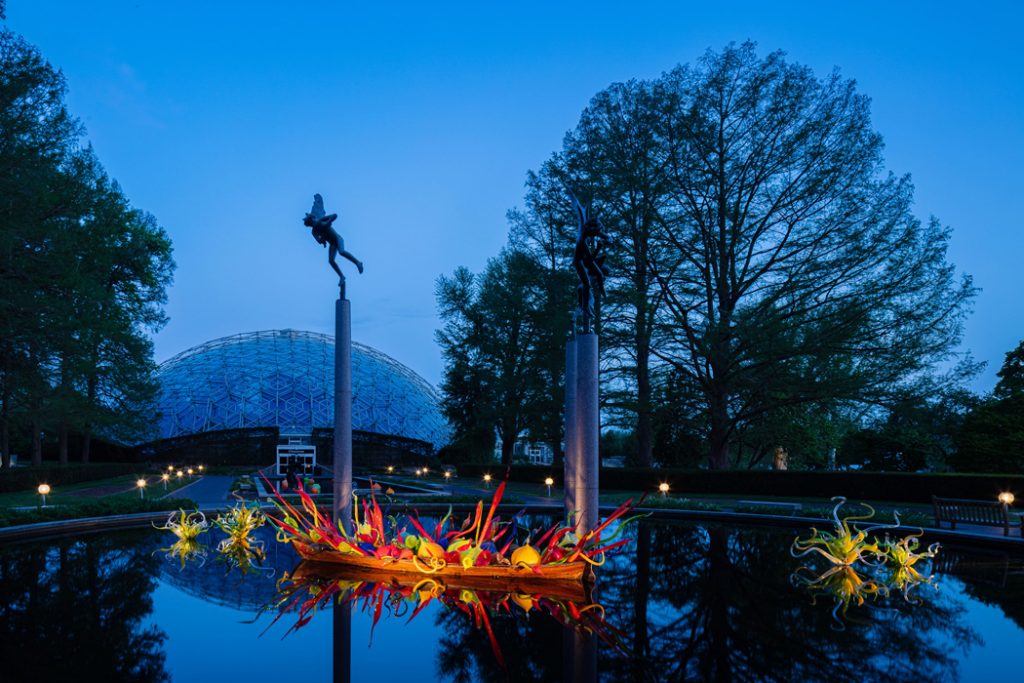 While daytime viewing is part of regular admission, the Botanical Garden offers nocturnal opportunities to experience Chihuly's dramatically illuminated works of art on Thursday through Sunday nights until August 27. Chihuly Nights include live music, cocktails, and pop-up offerings, and are expected to sell out, so advance ticket purchase is recommended. Thursdays are Family Nights, and include complimentary admission to the Children's Garden and specially designed family activities.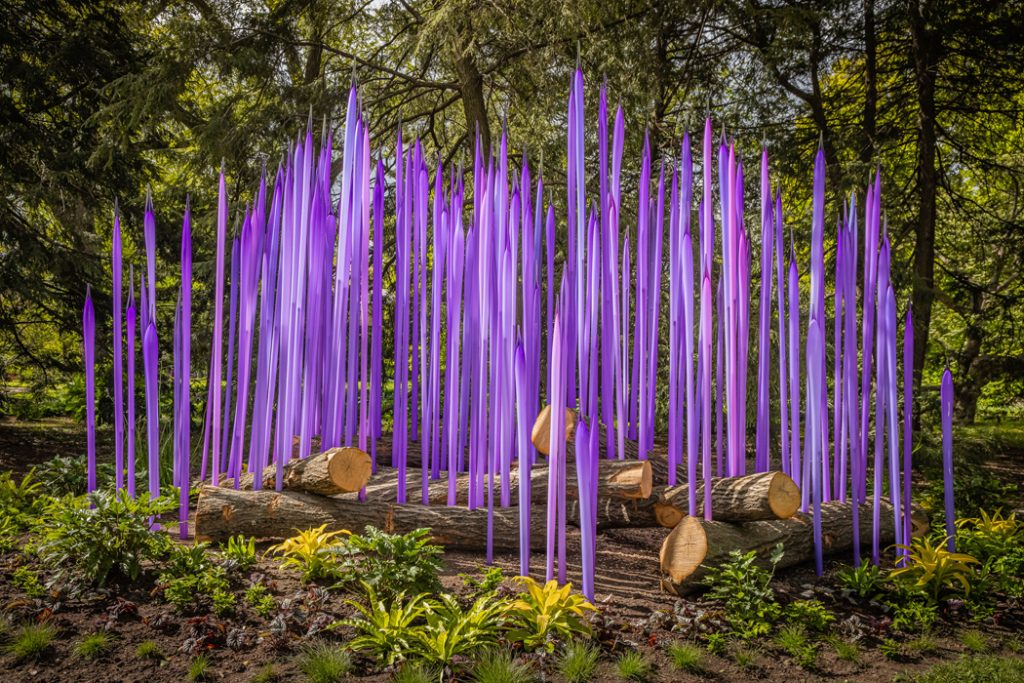 Chihuly in the Garden 2023 promises to be well worth the price of admission. "Patrons have been incredibly excited about the exhibition," Zarrella says. So if you're looking for a magical excursion combining the beauties of art and nature, visit the Missouri Botanical Gardens to see Chihuly's latest garden installation.
For more information, or to purchase tickets, visit MissouriBotanicalGarden.org.