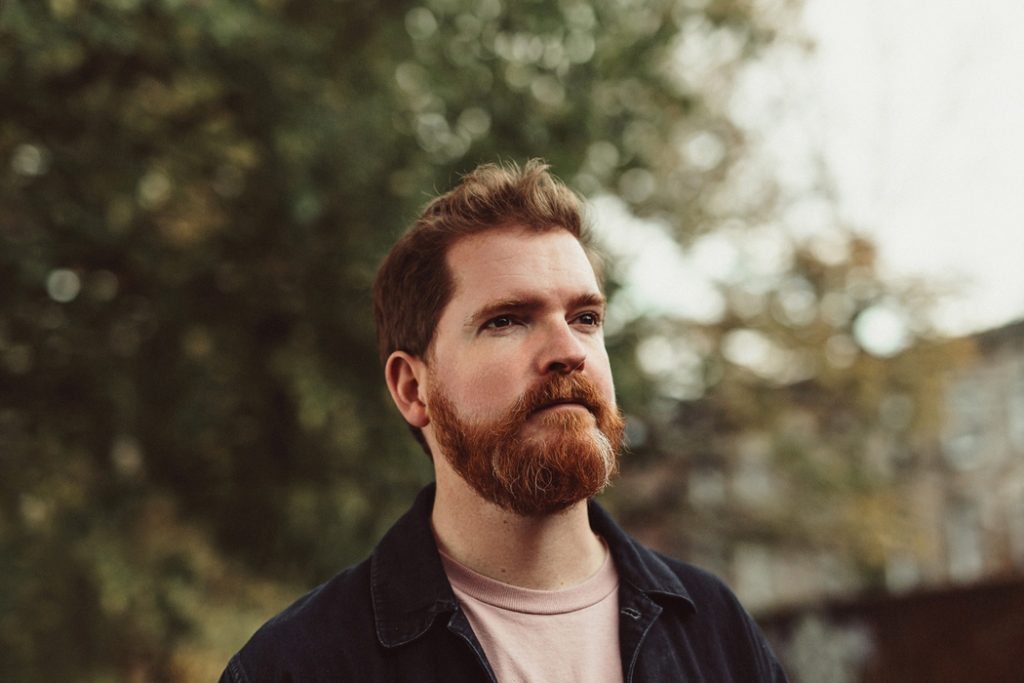 During the height of the pandemic shutdown of 2021, English acoustic guitarist and singer John Smith penned a set of songs that he shared remotely with a circle of music friends for their vocal collaborations. The result is his sixth LP, The Fray, which Smith describes as his most "honest work," adding that "a lot of the songs are about accepting that life is hard, but just holding on and trying to enjoy it anyway." Smith's production collaborator was Sam Lakeman, a longtime friend, engineer, and producer.
The album was recorded in Peter Gabriel's Real World Studios with pianist Jason Rebello, bass player Ben Nicholls, drummer Jay Sikora, and vocalist Jessica Staveley-Taylor of the Staves. In the 12 cuts on The Fray, John invited contributions from Sarah Jarosz, Lisa Hannigan, Bill Frisell, the Milk Carton Kids, and Courtney Hartman.
Smith was born in Essex and raised by the Devon seaside. He started his music career in the clubs around Liverpool. Among his greatest inspirations, Smith credits Richard Thompson and Scottish folk legend John Martyn. Smith's voice is described as "honey on gravel," with which he paints signature images of beauty and melancholy. His songs tell stories about hope, forgiveness, retribution, and sadness.
Instead of the standard six-string guitar tuning of EADGBE, John Smith frequently chooses DADGAD tuning to produce fascinating finger-picked songs. With DADGAD, the artist sits in a delightfully ambiguous place where either major or minor paths can be struck.
In addition, Smith frequently uses a variety of harmonic striking and percussive techniques. Perhaps the best example can be heard on his 2010 track "Winter." At the end, he lays down in quick succession a cloud of colorfully struck harmonics and confident guitar-body percussions.
Now, let's sink into this carefully chosen playlist.
From the CD The Fray (2021), my favorite tracks:
"Hold On." The lyrics convey the hopeful, supportive theme of the entire album. John must have had some inspiration from the music of Scottish folk singer John Martyn, a friend of his who passed away in 2009. I marvel at Smith's unique mastery of precise, rhythmic music. As you take up the beat, follow the lyrical path: "Take my hand now, take it easy. . . ."
"Just as You Are." This track may have the most effective invocation of love and adoration in the album. John's vocals are soothingly couched by Jessica's backing harmonies.
"The Best of Me (feat. Bill Frisell)." Prepare to be instantly blown away by the always inventive guitar sounds of jazz legend Bill Frisell, from his delicate bell-like overtones of upper harmonics all the way down to the richest, deepest bass frequencies. The lyrics reveal clever rhymes and apt pacing. Sarah Siskind provides beautifully blended upper vocal harmonies to enhance Smith's voice.
"The Fray (feat. the Milk Carton Kids)." This title track features the Milk Carton Kids, consisting of singers and acoustic guitarists Kenneth Pattengale and Joey Ryan. On this track, the arrangement springs from block piano chords alternating between lonely whole notes and quarter notes, giving room for John's plaintive appeal about finding "self" among the modern trappings of objects and the elusive kindness of strangers. Sink deeply into the final minute of piano runs, simmering guitars, and deftly coaxed vocal harmonies pivoting around these lyrics:
"I don't know where I'm headed
But it seems I know the way
I'll wait for the lights to fade out
And walk into the fray. . . ."
"Eye to Eye (feat. Sarah Jarosz)." Another song about looking to cope without going crazy amidst the confusion of a breakup. Sarah Jarosz provides an exceptionally blended upper harmony to John's vocal line. On this track, we enjoy Sarah's "closed-down" harmonies that strictly follow John's vocal lines yet still add much delight.
"Star-Crossed Lovers (feat. Lisa Hannigan)." John has frequently played guitar on Lisa's albums, so it is fitting for her to return the favor. Their two voices harmonize so beautifully. Lisa's timbre features her usual soft and feminine coloring, which absolutely matches the emotional angst and delivery from John.
"Deserving." John's voice has never sounded better than with vocal support from Jessica Staveley-Taylor. Savor an especially affirming section at the end and the song's exquisite, nuanced touches.
My final reflections on John Smith's musical techniques: He deftly paints music with a combination of loud and soft notes, illustrating lyrics with colors of personal earnestness and intense passion. He sculpts phrases of varying lengths that can suddenly end without warning—leaving space for instrumentation and deep reflection on the human experience. John Smith possesses a sophisticated understanding of how to build a rhythmic propulsion that complements his vocal timbre. What a delight!
Find free full tracks of this shared playlist on my Spotify Channel as DJ Andy Bargerstock.