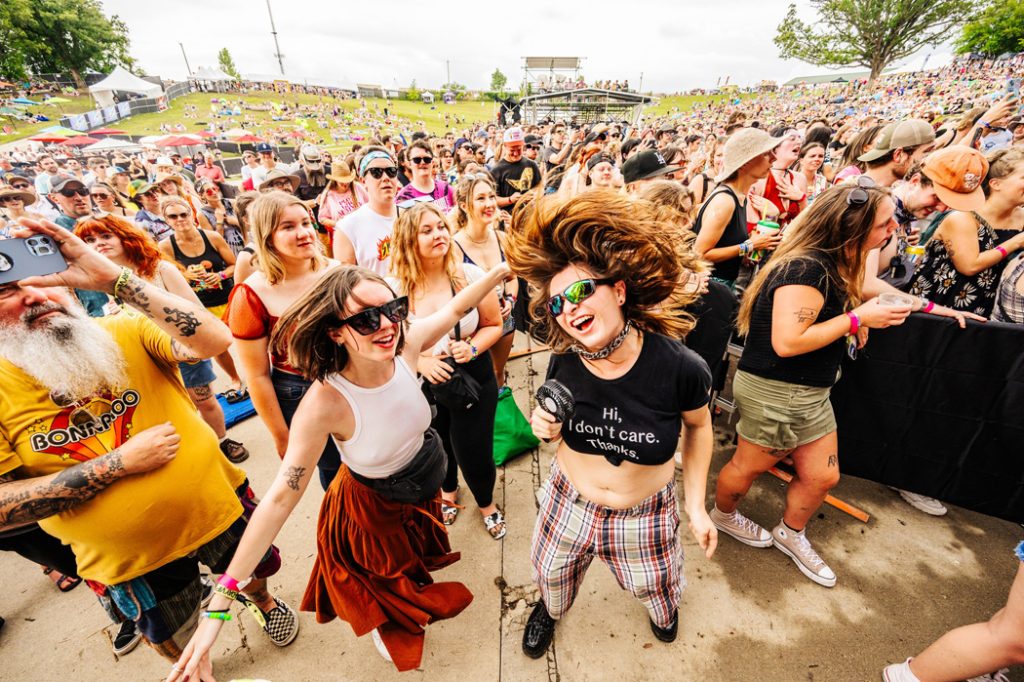 The annual Hinterland Music Festival, held August 4-6 in Saint Charles, is Iowa's largest camping music celebration, with a great reputation for its special chill vibe. Unofficial crowd estimates suggest that more than 12,000 attended the three-day event. While some big festivals are known for the audience's wild behavior, Hinterland has a reputation as a place where people come to get away from the hassles of ordinary life and hear good new tunes.
There are two types of Hinterland attendees: those that come with blankets and lie down in the grass to enjoy the vibe, and those that rush the stage to be as close to the action as possible. For most acts, the groups are evenly divided.
Music fans recognize the three-day festival for its eclectic gathering of Americana, country, alternative, and independent rock artists. Sam Summers, the festival's founder and leader, once described his musical preference as "anti-country country," not the mainstream Nashville product. The artist that Summers would like most to book for the festival would be Neil Young. In the past, Hinterland has featured great talents like Willie Nelson, Kasey Musgraves, Jenny Lewis, Jason Isbell, and Leon Bridges.
This year's lineup again included a plethora of top-notch acts, including headliners Bon Iver, Zach Bryan, and Maggie Rogers. Their shows garnered the biggest audiences and the largest crowd participation. But while the performers gave energetic performances, these were not the best musical moments at Hinterland. The headliners basically gave choreographed spectacles that one normally would see at a concert hall. The best shows at a festival offer a more intimate connection between the artists and the attendees. Here are my five favorites:
1) Arizona's Joy Oladokun spoke and sang charismatically about growing up queer and black in a small town and dealing with her mental health issues. She joked about her confessional material ("I wrote this song after taking mushrooms, thinking about death, and playing Weezer on repeat in my bedroom.") and covered Elton John's "Rocket Man."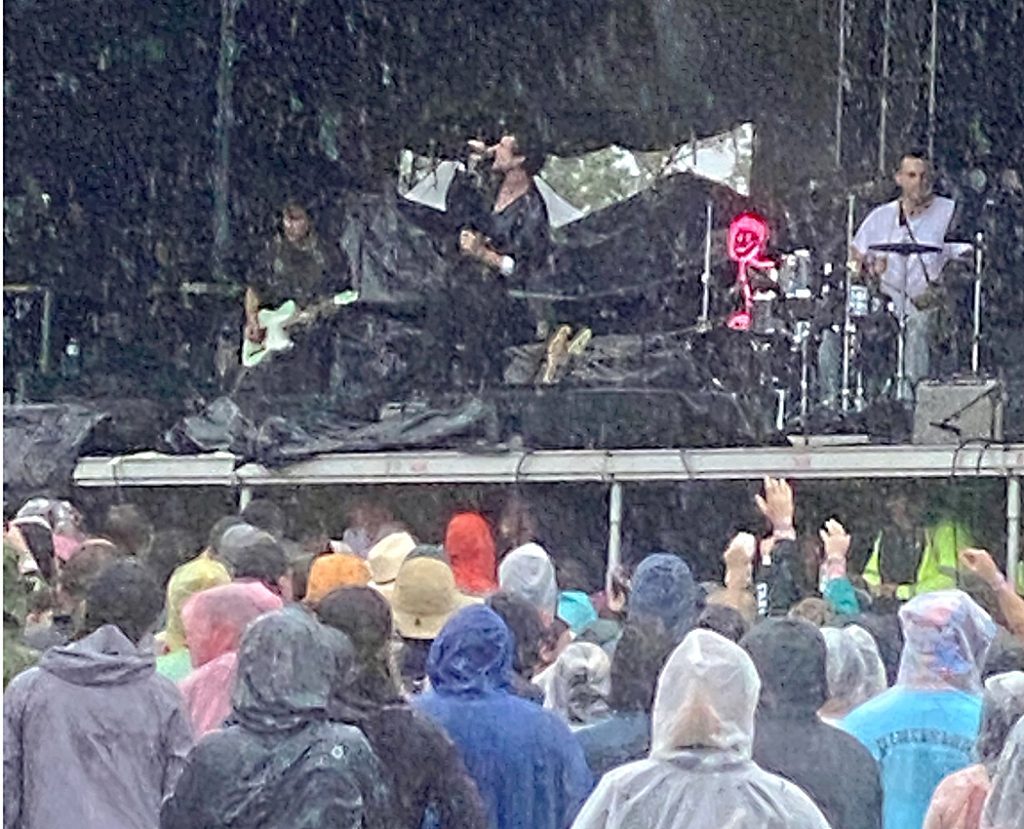 2) Del Water Gap is the moniker of Connecticut-born songwriter S. Holden Jaffe and his band. Their Sunday afternoon show was hit by heavy rain, but the act never stopped performing. And to Jaffe's surprise, the audience stuck around. ("This is the first time I have ever been to Iowa, but I will be back!" he declared.) The inclement weather inspired the artists and the fans to stick it out and jam even harder. The weather cleared up before the show finished. The sunshine provided a happy ending to the set.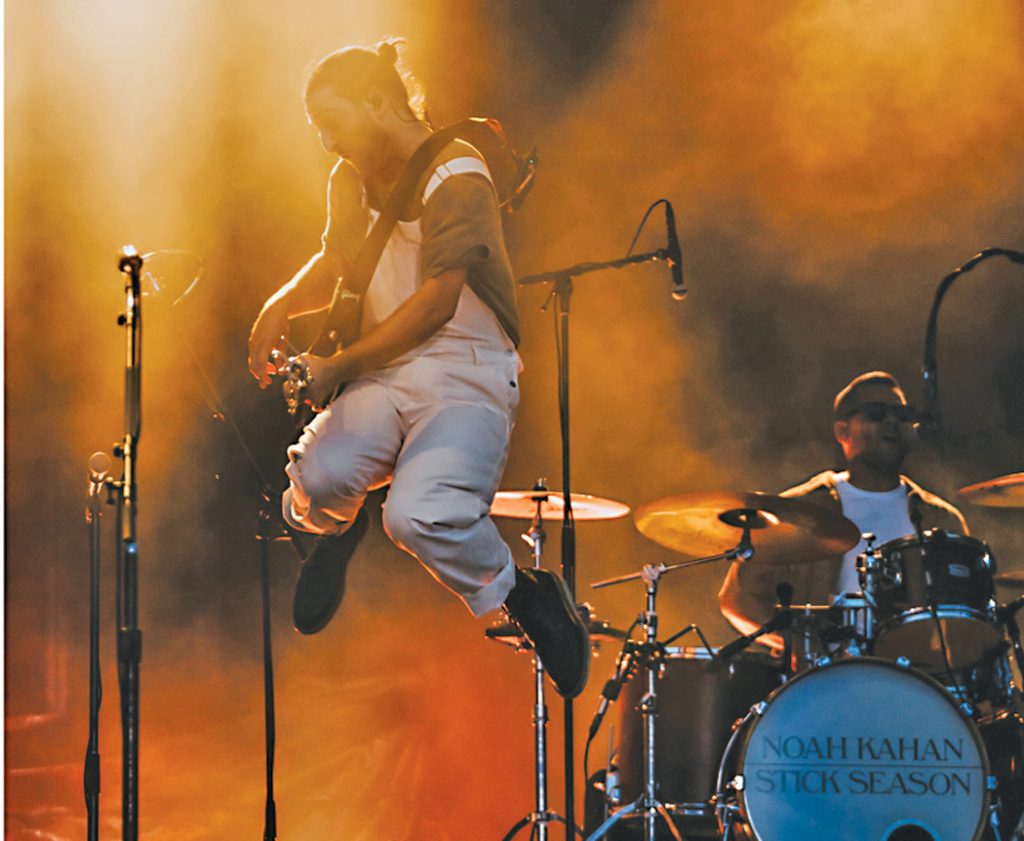 3) Before the Saturday night shows began, a writer for another publication told me to watch out for singer-songwriter Noah Kahan. "He's exploding right now," the reporter said, implying the singer had lots of new fans. Indeed, there were many people in the crowd wearing T-shirts emblazoned with Kahan's name. Kahan self-effacingly addressed the crowd as he took the stage and explained, "I'm the Jewish Ed Sheehan." Kahan told stories and sang songs about past hardships, mental illness, divorce, and drug addiction. Some examples: "My parents sent me to therapy when I was 8," "By the time I was 26, I was married and divorced twice," and "Here is a song about Zoloft."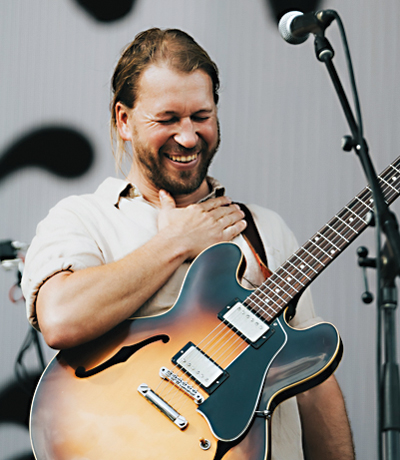 4) The Teskey Brothers hail from Australia but their R&B music sounds like it comes from the mid-1960s American South, something that would have been on the Atlantic and Stax record labels. Think Ray Charles (they cover his version of "Drown in My Own Tears"), Otis Redding, and the like, complete with horn sections and heavy rhythms.
5) Alex G's songs combine innocence and belief in beguiling ways. The music seems to float over lyrics such as, "My teacher is a little child with a big smile, no bitterness." Strange noises filter through the melodies. His guitar and piano playing seem to start and stop at random in a way to get the listener to pay attention while he moves around the stage.
And there were many more highlights, from the Wallows's rocking-hard set that defied one to be bored, to Tomberlin, the daughter of a pastor, gently telling the audience that sometimes it's okay to wish death on other people (she meant certain politicians), to Angel Olsen singing about death and love in the same strong voice that suggests they are interconnected, to Riley Dowling telling the world that we all matter. Hinterland successfully brought together all of these fine artists and more in Iowa. It promises to do the same thing again next year.