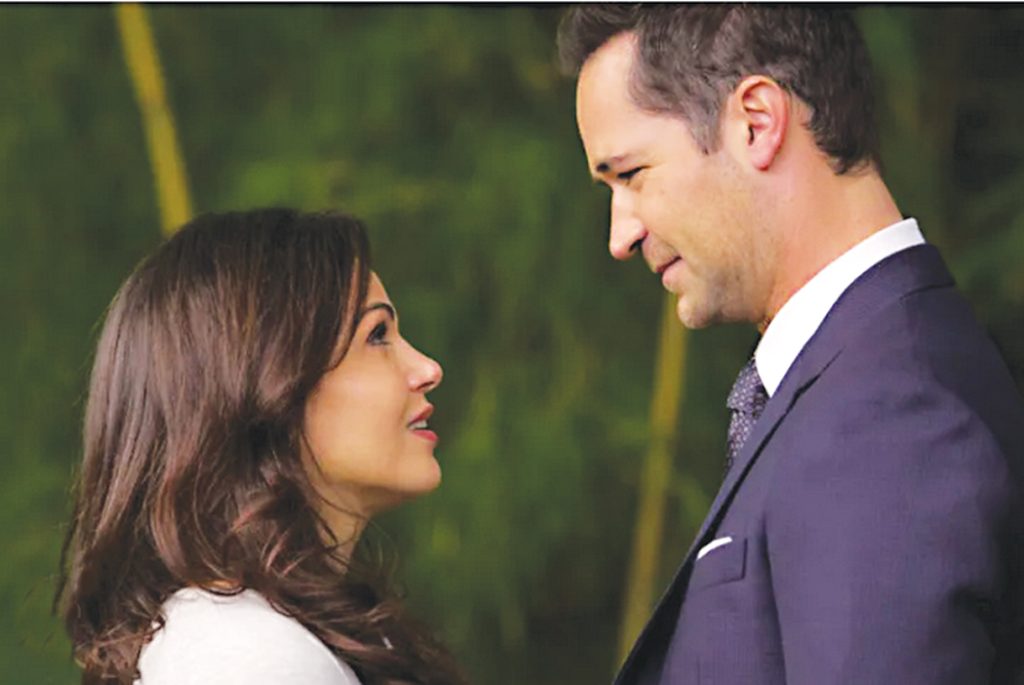 When chef and restaurant owner Lisa Trammell (Lana Parrilla) meets criminal defense attorney Mickey Haller (Manuel Garcia-Rulfo), her full-throttle flirtation registers 7.9 on the Richter scale. But rather than feeling wary, Haller returns her overture in his own shy, self-conscious style that seems to be his signature. Let the games begin.
But first some background. Haller learns that the quiet neighborhood surrounding Lisa's restaurant is being disrupted by a real estate developer named Mitchell Bondurant. Bondurant is transforming the charm out of this small community with his modern construction that stirs up plenty of dust, noise, and local rebellion. And Lisa is one of the people who frequently confronts him, which prompts his restraining order against her. Forgive the mini spoiler, but when Bondurant gets attacked by an unknown assailant and dies, investigators consider Lisa their prime suspect.
Timing is everything. No sooner do Haller and Trammell consummate their friendship than Trammell gets indicted for murder. Sidebar, Mr. Haller: Is this relationship worth it? Apparently, yes. Haller offers to defend Lisa, pro bono, pending new rules: their connection is now strictly professional. But is this hard-driving, overheated woman capable of putting her impulses on pause?
Welcome to The Lincoln Lawyer, Season 2, streaming on Netflix. If you've watched Season 1, you've sampled some of the cast members. The stories and characters are drawn from the crime novels by Michael Connelly, who was once a crime reporter for the Los Angeles Times. His main characters include Detective Harry Bosch (adapted into two different Bosch series on Prime) and criminal defense attorney Mickey Haller, a.k.a. the Lincoln Lawyer. More on that in a minute.
Manuel Garcia-Rulfo, as Mickey Haller, is a tall, handsome man of Mexican descent, a nod to Haller's history in the Connelly books. Detective Harry Bosch and attorney Mickey Haller are half-brothers born to the same father, and Haller's actress mother Elena was half Mexican. She appears in Season 2, bursting with vitality, played by Mexico's renowned actress Angélica María.
An interesting footnote is the way author Michael Connelly draws his characters from real life. Bosch and Haller were inspired by members of law enforcement and the legal profession that Connelly encountered during his years as a crime reporter in Los Angeles. And the original "Lincoln Lawyer" was real-life attorney David Ogden, whose Lincoln Town Car served as his transportation as well as his office on wheels. Aspiring attorneys take note: the advantages are endless. Ogden had a driver, since there was always a former client bartering to cover their legal fees. And riding in his back-seat office, Ogden's travel time was work time. He read documents, made phone calls, and listened to recorded conversations exposing evidence. The mobile office turned travel time into billable work hours. It also eliminated the expense of office rent, though in The Lincoln Lawyer series, Haller does have an office where his assistants work.
The ten-episode season features a gaggle of assorted characters. Haller relies on Lorna, his smart and organized paralegal, who aspires to become a lawyer herself. Played by Becki Newton, Lorna is lovely and buoyant and dresses in striking outfits with stilettos. Lorna is one of Haller's two ex-wives. And she's engaged to Cisco (Angus Sampson), a former biker and Haller's absolutely-can-do investigator. Cisco's character is modeled after Michael Connelly's own real-life researcher.
Young Izzy (Jazz Raycole) is Haller's former client, who drives the Lincoln and assists Lorna part-time. She has served jail time, beaten addiction, and seems to have developed a moral maturity that Haller trusts. And then there's Maggie (Neve Campbell), Haller's other ex-wife, mother of their teenage daughter, and a prosecutor. Even Elliott Gould makes a cameo as Haller's mentor Legal Siegel, who dispenses advice and perspective.
And finally, one of the most crucial characters is the embodiment of opposition with a capital O. Prosecutor Andrea Freeman (Yaya DaCosta) is determined to send Lisa to prison for life. While Haller and Cisco are practically reading tea leaves in search of more likely suspects than Lisa (to create reasonable doubt for the jury), the skilled and snooty Freeman is butting heads with Haller, talking down to him, objecting repeatedly to his court statements, and delivering endless shipments of useless discovery to waste his days sorting papers.
In 2011, The Lincoln Lawyer was adapted into a feature film starring Matthew McConaughy and Marisa Tomei. With its exceptional writing and casting, along with Brad Furman's direction, the film hits it out of the park. And a five-star movie you'll want to watch more than once is an impossible act to follow. Truth be told, The Lincoln Lawyer series does not approach the film's sky-high watermark. But I still recommend the series. First, as Michael Connelly explains, the longer running time of a few series episodes allows a more complete transfer from book to screen than a two-hour feature. And the second reason is mine: once you start watching, you won't stop until you see how it ends.
Season 1, drawn from Connelly's The Brass Verdict, offers some history on Mickey Haller. And a few events spill over into Season 2, which is drawn from the book The Fifth Witness. FYI, make yourself comfortable for Episode 10. The last episode delivers one of the most leisurely finales ever written. Very refreshing. But the whole season is worth the experience. The stakes are high, the twists are many, and the roaring momentum brings out the binge-watcher in us all.