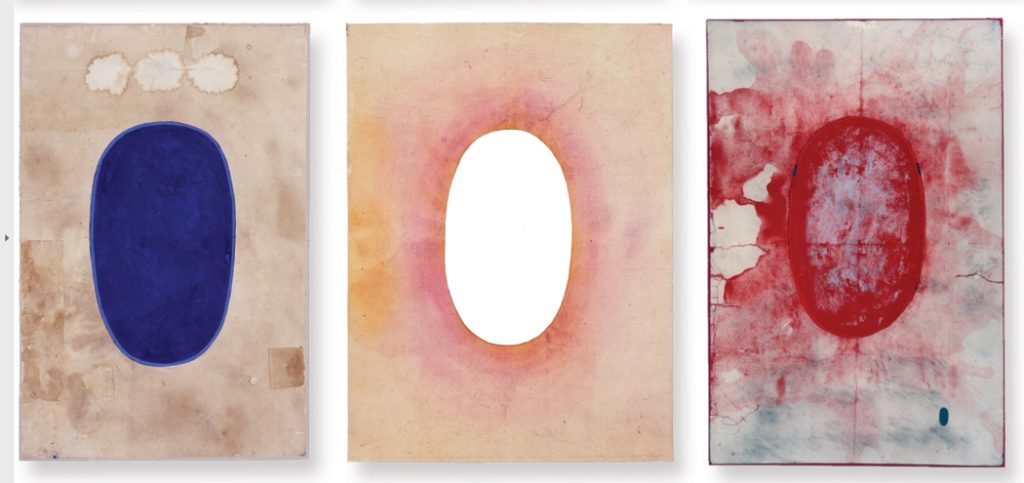 ICON Gallery unveiled an unprecedented collection of paintings last month. Celebrating the Hudson Collection: Shiva Linga showcases 55 paintings donated to ICON's permanent collection by the Hudson family, who are well-known in the art world.
ICON founder and director Bill Teeple is stoked to have these paintings as part of ICON's permanent collection. "This is a feather in our cap to get this collection," Teeple says, adding "It's probably one of the nicest collections in the United States of this kind of work. So it's a big deal."
Renowned art collector and gallery owner Hudson (who went only by his last name) used his popular, unpretentious New York gallery Feature Inc. to champion art and artists he felt strongly about. His gallery launched the careers of many emerging artists.
Originally based in Chicago, the gallery moved to NYC, and shut down after Hudson's unexpected death in 2014. Hudson had amassed an impressive collection of Shiva Linga paintings over the years, and his family wanted to find the right home for them. How did ICON, a tiny non-profit gallery in small-town Iowa, land such a major acquisition?
Hudson had actually been quietly visiting Fairfield for years, catching up with fellow University of Cincinnati art alum Jeri Felix and getting spa treatments at The Raj. Hudson and Fairfield-based fine art photographer David T. Hanson ended up sharing a table for lunch at The Raj and connected over a shared passion for Tantric art, among other things. Ten years ago, they began organizing an exhibition at ICON of 71 anonymous Shiva Linga paintings Hudson had collected with the help of French poet Franck André Jamme, a specialist in Tantric, Art Brut, and Indian tribal art, and author of Tantra Song: Tantric Painting from Rajasthan.
Due to Hudson's tragically unexpected death, the exhibition was canceled. Two years later, Hanson was able to purchase 12 of the paintings, which he exhibited at ICON, along with his color photographs of Indian temples. The exhibition and Fairfield's response to it impressed the Hudson family so much that they donated the remaining paintings to ICON's permanent collection. To house the collection, ICON created the Hudson Gallery, a dedicated space for exhibiting selections from the Hudson Collection and made Hanson the curator.
Part of the ancient Tantric Hindu tradition, the paintings use geometric symbols to portray the divine—the god Shiva in his abstract form as an oval pillar of flame. Colors of the central ovoid shape and background washes vary from piece to piece, but they all capture a feeling of vibrant, silent power. Painted in a state of devotion, the works are traditionally used as a visual aid to meditation.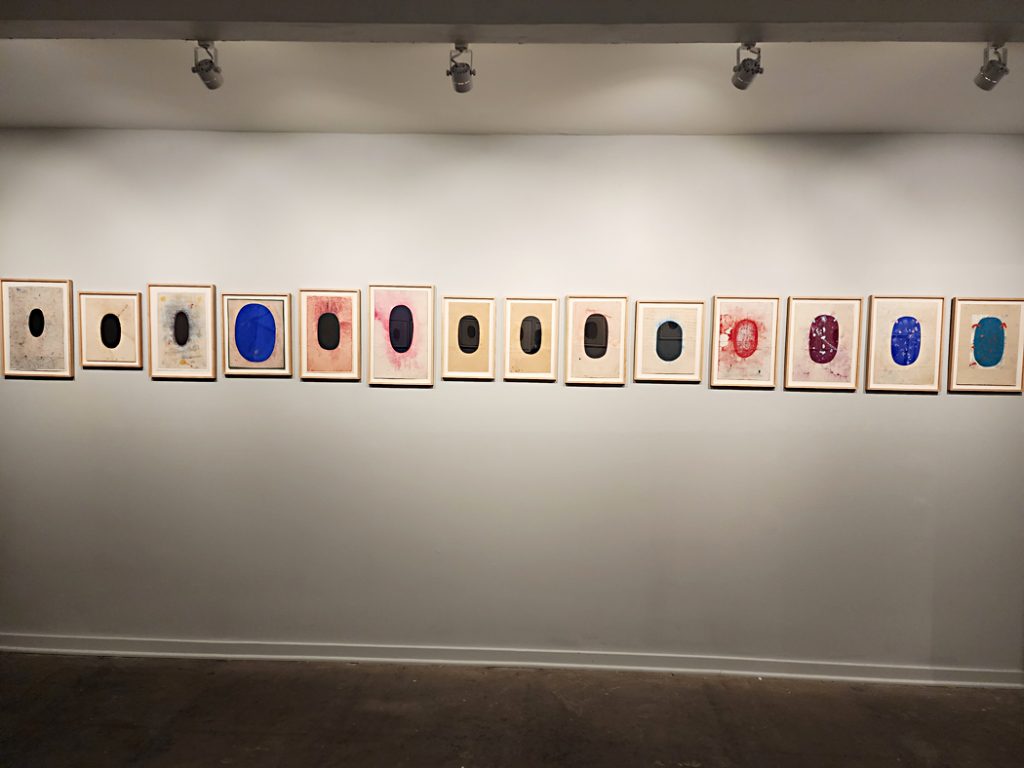 "These pieces are a spiritual practice, but they're aesthetically beautiful," Teeple explains. "In the West, we tend to appreciate them aesthetically for their beauty, while in India, the process of painting them is an aspect of worshiping Shiva, and the images are used devotionally after being finished."
Crafted by tantrika families throughout the Indian state of Rajasthan, the paintings are hand painted on found paper. Despite being part of a tradition that is hundreds of years old, these powerful and compelling studies in light and form would be at home in an abstract contemporary art exhibition.
A group of the paintings were featured in the prestigious Venice Biennale in 2013, and some of the artists have exhibited work at the Pompidou Centre in Paris, the Drawing Center in New York, and other major venues across Europe and the U.S.
"To have a collection of Tantric paintings of this quality and depth is quite unique," Hanson says. "The French poet and scholar André Padoux described these images as 'painted silences . . . the simple revelation of pure consciousness.'" Hanson says most other museums or galleries would probably have had a small exhibition of the paintings and then "put them into storage for years, or even decades. By contrast," he continues, "ICON has created a dedicated space, the Hudson Gallery, for the regular exhibition of the paintings along with other related artwork." For the past six years, Hanson has been organizing semi-annual exhibitions of these works juxtaposed with related paintings and photographs.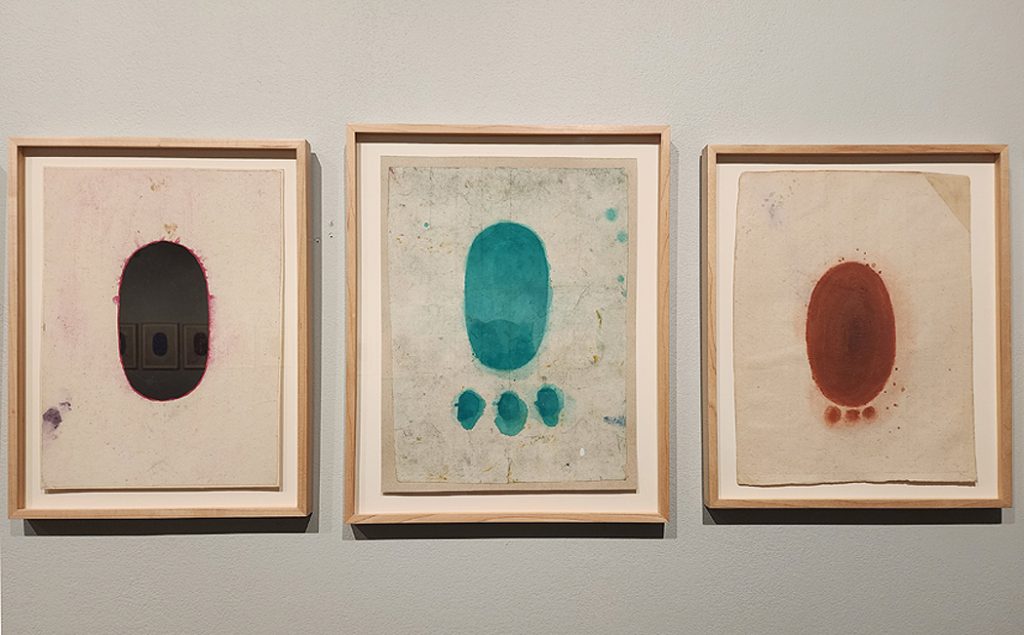 Teeple feels Fairfield is the perfect home for these paintings. He says running a small-town gallery gives him more flexibility to focus on art for art's sake, instead of the latest trends in the art world, and he feels that the local audience has a strong appreciation for spiritual art. And as the word gets out, people from further afield have traveled to see these amazing paintings. The exhibition has already drawn visitors from Iowa City and Des Moines.
As part of the gallery installation, Hanson and Allen Cobb created a 48-minute meditative video showing images of all 71 paintings from the original collection—one image fading into the next— accompanied by traditional Vedic chanting of the thousand names of Shiva in the background. "It's a beautifully done piece," Teeple says. "It's a very transfixing experience to watch." He says gallery visitors enjoy the contemplative atmosphere, adding, "It's become a special space here in Fairfield."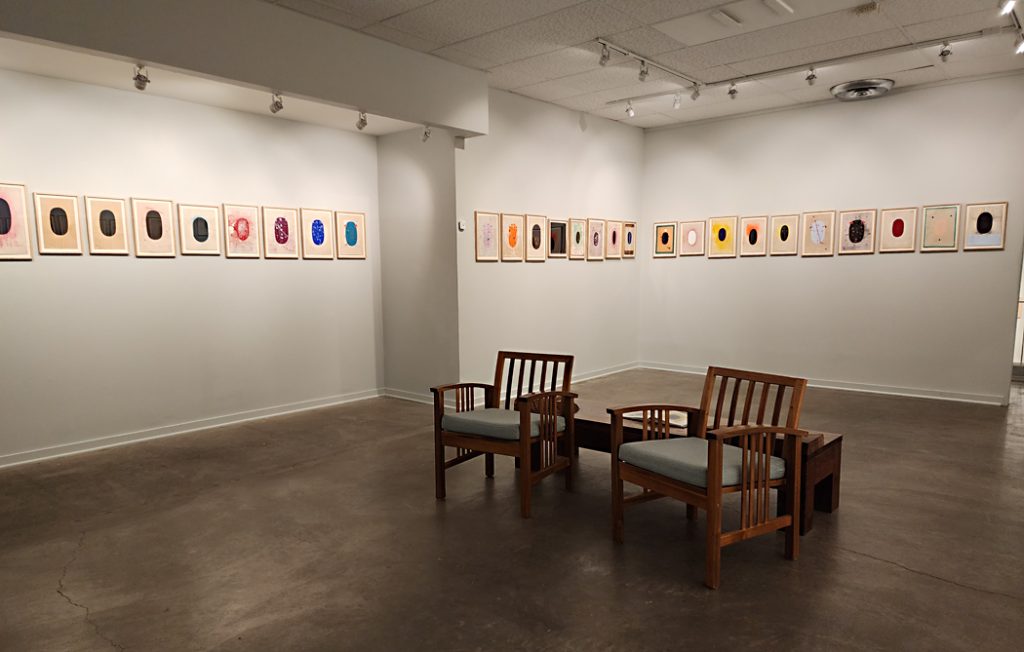 Hanson adds that "in the troubled and challenging world in which we live, these beautiful, devotional paintings offer comfort, inspiration, and hope. In essence, they fulfill the call that Jesuit mystic Teilhard de Chardin made more than 60 years ago: "Humankind is being brought to a moment where it will have to decide between suicide and adoration. . . . Someday after we have mastered the winds, the waves, the tides, and gravity, we shall harness the energies of love. And then for the second time in the history of the world, man will have discovered fire." Or, more simply, as Franck André Jamme (who worked with the tantrika artists to assemble this collection of Shiva Linga paintings) said in his final interview, "I am so happy to have met this art. You have no idea how truly happy it has made me.'" 
To learn more, visit Icon-Art.org.