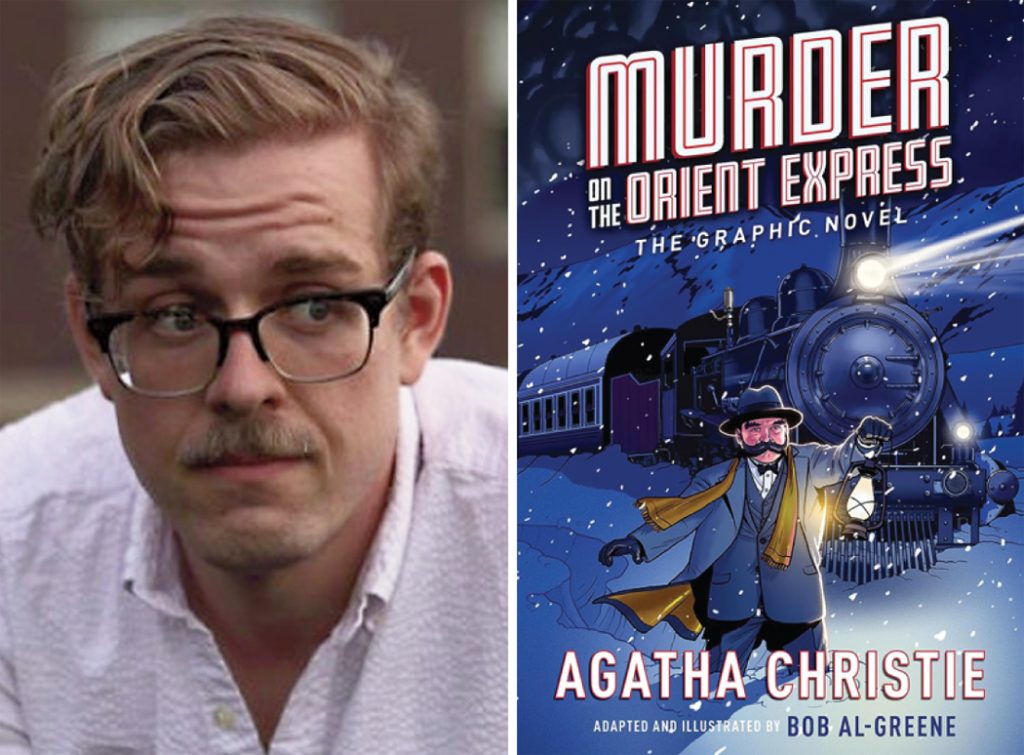 I am writing this column on Dame Agatha Christie's birthday—September 15—and I can think of no better way to celebrate the world's most beloved mystery writer (yes, Sir Arthur Conan Doyle fans, I see you) on the anniversary of her 1890 birth than to tell you about a beautiful new graphic novel edition of her 1934 novel Murder on the Orient Express, one of Christie's best known books.
Bob Al-Greene has "adapted" (more on that in a moment) and illustrated the tale, which finds Christie's most famous fictional detective, Hercule Poirot, stuck on a train halted by a snow storm. A man has been murdered, and circumstances strongly indicate that the murderer is among the people who shared a car with the victim. Poirot diligently interviews everyone on board in a quest to identify the killer. The problem is particularly thorny, but of course, Poirot is more than up to the task of solving the mystery.
Al-Greene is a design director for Mashable.com with a couple of previous and fairly obscure book credits. He was the illustrator, for example, of an independently published book entitled Melania: Devourer of Men, which appears to recast Melania Trump as a supernatural creature bent on, well, devouring men. This adaptation of Murder on the Orient Express, published by William Morrow, keepers of the Christie flame, is, by contrast, a prestige project.
And as an illustrator, Al-Greene is certainly up to the task. His images bring each of the book's characters to life, and in only a few panels is the figure work a touch awkward. He strikes a balance between fully detailed panels, panels in which the background drops completely away, and color-leached panels that depict past events. 
His warm color palette might not quite capture the cold austerity of the snowfield that has enveloped the train, but it is consistently appealing to the eye.
The adaptation of Christie's text includes dialogue taken directly from the novel, but Al-Greene also significantly condenses the characters' conversations—and sometimes the details of the plot, as when a character blames dust rather than the dazzle from the snowfield for the sudden tears in his eyes—to serve the book's visual medium and limited space for blocks of text. By and large, this works well, but as a longtime lover of Poirot as portrayed in the original novels, I found the limits on his loquaciousness a tad disappointing.
That was most true in the book's climactic scene—an absolutely classic gathering of the suspects to hear the detective's solution to the mystery. Al-Greene's take on the scene is efficient, replacing some complexity with brevity, and is generally satisfying as it unfolds. But going back to my copy of the original novel, I reread the final chapter and delighted in Poirot's fuller explanation, delivered in his idiosyncratic voice and punctuated by more exclamations and protestations from his listeners than are included in the graphic novel.
The new graphic novel is lovely to look at and delivers an impressively cohesive abridged version of one of Christie's true masterworks. Al-Greene's effort will likely please plenty of existing Christie fans as an engaging way to revisit the story, and it may serve as an entry point for new readers as well.
Unsurprisingly, however, it doesn't fully measure up to its source material. Perhaps no adaptation could.