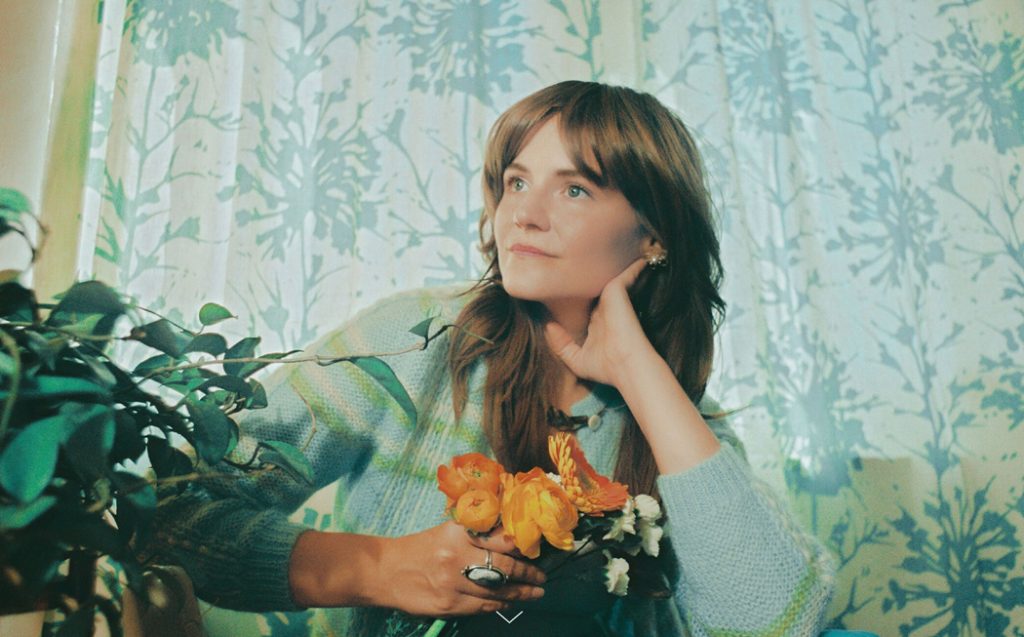 Before coming to Iowa as part of her six-week fall tour, Erin Rae will be on stage for the Grand Ole Opry in Nashville's Ryman Auditorium. Country music fans revere the venue as the "Mother Church" because of its historic importance. Rae will be there along with Margo Price and S.G. Goodman as back-up singers for Tyler Childers. Rae's sung at the Ryman before, but now she's looking forward to playing smaller, more intimate clubs.
Rae will perform at Raccoon Motel in Davenport on October 22. She had a show there back in April and has appeared at the Raccoon (both the older one and the current place) several times in the past. She knows the Raccoon is much more of a dive bar than a classy venue—and that's the point.
"I love the Raccoon because the shows are so spirited," she gushed. "I've been there as a solo act, as part of a duo, and with a band. The audiences are always fun." This time she will have her full band (drums, bass, guitar, and keyboards) with her. The act She Returns From War (a.k.a. Hunter Park) will open.
Don't get Rae wrong—she loves the Grand Ole Opry, too. Rae has lived in Nashville since she was 11 years old and considers herself a native. Nashville is still her home base. Both of her parents sang and had lots of musician friends. Rae cites Iowa's Greg Brown as a particular childhood favorite. "We would take these long car trips and my dad would play his music in the car and we would sing along," she said. "Especially tracks from The Live One with great songs like 'Canned Goods' and 'Laughing River' or other tunes like 'Spring Wind' and 'Never So Far.'" Rae gushed with enthusiasm as she named the titles.
Rae's first recordings (with her band the Meanwhiles) came out in 2012 and 2015, and their folk-pop stylings suggest Brown's influence as well as that of others on the scene during that period. Since then, her music has evolved considerably. Her second record, Putting On Airs (2018), the first billed as just by herself, was both more rocking and country than her previous efforts. The music could be best classified as Americana. She had become an essential part of East Nashville's Americana scene. Rae has performed in the town's AmericanaFest for many years.
This year, Rae is not scheduled to perform at AmericanaFest, but she will speak as part of a panel on the late, great singer-songwriter Nanci Griffith. Her two fellow panelists are famed singer-songwriters Lyle Lovett and Mary Gauthier. In many ways, Rae's style shares much in common with Griffith's imagistic and literate lyrics full of empathy, self-examination, and hope for the future.
Rae's latest album, Lighten Up (2022), shows her music evolving even further. Produced by Jonathan Wilson (Father John Misty, Angel Olsen, Billy Strings), the songs veer into alternative rock territory. The instrumentation features more atmospheric effects and a calmer vibe. The lyrics look inward as well as outward as Rae worked to discover her place in the world. Several of the songs were written (or at least half-written) before and during the COVID lockdown. Being alone fosters certain types of thoughts. In addition, Rae began going to therapy to deal with personal issues.
"They say the brain doesn't fully develop until one reaches their late 20s," Rae said. She said she feels wiser now, especially in terms of her own self-esteem and mental health. This is not just a result of gained experience. It is the product of paying attention. "I'm seeing things much clearer than before," Rae sings on the opening track, "Candy and Curry," from her new record. She practices self-healing as a positive way of dealing with life's imperfections.
For example, Rae penned a song called "Modern Woman" that presents the different definitions of that term over time. A "modern woman" from the past would be unlike one of today. Rae understands that our old views sometimes hold us back. However, the fact that women's roles have changed in so many fundamental ways shows progress. Yes, problems still exist. But there is hope.
The bright shininess of this perspective serves as a theme for the album. Whether she's crooning about past concerns or future situations, Rae puts things in the present. The sentiment "this too shall pass" goes both ways, for both the good and bad in our lives.
That may sound heavy, but remember, Rae's album title is called Lighten Up. Her advice for being happier is to become more relaxed and less serious. That doesn't mean being a slacker. Rae knows that she is most content when she has just completed a project, such as finishing an album or writing a song. "I used to feel anxious when I was done with a project and worry that I wouldn't be able do another one again," she said. "Now I feel more satisfied with what I have done and enjoy relishing the moment more—even for months at a time!"
So if you're feeling stressed, remind yourself of the larger scheme of things, and well, just lighten up.