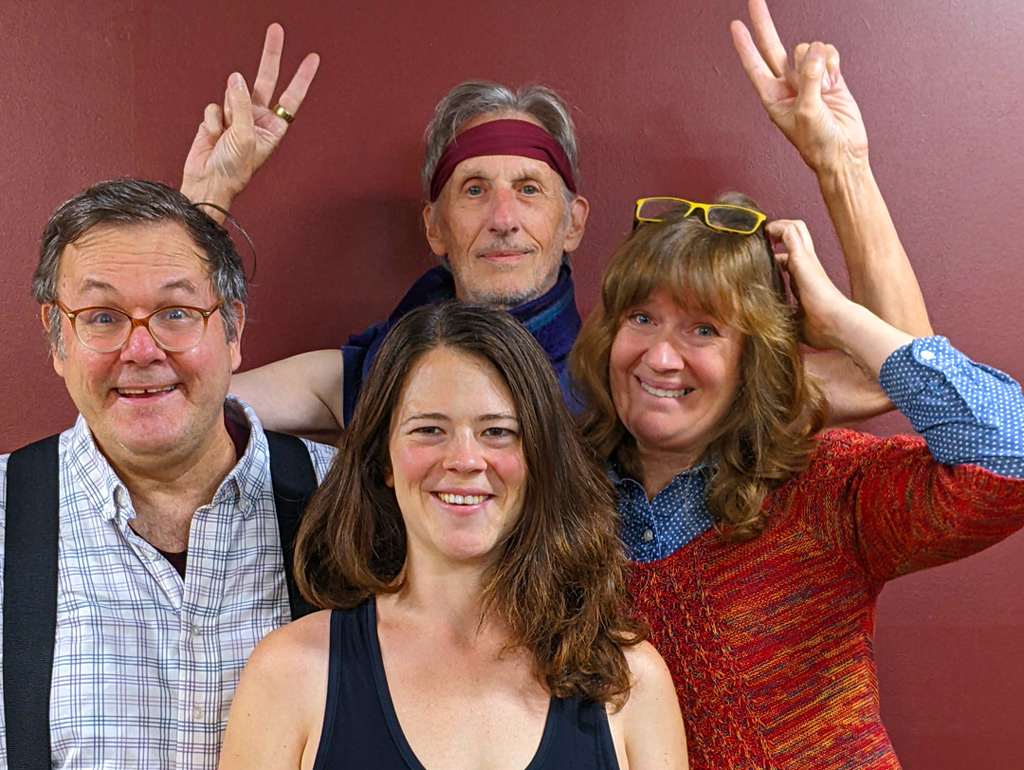 What happens when a group of well-meaning, white theater artists attempt to devise a respectful, culturally sensitive play about "The First Thanksgiving" for Native American Heritage Month, to perform for elementary grades? Find out this November! But come early for a cocktail!!??
Fairfield Area Community Theatre (FACT) invites you to its dessert-theater production of The Thanksgiving Play by Native American playwright Larissa FastHorse* at the Walton Club, running November 2, 3, 4 and 10, 11, 12.
Receiving its Broadway debut earlier this year, Larissa Fasthorse's side-splitting satire pushes its way through a dense fog of foot-in-mouth fodder that touches on topics like historical accuracy, the misrepresentation of Native Americans, privilege, and the lack of indigenous casting—all the while poking fun at the trappings of obsessive self-awareness and the craft of theater itself.
Meet "the cast": Logen (played by Meredith Siemsen), an ambitious school-theater director determined to make room for all voices while desperately trying to hold onto her job—and her boyfriend; Jaxton (John Rainey), the boyfriend, a new-age "yoga dude" who is so bent on being PC that things get weirder by the minute; Caden (Richard Morell), the overly prepared academic with starry-eyed dramatic aspirations but no real clue; and Alicia (Alaris Todar), the mysterious L.A. professional (professional what, now?), brought in to make the play legit.
The Thanksgiving Play also features the four members of "The Family Brower" (think Greek chorus meets children's chorus), filling in the gaps—and there are plenty of them—with some eyebrow-raising, highly questionable pageantry and dance—borrowed from actual classroom lesson plans across the country.
Whether you're cracking up or cringing, this comedy geared toward adults is a derailed riot of a ride. Because even when the earnestly enthusiastic ensemble thinks they've got all their turkeys in a row (they have a historical advisor at their disposal and they've hired an Indigenous consultant, of sorts), well, they're still staring down a pie in the face. And yet … salvation just may come from the very, very strangest of places.
The play is directed by Diana Flynn, with Tommy Brower as director's assistant, stage management by Rachel Biggs, choreography by Rachel Meyers, and lights and sound tech by Jason Deprey.
The Thanksgiving Play will run at the Walton Club, 2265 Walton Lake Road, in Fairfield on Thurs., Fri., Sat., November 2–4, and Fri., Sat., Sun., November 10–12. Shows begin at 7:30 p.m. with preshow dessert served at 7 p.m., except for a 3 p.m. matinee on Nov. 12 (dessert at 2:30 p.m.). Dessert is included with each ticket, and there is a cash bar on site in case you need a break from cry-laughing.
Tickets are $20, general seating, and available for purchase at Adela's gift shop at 301 S. Main Street in Fairfield, open Monday through Saturday. (641) 472-1824. Tickets will also be sold at the door. Find updates at Facebook.com/FairfieldAreaCommunityTheatre.
***
*Larissa FastHorse (Sicangu Lakota Nation) is a 2020 MacArthur Fellow, award-winning writer/choreographer, and co-founder of Indigenous Direction, the nation's leading consulting company for Indigenous arts and audiences. Her satirical comedy, The Thanksgiving Play (Playwrights Horizons/Geffen Playhouse), is one of the top ten most produced plays in America this season. She is the first Native American playwright in the history of American theater on that list. Additional produced plays include What Would Crazy Horse Do? (KCRep), Landless and Cow Pie Bingo (AlterTheater), Average Family (Children's Theater Company of Minneapolis), Teaching Disco Squaredancing to Our Elders: a Class Presentation (Native Voices at the Autry), Vanishing Point (Eagle Project), and Cherokee Family Reunion (Mountainside Theater).