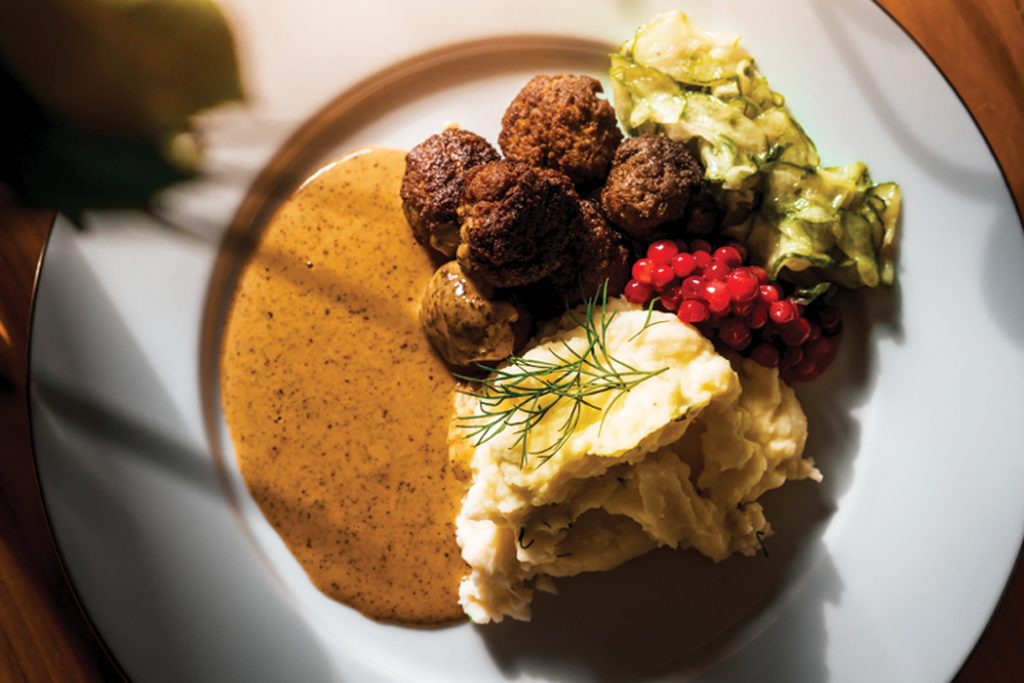 I like my food touching. I want my fried eggs bathed in the maple-syrup spillover from my blueberry pancakes. I prefer that every bite of my Indian buffet be caressed by tangy yogurt raita and coriander chutney. And when I ladle out the gravy on Thanksgiving, I put it in the middle of my plate so it kisses not just the mashed 'taters, but the cranberry relish and the stuffing and the crispy-onion-topped green bean casserole and the turkey—on years when somebody in my family has the gumption to make it, which these days is not very often.
My dad, despite his bologna-sandwich upbringing, has been a vegetarian since I was a kid. Veg-based gravy became a standard part of our Thanksgiving fare—even on holidays spent on my grandparents' farm, that magical place where we kids would be treated to the greasy, once-a-season wonders of real bacon, homemade hamburgers, and Kentucky Fried Chicken brought in from town.
A few years ago, when Dad developed pancreatitis, a painful condition that is typically chronic, the only real remedy recommended to him—other than eating tiny, excruciatingly bland meals (the horror!)—was to take pancreatic enzymes … that came from a pig. The prescribed enzymes have worked incredibly well for him and have brought profound relief, but you bet we give him heck about it, because technically, of course, he is no longer a vegetarian. And even more amusing than that—he is now part pig.
Nonetheless, we still make him vegetarian gravy every year at Thanksgiving, and in truth, we enjoy it just as much as he does: rich and creamy, herby and unctuous, savory and salty gravy—blessing everything in its gravylicious path. Just like that uber-special person in your friend group (you know the one), gravy is the glue that keeps the whole thing together.
There are quite a few vegans and vegetarians in my neck of the woods, so local grocery stores know to stock up on bird-free gravy mixes come November. Some of them are decent in a pinch, but if you have the time to make your gravy from scratch this year, try out these recipes either authored or enthusiastically recommended by Fairfield foodies.
Nut Butter Gravy (Vegan &  Vegetarian Versions)
(serves 8–10)
Shared by Rachel & Steve Boss (host of the Great Taste radio program), adapted from recipes by Barbara Wack­nov and Rebecca Severin
2 Tbsp. smooth, roasted almond butter
2 Tbsp. cashew butter
3 Tbsp. extra virgin olive oil
5 Tbsp. flour
4 cups vegetable broth (Better Than Bouillon is a favorite)
2 Tbsp. fresh chopped herbs: sage, rosemary, thyme, oregano, basil, etc.
1 Tbsp. mixed dried herbs
Soy sauce or tamari to taste
Salt and pepper to taste
Melt the nut butters and olive oil over low heat. Add the flour and cook on low heat, stirring for a minute or two. Slowly add the broth a little at a time, while whisking to prevent lumps. Bring to a boil, add the herbs, and cook down for a bit. Season with salt, pepper, and soy sauce "for an umami burst," as desired.
Note: My mom loves the Bosses' recipe so much she makes it year-round. "It's yummy on turkey meatloaf, on potatoes made just about any way, and in pot pies," she says, smacking her lips.
Also try this tasty Almond Butter non-vegan variation from Steve—because he is "always changing it": Omit the cashew butter and olive oil, and instead use 3 Tbsp. almond butter with 3 Tbsp. dairy butter! Melt the butter and almond butter on medium-low heat, allow almost to brown, and then add the herbs. The rest is the same!
Mushroom Gravy (Vegan)
(serves 6–8)
From The Spruce Eats, with vegan modifications by Mary Williams
1 Tbsp. organic canola oil
1 onion, chopped fine
3 cloves garlic, chopped fine
1 cup vegan oat cream
½ cup fresh cremini mushrooms, quartered and rehydrated in ½ cup vegetable stock
½ cup white wine
Pinch of sea salt
Black or white pepper to taste
In a medium pot, saute the garlic in canola oil over medium-low heat. Add onions and saute until golden brown. Add oat milk, bring to a simmer, and stir while it thickens. Add the mushrooms and the white wine. If more liquid is desired, use the vegetable stock left over from the mushrooms. Salt and pepper to taste.
"White pepper is my jam," says Mary, "so that's what I use. And if you're not into lumpy gravy, you can smooth it out with a stick blender. This is our go-to recipe—delicious for Thanksgiving, but also very tasty on biscuits!"
Easy Vegan Gravy
(serves 6–8)
By Nora Taylor, shared by Mary Williams
¾ tsp. onion powder
3 Tbsp. nutritional yeast
1 Tbsp. soy sauce (or tamari)
½ tsp. Dijon mustard
¼ cup flour (or brown rice flour)
2 cups vegetable broth
Pepper to taste
This easy recipe with a robust, zingy flavor can be made in five minutes. Add all ingredients to a medium-sized pot, whisking in broth gradually to prevent lumps. Bring to a boil. Whisk over medium-high heat for a couple minutes, until gravy thickens. Serve with mashed potatoes! Note: This gravy keeps well for up to a week in the fridge. Just rewarm, and stir in a little water or broth if too thick.