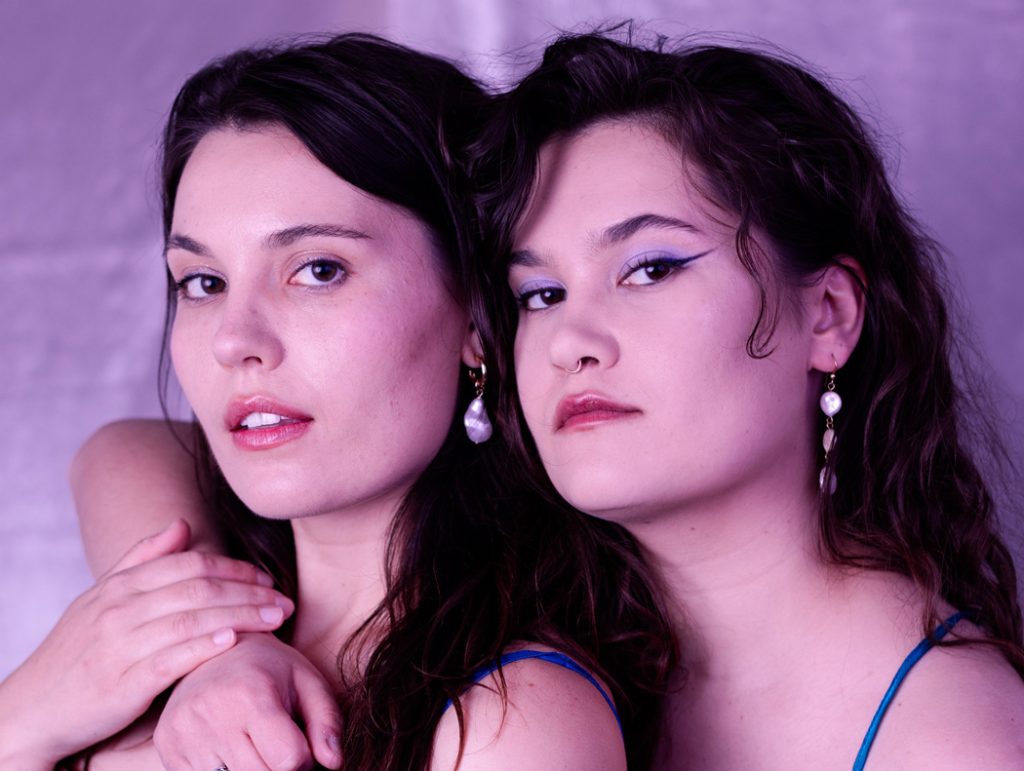 Lily and Madeleine Jurkiewicz began their musical careers while in their teens. The sisters started writing and singing songs together and posting them on YouTube when still in high school in 2012. They released their eponymously titled first full-length disc in 2013 on Sufjan Stevens's Asthmatic Kitty label. The duo has gone on to release four more studio albums over the last ten years to much acclaim, including their most recent one, Nite Swim. Their beautiful vocal harmonies have made them a staple on FM and satellite radio.
Over the decade, the sisters have toured the country and played many festivals and assorted venues, from South by Southwest to the now-defunct Mill in Iowa City, from National Public Radio's Tiny Desk Concerts to Spotify sessions. They are currently on tour. We spoke while the sisters were driving to Nashville for the second gig on a two-month excursion that will bring them to the Raccoon Motel in Davenport on November 28.
Lily and Madeleine took turns speaking and identifying themselves, although they sometimes spoke over each other while answering questions. I apologize for any misidentification of who said what. They answered as one, without ever contradicting each other.
"Our music is very different than when we first started out," Madeleine said. "We have literally grown up during the past ten years. We've had our first heartaches and life experiences, and sonically this has intuitively affected our sound. We used to be more folk pop. Now we are more rock or pop rock, although the folk influence is still there."
One can still see the folk impact on Nite Swim's album cover. It displays a mysterious cottage by a bluff on the water, covered by vines and dead leaves, with the words "fingers curving on a crescent moon, sticking closely to my skin" in script above the title. The two sisters are dressed in white nightgowns as if waiting for the cryptic lovers to arrive. It suggests olden times, myths, and ancient days.
Lily is currently a 26-year-old undergraduate at the University of Indiana with a major in folklore. "I love it," she said. "I never finished high school because of my musical career." Lily agreed with Madeleine that their music had become deeper, but she also noted that the essential core remained unaffected. They see themselves as older and wiser, and change has always been a part of their developing identity.
"We always try to be in the present moment when we record. So each of our albums represents who were then," Madeleine explained. The current record took shape during the Covid lockdown. "We didn't know if it was the end of the world and if we'd ever get to play before an audience again," Lily said. Both sisters concurred that touring is much harder these days—there are many more groups out there, fewer venues, and less remuneration. They said they don't know if they will make a financial profit on their latest tour but are in it for the good times and adventure.
Both sisters also praised the multi-instrumentalist Shannon Hayden, their friend, for her contributions. Hayden has been playing with Lily & Madeleine since their first record and is an essential part of the band. She plays a variety of stringed instruments, including violin and cello. During our conversation, she was sleeping in the backseat of the car. The sisters will also employ a drummer (Ben Reed) and a bass player (Matt Higgins) on their tour. "We plan to have a full sound," Madeleine said. "It's much more fun."
Lily & Madeleine's best-known song, "Come to Me," has been streamed more than 50 million times since its release in 2013. They rerecorded it with different instruments and lyrics last March. The two versions of the cut reveal the band's evolution. The initial version is aurally haunting and sparse. It asks a presumptive lover if he will stay even if the world falls apart. Considering all that has happened during the past decade, this seems a reasonable question to reexamine. The new recording answers affirmatively. There is an added heaviness due to the new instrumentation, especially a cheesy synth in the background that suggests all the experiences they have shared together may not have been good ones. This deepens and darkens the song despite its optimistic message.
"I grew to dislike playing the song because it was so popular," Madeleine said. "This has made it fresh again due to its maturity." The theme of true love seems to be endemic to the band's repertoire. All of the tracks on Nite Swim—and indeed Lily & Madeleine's entire discography—concern personal tropes. They are romantic in the traditional sense of the word, even when the affairs are not going well.
"I can see doing a political song or a protest song in the future," Lily said. "But I don't think everyone has to have an opinion." She explained that there's a rich history of great songs on themes that may be current again, but she is modest about her own thoughts. She doesn't want to preach about topics she may not be informed about as compared with others. In contrast, she understands that we all share the same heart.
It may not always be clear when the two sisters are speaking who is saying what, but when they sing, their shared spirit comes out magnificently. Seeing them with a full band should be a wonderful experience.