TV Shows: May 9-15, 2012
Johnny Carson was a fixture in American homes in the 1970s. (photo courtesy Carson Entertainment Group)
Johnny Carson hosted The Tonight Show for 30 years, inviting himself into American homes with the salutation "Heeeere's Johnny!" An American Masters profile (Monday, May 14, 8 p.m., PBS) begins with fellow stars praising Carson in familiar ways. He had the best jokes; he had a gift for making his guests look good; he had universal appeal. Well, okay. But just as you're about to change the channel, frequent guest Joan Rivers calls Carson "a tough, aggressive killer." Bandleader Doc Severinsen admits to being intimidated by him. Acquaintance Carl Reiner acknowledges his standoffishness. Now this is getting interesting.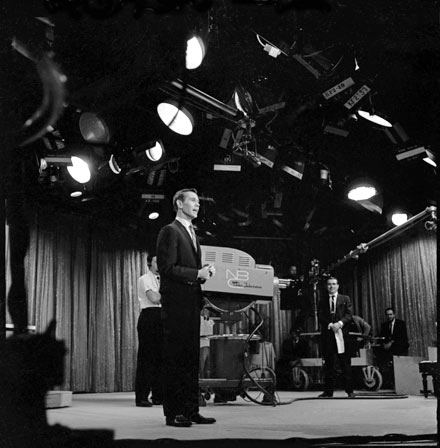 Johnny Carson on the set of The Tonight Show in the 1960s, with Ed McMahon off to the right.(photo courtesy Carson Entertainment Group)
As a budding Nebraska entertainer, young Johnny Carson was obsessed with magic, and he continued to create illusions when he became TV's biggest star in the 1960s– specifically, the illusion that a shy loner was everybody's best friend. When the cameras stopped rolling, however, he was a mystery man, even to his closest family members. If there's a Rosebud in this Citizen Kane-like inquiry, it's Carson's disapproving mother, who never found him worth all the fuss and said so publicly.
The American Masters portrait gives Carson his due as an artist while investigating the chill in his soul. Only Johnny's mother could fail to find it compelling.
Total Blackout
Wednesdays, 9 pm (Syfy)
Contestants don't know what horrible or innocuous thing they've got their hands on in Total Blackout.
The concept for this new reality series is diabolically simple: Contestants face creepy challenges in complete darkness. We can see what they can't as host Jaleel White asks them to feel, taste and smell unidentified objects—an octopus, a pineapple, an old shoe, etc.

God help me, but I greatly enjoy seeing these people squeal, squirm and wave their arms in terror. It helps that White sets a congenial tone rather than a sadistic one. And, of course, no one has ever died from touching a pineapple.

I wonder if other TV shows would be improved by complete darkness. Total Blackout: The Real Housewives of New Jersey? Total Blackout: The Today Show?
Common Law
Friday, 9 pm (USA)
I was ready to write off this new series after the first couple scenes. It had the hallmarks of Yet Another Cop Show, starting with that most tired of premises: a bickering odd-couple partnership. Travis (Michael Ealy) is the loose one, Wes (Warren Kole) the uptight one. Add in the gimmick—the pair are sent to couples counseling by their captain—and you've got another cookie-cutter production straining to seem original. Would you be surprised to learn that the skeptical D.A. wants our bad boys off the case as they investigate a homicide in the premiere episode?
But Common Law worked its charms on me, much as Travis and Wes work their charms on both colleagues and criminals to get what they want. Ealy and Kole have a fast-talking rapport, as well as a gift for hitting comic notes even at a murder scene. The script makes them believably smart, so it's no surprise when they catch the killer in spite of their flagrant interpersonal problems.
"Well, I guess I owe you an apology," says the skeptical D.A.
So do I.
Masterpiece Mystery: Sherlock
Sunday, 8 pm (PBS)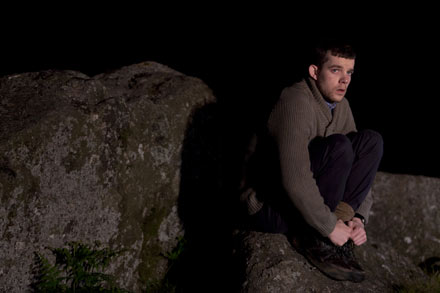 Russel Tovey as Henry Knight in Sherlock.
If you watched last week's season premiere of "Sherlock," as I told you to, you won't be able to resist episode two. And if you didn't watch it…well, why aren't you following my instructions? I'm not writing these blurbs for my health, people.
This week's installment uses Arthur Conan Doyle's The Hound of the Baskervilles as inspiration. But Doyle would scarcely recognize his story—or his detective, for that matter. The 21st century Sherlock Holmes (Benedict Cumberbatch) has a computer-grade brain, charged up to the point of near-madness. (He's reminiscent of Hamlet playing mind games in his antic disposition.) The detective and his mere-mortal sidekick, Dr. Watson (Martin Freeman), investigate reports of a massive, murderous "hound" near a top-secret weapons facility.
Can't tell you more than that, but I will say that Holmes becomes punch drunk on his own powers of deduction in the midst of solving the mystery. This occurs at an inopportune moment, right at the climax, when he and Watson could still be killed. "This case, it's been brilliant!" he exclaims.
I suppose I'd take the time to shout out "Yes it has," even with a massive, murderous hound bearing down on me.
The Bachelorette
Mondays, 8:30 pm (ABC)
ABC is being sued for excluding people of color from starring roles in The Bachelor and The Bachelorette. Indeed, between the two series, the new Bachelorette marks the 24th season in a row with a white person at the center. She's Emily Maynard, who found true love with Brad Womack on The Bachelor last year. Well, true love Bachelor-style, anyway. That means the relationship lasted a couple of months before ABC News ran the obligatory story about the two of them breaking up.
Having learned nothing from her experience, Maynard returns, certain that the ABC casting department has included her future soul mate in the current pool of suitors. To be honest, I'm not as worried about her as I am about us viewers. Emily is a shy, retiring type who doesn't exactly hold the screen. She's best remembered for falling asleep on her dates with Womack, and I'm getting a bit drowsy myself just contemplating the next few weeks of The Bachelorette.