Young Galaxy
This month we examine two North American bands under the "indie" tag: Canada's Young Galaxy (indie pop) and U.S.'s Shearwater (indie chamber-rock). Both offer exciting tracks for spring downloading.
Young Galaxy
Although currently residing in Montreal, Young Galaxy was formed in Vancouver, BC, in 2005 by Stephen Ramsay and lead singer Catherine McCandless. The band has toured as an opening act for Arcade Fire and Death Cab for Cutie. Their third album, Shapeshifting (2011), marked a dramatic change in creative focus under the influence of Swedish electronic producer Dan Lissvik, who also produced their April 2013 CD, Ultramarine. Shapeshifting is a marvelous mid-tempo collection that uplifts the spirit while shining light in a new and wonderful direction.
Young Galaxy's 2007 song "Embers" was the first of their early tracks to deeply hook me. It tells the story of "a ghost train running through my head . . . behind the veil of sleep," with a beautiful melody that winds around soothing acoustic guitars.
Fast forward to fall 2012, when I first heard the song "Peripheral Visionaries" from Shapeshifting on Iowa Public Radio. The lyrics remind us that "we exist in more than time and space . . . Where we see tears from the eyes of God." It is a song about our responsibilities to fellow human beings and the earth. Sparkling layers of electronic music and percussion complement the harmonic interplay between Stephen and Catherine.
For more listening fun, check out the 2011 tracks "Phantoms" and "Cover Your Tracks," both of which swing pleasantly between Latin beats and rhythmic electric guitar strokes.
Neophytes to Young Galaxy are encouraged to start with Shapeshifting, then proceed quickly to Ultramarine (which was not available for review at press time).
Shearwater
A few weeks ago, a good friend alerted me to the mellow sounds of Austin, Texas, indie rock trio Shearwater, currently recording on the Sub Pop label. Listening to their 2012 CD Animal Joy, I was struck by how much lead singer Jonathan Meiburg sounds like Mark Hollis of the 1980s UK band Talk Talk. But nostalgia quickly gave way to respect as I discerned the unique ways that Meiburg stamps his own signature on every song. Reviewer Jordan Dowling (www.contactmusic.com) observed that Animal Joy's title song is "a perfect encapsulation of everything Shearwater; the chiming, interlocking melodies and Meiburg's fluttering falsetto bursting as it makes the bridge from verse to chorus, telling a story wrought with vivid imagery."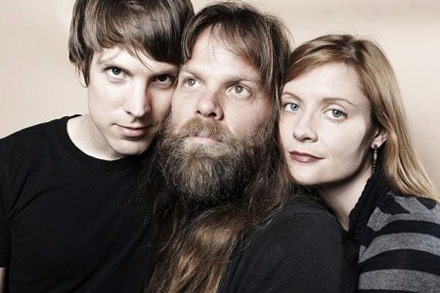 Shearwater
The songs move through downtempo landscapes shaped by Meiburg's splendidly rich vocals and delicate instrumentation that includes harp, triangle, acoustic guitars, piano, and bass guitar wrapping the entire scene in a blanket of sonic protection. Meiburg's collaborators in this trio include his ex-wife, Kimberly Burke, on bass and Thor Harris on drums.
Begin with these moderate-tempo tracks from Animal Joy: "Believing Makes it Easy," "Dread Sovereign," "Run the Banner Down," and "I'm So Glad."
While Young Galaxy lifts the spirit, Shearwater soothes the soul. The combination of these two bands offers the perfect aural experience to welcome spring.
Join Andy on Fringe Toast every Wednesday at 8 p.m. CST on KRUU FM 100.1 FM