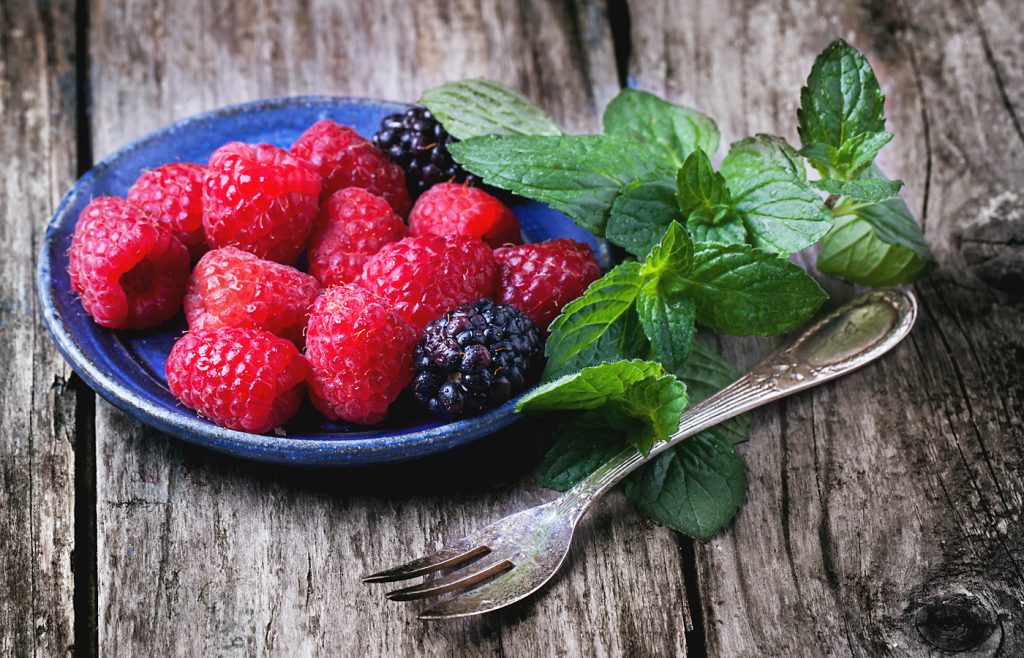 Summer is here—and that means it's the season for berries, nature's colorful antidote to months of grey, cold winter. Berries are nature's perfect dessert: bursting with enough flavor to satisfy any sweet tooth and enough antioxidants and health-boosting micro-nutrients to make each bite feel exceedingly virtuous.
They are also easy to prepare: just sprinkle some berries over unsweetened yogurt for a healthy breakfast, garnish your salad with berries for lunch or dinner, and enjoy berries and cream or an easy berry crumble for a simple dessert (see our Berry Crumble recipe).
Berry Raves
Health enthusiasts can't say enough about berries. It's hard to believe that something so yummy could be so good for you. According to Fairfield-based holistic nutrition coach Emily Rose Shaw, "Berries contain some of the highest levels of antioxidants of any foods, which makes them anti-aging and powerful anti-cancer foods."
The benefits don't stop there; Emily Rose says that the large number of phytochemicals contained in berries can contribute to a stronger immune and cardiovascular system, as well as improved brain and vision health. Because berries are high in fiber and vitamin C and low in sugar and calories, Emily Rose considers them an ideal choice for those who want to lose weight or control blood sugar.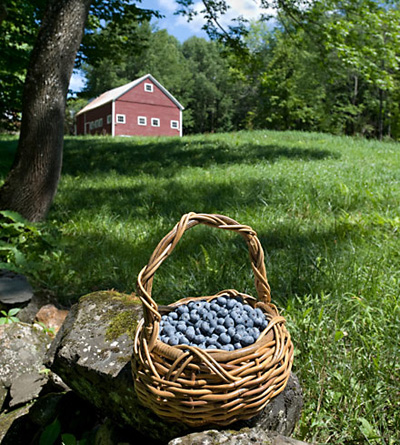 All berries have health benefits, but some receive more press than others. You've probably seen bottles of juice or tea containing extracts of superstar berries like aronia, goji, and acai. But Emily Rose says that you shouldn't feel obligated to search out any exotic, hard-to-find berries to enjoy the health benefits of berry consumption. "I often say the most nutritious variety of any food is the one you have and enjoy on a regular basis," she says. Conventional berries like strawberries, blueberries, blackberries, and raspberries offer all the health benefits that you're seeking.
But if you're set on eating super-antioxidant aronia berries, take heart. Along with  perennial favorites like strawberries, blueberries, blackberries, and raspberries, local growers are starting to offer more unusual berries, including aronia berries and elderberries, long prized by Native Americans for their many health benefits.
Look for Local Growers
To get the maximum health benefits from eating berries, Emily Rose recommends enjoying locally grown berries to avoid the nutrient loss that takes place when berries travel long distances.
For berry snacking during the off season, berries frozen shortly after harvesting can be a convenient alternative to fresh ones. It is also important to buy organic berries because of the large amount of pesticides typically used in growing them conventionally. Strawberries are number 11 on the Environmental Working Group's Dirty Dozen list of the most contaminated produce, and blueberries come in at number 13, just missing the list, while raspberries are number 21.
To get the most nutrients possible while avoiding toxic chemicals, the best way to get berries is to buy directly from local growers that you trust.
The Weather's Influence on Berry Crops
Unfortunately, this hasn't been as easy as it sounds in recent years. Both drought and record-breaking heat have taken a toll on local berry production. Last summer the extreme heat was drying up grower Tanya Webster's berries faster than she could pick them. "It was heartbreaking," she recalls.
This year's wet spring and milder temperatures have growers feeling more optimistic. Weather permitting, local growers may even get a bumper crop. "Everyone is really looking forward to this year," says Tanya, who owns Rolling Prairie Acres in Sigourney with her husband.
So keep your fingers crossed for good weather and head to your local farmers' market or visit your favorite berry farm. Look for strawberries in June and July, raspberries from June into August, and blackberries and blueberries from July into August. Aronia berries will be available at the end of the summer. Elderberry plants and products are available now.
Berry Producers
Below is a list of vendors selling at farmers' markets or online. Many vendors also sell directly from their farm or through a CSA. Find more local growers by searching on sites like localharvest.org.
Bloom and Bark
Keosauqua
Blackberries, blueberries, Strawberries
Fairfield Farmers' Market
Rolling Prairie Acres
Sigourney
(319) 552-0973
dandt@iowatelecom.net
Blackberries, strawberries, raspberries
Claude Nicholson
Fairfield
(641) 919-3212
Aronia Berries
Iowa City Farmers' Market
Skyline Farm
Swisher
(319) 846-2016
Raspberries and blackberries. Elderberry jelly
Bagge Strawberries
(319) 334-3983
Strawberries, raspberries