Curtis Sittenfeld
The Iowa City Book Festival has both a new organizer and a new date. Now a project of the Iowa City UNESCO City of Literature organization, the fifth edition of the festival will be held October 10-13.
In honor of the festival, here are my thoughts on three books penned by authors who will be participating.
Sisterland, by Curtis Sittenfeld
Curtis Sittenfeld's Sisterland is her best novel since Prep, her 2005 debut. In fact, Sisterland may simply be her best novel to date. More strongly plotted than either Prep or The Man of My Dreams, and less encumbered by character analogs in the real world than American Wife, Sisterland is a domestic drama with a twist.
The twist? Narrator Kate and her identical twin sister Violet have "senses" that give them insight into people and events. Kate is deeply troubled by this—and by other circumstances of her life, as well—and seeks to destroy her abilities. Violet, on the other hand, fully embraces them. When Violet publically predicts that a significant earthquake will soon rock the St. Louis area, the sisters must deal with the ensuing frenzy. They must also deal with their relationship and with their relationships to those around them, the skeptical and the convinced alike.
That description might make Sisterland sound like a supernatural disaster thriller, but it isn't that at all. Like Sittenfeld's previous novels, it's a book about women charting their course in life and love—with all the attendant struggles and uncertainties that come along. Sittenfeld has always been able to take us inside her female characters' heads in ways both startling and wholly resonant. Rather than detracting from that, the psychic thread in Sisterland highlights issues of self-doubt and self-knowledge.
Sittenfeld, a graduate of the Iowa Writers' Workshop, has structured the novel perfectly, moving forward and backward in time, allowing us to learn more and more about Kate and Violet as we wonder whether Violet's predication will come to pass. It's a page-turner, but not just because there might be an earthquake in the offing. Kate and Violet are captivating characters, and Kate in particular is fully realized. Her story rings true, even at its most mysterious moments.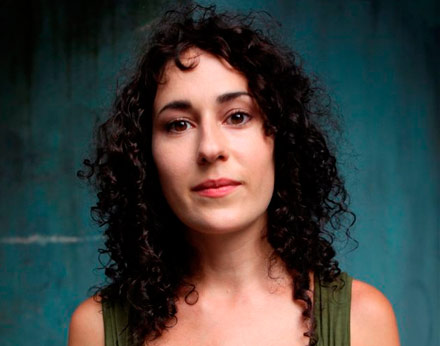 Sarah Bruni
The Night Gwen Stacy Died, by Sarah Bruni
Spider-Man fans might feel the tingle of their own "spider sense" when they spot The Night Gwen Stacy Died. The debut novel by Sarah Bruni takes its name from a groundbreaking 1973 story arc in "The Amazing Spider-Man" comic book series. Comics' true believers might well be nervous about what Bruni is up to.
But Bruni, who is a graduate of the University of Iowa, is up to something rather interesting. She introduces us to two characters who, for different reasons, choose to think of themselves as Peter Parker (Spider-Man's secret identity) and Gwen Stacy, Parker's first love. The two stage a kidnapping at a Coralville gas station—much of the early portion of the book is set in Coralville and Iowa City—and take off for Chicago, where "Peter" hopes to save a man he has seen in his dreams.
Like many a comic book, the novel is set in a world that looks just like our own, but with a few mysterious powers and situations driving the plot. The predictive power of Peter's dreams is essential to the story, and coyotes, both real and imagined as well as alive and dead, play key roles. In the context of a comics-driven tale, these pieces fit neatly into the book's overall puzzle.
In the end, The Night Gwen Stacy Died is a novel about identity and the way it is shaped by our circumstances and our choices. Bruni's Peter and Gwen must decide just who they want to be in the story of their own lives. That theme is likely to resonate with readers regardless of whether they are fans of the comic book Webslinger.
Susanna Daniel
Sea Creatures, by Susanna Daniel
Sea Creatures, the new novel by Iowa Writers' Workshop alum Susanna Daniel, is a beautiful book. It builds on the promise of Daniel's first novel, 2010's Stiltsville, which is one of my favorite novels of the last several years. Sea Creatures establishes her as one of my favorite authors.
Like her debut novel, much of the story of Sea Creatures takes place in Stiltsville, a collection of wood stilt houses on the edge of Biscayne Bay near Miami (Daniel manages to unobtrusively link the two books). The novel's narrator, Georgia, takes a loosely defined job as an errand runner for Charlie, known pejoratively as "the hermit" who lives in Stiltsville. Georgia has recently returned to Miami with her husband, Graham, who suffers from parasomnia (a severe and dangerous sleeping disorder), and their young son, Frankie, who has stopped speaking.
Georgia's story is one of a family struggling to find normalcy amid upheaval caused by Graham's condition. It is a story of diverging needs and impossible choices. It is also a story of loyalty and to whom, and at what cost, it is owed. Charlie's own story—including its intersection with Georgia's—is fraught with sadness and tenuous hope.
Some—though by no means all—of the events in Sea Creatures the reader may anticipate early on. To Daniel's credit, however, these events are imbued with the weight of inevitability rather than being merely predictable. Georgia's life feels fully lived rather than arranged to click off plot points.
Georgia's voice is steady and strong throughout the book, as she examines her life with honesty and courage. Here, she reflects on her husband's decision to continue kayaking toward a distant shore when she decides to turn back: "Maybe a different man would not have left his wife. But I'd been sincere when I told him to go on without me; I had no illusions about Graham and the decision he would make. Graham didn't confuse love with overprotectiveness, as so many of us do."
That quiet, reflective voice is the beating heart of Sea Creatures.