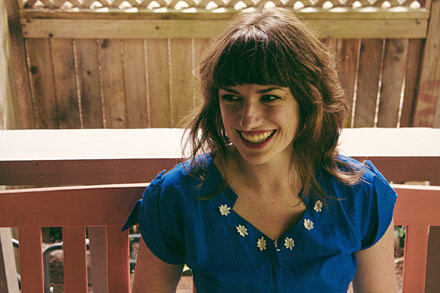 Kate Lebo, the award-winning Seattle poet and pie baker, will be in Iowa this week to read from her debut collection of poetry, A Commonplace Book of Pie.
A slight book at less than 10,000 words, A Commonplace Book of Pie contains a mix of prose poems, recipes, humor, and horoscopes relating to pie. In essence, it's a lyrical rumination on the real and imagined relationships between pie and those who love it. This quirky little gem also includes two-dozen original watercolors and illustrations by artist Jessica Lynn Bonin that put pie and the art of baking in a fresh, contemporary context.
Raised in the Northwest by Iowan parents, Kate Lebo is both a published poet and expert chef. She has judged the Iowa State Fair Pie Contest, baked at the American Gothic House, and won best-in-show at the first annual Cake vs. Pie Competition.
National Book Award winner Sherman Alexie has this to say about it: "I love banana cream pie and Kate Lebo's poems with the same fervor. Lebo is a necessity and luxury. I will forever be her fan."
Find more information about Kate and the book on Kate's website or check out the book trailer below:
A Commonplace Book of Pie from Kate Lebo on Vimeo.