Dagmar is the duo Gemma Cohen and Miranda Mallard.
Fairfield continues to be a hotbed for rising musicians. This month we focus on the debut CD from the female duo Dagmar and new tracks from the recently imported Canadian vocalist Tara De Santis (a.k.a.Veda).
Dagmar
Miranda Mallard and Gemma Cohen, members of the vocal trio Rock, Paper, Scissors for eight years, now perform as lead songwriters and vocalists for the band Dagmar. They compose tight, rhythmic songs with delicious harmonies seemingly influenced by Philip Glass and Fleet Foxes. On their website (dagmarsound. com), they describe their music as "a raw, challenging, vulnerable, vocal-driven exposition of Medieval harmonies and uncrumpled diaries."
Dagmar's supporting team is excellent. On stage, Dana T coaxes mellow sounds from guitars and pedals, while Justin LeDuc tackles complex percussion. All four seem to revel in this collaboration. Dagmar's 2015 CD Afterlight offers a variety of lyrical, harmonic, and percussive elements, with songs that are crisp, heartfelt journeys into their personal lives.
Recommended tracks:
• "What Do You Want" begins like a percussive mix of Philip Glass music and Laurie Anderson vocals with beautifully crafted lyrics ("Wish my pages would erase themselves as I go along . . . poetry is not for us anymore") and ends with tinkling wind chimes.
• "Sunrise" laments the sorrows of sending young men to war, with cello, piano, and percussion creating a swirling vortex of beauty and sadness.
• "Echo" is an exposition of jazz-like percussion and a beautiful tapestry of vocals and violin, reminding me of the compositions of Imogen Heap.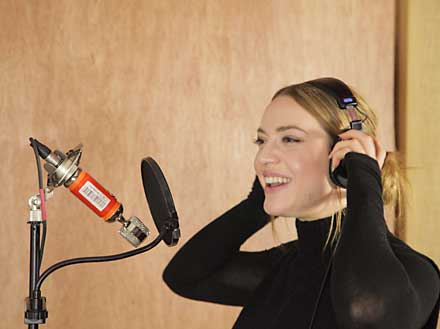 Tara De Santis performs under the name Veda.
Tara De Santis (Veda)
Tara is a 19-year-old French-Canadian vocalist, lyricist, and music producer who hails from Montreal. As a young lady, she was drawn to art, dance, and video experimentation. While attending Maharishi University of Management in Fairfield, Tara took a life-changing course in digital music production that led to her immersion in music. Currently, Tara sings and writes consciousness-based music in English, French, and Spanish. Her influences include Gladys Knight, Charles Aznavour, Willow Smith, Damien Marley, and Marvin Gaye.
Veda also hosts a radio show on KRUU-FM called Planet of the Mixtapes.
In mid-2015 Tara began collaborating with Jarrod Langlois (a.k.a. Saxton), a talented electronic-dance-music composer from Portland, Oregon. Together, Tara and Saxton created the Indie Dance track "Aurora" that generated 37,000 plays on Soundcloud.com, the online audio distribution platform. Their second single, "Montego," was released in early 2016.
On both Veda tracks, the sonic collaboration sparkles. Saxton produces the instrumental music and Tara writes lyrics and adds vocal overlays. The verses are well-placed, playing off the musical bridges that provide lush melodies and interesting percussive breaks.
When I first heard "Aurora," I was delighted to hear deeper tones than the "baby doll" soprano vocals that pervade so much of contemporary music. Tara presents a lower alto voice often treated with slightly echoed reverb, producing stylized, nuanced pronunciations while playing off the beats. She writes and performs using her middle name, Veda. On "Aurora" she writes:
Who wants to live a life
guided by desires
that truly are only meaningless wishes.
Fill me with the warmth of love
slowly, like a flying dove
Fill me with the warmth of love.