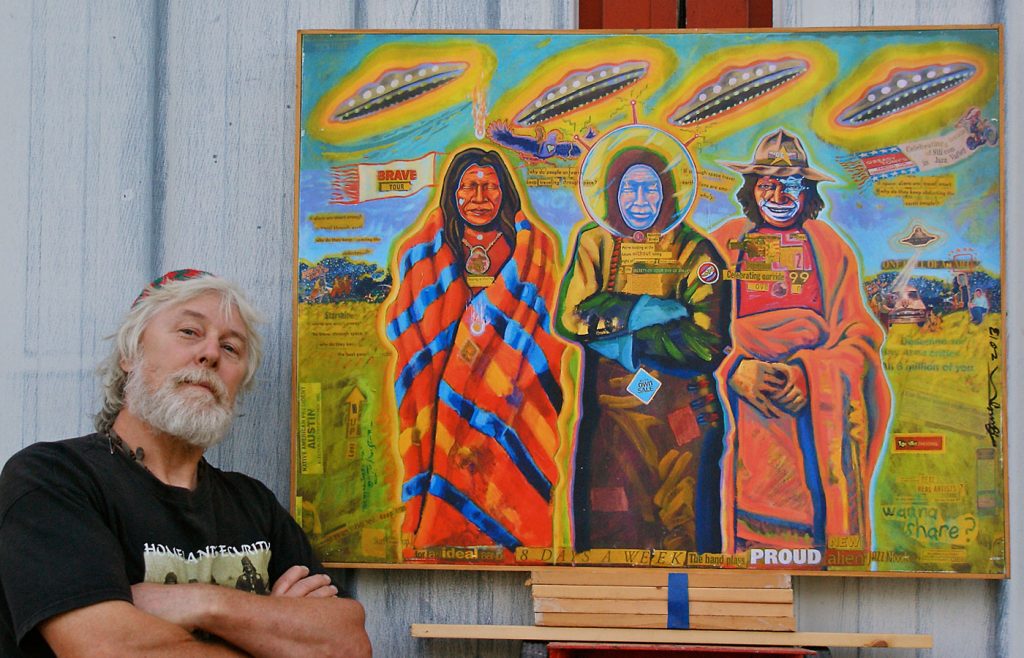 Come out for Fairfield's 11th annual Oktoberfest on Friday, October 6, from 5–10 p.m., now relocated indoors to Phoenix Rising Hall at 207 W. Burlington.
Activities for the evening include live music by Singin' n Swingin', the annual Wiener Dog Races, games and kids' activities, gallery openings around the square, window-front quilts on display, live Shetland sheep at the At Home Store, and much more. Grab a brat from Sweet 'n' Saucy, and enjoy an Octobery evening on the town.
Timeline of festivities in Central Park:
6 p.m. – Wiener Dog Registration
6–9:30 p.m. – Singin' n Swingin' plays in the gazebo
6:10 p.m. – Tapping of the Keg
6:25 p.m. – Wiener Dog Races Begin
First Fridays Art Walk events include:
Americus Gallery, 100 W. Burlington Ave. • Americus Gallery will be showing Christopher Kufner's original oil paintings featuring Italian and French landscapes, figurative works, and large-format photography of the Tuscan countryside. Also, view original oil paintings by Kim Kufner, new original watercolor and ink paintings by Genevra Bell, original Pastel Farm Landscapes by Gordon Kellenberger, Art Glass Vases by David Lotton, Leaping Koi sculptures by Dale Divoky, and dichroic glass jewelry by Pedro Lujano
Art 52 Gallery, 52 E. Briggs. • Iconic Faces, Retro Places: portraits and architectural retro scenes by Everett Day
At Home Store, 52 N. Main St. • Stop in from 5–6:30 p.m. to meet Faegan and Ailish, two authentic Shetland sheep from Prairie Farms Woolery, sample Faith Reeves' Essential Black Currant, and view a display of Torrey Witherspoon's one-of-a-kind garments
Carnegie Historical Museum, 112 S. Court St. • Featuring two new acquisitions: an 1855 Daniel Stephenson Coverlet, and a 1890s "Regina" Music Box, which plays large perforated brass disks
Chakra Steps, 101 Main St., Ste 3B. • Chakra Steps is a new spiritual shop located on the square next to Café Paradiso! Their mission is to promote the ancient practice of Chakra, focusing on healing the mind, body, and soul using gemstones, natural hygiene care, and aromatherapy
Chickadee, 57 E. Broadway Ave. • 20% off Melissa and Doug toys. Open until 9 p.m.
Crest Jewel, 48 N. Main St. • Featuring Janu Gemstones and Gemstone Beads to inspire your creative designs. Featuring new and returning artists including: Margaret Zacny, Silversmith; Brandon Lojas, Wirework Jewelry; Richard Trice's Surrealistic Images Inspired by Nature; Terrence Kennedy's mixed media Art and Portraiture; and David Kupferman's Abstracts on paper and canvas
Fairfield Art Association, FACC, 200 N. Main St. • The FAA announces the opening of a new exhibit by Iowa Art Quilters. 24 Iowa artists will be included in this display in the Main Gallery. The evening begins at 6 p.m. with exhibit viewing and a joint reception held after the Lee Gobble sculpture unveiling which takes place at 6:30 p.m. in front of the FACC. All 5 artists involved in the creation of the Gobble sculpture will be present. The night includes the Northside Strippers Quilt Show in the Expo Hall, and Mark Shafer's artworks in the Executive Conference Room
Henderson's Gallery & Framing, 53 W. Broadway Ave. • The opening of Judy Bales' Artwear and Compositions
ICON Gallery, 58 N. Main St. • The opening of the Tony Stenger Experience, paintings that feature hyper-reality storytelling, non-representational abstraction, and expressionist landscapes
Morning Star Studio, 51 S. Court St. • Paul F. Kennedy—songwriter, pianist, and piano technician extraordinaire—will be performing three mini concerts at 7, 8, and 9 p.m. in a wide repertoire of genres. Paul recently refurbished Morning Star's 1924 Steinway, and "Grandpa is ready to rock." A Retrospective Art Show features Bolivian artist Carlos Crespo Salinas: realistic paintings and drawings using graphite, pastels, watercolors and oils. And the "Help Hang the Awning" Art Auction continues: Up for auction are 1980s abstract pastel landscapes and collages by a noted artist and former Fairfielder Marc Zimmerman
Revelations, 112 N. Main St. • Jennifer Blair, canvas prints; John Schirmer, paintings; and Peter Clemens, Yantras
Thymely Solutions, 104 N. Court St. • Anniversary Sale & Celebration! The whole store will be on sale starting at 20% off. Stop in, see all they have going on, and help them celebrate 22 years. Open Late!
Visit the Fairfield First Fridays website for more information, www.fairfieldfirstfridays.org or contact Marla at (641) 233-8883.