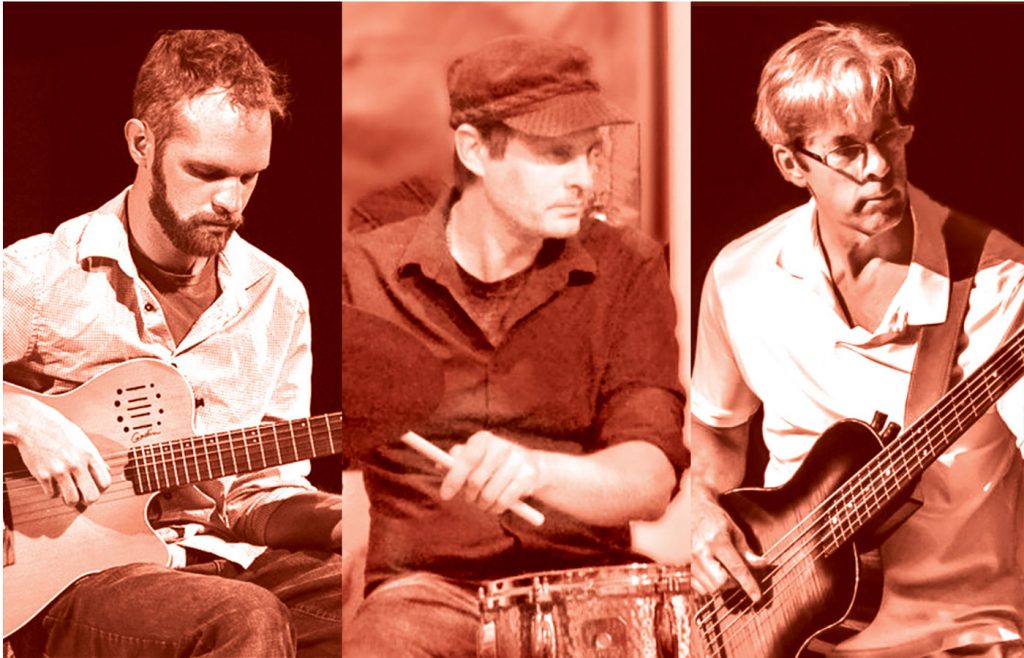 A shared passion for jazz brought three Fairfield musicians together this summer, and they're ready to show you what they found. The band is MSG, named after Mike Cantafio (guitar), Shawn Medeiros (drums), and George Foster (bass). After three short trial performances, it's time for a real debut, delivering interpretations of classic pieces by Miles Davis, Herbie Hancock, Wayne Shorter, Charlie Parker, Joe Henderson, Thelonious Monk, plus an original composition.
In a trio, the musical conversation is so immediate that anything can happen, and this little band's energy and virtuosity will be on full power. Special guest Emily Cantafio, Mike's wife and musical partner, will also be there to sing "Someday My Prince Will Come" and other beautiful songs. The show is at Café Paradiso in Fairfield on Saturday, November 4, at 8 p.m.
Mike is on the music faculty at Maharishi School and often performs as half of the jazz duo The Cantafios. A Chicago native, Mike began his musical journey at a young age with internationally respected jazz guitarist John Moulder. He attended Columbia College of Chicago with a full-ride scholarship, receiving his bachelor's degree in Music Performance in 2012, then earned a master's degree in Music Performance with a concentration in jazz at the University of Toledo. He has played with artists such as Buddy Guy, Koko Taylor, Otis Taylor, Jon Hendricks, and Organic Flow.
Shawn began playing drums and piano at an early age, later attending Cabrillo College and the Stanford Jazz Workshop. His most important and influential education came from his 20-year mentorship with legendary drummer Joe Gallivan. He has spent most of his career playing jazz and has worked with recognized musicians such as saxophonist Denny Morouse (Art Blakey and the Jazz Messengers, Larry Young, Stevie Wonder) and Vic Briggs (aka Antion) of Eric Burden and the Animals, among others. After many years of performing and recording in Hawaii, California, and Colorado, Shawn moved to Fairfield in June with his wife and children.
George is one of the most familiar performers in Fairfield, appearing in his bands Bambu and Skunk River Medicine Show, as well as with local favorites Steve and Michaela McLain, Sharon Bousquet, and others. After he performed a jazz concert with Keelan Dimick at the Sondheim Theater in 2009, George wanted more. Now he's finally gotten his wish and wants to blow the doors off. Come to Café Paradiso on November 4 and witness an exciting debut. Tickets are $10 in advance, $12 at the door.