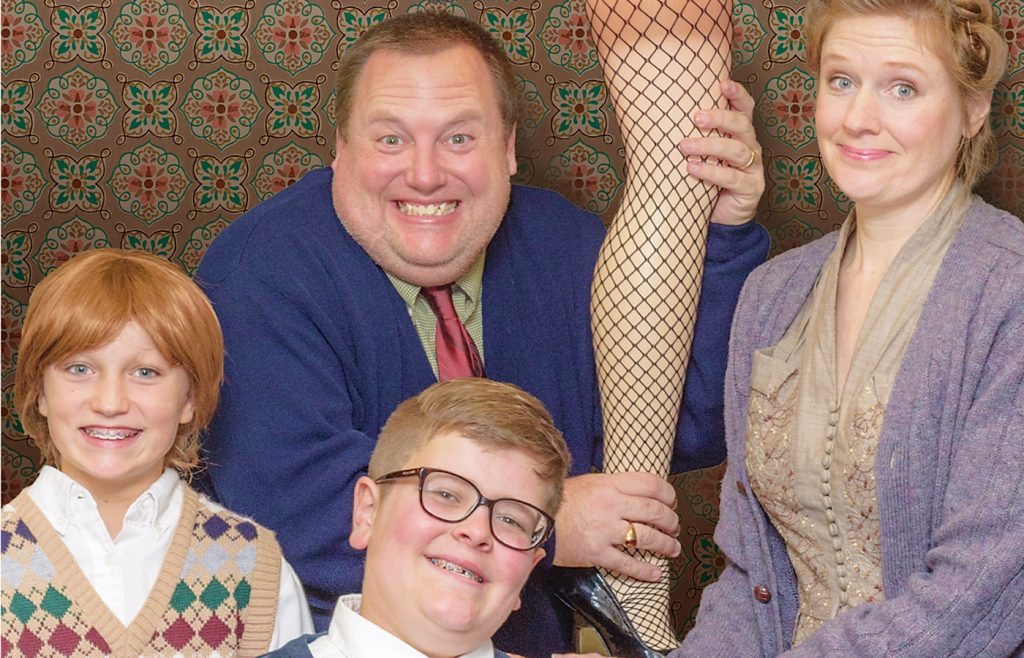 It's 1940. Pink-cheeked nine-year-old nerdling Ralphie Parker simply wants a Red Ryder BB gun for Christmas. Is that too much to ask?
These days, the issue of encouraging kids to play with toy weapons gets a little complicated, depending on which parents you ask. But in the 1940s and '50s, a boy's idea of a being a hero definitely involved having some kind of gun. If your basic storybook, motion picture, and comic strip heroes were holstered, good-hearted drifters who untied helpless damsels from the railroad tracks, hip-shootin' cowboys fending off bands of rascally Indians, brave policemen at the scene of a bank robbery, or even your WWII-fightin' Dad or uncle, having a toy gun would likely unleash a world of imagination—a glorious world where you got to perform acts of ultimate bravery and save the day.
Sometime around 1985, I recall seeing the VHS cover of A Christmas Story sitting on the rental shelf of the local Adventureland Video, and thinking to myself, "a Christmas movie about a dumb-looking kid in a bunny outfit that I've never even heard of? It must be pretty stupid." On that snap judgment based on next to nothing, I made a point of avoiding the movie for years.
It wasn't until 2012 when a friend of mine forced me to sit down and watch it—from start to finish—that I realized it was one of the most brilliant films ever made. I'm now biased in the exact opposite direction: if someone mentions they've never seen A Christmas Story, I look at them cockeyed, suddenly suspicious of their choices in life, and think to myself, "How on earth could they have missed this absolute classic? Can we even be friends anymore?"
If your TV picks up TNT or TBS, you're in luck—those channels loop the film for a 24-hour Christmas Story marathon each year. That's just how important it is to some folks.
Even the Library of Congress gave the film an "A + + + + + + + +" (you'll have to watch A Christmas Story to get that joke), when they deemed it worthy of preservation in the National Film Registry for being "culturally, historically, or aesthetically significant." Like I need any more justification for being a fan.
So when Fairfield actor-singer-director and teacher extraordinaire Tena Edlin announced she was going to direct the new musical stage version of A Christmas Story, I almost peed myself. She could have given me the role of Elf #17—I didn't care! I just wanted to be a part of it. Any incarnation of that story was worthy of being told, and as it turns out, the current incarnation is a 2017 Tony Award nominee.
The 1983 movie and its subsequent musical is based on a series of ridiculously charming stories by Jean Shepherd about young Ralphie Parker and his delirious quest for a Red Ryder BB gun. I get to play the role of Ralphie's mother, a compassionate force in the Parker family, but the first to utter the dreaded phrase in response to her son's seemingly unquenchable cause: "You'll shoot your eye out!"
Honestly, nobody can hold a candle to the utterly lovable Melinda Dillon, who originated the role on film, but if I don't cut the mustard, our Iowa audience is sure to be forgiving. They'll be too distracted by the cuteness of the kids dancing their (snow)pants off, the impressive lung capacity and vocal range of our leading young man Spencer Hilger, the hilariously ornery and likely intoxicated Santa Claus, the litany of fake swear words pouring out of the Old Man's mouth ("carn fenuckle!"), or the "leg lamp" in fishnet stockings glowing from the Parker family's living room window. (This really is a family show, I swear!) It's great fun for adults, too, and for parents everywhere who can relate to wanting to give their kids a magical Christmas without going broke. Or going crazy.
I sat down with our fantastic director Tena Edlin to ask her about her own history with A Christmas Story.
She began, "My dad does not enjoy movies. He watches two channels on TV, the Weather Channel or the History Channel. The only other thing that will hold his attention at all is the movie A Christmas Story. He loves it so much he can recite it forward and backward! It's his favorite thing, and to him, it completely captures when he was growin' up—it's that simple time. The stuff he loves is, like, trying to plug 12 electrical cords into that one outlet, the 'clinker' furnace—he'll tell you stories about it, and he can name every car in the movie. So I've grown up loving this movie, mostly through my Dad's eyes.
"Fast forward to the musical part," she continued. "When the Sondheim Center opened, one of the first things they brought in was a musical called Edges, and it was by this up-and-coming young composer duo Pasek and Paul. And I went every single night. It was one of the most moving pieces of theater I'd ever seen."
A heads up: this same duo Pasek and Paul just won an Academy Award for their song "City of Stars" in the movie La La Land and six Tony Awards for their musical Dear Evan Hansen last year. They're the real deal.
"And then I heard they were writing the score for this musical," gushed Tena, "and I was like, you've gotta be kidding me. Sign. Me. Up."
Tena set the tone for this Fairfield Area Community Theater (FACT) production of A Christmas Story at the auditions. Before we all gathered nervously on the Fairfield High School stage to learn a piece of the music and try our luck with one of the solos, Tena said something that really stuck with me, because it had been so many years since I'd heard anything of its kind in the theater world: "Here's the deal," she said to the crowd that had gathered in the auditorium, "We think everyone who wants to have an experience doing theater should have that experience. So. If you are here, and you don't have any conflicts with the schedule, you're in the show." Imagine all the smiling faces in that room.
She told me later, "I've done lots of different levels of theater, everything from middle school to professional, and they all are fabulous. Community theater is a place to get on stage. It's where people get bitten by the theater bug. It's the place where you can go and see your pastor singin' a solo next to the guy you know from the check-out at Hy-Vee . . . and it's people that you didn't even know shared a common interest with you. It's just the epitome of community."
Thanks to brave diehards like Edlin and her awesome FACT team (can you imagine wrangling a cast of 39, the vast majority of whom are children?), I'd say the future of theater is in very good hands.
I recommend first seeing the FACT musical version of A Christmas Story at the Fairfield Arts & Convention Center on December 15, 16, or 17, followed by Fox TV's live airing of it (coincidentally) on Sunday the 17th, concluding with a home-movie version in your PJs on Christmas Eve. Three times will be just about enough to make the season complete.