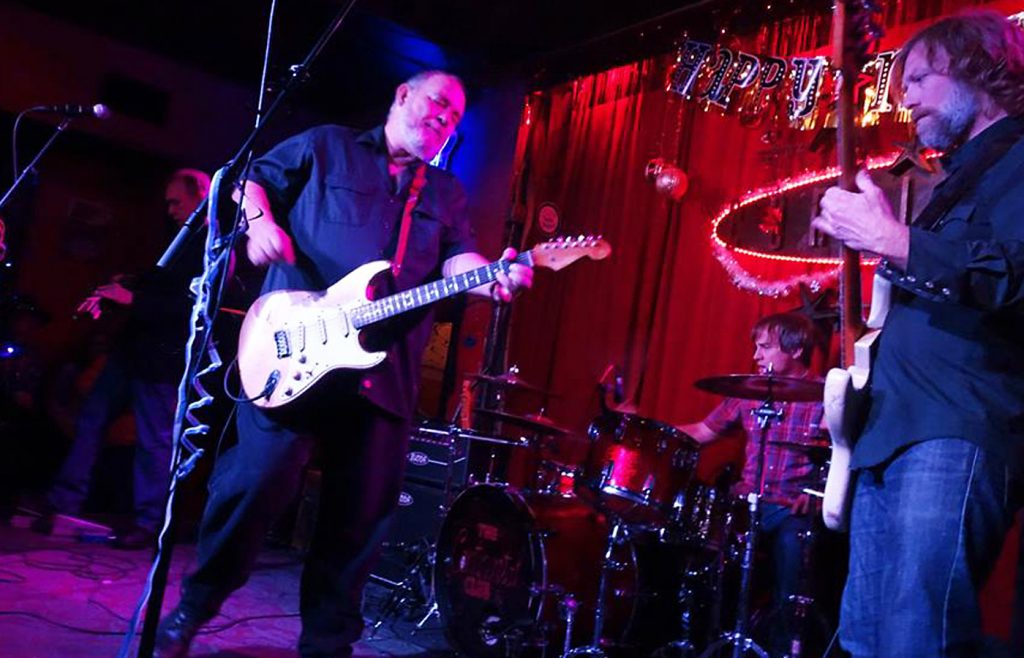 A couple of years ago, I was asked by the John D. and Catherine T. MacArthur Foundation to write an endorsement for guitarist and songwriter Jon Dee Graham. The MacArthur is commonly referred to as the "genius" grant because it's awarded to those "who have shown extraordinary originality and dedication in their creative pursuits and a marked capacity for self-direction." The prize is a substantial amount of money.
The MacArthur Foundation said that under no circumstances was I allowed to tell Graham that I had been contacted or he would be disqualified from consideration. By coincidence, Graham played the Mill in Iowa City just a few weeks after I penned the recommendation. I kept my word and said nothing.
Graham was short-listed for the honor, but he did not receive the award. He's returning to Iowa—to the Gas Lamp in Des Moines on December 6 and the Mill on December 8. I figured now it was okay for me to tell him about the MacArthur. He had already heard.
"I found out about it after the fact," Graham said over the phone from his Austin, Texas, home. "I was flabbergasted. Anyone who even knows me a little knows that I am no genius. Just being considered means as much to me as getting the money." While he may not be well-known outside of the Lone Star State, he and his music are celebrated at home.
Graham is the only musician to have been inducted into the Austin Music Hall of Fame three times: once for his unaccompanied work and twice as a member of a band, the True Believers and the Skunks. He's released about a dozen solo albums and recorded with a variety of acts, including Patty Griffin, John Doe, and Alejandro Escovedo. Graham has a residency two nights a week at Austin's legendary Continental Club.
Still, Graham considers himself a touring musician who looks forward to road shows. "I love meeting and playing for new people," he said. "Touring keeps me from taking things for granted. There are no revelations performing for the same audiences." While he hates sitting in a car while traveling from place to place, he loves to discover new destinations. He mentioned Byron's in Pomeroy, Iowa, as an example of coming to a spot in the middle of nowhere that turned out to be a wonderful venue with an appreciative crowd.
Graham has an adventurous mindset in terms of what songs he will play. "I have no set list and never have had one," he said. "My belief about that is, how do you know what an audience needs to hear before you meet them? Obviously, different people respond to different things. During the first three songs, I try to get a feel for the psychology of the crowd and take it from there," Graham noted. "It does drive my side musicians crazy."
During this journey, Graham will be accompanied by fellow Texan Bonnie Whitmore. They successfully hit the circuit together twice this summer. "She's a badass, no-nonsense, amazing singer with a stunning voice," Graham noted. We should call this the Vocal Beauty and the Beast Tour." Graham has a gruff voice that has been compared to those of Tom Waits and Leonard Cohen. Like these two, Graham is also a literary songwriter whose lyrics reveal a poetic sensibility.
One of the best examples of this is the song "Bobby Dunbar," about the real-life case from the turn of the 20th century about a boy who went missing and his return to his family.
Graham also has a deeply sensitive and sympathetic side. Consider "The Orphan's Song," with lyrics such as "We all need a brother a sister to see us through / I will be your brother for a night."
More recently, Graham published a book to much acclaim, LOVE notes from the bear, based on actual notes he left for his wife. He also offers bear cards, calendars, and drawings, and has considered a line of T-shirts. "The income it earns allows me to be more particular about where I will play, instead of wearing myself out on a tour with too many stops." While on the road, Graham draws bears in the car and during sound check.
Graham admits the MacArthur dough would have come in handy, but he doesn't regret not getting it. "I am so happy with my life right now," he said. "I am blessed beyond belief to do what I do and get away with it. That itself is miraculous!"