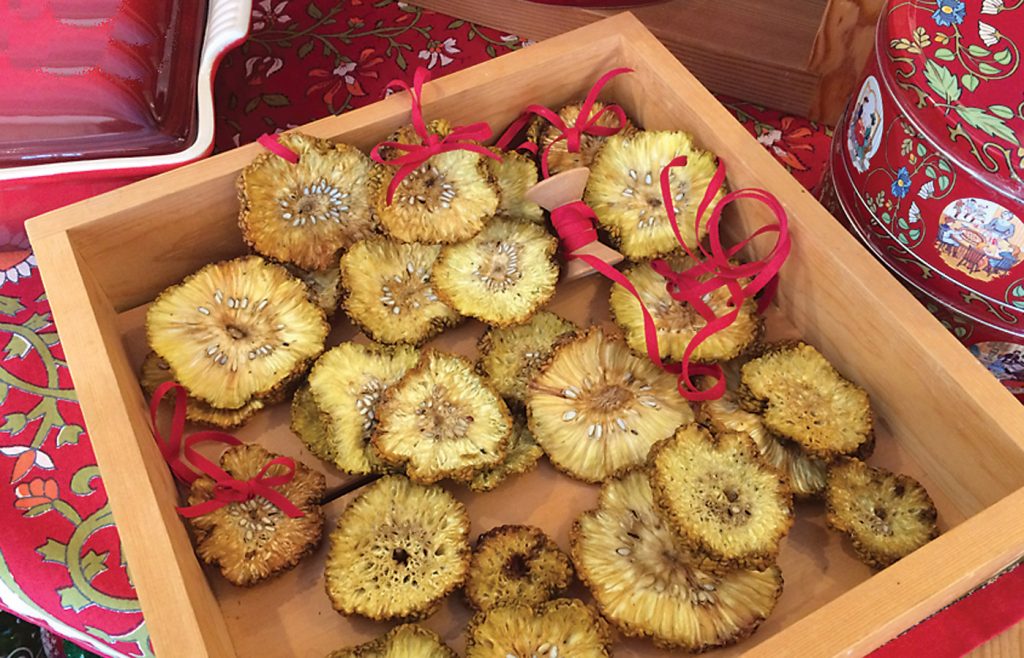 The Christmas season is fast approaching, and once again my thoughts turn to a simple holiday, one that is meaningful with family and tradition.
When my children were small, we studded oranges with cloves and rolled them in cinnamon. We learned a new Christmas song each year. We baked slices of Osage oranges slowly in the oven and tied them with red ribbon for the tree. We made beeswax candles and ornaments, and the house smelled wonderful.
These traditions bring to mind the Danish and Norwegian word hygge (pronounced Hue-gah). Hygge is really more of a concept than a word, and it refers to warmth, coziness, contentment, and friends and family. Think candles, blankets, the smell of pine, a warm fire, soft slippers.
There is another Scandinavian word that also captures my feelings about celebrating the holidays. It is the Swedish word lagom, which roughly translates to "not too much, not too little." I recently discovered a book called Lagom: Not Too Little, Not Too Much: The Swedish Art of Living a Balanced, Happy Life, by Niki Brantmark. When I picked up the small, light-blue book with its very happy cover, it magically opened to page nine, to this passage: "And celebrations like Christmas and midsummer are generally scaled back affairs with a strong focus on being together."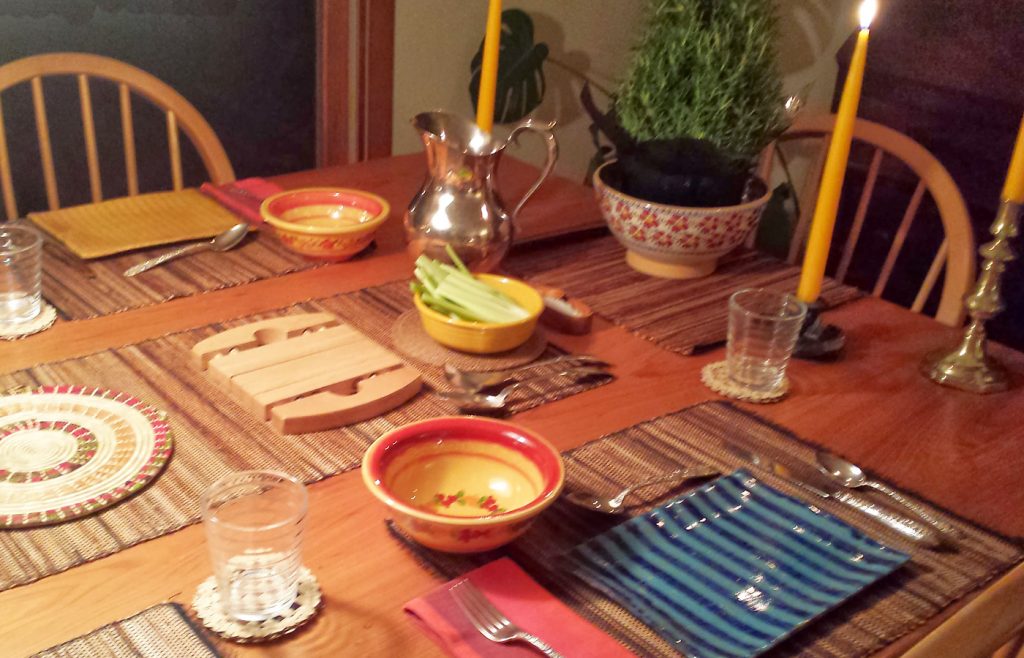 Having once celebrated midsummer in the north of Sweden—and remembering the simple food, fiddle music, and friends gathered around the outdoor fire—I began imagining a Christmas like that. I pictured a synthesis of lagom and hygge, a Christmas Eve with a simple table, candles, the smell of pine, a crusty loaf of bread, baked olives, a good soup, and family. Poached pears for dessert. Scaled back, but cozy and nice. And for Christmas morning, my friend Joey's delicious blueberry muffins with a sprinkling of nutmeg sugar on top. Not too much, not too little.
Osage Orange Ornaments
Preheat the oven to 175º F. Slice the Osage orange about ¼ to ½" thick. Lay the slices on a cookie sheet and place in the oven for 4 to 7 hours, until they're dried but not toasted, checking every half hour. (My last batch took about 10 hours.) You can turn the oven off overnight, or if you leave the house, and resume baking later. Your home will smell wonderful! When the slices have cooled, pierce each one with a needle, and thread with red ribbon to hang.
For easy clean-up after handling Osage oranges, wipe a bit of cooking oil on fingers and knife before washing with soap.
Baked Olives
1 pint olives, Kalamata, pitted or whole, or a variety of different olives
¼ cup olive oil, or to taste
Juice and zest of one orange
1 clove garlic, left whole
Pinch of salt
Sprigs of fresh rosemary (optional)
Preheat oven to 350-400° F. Combine all ingredients and bake olives until sizzling, about 15–20 minutes. Serve with a crusty loaf of bread. The flavor of the olives and the oil is amazing!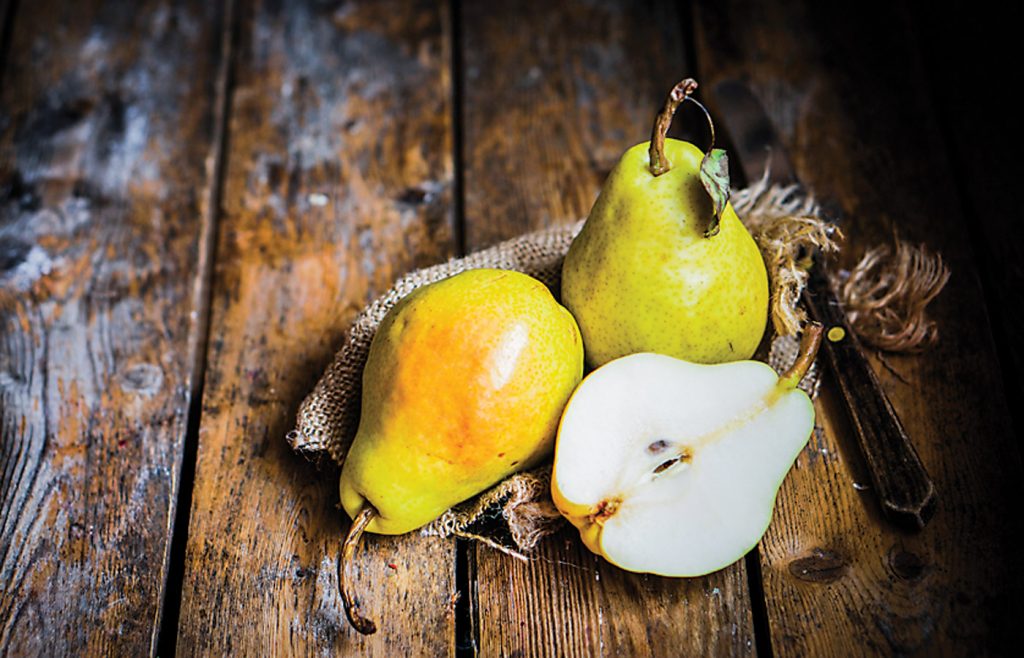 Vanilla Poached Pears
4 cups water
½ cup sugar
4-6 Bosc pears (or other firm, ripe pears), peeled and halved
1 vanilla pod, sliced in half lengthwise
½ lemon
In a large saucepan, heat the water and sugar until warm and the sugar dissolves. Add the vanilla pod and lemon half.
Gently slide the pears into the syrup. To prevent discoloration, lay a round of parchment paper with a small hole cut in the center directly on top of the pears. Simmer at a very low boil until pears are cooked through, about 20 to 30 minutes, depending on the pears. Test with the point of a sharp knife. Pears should yield to the knife, but not fall apart.
When done, remove pears from liquid and transfer to large bowl. If you prefer a more concentrated syrup, remove the vanilla and lemon, raise the heat to high, and cook for about 15 minutes or until the liquid is somewhat reduced, watching carefully. Scrape the seeds of the vanilla pod into the syrup, and return the lemon and pod to the liquid for additional flavor. Pour over pears and refrigerate. Serve pears with a small pitcher of cream.
Pears Poached in Riesling
Adapted from Vegetarian Cooking for Everyone, by Deborah Madison
3 cups Riesling
1 cup water or fresh orange juice
1 large piece orange zest
¼ cup sugar
6 firm, ripe pears, such as Winter Nelis, Bartlett, or small Bosc
Combine the wine, water, orange zest, and sugar in a 3-quart saucepan and gradually bring to a boil. Meanwhile, peel the pears. If small, leave them whole; if larger, halve them lengthwise and remove the core and stem with a corer. Simmer until the pears are translucent around the edges, about 20–40 minutes. Transfer the pears to a bowl.
Simmer the liquid until amber colored and syrupy. Pour the liquid over the pears and lay a piece of plastic wrap over them to keep them from browning, then refrigerate. Serve the pears in their syrup, accompanied by a spoonful of mascarpone or softly whipped cream.
The Best Blueberry Muffins
From Muffins, by Elizabeth Alston
½ cup butter, at room temperature
1 cup granulated sugar, or slightly less depending on tartness of blueberries
2 large eggs
1–2 teaspoons vanilla extract
2 teaspoons baking powder
¼ teaspoon salt
2½ cups blueberries (mash ½ cup with a fork)
2 cups all purpose flour
½ cup milk
1 tablespoon sugar mixed with ¼ teaspoon ground nutmeg (Joey uses fresh grated nutmeg, up to 1 teaspoon)
Heat oven to 375° F. Grease 12 regular muffin cups, including the area between each cup, or use foil baking cups.
In a medium-size bowl, beat butter until creamy. Beat in the sugar until pale and fluffy. Beat in eggs, one at a time. Beat in vanilla, baking powder, and salt.
Mix ½ cup mashed berries into batter.
Fold in half the flour with a spatula, then half the milk. Add remaining flour and milk. Fold in remaining whole blueberries.
Scoop batter into muffin cups. Sprinkle with nutmeg sugar. Bake 25–30 minutes, or until golden brown. Let muffins cool at least 30 minutes in the pan before removing them.
Rosie Witherspoon is the mother of four children, grandmother of two, and owner of the At Home Store in Fairfield.