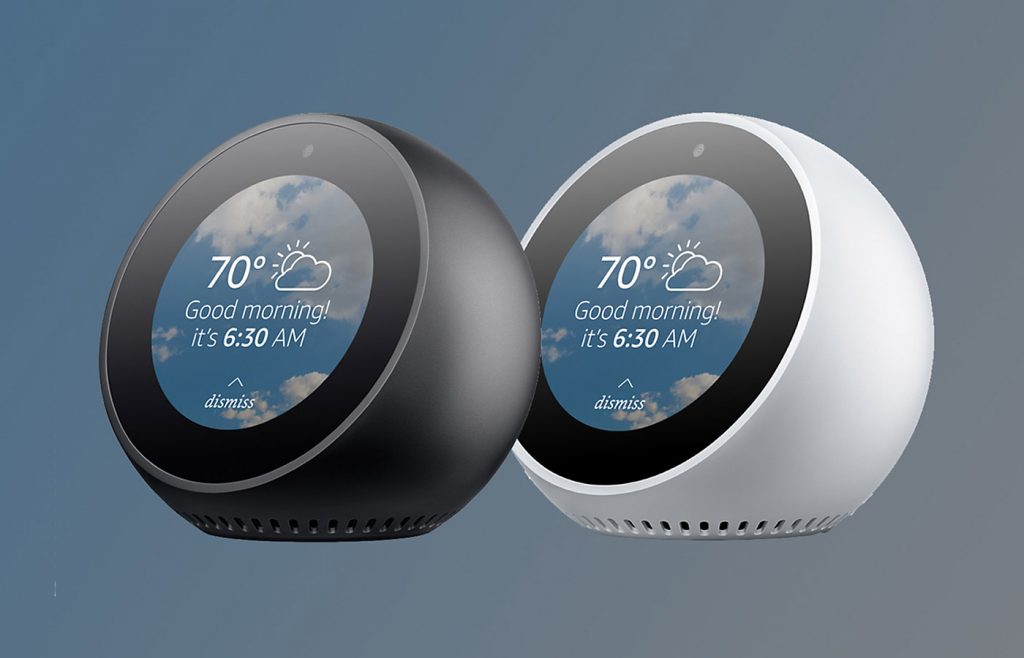 It's that time of year—when I share my technolust. If you're looking for a gift for that special someone, consider one of the very popular voice-controlled assistants now available.
My gift to myself last Christmas was the Amazon Echo Dot ($49), a small, disk-shaped device that responds to my every spoken re-quest for news, weather, sports scores, music, word definitions, and much more. The friendly Alexa voice has more personality than before, responding in fun ways when I say things like, "Alexa, talk to me" or "Alexa, I'm home."
Now Amazon has a slew of Echo products. They include the Echo Show ($229), which has a 7-inch touch screen for playing videos, making video calls to other Echo devices, displaying lyrics, and more. The Echo Spot ($129) is similar, except that it's round, like a clock, with a 2.5-inch screen. One of the options is a clock face, and of course you can use it (or any other Echo device) as an alarm clock.
There are many other Echo choices, most of them with better quality speakers than the Echo Dot, but you may want to consider the Dot and combine it with a Bluetooth speaker like the ones I'll recommend below. If you do want a higher-end Echo device, the new Echo Plus ($149) has better speakers and is oriented toward controlling smart-home devices via voice. It even comes with a Philips Hue smart bulb to get you started.
These voice-controlled gadgets are becoming increasingly popular, and now many other companies are releasing them.
In October, Google announced more devices for the home in addition to their earlier Google Home, including the Home Mini ($49), which competes directly with the Echo Dot. It's similar in size but, according to one review, has better sound. However, if you want to use it with external speakers, my understanding is that you'll also need a Google Chromecast ($35). Like the Dot, the Home Mini plays music, answers questions, controls smart-home devices, and more.
Also available is the new Home Max ($399), with powerful built-in speakers. And the new second-generation Google Home ($99) comes with better speakers than the original at a lower price. Other speaker companies are jumping into the fray, and the Sonos One ($199) is supposed to have better sound than the Home Max, Echo, and Apple HomePod ($349). The Sonos comes with the Alexa voice assistant built in, and next year will add Google Assistant voice control.
There are many more choices, with other manufacturers increasingly coming out with devices that include Amazon or Google voice assistants. iHome, for example, now offers the iAVS16 ($149) bedside speaker with a clock face. It comes with Alexa and can do all the usual tricks: play music and audio books, control smart-home devices, and get weather, news, traffic, and more. You can stream music stations from Spotify, Pandora, iHeart Radio, Amazon Music, TuneIn, and others.
(Which reminds me: When I first got my Echo Dot, I signed up for Amazon's music service at the great price of $4 a month. I used it a lot for several months, but then dropped it in favor of Pandora, which is free and gives me exactly the music I like.)
Whew, that's a lot of detail, so let's end with a couple great Bluetooth speaker options. I use my portable speaker to stream music directly from my iPad or Dot via Wi-Fi. I charge it in the same way I do my iPad, and the battery life is about 30 hours. I love not having the clutter of wires associated with the wired setups of yore.
One of the most popular Bluetooth speakers on Amazon is the OontZ Angle 3 Plus ($33) from Cambridge SoundWorks. It's portable, but has great sound.
If you want a step up in quality, go for a sound bar: a bar-shaped device containing multiple speakers. These usually have both Bluetooth capability and ports for a wired connection. People typically also use them with their TV to create a home-theater system.
The Bose SoundTouch 300 ($699) is an example on the high end, but one of the most popular on Amazon is more affordable and has a reputation for great sound: the TaoTronics Sound Bar ($89). It's 34 inches long and has four speakers as well as two "passive radiators" that enhance the bass. In addition to Bluetooth, it has ports for four types of wired connections.
Here's hoping Santa brings you some great gadgets.
Note: These voice assistants require Wi-Fi, and typically also require a smartphone or tablet during setup.
This Month's Hot Tip
If you receive a gift card you'll never use, get instant cash for it at Cardpool (cardpool.com) at up to 92 percent of the face value. They also sell gift cards for less than the face value.
© 2017 by Jim Karpen, Ph.D. Find column archives at jimkarpen.com.