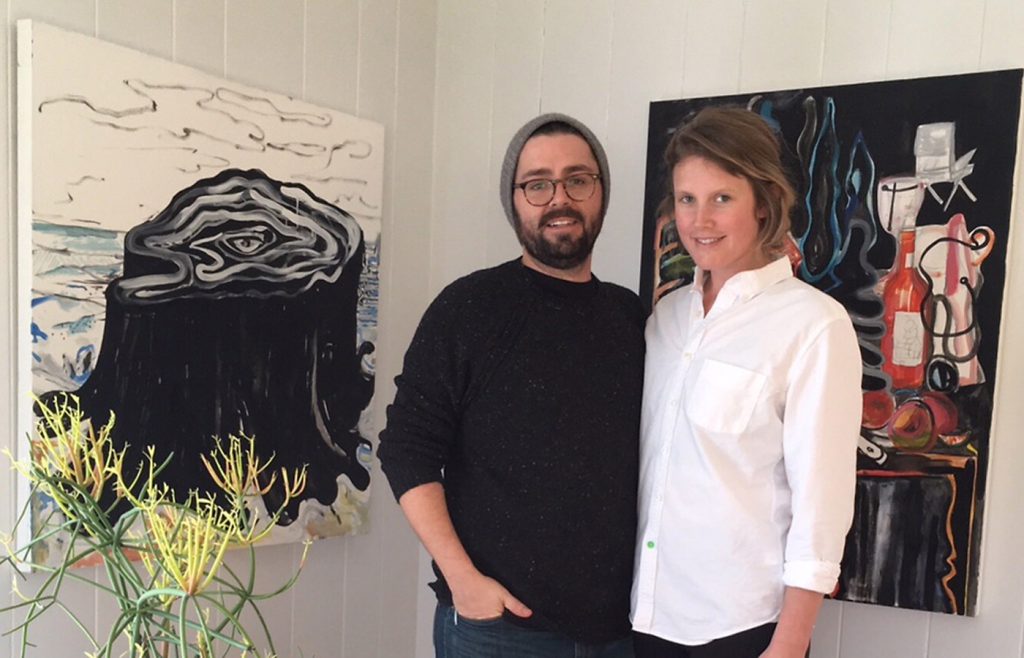 A hot new residential gallery opened in Des Moines last January. As a space that brings people together to encourage discussion and transformation, Yellow Door Gallery hits the mark.
When Emily Betts Susanin and her husband Mason Kessinger moved to Des Moines from Chicago, the house they bought had been owned by an art collector. "When we saw the space," Emily says, "there was art floor to ceiling. I think that was one of many reasons why we ended up starting the gallery."
Set up in a section of their home, Yellow Door Gallery combines their passion for art with a desire to "do something that brings the community together." Yellow Door Gallery provides multidisciplinary programming, including visual, aural, and performance art, with the intention of connecting emerging artists with collectors through salons, installations, performances, and afternoon teas.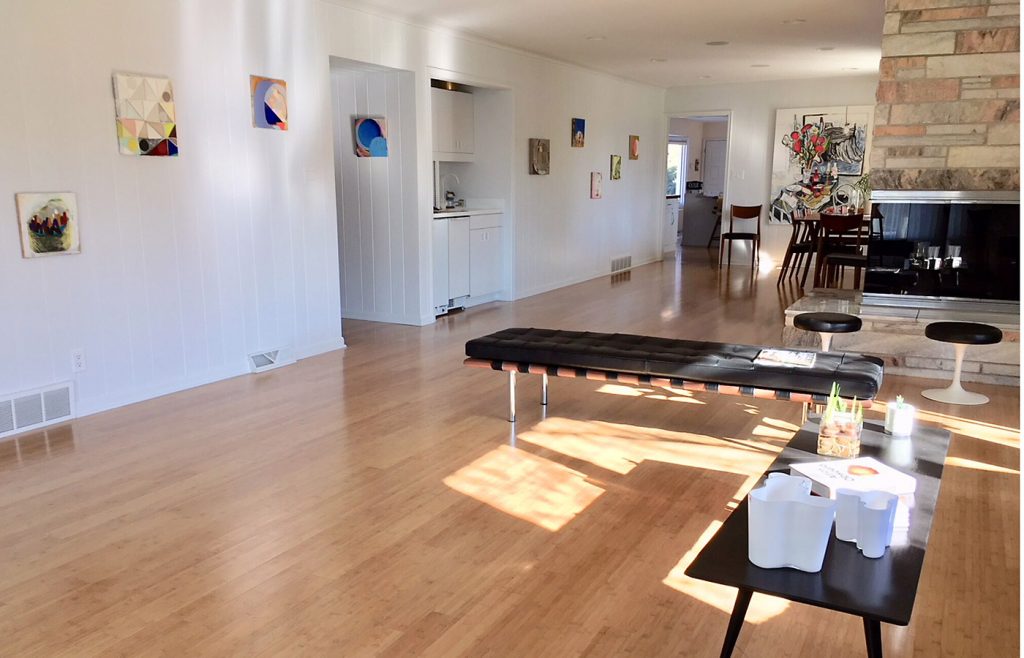 Yellow Door Gallery hosts monthly salons that are headlined by artists, poets, novelists, comedians, or local bands. Open Door Rep, a Des Moines-based theater company, does quarterly performances. Yellow Door also hosts Sunday afternoon yoga classes as a novel way to experience the gallery space.
Emily grew up in Des Moines, where three generations of her family still live. After moving to Colorado in 2007, she earned a B.A. in English and an M.B.A. in organizational development and marketing from the University of Denver. She moved to Chicago in 2012, eventually landing a job with her uncle's auction house, Susanin's, where she fell in love with art.
"We handled everything, from furniture to decorative articles to fine art," she says. Working with clients' private collections and exploring galleries with friends helped educate her about the current art world. She became especially interested in contemporary art and how it was evolving.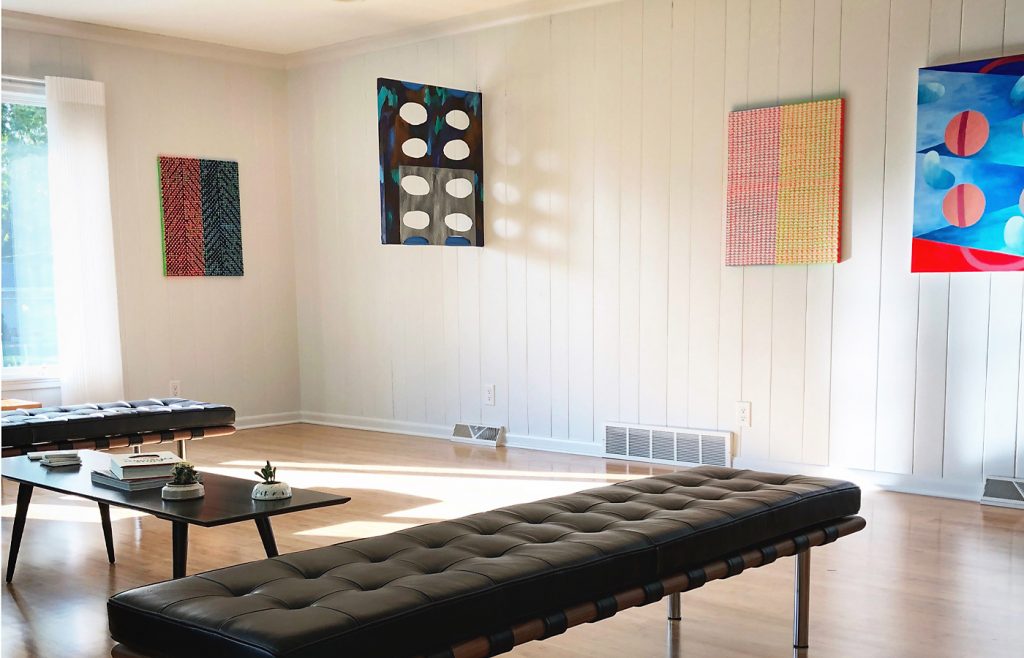 She still does some appraisal work for private clients, but works full time as marketing and communications manager for the Weitz Company. With Yellow Door Gallery, she's applying her business know-how to the art world.
Emily recently curated a group show, If Not For Space, in Fairfield for MUM's Unity Gallery, featuring Laurel Farrin, father-daughter artists James Shrosbree and Gyan Shrosbree, Ben Gardner, and Andrew Casto. "Ben was the first artist I'd shown." Emily says. "He introduced me to Jim and Gyan, and they introduced me to Fairfield." In June, she hosted a show of the Shrosbrees' work, Finding Distance. "They're doing amazing things," she says. When the Shrosbrees invited Emily to curate If Not For Space, she accepted, flattered but also a little nervous about the challenge of curating a large show in an unfamiliar space. Now she's happy with how things came together.
Emily and Mason have rotating shows every five to six weeks, but are considering doing shows every four to five weeks in 2018. "We're looking at expanding the programming and figuring out what that really means," she says. "We've had groups from the Art Center come through, and we are partnering with a foundation in Des Moines called Chrysalis."
In addition to poets, novelists, musicians, artists, and actors, they also work with local food purveyors, who have made salon presentations on craft brewing and artisanal vegetables.
Emily encourages people to reach out whenever they're in Des Moines. Yellow Door Gallery is open Sundays 1-4 p.m., but she's happy to open the gallery for out-of-town visitors outside of their typical hours. "It's no inconvenience to my life," she says. "This is what I love."
Yellow Door Gallery is located at 2121 Wakonda Drive in Des Moines. To make an appointment, or to share your work, email info@yellowdoordsm.com. For a schedule of salons and exhibitions, see YellowDoorDsM.com.