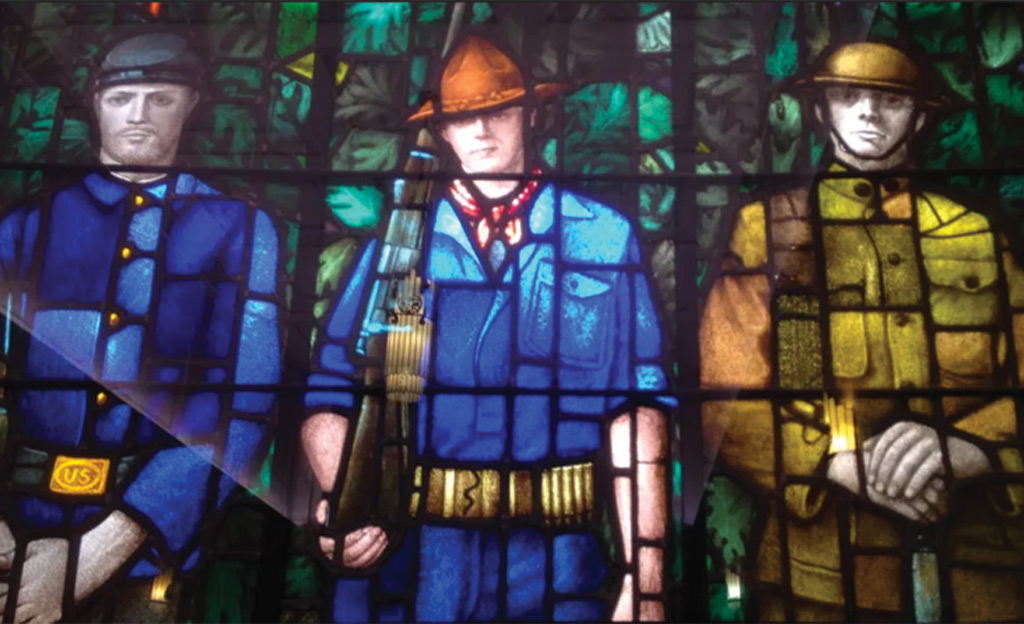 Call first or check online to learn about museum openings, closures, and updated safety requirements.
VETERANS MEMORIAL BUILDING, 101 First St. SE, Mays Island, Cedar Rapids. Cedar-Rapids.org. (319) 286-5050. Open by appointment. Grant Wood Memorial Window. Despite Grant's having limited experience with the medium of stained glass, this 20′ x 24′ window is one of his most revered works and serves as an awe-inspiring memorial to Veterans. Permanent. In Flight: The Horsky Collection of Model Airplanes. Celebrate the public return of the 185 model airplanes previously displayed at Eastern Iowa Airport. Take an in-depth look at the life of master modeler Major Robert M. Horsky, United States Air Force veteran, born and raised in Cedar Rapids. Permanent.
AFRICAN AMERICAN MUSEUM OF IOWA, 55 12th Ave. SE, Cedar Rapids. (319) 862-2101. Masks required. Unwavering: 21st Century Activism examines contemporary social movements that build upon the fight for black civil rights and equality that started over a century ago. Through summer 2021. Endless Possibilities Virtual Exhibit. Trace Iowa's African American history from its origins in Western Africa to the present with this interactive virtual tour. Permanent. Untangling the Roots Virtual Exhibit. A complex interactive online history of Black hairstyles and stylists. Permanent.
NATIONAL CZECH & SLOVAK MUSEUM AND LIBRARY, 1400 Inspiration Place SW, Cedar Rapids. (319) 362-8500. NCSML.org. Reservations required. Stitching History From the Holocaust. This new exhibit explores Holocaust history while bringing to life the innovative dress designs of Hedy Strnad. Through March 21. Formed in Fire: The Joyce Anderson Glass Collection. View exquisite Moser vases, enameled leaves and insects, glass jewels, Amphora pottery, bottles, vanity glass, figurines, wine sets, and more. Through April 11. Good Idea Slovakia. Poster show highlighting tourism and innovation. Through Jan. 31. Immigrant Home. This one-and-a-half-story house was the home of five generations of the Sleger family beginning in the 1890s through 1984 after they emigrated from Bohemia to the United States. Permanent.
GERMAN AMERICAN HERITAGE CENTER & MUSEUM, 712 W. 2nd St., Davenport. (563) 322-8844. GAHC.org. Valor & Victory Gardens: WWII in the Hawkeye State. The year 2020 marks the 75th anniversary of the end of WWII. Through local headlines, personal letters, and historic artifacts, the GAHC remembers, commemorates, and tells the Quad Cities' WWII stories in an exhibit supported by the Jewish Federation of the Quad Cities. Through January 17.
IOWA CHILDREN'S MUSEUMS, 1451 Coral Ridge Ave., Coralville. TheICM.org. Tickets required: purchase online. Featuring 14 interactive exhibits that inspire learning and play, including the AB … See Iowa! literacy and photography project; structured and unstructured activities in the Art Studio; the City Music sonic creativity playroom; the Pizzeria Pie cafe, where calculation skills and geometry are put into practice; and The Blue Room, filled to the brim with giant Imagination Playground Blocks. The large-scale, multi-story Take Flight! exhibit immerses kids in the four forces of flight, featuring state-of-the-art flight simulators built into kid-sized planes, a two-story slide, Amazing Airways, Bernoulli's Wind Tables, a real Cessna 150, and much more. Permanent.
***
ANTIQUE CAR MUSEUM OF IOWA, 200 E. 9th St., Coralville. (319) 354-3310, AntiqueCarMuseumofIowa.org. The museum plans to reopen in September 2020 inside the new Xtream Arena, showcasing over eighty automobiles dating from 1899 to 1995, as well as an original Skelly gas station and a collection of antique Iowa license plates. Permanent.
BLUEDORN SCIENCE IMAGINARIUM. West 3rd and Washington, Waterloo. (319) 233-8708. Pet a 12-foot python, fire an air cannon, create your own laser show, and more.
BRUCEMORE MANSION, 2160 Linden Dr. SE, Cedar Rapids. (319) 362-7375. Named the 2020 Outstanding Attraction at the Iowa Tourism Conference, Brucemore preserves and shares a 26-acre estate and seven historic structures. The site's story is a lens to the past and a reminder of the people, the events, and the drive that shaped the Cedar Rapids community.
FAMILY MUSEUM, 2900 Learning Campus Dr., Bettendorf. (563) 344-4106.
GROUT MUSEUM, 503 South St., Waterloo. (319) 234-6357.
HEARST CENTER FOR THE ARTS, 304 W. Seerley Blvd., Cedar Falls. Heather.Skeens@cedarfalls.com.
HERBERT HOOVER LIBRARY & MUSEUM, 210 Parkside Dr., West Branch. (319) 643-5301.
IOWA 80 TRUCKING MUSEUM, 505 Sterling Dr., Walcott. Iowa80TruckingMuseum.com. Featured exhibits include the 1919 Pierce Arrow, Cummins ISX Engine, NH-250 Cummins Cutaway, Knox 5th Wheel and Radiator, Bill Moon Tribute, and Hall Scott Engine, plus antique gas pumps, antique metal signs, and vintage toys. Permanent.
ISU TEXTILES AND CLOTHING MUSEUM, Mary Alice Gallery, 1015 Morrill Hall, 603 Morrill Rd., Ames. (515) 294-8552.
LIVING HISTORY FARMS, 11121 Hickman Rd., Urbandale. (515) 278-5286. Living History Farms is an interactive, 500-acre outdoor museum. Visit the 1700 Ioway Indian Farm, the 1850 Pioneer Farm, the 1900 Horse-Powered Farm, and the 1876 Town of Walnut Hill spread across 500 acres. Limited to 70 visitors per hour. Guests will be assigned a touring route and ticket time. Masks are encouraged and are available for purchase.
NATIONAL FARM TOY MUSEUM, 1110 16th Avenue Court SE, Dyersville. (563) 875-2727. Bernie Kluesner's Wooden Marvels. Bernie Kluesner's collection of handmade wooden toys features some of the most detailed and intricate woodworking replicas in the hobby. To date, Bernie has created over 53 toys, numbering over 14,000 individual pieces, including 186 wheels, and constructed with Elmers Wood Glue—not a single nail or screw. Through December 2021.
NATIONAL MISSISSIPPI RIVER MUSEUM, 350 E. Third St., Port of Dubuque. (563) 557-9545.
NATIONAL MOTORCYCLE MUSEUM, 102 Chamber Dr., Anamosa. (319) 462-3925, NationalMCMuseum.org. Stunning interpretive exhibits showcase a fine collection of machines and historical objects from around the world. Engineers, racers, bike builders, and tuners as far back as the late 1800s built the groundwork for what motorcycling has become. Permanent.
OKOBOJI CLASSIC CARS. 810 Jeppeson Rd., West Okoboji. OkobojiCC.com. (712) 332-8029. Open for tours Wednesday–Sunday. Reminisce your heart out on this sparkling tour of picture-perfect classics, cruisers, and muscle cars displayed among scale-model functional buildings inspired by old photos of small-town America and designed by architect Paul Maurer and artist Jack Reece. Buy yourself a classic ride, view the restoration center, peruse the gift shop, and enjoy third-generation scrap metaler Toby Shine's "hobby that got a little out of hand." Permanent.
PUTNAM MUSEUM & SCIENCE CENTER, 1717 W. 12th St., Davenport. (563) 324-1933. OMg! Elements of Surprise. Discover the elemental building blocks that shape our world through an all-new Putnam exhibit exploring the weird and wonderful periodic table in its 150th year.  The Great Collectors & YOU. Discover artifacts collected by prolific collectors from the Quad Cities and learn something new about the items in your own collection straight from the Putnam's knowledgeable staff with the interactive feature, Your Trading Place. Saturdays 1–3 p.m. or by appointment. Air, Land & Sea. This augmented reality experience allows visitors to meet a range of animals from Africa to the Arctic as they graze, drink, and interact with the environment around them. Permanent exhibit.
RICHARD L. PROENNEKE MUSEUM, Donnellson Public Library, 411 Main St., Donnellson. RichardProenneke.com. Visit a museum dedicated to American naturalist and adventurer Richard Proenneke (born in Primrose, Iowa, 1916). View artifacts, items, photos, and objects used or collected during the time Richard lived alone in a cabin he built by hand in Twin Lakes, Alaska. Permanent exhibit.
SALISBURY HOUSE, 4025 Tonawanda Dr., Des Moines. While the remarkable architecture at Salisbury House may be the first thing to draw in visitors, Salisbury is also home to important collections of rare books, fine art, decorative art, musical instruments, and more. Permanent exhibit.
SCIENCE CENTER OF IOWA, 401 W. Martin Luther King Jr. Pkwy, Des Moines. (515) 274-6868. Maker's Studio. Experiment with circuits, create a stop-motion animation video, build, test a flying machine, and more. Permanent. Why the Sky? Travel through the cosmos, get up close with spacecraft, and more. Permenent. Brick by Brick. Discover your inner builder in this exhibit pairing giant LEGO-built structures with hands-on challenges. View 10 models constructed by LEGO Certified Professional Adam Reed Tucker. Permanent.
STATE HISTORICAL MUSEUM OF IOWA, Des Moines. (515) 281-5111. Visit a variety of exhibits, including the six-foot Rand McNally globe, mammoth bones (discovered by a construction crew in Des Moines), vintage aircraft, and much more. Riding Through History. Learn how two Des Moines Register staff members turned their desire to ride across the state into the largest bicycling tour in the world. Get a glimpse of the RAGBRAI experience, including signature foods, team jerseys, classic bicycles, and a short film. Permanent.
SULLIVAN BROTHERS IOWA VETERANS MUSEUM, 503 South St., Waterloo. (319) 234-6357. View exhibits honoring the service and sacrifice of all Iowa veterans from the Civil War to the present day. Step into their stories through traditional exhibits, over 35 interactives, and an electronic Wall of Honor. Interviews collected via the Voices of Iowa Oral History Project total over 1,500. Permanent exhibit.
THE THEATRE MUSEUM OF REPERTOIRE AMERICANA. 405 E. Threshers Rd., Mount Pleasant. (319) 385-9432. This seasonal museum is dedicated to the preservation of memorabilia and artifacts of early repertoire theater. The collection includes painted curtains and scenic pieces; costumes and equipment; playbills, show cards, and advertising sheets; and an extensive research library of rare scripts, correspondence, production photos, and other original source materials. Of special interest is the large collection of videotaped interviews with actual "troupers" describing their professional and personal experiences. Wed.–Sat. through Labor Day, or by appointment.
UNIVERSITY OF IOWA LIBRARIES, 100 Main Library, Iowa City. (319) 335-5299.
UNIVERSITY OF IOWA PENTACREST MUSEUMS, University of Iowa Campus, Iowa City. (319) 335-0480. For the second year in a row, the Museum of Natural History and the Old Capitol Museum were awarded the "Best Museum" and "Best Historic Building" CRANDIC Awards. At the Museum of Natural History, tour exhibits like the Iowa Hall, a 500-million-year adventure through geological, cultural, and ecological history; the William & Eleanor Hageboeck Hall of Birds; the Biosphere Discovery Hub, exploring the relationship between people and the natural environment, and more.
VICTORIAN HOME & CARRIAGE HOUSE MUSEUM, 308 W 3rd St., Cedar Falls. (319) 266-5149.