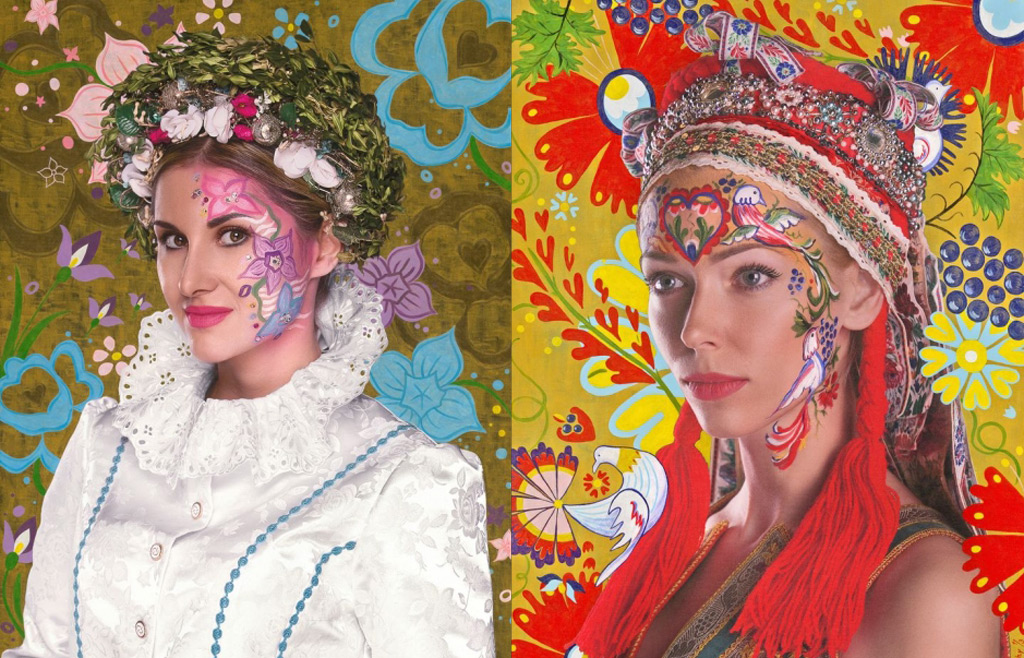 NATIONAL CZECH & SLOVAK MUSEUM, 1400 Inspiration Place SW, Cedar Rapids. (319) 362-8500. Party in the 21st Century. The "parta" is an elaborative headband, the plural of which is "party." This festive and ceremonial hair styling was worn by girls during big church feasts, but it was mainly reserved for brides on their wedding day. Being the most important and beautiful component of the wedding costume, it was richly decorated and unique in every region of Slovakia. This collection contains stunning paintings in which the audience can see nearly extinct "party" and wreaths from all over Slovakia. Through April 19. Immigrant Home. This one-and-a-half-story house was the home of five generations of the Sleger family beginning in the 1890s through 1984 after they emigrated from Bohemia to the United States. Permanent.
UNIVERSITY OF IOWA PENTACREST MUSEUMS, University of Iowa Campus, Iowa City. (319) 335-0480. 19th Amendment Exhibit: Hard Won, Not Done: A Century of Struggle. This exhibit commemorates the 100th anniversary of the passing of the 19th amendment. It examines suffragists' work at the national, state, and local levels that carried the nation through its first step toward gender equality: a woman's right to vote. A monumental step, it was but the first of many—some still ahead. The exhibit features suffragist history, artifacts, and a call from the past to use your vote today. Through fall 2020.
LIVING HISTORY FARMS, 11121 Hickman Rd., Urbandale. (515) 278-5286. Living History Farms is an interactive, 500-acre outdoor museum. Keeping Warm in the Midwest. A look at the textiles and tools used to keep warm during Midwestern winters, featuring hand- and machine-pieced quilts, fur lap robes, and other bed coverings. Feb. 27-March 8.
NATIONAL FARM TOY MUSEUM, 1110 16th Avenue Court SE, Dyersville. (563) 875-2727. Bernie Kluesner's Wooden Marvels. Bernie Kluesner's collection of handmade wooden toys features some of the most detailed and intricate woodworking replicas in the hobby. To date, Bernie has created over 53 toys, numbering over 14,000 individual pieces, including 186 wheels, and constructed with Elmers Wood Glue—not a single nail or screw. Through December 2021. 100 Years of John Deere Tractors. This exhibit showcases the 100-year evolution of the iconic green and yellow tractors with realistic miniature replicas. Through Dec. 2020.
STATE HISTORICAL MUSEUM OF IOWA, Des Moines. (515) 281-5111. Visit a variety of exhibits, including the six-foot Rand McNally globe, mammoth bones (discovered by a construction crew in Des Moines), vintage aircraft, and much more. Riding Through History. Learn how two Des Moines Register staff members turned their desire to ride across the state into the largest bicycling tour in the world. Get a glimpse of the RAGBRAI experience, including signature foods, team jerseys, classic bicycles, and a short film. Permanent.
PUTNAM MUSEUM & SCIENCE CENTER, 1717 W. 12th St., Davenport. (563) 324-1933. The Dragon and the Rising Sun: Traditions of China and Japan. View rare artifacts and artwork from the Putnam's vault that haven't been on display in decades, or in some cases never before seen by the general public. This exhibit contrasts Japanese Tokugawa shogunate and Imperial China, featuring comparisons of traditional clothing, edged weapons, art, musical instruments, depictions of dragons, and foo dogs. Through spring 2020. OMg! Elements of Surprise. Discover the elemental building blocks that shape our world through an all-new Putnam exhibit exploring the weird and wonderful periodic table in its 150th year.  The Great Collectors & YOU. Discover artifacts collected by prolific collectors from the Quad Cities and learn something new about the items in your own collection straight from the Putnam's knowledgeable staff with the interactive feature, Your Trading Place! Saturdays 1–3 p.m. or by appointment. Air, Land & Sea. This augmented reality experience allows visitors to meet a range of animals from Africa to the Artic as they graze, drink, and interact with the environment around them. Permanent exhibit.
ISU TEXTILES AND CLOTHING MUSEUM, Mary Alice Gallery, 1015 Morrill Hall, 603 Morrill Rd., Ames. (515) 294-8552. Collegiate Fashion & Activism: Black Women's Style on the College Campus. February 3–April 10.
VESTERHEIM MUSEUM, Decorah. (563) 382-8828. Tattoo: Identity Through Ink. For more than 5,000 years, and spanning cultures and continents, tattooing has adorned European nobility and Native Americans, celebrities and Scandinavian sailors, punks and presidents, and everyone in between. This exhibit explores the ways individual and group identities are formed, reinforced, and celebrated through tattoos, featuring photos, videos, original art, and artifacts from around the world. Visitors can design their own tattoos, and on select days, tattoo artists will demonstrate their art live. Through April 2020. Favorite Things: A Community Curated Exhibit of Vesterheim's Collections. Some objects were chosen for their beauty, others for their compelling stories, thier family connections, or for deeply personal reasons. Through May 2020.
SALISBURY HOUSE, 4025 Tonawanda Dr., Des Moines. While the remarkable architecture at Salisbury House may be the first thing to draw in visitors, Salisbury is also home to important collections of rare books, fine art, decorative art, musical instruments, and more. Permanent exhibit.
SCIENCE CENTER OF IOWA, 401 W. Martin Luther King Jr. Pkwy., Des Moines. (515) 274-6868. Blank IMAX Dome Theatre. Watch science documentaries and Hollywood films on a six-story, dome-shaped screen. Brick by Brick. Discover your inner builder in this exhibit pairing giant LEGO-built structures with hands-on building challenges. View 10 models constructed by LEGO Certified Professional Adam Reed Tucker. Permanent.
BLUEDORN SCIENCE IMAGINARIUM. West 3rd and Washington, Waterloo. (319) 233-8708. Pet a 12-foot python, fire an air cannon, create your own laser show, and more.
GERMAN AMERICAN HERITAGE CENTER, 712 W. 2nd St., Davenport. (563) 322-8844. 
RICHARD L. PROENNEKE MUSEUM, Donnellson Public Library, 411 Main St., Donnellson. RichardProenneke.com. Visit a museum dedicated to American naturalist and adventurer Richard Proenneke (born in Primrose, Iowa, 1916). View artifacts, items, photos, and objects used or collected during the time Richard lived alone in a cabin he built by hand in Twin Lakes, Alaska. Permanent exhibit.
AFRICAN AMERICAN MUSEUM OF IOWA, 55 12th Ave. SE, Cedar Rapids. (319) 862-2101. Endless Possibilities. This interactive exhibit uses photos, objects, stories, and multimedia to trace the journey of Iowa's African Americans—from the beauty and diversity of West Africa, to the desperate flight of freedom seekers on the Underground Railroad, to Iowa's role in the civil rights movement and beyond. Permanent exhibit. Untangling the Roots: The Culture of Black Hair. Explore the cultural and historical roots of beauty ideals surrounding African American hair, from the historical effects of slavery and colonialism, to modern issues of cultural appropriation and backlash against natural hairstyles in the workplace. Engage with the topic through oral histories from local hairstylists, interactives, and curated objects from Iowa's beauty schools and salons. Through Summer 2020.
GROUT MUSEUM, 503 South St., Waterloo. (319) 234-6357. Whose Land Is This? Native Americans and Euro-Americans in Iowa. This traveling exhibit explores the fateful contact between Native Americans in Iowa and Euro-Americans, focusing on the conflict resulting from their very different conceptions of "land." Created in partnership with the UNI Center for Holocaust & Genocide Education. Through August 17. Remember the Ladies: The Path to Suffrage. Winning the right to vote was a hard-fought battle for women. Iowans like Carrie Chapman Catt, Amelia Bloomer, Annie Nowlin Savery, and Anna B. Lawther were at the forefront of this effort. Explore the relationship between suffragists in Iowa and the national movement, and learn about the changing roles of women throughout the 20th century. Through March 31.
HERBERT HOOVER LIBRARY & MUSEUM, 210 Parkside Dr., West Branch. (319) 643-5301. Viva Hoover! The 1928 Goodwill Tour. The exhibit highlights the trip deemed "a call of friendship" during which president-elect Herbert Hoover visited with officials from Honduras, Salvador, Nicaragua, Costa Rica, Ecuador, Peru, Bolivia, Chile, Argentina, Uruguay, and Brazil. View a collection of gifts, artifacts, photos, and film footage from stops on his trip, and learn about Hoover's time spent aboard the USS Maryland and USS Utah. Through August 23.
OLD CAPITOL MUSEUM, 21 N. Clinton, Iowa City. (319) 335-0546.
SULLIVAN BROTHERS IOWA VETERANS MUSEUM, 503 South St., Waterloo. (319) 234-6357. View exhibits honoring the service and sacrifice of all Iowa veterans from the Civil War to the present day. Step into their stories through traditional exhibits, over 35 interactives, and an electronic Wall of Honor. Interviews collected via the Voices of Iowa Oral History Project total over 1,500. Permanent exhibit.
BRUCEMORE MANSION, 2160 Linden Dr. SE, Cedar Rapids. (319) 362-7375.
FAMILY MUSEUM, 2900 Learning Campus Dr., Bettendorf. (563) 344-4106.
THE THEATRE MUSEUM OF REPERTOIRE AMERICANA. 405 E. Threshers Rd., Mount Pleasant. (319) 385-9432. This seasonal museum is dedicated to the preservation of memorabilia and artifacts of early repertoire theater. The collection includes painted curtains and scenic pieces; costumes and equipment; playbills, show cards, and advertising sheets; and an extensive research library of rare scripts, correspondence, production photos, and other original source materials. Of special interest is the large collection of videotaped interviews with actual "troupers" describing their professional and personal experiences. Wed.–Sat. through Labor Day, or by appointment.
SCIENCE CENTER OF IOWA, 401 W. Martin Luther King Jr. Pkwy, Des Moines. (515) 274-6868. Maker's Studio. Experiment with circuits, create a stop-motion animation video, build, test a flying machine, and more. Permanent. Why the Sky? Travel through the cosmos, get up close with spacecraft, and more. Permenent. Brick by Brick. Discover your inner builder in this exhibit pairing giant LEGO-built structures with hands-on challenges. View 10 models constructed by LEGO Certified Professional Adam Reed Tucker. Permanent.
NATIONAL MISSISSIPPI RIVER MUSEUM, 350 E. Third St., Port of Dubuque. (563) 557-9545.
UNIVERSITY OF IOWA LIBRARIES, 100 Main Library, Iowa City. (319) 335-5299.
VICTORIAN HOME & CARRIAGE HOUSE MUSEUM, 308 W 3rd St., Cedar Falls. (319) 266-5149.