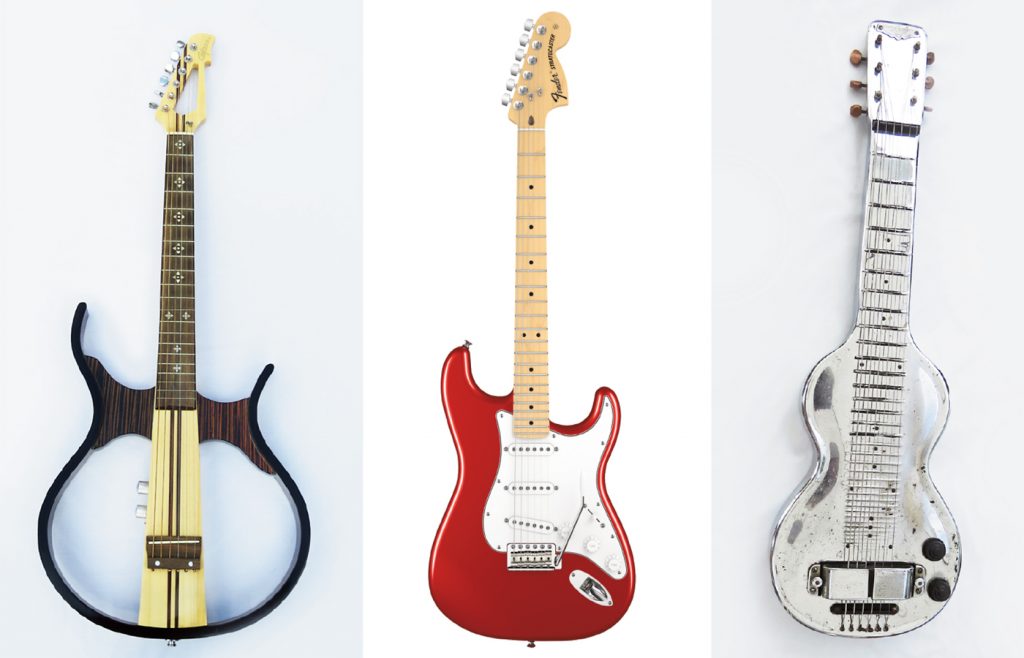 NATIONAL CZECH & SLOVAK MUSEUM, 1400 Inspiration Place SW, Cedar Rapids. (319) 362-8500.  Medieval to Metal: The Art & Evolution of the Guitar. This touring exhibition organized by the National Guitar Museum celebrates the artistic development of the instrument. As the guitar's ancestors evolved over centuries from the earliest ouds and lutes, guitar makers experimented with shapes, materials, and accessories, seeking the perfect blend of beauty and sound. Through Jan. 26. Newspaper Dolls. View a photo collection of fashion designs created entirely from newspaper by artist Zlatka Burtis. Each garment is modeled and photographed, developed, and hand-painted to give a contemporary pop-art appearance. Through Dec. 31. Bethlehem and Beyond: The Nativity Scene. This whimsical, fantastic, and rare nativity scene is made up of nearly 1,000 handcarved pieces, most of which were created in Příbram, Bohemia, over 150 years ago. Through February 2.
STATE HISTORICAL MUSEUM OF IOWA, Des Moines. (515) 281-5111. Visit a variety of exhibits, including the six-foot Rand McNally globe, mammoth bones (discovered by a construction crew in Des Moines), vintage aircraft, and much more. Riding Through History. Learn how two Des Moines Register staff members turned their desire to ride across the state into the largest bicycling tour in the world. Get a glimpse of the RAGBRAI experience, including signature foods, team jerseys, classic bicycles, and a short film. Permanent.
PUTNAM MUSEUM & SCIENCE CENTER, 1717 W. 12th St., Davenport. (563) 324-1933.  The Great Collectors & YOU. Discover artifacts collected by prolific collectors from the Quad Cities and learn something new about the items in your own collection straight from the Putnam's knowledgeable staff with the interactive feature, Your Trading Place! Saturdays 1–3 p.m. or by appointment. Back to the Jurassic: Augmented Reality Experience. Closing date TBA. Literary Heroines. This new exhibit examines strong female characters in fiction and will showcase clothing, accessories, and objects similar to those worn and used by the heroines of Pride & Prejudice, Snow Flower and the Secret Fan, Jane Eyre, Mrs. Lincoln's Dressmaker, the Little House on the Prairie series, Like Water for Chocolate, The Atomic City Girls, To Kill a Mockingbird, the Harry Potter series, and many more. Air, Land & Sea. This augmented reality experience allows visitors to meet a range of animals from Africa to the Artic as they graze, drink, and interact with the environment around them. Permanent exhibit. Rube Goldberg: The World of Hilarious Invention! This hands-on youth exhibit showcases Pulitzer Prize-winning humorist and inventor Rube Goldberg's iconic contraptions, imaginative illustrations, and humorous storytelling. Through January 2020.

VESTERHEIM MUSEUM, Decorah. (563) 382-8828. Tattoo: Identity Through Ink. For more than 5,000 years, and spanning cultures and continents, tattooing has adorned European nobility and Native Americans, celebrities and Scandinavian sailors, punks and presidents, and everyone in between. This exhibit explores the ways individual and group identities are formed, reinforced, and celebrated through tattoos, featuring photos, videos, original art, and artifacts from around the world. Visitors can design their own tattoos, and on select days, tattoo artists will demonstrate their art live. Through April 2020. Favorite Things: A Community Curated Exhibit of Vesterheim's Collections. Some objects were chosen for their beauty, others for their compelling stories, thier family connections, or for deeply personal reasons. Through May 2020.
LIVING HISTORY FARMS, 11121 Hickman Rd., Urbandale. (515) 278-5286. Living History Farms is an interactive, 500-acre outdoor museum.
SALISBURY HOUSE, 4025 Tonawanda Dr., Des Moines. While the remarkable architecture at Salisbury House may be the first thing to draw in visitors, Salisbury is also home to important collections of rare books, fine art, decorative art, musical instruments, and more. Permanent exhibit.
SCIENCE CENTER OF IOWA, 401 W. Martin Luther King Jr. Pkwy., Des Moines. (515) 274-6868. Blank IMAX Dome Theatre. Watch science documentaries and Hollywood films on a six-story, dome-shaped screen. Brick by Brick. Discover your inner builder in this exhibit pairing giant LEGO-built structures with hands-on building challenges. View 10 models constructed by LEGO Certified Professional Adam Reed Tucker. Permanent.
BLUEDORN SCIENCE IMAGINARIUM. West 3rd and Washington, Waterloo. (319) 233-8708. Pet a 12-foot python, fire an air cannon, create your own laser show, and more.
GERMAN AMERICAN HERITAGE CENTER, 712 W. 2nd St., Davenport. (563) 322-8844.  Witness to the Revolution. As communism fell in Europe in 1989, several Americans in Czechoslovakia gave eye-witness accounts of the pivotal historic moment through notes, pictures, and videos. On loan from the NCSML through Feb. 23.
RICHARD L. PROENNEKE MUSEUM, Donnellson Public Library, 411 Main St., Donnellson. RichardProenneke.com. Visit a museum dedicated to American naturalist and adventurer Richard Proenneke (born in Primrose, Iowa, 1916). View artifacts, items, photos, and objects used or collected during the time Richard lived alone in a cabin he built by hand in Twin Lakes, Alaska. Permanent exhibit.
AFRICAN AMERICAN MUSEUM OF IOWA, 55 12th Ave. SE, Cedar Rapids. (319) 862-2101. Endless Possibilities. This interactive exhibit uses photos, objects, stories, and multimedia to trace the journey of Iowa's African Americans—from the beauty and diversity of West Africa, to the desperate flight of freedom seekers on the Underground Railroad, to Iowa's role in the civil rights movement and beyond. Permanent exhibit. Untangling the Roots: The Culture of Black Hair. Explore the cultural and historical roots of beauty ideals surrounding African American hair, from the historical effects of slavery and colonialism, to modern issues of cultural appropriation and backlash against natural hairstyles in the workplace. Engage with the topic through oral histories from local hairstylists, interactives, and curated objects from Iowa's beauty schools and salons. Through Summer 2020.
GROUT MUSEUM, 503 South St., Waterloo. (319) 234-6357. Whose Land Is This? Native Americans and Euro-Americans in Iowa. This traveling exhibit explores the fateful contact between Native Americans in Iowa and Euro-Americans, focusing on the conflict resulting from their very different conceptions of "land." Created in partnership with the UNI Center for Holocaust & Genocide Education. Through August 17. Temperance & Turmoil: The Story of Prohibition and the Great Depression in Iowa. Between banks, bootlegging, and banditry, Iowa found itself in the middle of social debate, political instability, and turmoil in the 1920s and '30s.
OLD CAPITOL MUSEUM, 21 N. Clinton, Iowa City. (319) 335-0546.
SULLIVAN BROTHERS IOWA VETERANS MUSEUM, 503 South St., Waterloo. (319) 234-6357. View exhibits honoring the service and sacrifice of all Iowa veterans from the Civil War to the present day. Step into their stories through traditional exhibits, over 35 interactives, and an electronic Wall of Honor. Interviews collected via the Voices of Iowa Oral History Project total over 1,500. Permanent exhibit.
BRUCEMORE MANSION, 2160 Linden Dr. SE, Cedar Rapids. (319) 362-7375. Mansion Tours. Explore over a century of Cedar Rapids history. Wed.–Sun. through Nov. 17. Holiday Mansion Tours begin Nov. 29. RSVP required.
FAMILY MUSEUM, 2900 Learning Campus Dr., Bettendorf. (563) 344-4106. Run! Jump! Fly! Adventures in Action. This hands-on exhibit designed to combat summertime inertia explores martial arts, surfing, snowboarding, yoga, and horizontal climbing. Through Sept. 8.
HERBERT HOOVER LIBRARY & MUSEUM, 210 Parkside Dr., West Branch. (319) 643-5301. Collaborating Collectors. Collected items include Chinese blue and white porcelain, Southwestern art, furniture, Belgian flour sacks, paintings, and Mrs. Hoover's jewelry. Through Oct. 27.
THE THEATRE MUSEUM OF REPERTOIRE AMERICANA. 405 E. Threshers Rd., Mount Pleasant. (319) 385-9432. This seasonal museum is dedicated to the preservation of memorabilia and artifacts of early repertoire theater. The collection includes painted curtains and scenic pieces; costumes and equipment; playbills, show cards, and advertising sheets; and an extensive research library of rare scripts, correspondence, production photos, and other original source materials. Of special interest is the large collection of videotaped interviews with actual "troupers" describing their professional and personal experiences. Wed.–Sat. through Labor Day, or by appointment.
SCIENCE CENTER OF IOWA, 401 W. Martin Luther King Jr. Pkwy, Des Moines. (515) 274-6868. Maker's Studio. Experiment with circuits, create a stop-motion animation video, build, test a flying machine, and more. Permanent. Why the Sky? Travel through the cosmos, get up close with spacecraft, and more. Permenent. Brick by Brick. Discover your inner builder in this exhibit pairing giant LEGO-built structures with hands-on challenges. View 10 models constructed by LEGO Certified Professional Adam Reed Tucker. Permanent.
NATIONAL MISSISSIPPI RIVER MUSEUM, 350 E. Third St., Port of Dubuque. (563) 557-9545.
UNIVERSITY OF IOWA LIBRARIES, 100 Main Library, Iowa City. (319) 335-5299.
VICTORIAN HOME & CARRIAGE HOUSE MUSEUM, 308 W 3rd St., Cedar Falls. (319) 266-5149.