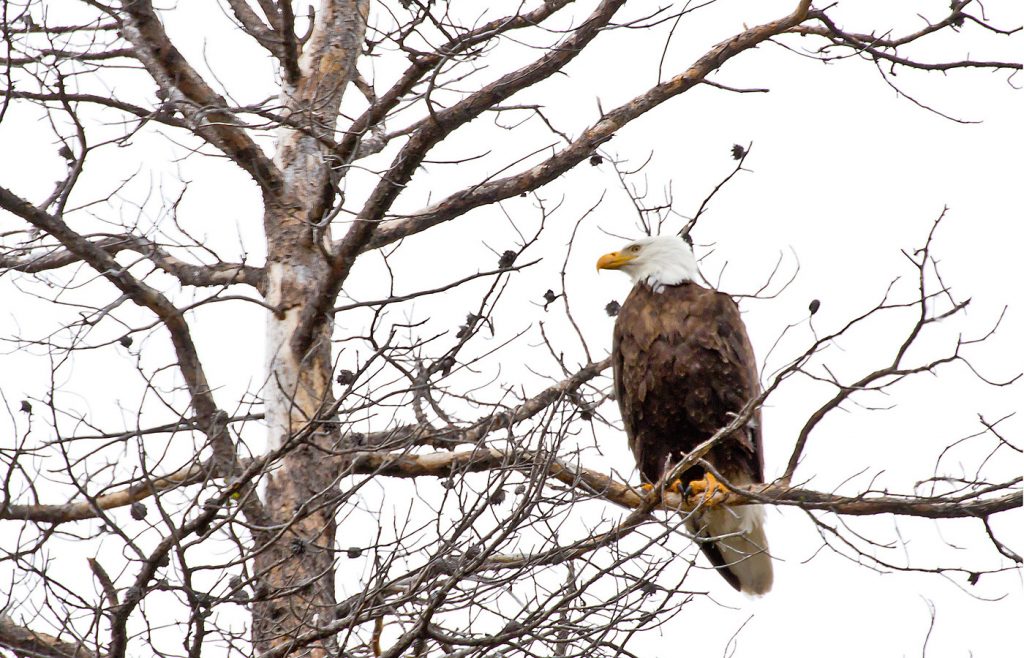 Each winter when the weather turns cold, the Quad Cities area hosts hundreds of bald eagles making their annual southern migration from Canada to the unfrozen waters of the Mississippi River.
Residents and visitors alike look to the skies to watch the eagles, easily identified by their white heads and tails and their immense wingspans. A symbol of freedom and strength, and once on the brink of extinction, bald eagles regularly awe visitors who line the banks of the Mississippi River on crisp, clear winter mornings.
Just down the river from Locks and Dams 14 and 15, these magnificent birds of prey gather along the wooded bluffs to spend the winter in the Quad Cities. The waters of the river remain unfrozen, fish is plentiful, and old-growth forests provide prime sites for perching and roosting.
The Quad Cities celebrate these transient residents each winter with a series of events, tours, and eagle watching opportunities.
Bald Eagle Days. The feature celebration is Bald Eagle Days on January 5–7 at the QCCA Expo Center, 2621 4th Avenue, Rock Island, Illinois. It is the largest event in the Midwest dedicated to our national symbol of freedom. Hours are Friday 4 p.m.–8 p.m., Saturday 10 a.m.–8 p.m., and Sunday 10 a.m.–5 p.m. Admission is $6 for adults and $1 for kids 6–15 years.
Thousands of residents and visitors turn out for live eagle programs, live bird of prey demonstrations, and display booths. Spotting scopes set up and manned by the Quad City Audubon Society are available at Sunset Marina in Rock Island for a great eagle watching opportunity, with free shuttle bus service from the Expo Center. For more information, visit QCAAExpoCenter.com.
Eagle Watches. The Mississippi River Visitor Center on Arsenal Island, between Davenport, Iowa, and Rock Island, Illinois, offers free eagle watches and Clock Tower tours on Saturdays and Sundays on January 13, 14, 27, 28; February 3, 4, 10, 11, at 10 a.m. and 12 p.m. Reservations are required; call (309) 794-5338. Their location is also good for eagle viewing anytime. The Mississippi River Visitor Center is open Tuesday to Saturday 9 a.m.–5 p.m. Please access Arsenal Island through the downtown Moline security gate.
Eagle Viewing Locations. There are also prime viewing locations in the area where you can go eagle watching anytime on your own. The Davenport and Rock Island riverfronts down river from Lock and Dam 15 offer frequent sightings. In addition, Sunset Park in Rock Island and Credit Island in Davenport also serve as prime viewing areas. Lock and Dam 14 at Pleasant Valley, Iowa, and Hampton, Illinois, are great viewing spots. Last year on the Iowa side, two of the most popular trees for the eagles to roost in had to be cut down because they were storm-damaged and dying. Through an effort from the Quad-City Photography Club, MidAmerican Energy Co. installed three 40-foot eagle perches—almost artificial trees—in the fall in preparation for the winter eagle migration. New trees have been planted as well.
Guided Bald Eagle Watching Tours. If you would like a guided tour, Quad Cities naturalist Bob Motz offers professional 2- to 3-hour bald eagle watching tours. He guarantees eagle sightings to tour groups and offers a refund should his tour fail to produce any sightings. He has yet to refund money to his clients. Mr. Motz can be reached at (309) 269-3922.
If you're taking pictures of the bald eagles in the Quad Cities, use #qcbaldeagles in social media.
The bald eagles seen in the Quad Cities are growing in number. In 2007, the eagle was removed from the list of threatened and endangered species.
If you're planning a visit, the area offers a variety of accommodations in all price ranges. Other winter activities include three casinos, shopping in historical districts like the Village of East Davenport, tours of the historic John Deere mansions, historical interests at the Rock Island Arsenal Island, Circa '21 Dinner Playhouse, live music at the River Music Experience, exhibits at the Putnam Museum and Figge Art Museum in Davenport, and the Family Museum in Bettendorf.
If you like the outdoors, the area offers downhill and cross-country skiing, snowboarding, tubing, snow bikes, ice fishing, snowmobiling, and winter hiking at any one of the area's large forest preserves or parks. Discover these and many more marvels on the Mississippi River in the Quad Cities. Contact the Quad Cities Convention & Visitors Bureau at (800) 747-7800 or visit their website at VisitQuadCities.com.
The Quad Cities are located on the Mississippi River and are made up of the riverfront cities of Davenport and Bettendorf in Iowa, and Moline, East Moline, and Rock Island in Illinois.