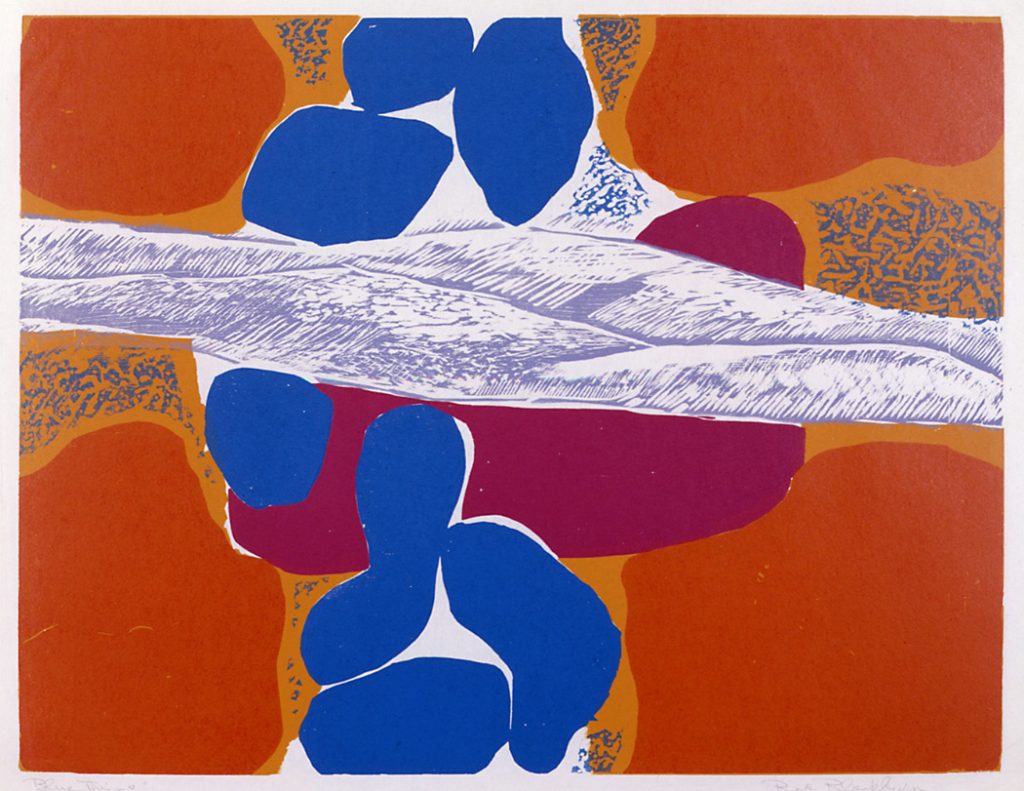 FIGGE ART MUSEUM, 225 W. 2nd St., Davenport. Reservations required! Call (563) 345-6632. Robert Blackburn & Modern American Printmaking. An influential teach and master printer, Blackburn embraced avant-garde ideas while promoting a more collaborative approach to printmaking.  Sixty artworks are featured, from figurative work to abstraction. Through January 9, 2022. Jim Dine and Lee Friedlander: Work from the Same House. Friends since the early 1960s, photographer Lee Friedlander and painter Jim Dine have established long, distinguished careers. Their work shares an eye for nuance and detail. Through November 14.
GRINNELL COLLEGE MUSEUM OF ART, 1108 Park St., Grinnell. (641) 269-4660. Ticketed entry. Queer / Dialogue. The eight artists in this exhibition create works that explore the intersections of identity expression: race, gender, and individuality. September 7-December 12.
ICON GALLERY, 58 N. Main St., Fairfield (641) 469-6252. Icon-art.org. Synergy. Featuring work by three Iowa City artists: Sue Hettmansperger, Cheryl Jacobsen, and Kathy Edwards Hayslett. Opens October 1.
CEDAR RAPIDS MUSEUM OF ART, 410 3rd Ave. S.E., Cedar Rapids. (319) 366-7503. Masks required. Beyond the Prairie: Midwestern Art from the Collection. Longtime museum favorites share gallery space with contemporary artworks in this changing exhibition showcasing the work of artists inspired by life in Iowa and surrounding states. Ongoing.
FAIRFIELD ART ASSOCIATION GALLERY, 200 N. Main St., FACC, Fairfield. Open to the public for viewing Monday–Friday from 9 a.m.–5 p.m.
DES MOINES ART CENTER. 4700 Grand Ave., Des Moines. (515) 277-4405. Fantasy Figures: Surrealist Works on Paper from the Collection. Featuring drawing, collage, and printmaking, these works include takes on the human body. Through March 20. Justin Favela: Central American. The artist's exuberant works—including a large-scale installation, sculptures, and a paper chandelier—have all been constructed onsite. Through January 23.
MUSCATINE ART CENTER, 1314 Mulberry Ave., Muscatine. (563) 263-8282. 
***
HOYT-SHERMAN THEATRE, 1501 Woodland Ave., Des Moines. (515) 244-0507. Notable artworks in Hoyt-Sherman's collection are on view.
DUBUQUE MUSEUM OF ART, 701 Locust St., Dubuque. (563) 557-1851. DBQArt.org.
PUBLIC SPACE ONE, 225–229 N. Gilbert St., Iowa City. PublicSpaceOne.com.
HENDERSON'S GALLERY, 53 W. Broadway, Fairfield. (641) 209-1988.
HOYT-SHERMAN THEATRE, 1501 Woodland Ave., Des Moines. (515) 244-0507. Notable artworks in Hoyt-Sherman's collection are on view.
OLSON LARSON GALLERIES, 203 5th St, West Des Moines. (515)-277-6734. 
UI MUSEUM OF ART, Iowa Memorial Union, Black Box Theater, Iowa City. (319) 335-1727.

ART CENTER OF BURLINGTON, 301 Jefferson St., Burlington. (319) 754-8069.
IOWA ARTISANS GALLERY. 207 E. Washington, Iowa City. (319) 351-8686.
MARVIN CONE GALLERY. Coe College, 1220 First Avenue NE, Cedar Rapids. (319) 399-8500. 
UNITY GALLERY, Maharishi International University, 1000 N. 4th St., Fairfield.
CSPS, 1103 3rd St. SE, Cedar Rapids. (319) 364-1530.
JANALYN HANSON WHITE GALLERY. Mount Mercy University, 1330 Elmhurst Dr. NE, Cedar Rapids, IA. (319) 363-8213.
AMERICUS DIAMOND, corner of Main St. and Burlington, Fairfield. Featuring the artwork of Christopher Kufner.
CATICH GALLERY, Galvin Fine Arts Center, St. Ambrose University, 518 W. Locust St., Davenport. 563-333-6444.
ANOMALY GALLERY, 105 N. Court, Ottumwa. (641) 777-8446.
FORT MADISON ART CENTER, 1314 Mulberry Ave. (319) 372-8780.
INDIAN HILLS ART GALLERY, Indian Hills Community College, Ottumwa. (641) 683-5144.
OCTAGON CENTER FOR THE ARTS, 427 Douglas Ave., Ames. (515) 232-5331.

AMANA ARTS GUILD. 1 block north of Highway 220, High Amana. (319) 622-3678.
SIOUX CITY ART CENTER, 225 Nebraska St., Sioux City. (712) 279-6272. Grant Wood's Corn Room Mural. The Corn Room mural was one of four murals commissioned by Omaha businessman Eugene Eppley for his hotels in Council Bluffs, Cedar Rapids, Waterloo, and Sioux City. Originally part of the historical Martin Hotel, the Corn Room was created by Grant Wood in 1927, then lost for decades under paint and old wallpaper, only to be rediscovered in 1979. Ongoing.