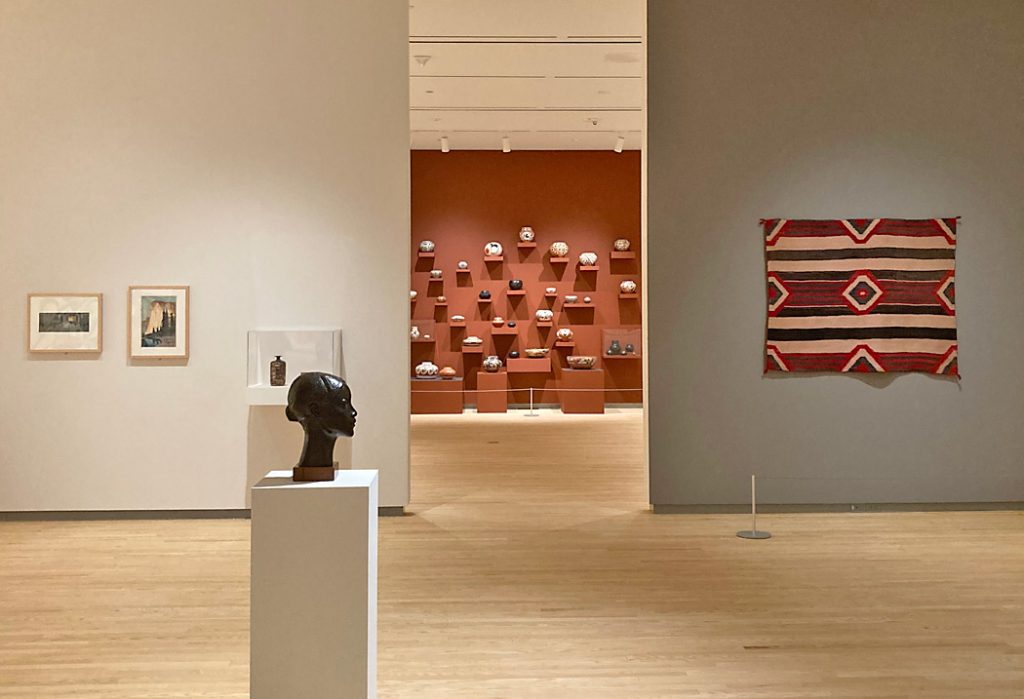 STANLEY MUSEUM OF ART, 160 W. Burlington St., Iowa City. (319) 335-1727. Homecoming. See new artworks and old favorites, displayed in fresh ways that transcend genre or geopolitical organization and bring out the synergies between disparate pieces. Through July 2025.
CEDAR RAPIDS MUSEUM OF ART, 410 3rd Ave. S.E., Cedar Rapids. (319) 366-7503.  Abstract Ideas. Works from the museum's collection created after 1950 investigate the various degrees of abstraction found in modern painting and sculpture. Through Oct. 9.  Dick Pinney: Jack of All Trades. Dick Pinney (1924–1996) was a longtime favorite in the Cedar Rapids art scene. Assemblages, paintings, ceramics, games, and puppets celebrate the artist's diverse and wide-reaching artwork. Through October 30. Beyond the Prairie: Midwestern Art from the Collection. Longtime museum favorites share gallery space with contemporary artworks in this changing exhibition showcasing the work of artists inspired by life in Iowa and surrounding states. Ongoing.
TAAG GALLERY, 1041 Arthur St., Iowa City.  (319) 855-4755. Karl Sternberg: Space. Alternate realities and parallel universes are the subject of Karl's new series. Through October 31.
ICON GALLERY, 58 N. Main St., Fairfield (641) 469-6252. Icon-art.org. Modern Japanese Prints. Woodblocks, etchings, silkscreens, and more from local collections highlight a variety of subject matter, from still life and landscape to abstract and imaginative works. Through October 22.
GRINNELL COLLEGE MUSEUM OF ART, 1108 Park St., Grinnell. (641) 269-4660. Paper Trails: Works on Paper from the Gaur Collection. Works by senior Indian modernists who came of age in the decades following independence in 1947 are featured. These artists span the transition from colonial to postcolonial India. The watercolors, drawings, etchings, and lithographs are drawn from the collection of Umesh and Sunanda Gaur. Through Dec. 10. Reverent Ornament: Art from the Islamic World. Nearly 50 timeless treasures will be on view, including glassware, ceramics, metalwork, painting, weaving, and more. Through Dec. 10.
FIGGE ART MUSEUM, 225 W. 2nd St., Davenport. Reservations required! Call (563) 345-6632.  Decolonial Intervention. Mexican/Latinx multidisciplinary artist Tlisza Jaurique uses her indigenous upbringing and aesthetics to reexamine the Figge's Spanish Vice Regal collection. Through July 9, 2023. The Warner Foundation Collection: History in the Painting. From still-lifes to landscapes, these paintings explore ideas surrounding national pride, agricultural growth, and westward expansion. Includes works by Thomas Cole, Severin Rosesen, Albert Bierstadt. Through April 30, 2023.
FAIRFIELD ART ASSOCIATION GALLERY, 200 N. Main St., FACC, Fairfield. Open to the public for viewing Monday–Friday from 9 a.m.–5 p.m. Watercolors by John Preston. and Abstract Work by Kartika Damon. Opens October 7.
DES MOINES ART CENTER. 4700 Grand Ave., Des Moines. (515) 277-4405. Alsion Elizabeth Taylor: The Sum of It.. The artist is known for her fusion of marquetry (wood inlay) with gritty and provocative subject matter. October 15-January 15.
MUSCATINE ART CENTER, 1314 Mulberry Ave., Muscatine. (563) 263-8282.  Captivated by Japan: Laura Musser McColm & Her Era. Through October 23.

***
HOYT-SHERMAN THEATRE, 1501 Woodland Ave., Des Moines. (515) 244-0507. Notable artworks in Hoyt-Sherman's collection are on view.
DUBUQUE MUSEUM OF ART, 701 Locust St., Dubuque. (563) 557-1851. DBQArt.org.
PUBLIC SPACE ONE, 225–229 N. Gilbert St., Iowa City. PublicSpaceOne.com.
HENDERSON'S GALLERY, 53 W. Broadway, Fairfield. (641) 209-1988.
HOYT-SHERMAN THEATRE, 1501 Woodland Ave., Des Moines. (515) 244-0507. Notable artworks in Hoyt-Sherman's collection are on view.
OLSON LARSON GALLERIES, 203 5th St, West Des Moines. (515)-277-6734. 
UI MUSEUM OF ART, Iowa Memorial Union, Black Box Theater, Iowa City. (319) 335-1727.

ART CENTER OF BURLINGTON, 301 Jefferson St., Burlington. (319) 754-8069.
IOWA ARTISANS GALLERY. 207 E. Washington, Iowa City. (319) 351-8686.
MARVIN CONE GALLERY. Coe College, 1220 First Avenue NE, Cedar Rapids. (319) 399-8500. 
UNITY GALLERY, Maharishi International University, 1000 N. 4th St., Fairfield.
CSPS, 1103 3rd St. SE, Cedar Rapids. (319) 364-1530.
JANALYN HANSON WHITE GALLERY. Mount Mercy University, 1330 Elmhurst Dr. NE, Cedar Rapids, IA. (319) 363-8213.
AMERICUS DIAMOND, corner of Main St. and Burlington, Fairfield. Featuring the artwork of Christopher Kufner.
CATICH GALLERY, Galvin Fine Arts Center, St. Ambrose University, 518 W. Locust St., Davenport. 563-333-6444.
ANOMALY GALLERY, 105 N. Court, Ottumwa. (641) 777-8446.
FORT MADISON ART CENTER, 1314 Mulberry Ave. (319) 372-8780.
INDIAN HILLS ART GALLERY, Indian Hills Community College, Ottumwa. (641) 683-5144.
OCTAGON CENTER FOR THE ARTS, 427 Douglas Ave., Ames. (515) 232-5331.

AMANA ARTS GUILD. 1 block north of Highway 220, High Amana. (319) 622-3678.
SIOUX CITY ART CENTER, 225 Nebraska St., Sioux City. (712) 279-6272. Grant Wood's Corn Room Mural. The Corn Room mural was one of four murals commissioned by Omaha businessman Eugene Eppley for his hotels in Council Bluffs, Cedar Rapids, Waterloo, and Sioux City. Originally part of the historical Martin Hotel, the Corn Room was created by Grant Wood in 1927, then lost for decades under paint and old wallpaper, only to be rediscovered in 1979. Ongoing.