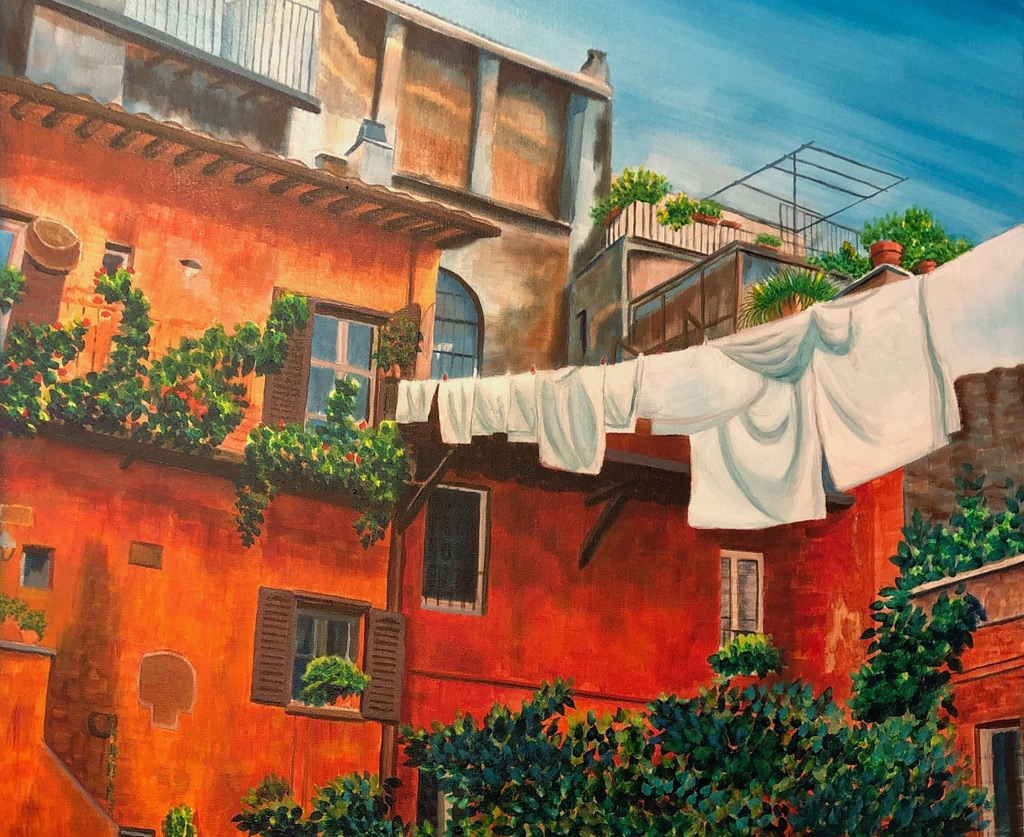 FAIRFIELD ART ASSOCIATION GALLERY, 200 N. Main St., FACC, Fairfield. Open to the public for viewing Monday–Friday from 9 a.m.–5 p.m., masks required. Paintings by Andrea VanWyk. "An exploration of organic subjects from gardens as close as the Des Moines Art Center rose garden and as far away as Australia. The architectural details that I discover may be from the Louvre, a pub in Ireland or the cliff side streets of the Cinque Terra. The flower compositions are a result of my mother's love of gardening and exploring the amazing details I find in nature."
ICON GALLERY, 58 N. Main St., Fairfield (641) 469-6252. Icon-art.org. ICON Biennial Art Auction, Part II. Works donated by art appraiser Kathy Poppers include pieces by noted artists James-Paul Brown, Patrick Nagel, Bob Kane, and Michael Urban. Final bidding day is June 4.
CEDAR RAPIDS MUSEUM OF ART, 410 3rd Ave. S.E., Cedar Rapids. (319) 366-7503. Masks required. Grant Wood Revealed: Rarely Seen Works by an American Master. In an unusual look at Iowa's most famous artist, this exhibition brings together drawings, metalwork, studies, and paintings to show the range of styles that Wood explored. Through May 16. American in Paris: Grant Wood and Marvin Cone's 1920 Trip to Paris, showcases works from the permanent collection. Beyond the Prairie: Midwestern Art from the Collection. Longtime museum favorites share gallery space with contemporary artworks in this changing exhibition showcasing the work of artists inspired by life in Iowa and surrounding states. Ongoing.
DES MOINES ART CENTER. 4700 Grand Ave., Des Moines. (515) 277-4405. Ticketed entry, masks required. The Path to Paradise: Judith Schaechter's Stained Glass Art. In this first major survey of Schaechter's career, 45 stained glass panels show the artist's use of a traditional medium to present ambiguous imagery that invites multiple interpretations. Through May 23. Human/Nature: An Exhibition Inspired by the Art of Judith Schaechter. The artist worked with curator Laura Burkhalter to choose work from the permanent collection that inspires her fascination with humans and animals. Through May 9. Iowa Artists 2021: Olivia Valentine. Iowa State University professor Olivia Valentine brings a large-scale, pale-toned installation to the Art Center that transforms the space entirely. Through May 16.
FIGGE ART MUSEUM, 225 W. 2nd St., Davenport. Reservations required! Call (563) 345-6632.  Seen and Heard: The Art of Empowerment. This exhibition features women artists who asserted their artistic empowerment despite social and cultural barriers. Through May 2, 2021.  For America: 200 Years of Painting from the National Academy of Design. Co-curator Jeremiah William McCarthy, Curator at the National Academy of Design, says: "This exhibition presents the way artists see the world alongside the way they see themselves inhabiting that world. It's an unprecedented look at the history of American painting written by its makers." Through May 16.
MUSCATINE ART CENTER, 1314 Mulberry Ave., Muscatine. (563) 263-8282. Open with reduced hours. Visitors are asked to wear masks. Art Array 2021. Featuring artwork by 19 regional artists. Through May 30. Frida Kahlo: Through the Lens of Nickolas Muray. Opens May 29.
***
PUBLIC SPACE ONE, 225–229 N. Gilbert St., Iowa City. PublicSpaceOne.com.
HENDERSON'S GALLERY, 53 W. Broadway, Fairfield. (641) 209-1988.
HOYT-SHERMAN THEATRE, 1501 Woodland Ave., Des Moines. (515) 244-0507. Notable artworks in Hoyt-Sherman's collection are on view.
DUBUQUE MUSEUM OF ART, 701 Locust St., Dubuque. (563) 557-1851. DBQArt.org. 
OLSON LARSON GALLERIES, 203 5th St, West Des Moines. (515)-277-6734. 
UI MUSEUM OF ART, Iowa Memorial Union, Black Box Theater, Iowa City. (319) 335-1727.

ART CENTER OF BURLINGTON, 301 Jefferson St., Burlington. (319) 754-8069.
IOWA ARTISANS GALLERY. 207 E. Washington, Iowa City. (319) 351-8686.
MARVIN CONE GALLERY. Coe College, 1220 First Avenue NE, Cedar Rapids. (319) 399-8500. 
UNITY GALLERY, Maharishi International University, 1000 N. 4th St., Fairfield.
CSPS, 1103 3rd St. SE, Cedar Rapids. (319) 364-1530.
JANALYN HANSON WHITE GALLERY. Mount Mercy University, 1330 Elmhurst Dr. NE, Cedar Rapids, IA. (319) 363-8213.
AMERICUS DIAMOND, corner of Main St. and Burlington, Fairfield. Featuring the artwork of Christopher Kufner.
CATICH GALLERY, Galvin Fine Arts Center, St. Ambrose University, 518 W. Locust St., Davenport. 563-333-6444.
ANOMALY GALLERY, 105 N. Court, Ottumwa. (641) 777-8446.
FORT MADISON ART CENTER, 1314 Mulberry Ave. (319) 372-8780.
INDIAN HILLS ART GALLERY, Indian Hills Community College, Ottumwa. (641) 683-5144.
OCTAGON CENTER FOR THE ARTS, 427 Douglas Ave., Ames. (515) 232-5331.

AMANA ARTS GUILD. 1 block north of Highway 220, High Amana. (319) 622-3678.
SIOUX CITY ART CENTER, 225 Nebraska St., Sioux City. (712) 279-6272. Grant Wood's Corn Room Mural. The Corn Room mural was one of four murals commissioned by Omaha businessman Eugene Eppley for his hotels in Council Bluffs, Cedar Rapids, Waterloo, and Sioux City. Originally part of the historical Martin Hotel, the Corn Room was created by Grant Wood in 1927, then lost for decades under paint and old wallpaper, only to be rediscovered in 1979. Ongoing.