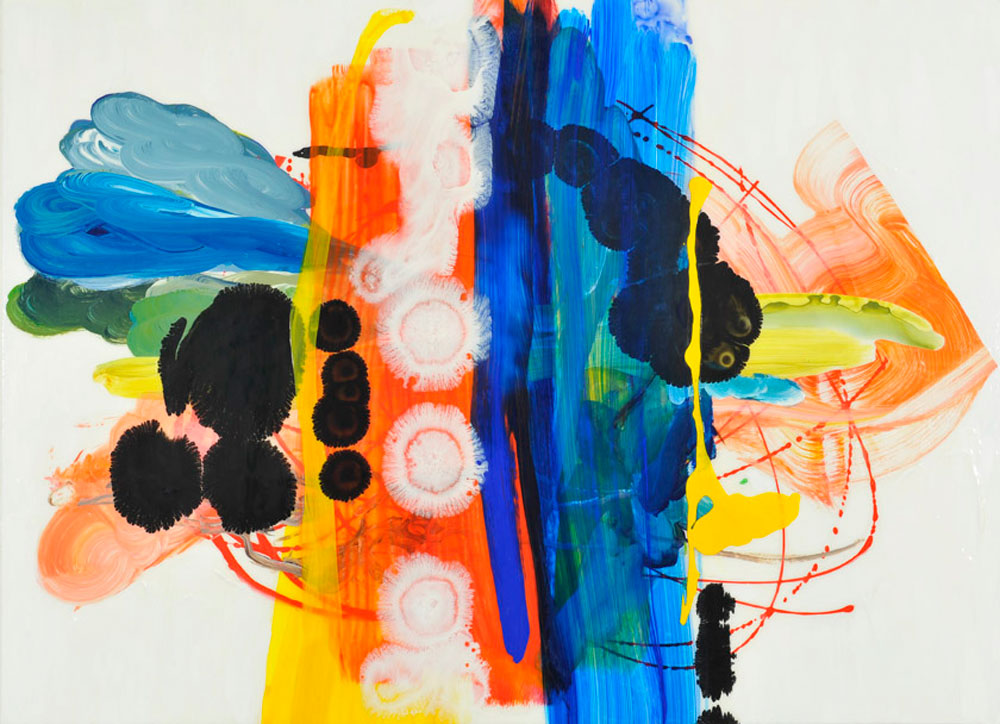 CEDAR RAPIDS MUSEUM OF ART, 410 3rd Ave. S.E., Cedar Rapids. (319) 366-7503. Masks required!  Mary Zeran: 10 Years. Local artist Mary Zeran celebrates a decade of making abstract art. Through January 3. Beyond the Prairie: Midwestern Art from the Collection. Longtime museum favorites share gallery space with contemporary artworks in this changing exhibition showcasing the work of artists inspired by life in Iowa and surrounding states. Ongoing.
ICON GALLERY, 58 N. Main St., Fairfield (641) 469-6252. Mini Art Small works no larger than 5 by 7 inches will be on view in the gallery's front windows. In October, all works will be for sale as a fundraiser. Through October 30.
DES MOINES ART CENTER. 4700 Grand Ave., Des Moines. (515) 277-4405. Ticketed entry, masks required. Landscapes in Watercolor. One hundred years of watercolors are represented in this selection from the permanent collection. Through late summer. Black Stories. The exhibition features a compelling mix of works by a wide range of international, national, and regional Black artists. Visitors can expect to see works by well-known names such as Jean-Michel Basquiat and Kerry James Marshall, noted up-and-comers like Jamaica-born Ebony G. Patterson, and acclaimed Central Iowa-based artists Jordan Weber and Mitchell Squire, who also serve as co-curators. Opens October 3.
FIGGE ART MUSEUM, 225 W. 2nd St., Davenport. Reservations required! Call (563) 345-6632.  Seen and Heard: The Art of Empowerment. Through May 2, 2021. Magnetic West: The Enduring Allure of the American West. Over 150 photographs from the 19th and 20th centuries picture the west as a metaphor for promise and peril. Organized by the Figge from many public and private collections, the exhibition includes works by by Robert Adams, Edward Burtynsky, Laura Gilpin, Elaine Mayes, Chandra McCormick, Cara Romero, Wendy Red Star, Victoria Sambunaris, and Wim Wenders. Through September 20.
PUBLIC SPACE ONE, 225–229 N. Gilbert St., Iowa City. PublicSpaceOne.com.
MUSCATINE ART CENTER, 1314 Mulberry Ave., Muscatine. (563) 263-8282. Open with reduced hours. Visitors are asked to wear masks. Till Death: Wedding and Mourning Traditions. Featuring stunning historic gowns. Through November 1.
HENDERSON'S GALLERY, 53 W. Broadway, Fairfield. (641) 209-1988.
HOYT-SHERMAN THEATRE, 1501 Woodland Ave., Des Moines. (515) 244-0507. Notable artworks in Hoyt-Sherman's collection are on view.
FAIRFIELD ART ASSOCIATION GALLERY, 200 N. Main St., FACC, Fairfield.

OLSON LARSON GALLERIES, 203 5th St, West Des Moines. (515)-277-6734. 
UI MUSEUM OF ART, Iowa Memorial Union, Black Box Theater, Iowa City. (319) 335-1727.

PUBLIC SPACE ONE, 120 N. Dubuque St., lower level of Wesley Building, Iowa City. (319) 331-8893.
ART CENTER OF BURLINGTON, 301 Jefferson St., Burlington. (319) 754-8069.
IOWA ARTISANS GALLERY. 207 E. Washington, Iowa City. (319) 351-8686.
MARVIN CONE GALLERY. Coe College, 1220 First Avenue NE, Cedar Rapids. (319) 399-8500. 
UNITY GALLERY, MUM Library, N. Highway, Fairfield.
CSPS, 1103 3rd St. SE, Cedar Rapids. (319) 364-1530.
JANALYN HANSON WHITE GALLERY. Mount Mercy University, 1330 Elmhurst Dr. NE, Cedar Rapids, IA. (319) 363-8213.
AMERICUS DIAMOND, corner of Main St. and Burlington, Fairfield. Featuring the artwork of Christopher Kufner.
CATICH GALLERY, Galvin Fine Arts Center, St. Ambrose University, 518 W. Locust St., Davenport. 563-333-6444.
ANOMALY GALLERY, 105 N. Court, Ottumwa. (641) 777-8446.
FORT MADISON ART CENTER, 1314 Mulberry Ave. (319) 372-8780.
DUBUQUE MUSEUM OF ART, 701 Locust St., Dubuque. (563) 557-1851.
INDIAN HILLS ART GALLERY, Indian Hills Community College, Ottumwa. (641) 683-5144.
OCTAGON CENTER FOR THE ARTS, 427 Douglas Ave., Ames. (515) 232-5331.

AMANA ARTS GUILD. 1 block north of Highway 220, High Amana. (319) 622-3678.
SIOUX CITY ART CENTER, 225 Nebraska St., Sioux City. (712) 279-6272. Grant Wood's Corn Room Mural. The Corn Room mural was one of four murals commissioned by Omaha businessman Eugene Eppley for his hotels in Council Bluffs, Cedar Rapids, Waterloo, and Sioux City. Originally part of the historical Martin Hotel, the Corn Room was created by Grant Wood in 1927, then lost for decades under paint and old wallpaper, only to be rediscovered in 1979. Ongoing.