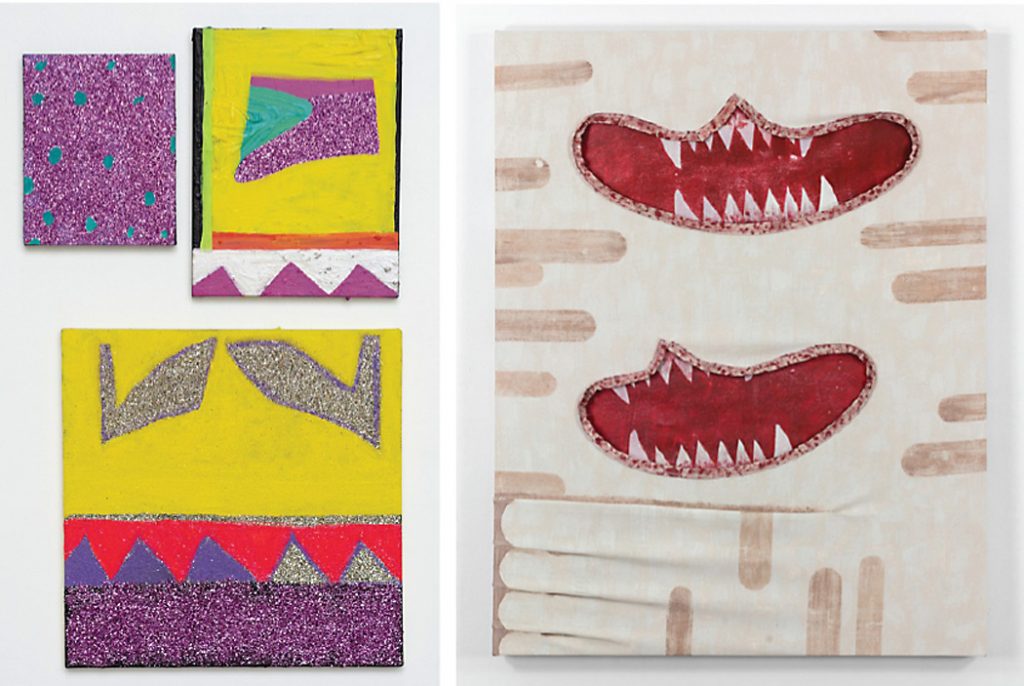 DUBUQUE MUSEUM OF ART, 701 Locust St., Dubuque. (563) 557-1851. DBQArt.org. Biennial Exhibition. Twenty-seven contemporary artists from Iowa, Illinois, Wisconsin, and Minnesota will be represented in this exhibition that gives an artistic snapshot of where we are now. Through October 31.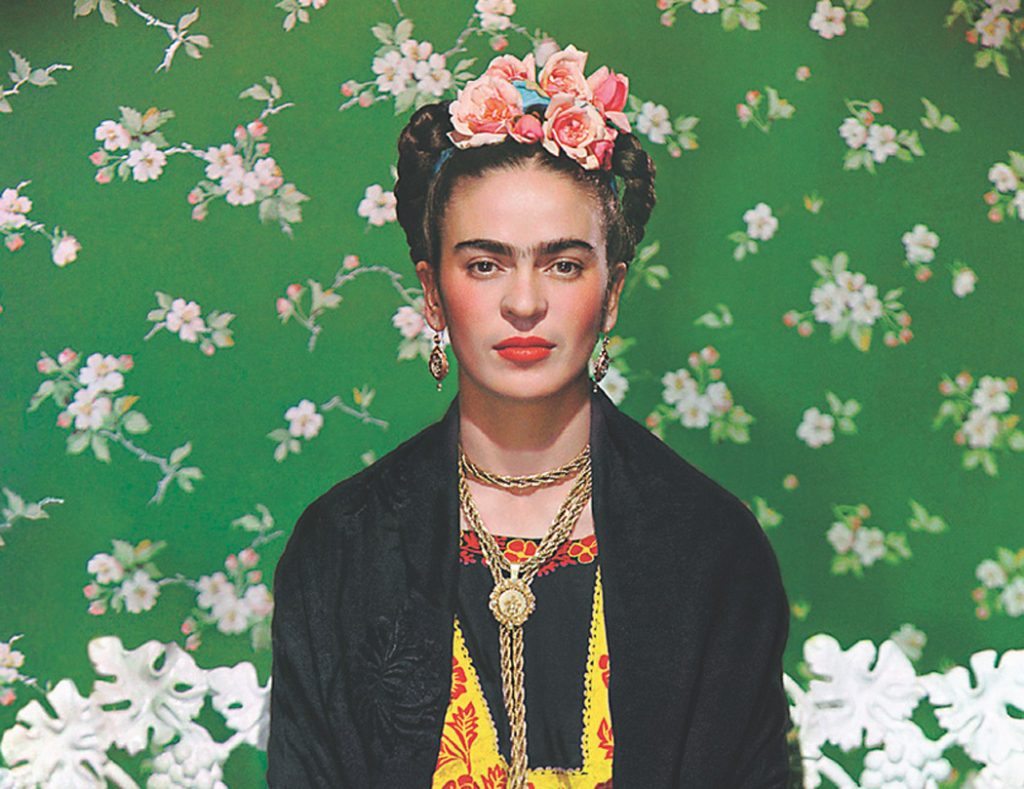 MUSCATINE ART CENTER, 1314 Mulberry Ave., Muscatine. (563) 263-8282. Frida Kahlo: Through the Lens of Nickolas Muray. Forty photographs by Muray, who was her friend, lover, and confidant, bring Kahlo's life to light, including a deep interest in her Mexican heritage and her close friendships. Through August 22. Alterations. tailored solutions to climate change. This exhibition by artist and environmental educator Nancy Judd features 15 sculptures that appear to be high-fashion couture but are actually made from garbage, litter, and objects found in nature. Through October 31.
GRINNELL COLLEGE MUSEUM OF ART, 1108 Park St., Grinnell. (641) 269-4660. Ticketed entry. Our Voice: Celebrating the Coretta Scott King Illustrator Award. The Coretta Scott King Illustrator Awards recognize outstanding African American artists of children's books who demonstrate an appreciation of African American culture and universal human values. This is the first retrospective of all winners and honorees. Through August 15.
ICON GALLERY, 58 N. Main St., Fairfield (641) 469-6252. Icon-art.org. Waste Land Video Installation. In partnership with "Extraction: Art on the Edge of the Abyss," a national event to focus attention on environmental health, ICON is showing a 64-minute video of photos from David T. Hanson's book Waste Land. Through August 7.
CEDAR RAPIDS MUSEUM OF ART, 410 3rd Ave. S.E., Cedar Rapids. (319) 366-7503. Masks required. Grant Wood Revealed: Rarely Seen Works by an American Master. In an unusual look at Iowa's most famous artist, this exhibition brings together drawings, metalwork, studies, and paintings to show the range of styles that Wood explored. Through September 5. Seriously Funny: American Gothic Parodies. Grant Wood's American Gothic is probably the world's most parodied American painting. See what artists of all skills and ages have been inspired to create based on this classic work. Through August 22. American in Paris: Grant Wood and Marvin Cone's 1920 Trip to Paris, showcases works from the permanent collection. Through October 10. Beyond the Prairie: Midwestern Art from the Collection. Longtime museum favorites share gallery space with contemporary artworks in this changing exhibition showcasing the work of artists inspired by life in Iowa and surrounding states. Ongoing.
FAIRFIELD ART ASSOCIATION GALLERY, 200 N. Main St., FACC, Fairfield. Open to the public for viewing Monday–Friday from 9 a.m.–5 p.m.
DES MOINES ART CENTER. 4700 Grand Ave., Des Moines. (515) 277-4405. Reserve  free entry tickets in advance to avoid waiting in line. Goya Returns. Goya's portrait of Don Mañuel Garcia de la Prada entered the Art Center's collection in 1953 with the deliberate goal to add a traditional "masterpiece" to the museum's collection. With a recent cleaning of the 200-year-old painting, it's back on view, surrounded with Goya prints in the collection. Through September 5. Manos: Selections of Latin American Art. José Clemente Orozco's delicate lithograph Manos (hands) is presented with figurative drawings by Diego Rivera and Francisco Zúñiga, etchings by contemporary artist Miguel Condé, and photographs by Graciela Iturbide, among other works. Through September 26. Claes Oldenburg: Giants, Miniatures, and Desserts. Oldenburg has a strong presence in the Art Center's collections and the city of Des Moines. All of the art center's Oldenburg works will be on view. Through October 17.
FIGGE ART MUSEUM, 225 W. 2nd St., Davenport. Reservations required! Call (563) 345-6632.  POP Power from Warhol to Koons. Audiences get a new look at the work of Pop Art pioneers such as Andy Warhol, Claes Oldenburg, and Roy Lichtenstein by presenting their iconic works alongside those of their present-day Neo-Pop counterparts. Through September 19. Drawn to Spectacle. Enjoy some rarely seen works of art in this playful look at fairs and circuses. Through August 15. Franklin Evans: franklinsfootpaths. Mixing the personal and the historical, the intuitive and the analytic, Evans has created a site-specific installation made of painting, collage, sculpture, video, and other materials. Through September 26. Lesley Dill Wilderness: Light Sizzles Around Me. Sculptures more than two decades in the making investigate voices and personas from America's past. Through August 22.
***
HOYT-SHERMAN THEATRE, 1501 Woodland Ave., Des Moines. (515) 244-0507. Notable artworks in Hoyt-Sherman's collection are on view.
PUBLIC SPACE ONE, 225–229 N. Gilbert St., Iowa City. PublicSpaceOne.com.
HENDERSON'S GALLERY, 53 W. Broadway, Fairfield. (641) 209-1988.
HOYT-SHERMAN THEATRE, 1501 Woodland Ave., Des Moines. (515) 244-0507. Notable artworks in Hoyt-Sherman's collection are on view.
OLSON LARSON GALLERIES, 203 5th St, West Des Moines. (515)-277-6734. 
UI MUSEUM OF ART, Iowa Memorial Union, Black Box Theater, Iowa City. (319) 335-1727.

ART CENTER OF BURLINGTON, 301 Jefferson St., Burlington. (319) 754-8069.
IOWA ARTISANS GALLERY. 207 E. Washington, Iowa City. (319) 351-8686.
MARVIN CONE GALLERY. Coe College, 1220 First Avenue NE, Cedar Rapids. (319) 399-8500. 
UNITY GALLERY, Maharishi International University, 1000 N. 4th St., Fairfield.
CSPS, 1103 3rd St. SE, Cedar Rapids. (319) 364-1530.
JANALYN HANSON WHITE GALLERY. Mount Mercy University, 1330 Elmhurst Dr. NE, Cedar Rapids, IA. (319) 363-8213.
AMERICUS DIAMOND, corner of Main St. and Burlington, Fairfield. Featuring the artwork of Christopher Kufner.
CATICH GALLERY, Galvin Fine Arts Center, St. Ambrose University, 518 W. Locust St., Davenport. 563-333-6444.
ANOMALY GALLERY, 105 N. Court, Ottumwa. (641) 777-8446.
FORT MADISON ART CENTER, 1314 Mulberry Ave. (319) 372-8780.
INDIAN HILLS ART GALLERY, Indian Hills Community College, Ottumwa. (641) 683-5144.
OCTAGON CENTER FOR THE ARTS, 427 Douglas Ave., Ames. (515) 232-5331.

AMANA ARTS GUILD. 1 block north of Highway 220, High Amana. (319) 622-3678.
SIOUX CITY ART CENTER, 225 Nebraska St., Sioux City. (712) 279-6272. Grant Wood's Corn Room Mural. The Corn Room mural was one of four murals commissioned by Omaha businessman Eugene Eppley for his hotels in Council Bluffs, Cedar Rapids, Waterloo, and Sioux City. Originally part of the historical Martin Hotel, the Corn Room was created by Grant Wood in 1927, then lost for decades under paint and old wallpaper, only to be rediscovered in 1979. Ongoing.