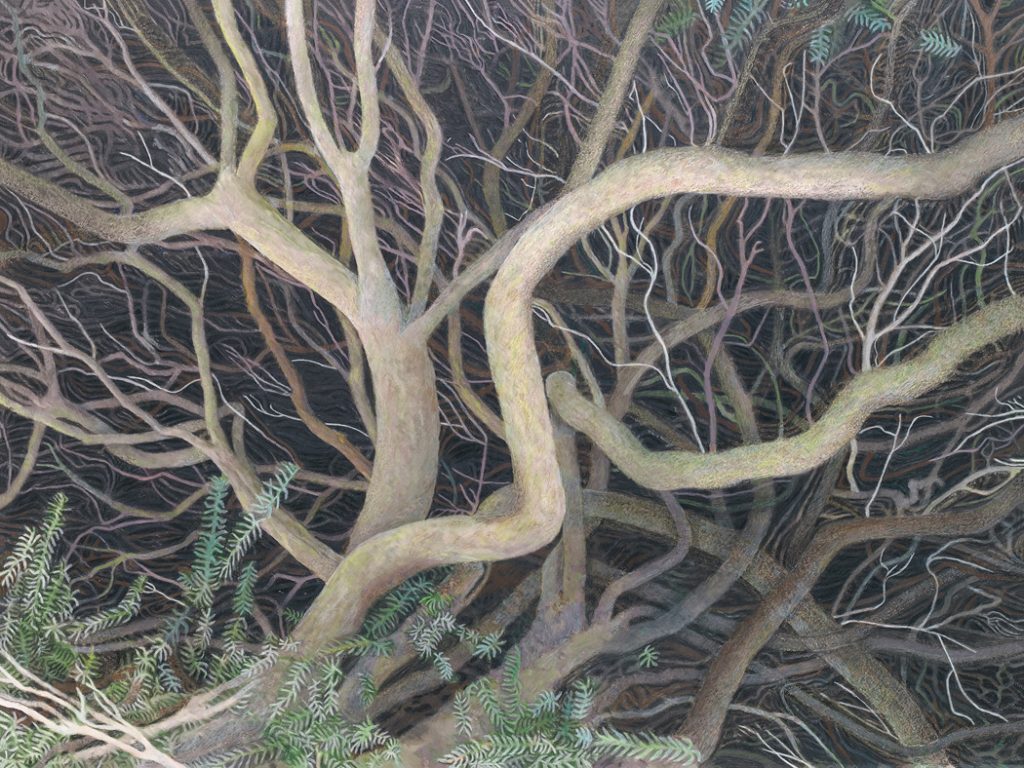 ICON GALLERY, 58 N. Main St., Fairfield (641) 469-6252. Icon-art.org. Contemporary Realism: Greg Thatcher, John Preston, Bill Teeple. Three Fairfield realist painters exhibit their skill in working with oil, watercolor, and drawing. February 4–April 23.
GRINNELL COLLEGE MUSEUM OF ART, 1108 Park St., Grinnell. (641) 269-4660.  BAX 2022. The Bachelor of Arts Exhibition presents work in the creative arts by third-and fourth-year students. Students manage all the details, from the submission of proposals to installation. April 22-May 23. Jewel Box Quilt Guild. Quilts of all sizes, techniques, colors, and patterns are featured. June 28-Sept. 3. Paper Trails: Works on Paper from the Gaur Collection. Works by senior Indian modernists who came of age in the decades following independence in 1947 are featured. These artists span the transition from colonial to postcolonial India. The watercolors, drawings, etchings, and lithographs are drawn from the collection of Umesh and Sunanda Gaur. Sept. 27-Dec. 10. Reverent Ornament: Art from the Islamic World. Nearly 50 timeless treasures will be on view, including glassware, ceramics, metalwork, painting, weaving, and more. Sept. 27-Dec. 10.
CEDAR RAPIDS MUSEUM OF ART, 410 3rd Ave. S.E., Cedar Rapids. (319) 366-7503. Masks required. Abstract Ideas. Works from the museum's collection created after 1950 investigate the various degrees of abstraction found in modern painting and sculpture. Through Oct. 9. Freedom's Daughters: New Work by Kathy Schumacher. A new body of work by Cedar Rapids artist Kathy Schumacher depicts the largely unknown heroines of Black suffrage in the U.S., from the late 19th century through today. Through May 1. Dick Pinney: Jack of All Trades. Dick Pinney (1924–1996) was a longtime favorite in the Cedar Rapids art scene. Assemblages, paintings, ceramics, games, and puppets celebrate the artist's diverse and wide-reaching artwork. Through October 30. Beyond the Prairie: Midwestern Art from the Collection. Longtime museum favorites share gallery space with contemporary artworks in this changing exhibition showcasing the work of artists inspired by life in Iowa and surrounding states. Ongoing.
FIGGE ART MUSEUM, 225 W. 2nd St., Davenport. Reservations required! Call (563) 345-6632. Simple Pleasures: The Art of Doris Lee. Born in Aledo, Illinois, Doris Lee was one of the most recognized artists in the country during the 1930s and '40s. This exhibition reveals her remarkable ability to merge abstraction with the appeal of the everyday. Through May 8. Anne Lindberg: think like the river with poet Ginny Threefoot. Anne Lindberg will create an ephemeral tonal landscape of color and light by casting thousands of threads across the fourth floor gallery. She will collaborate with poet Ginny Threefoot. June 11-Sept. 4. Rock Island Art Guild Fine Arts Exhibition. Through May 15. Border Cantos | Sonic Borders. A collaboration between American photographer Richard Misrach and Mexican-American artist and composer Guilermo Galindo, this exhibition explores the complexities of the Southern border through photography, sculpture, and sound. Through June 5.
FAIRFIELD ART ASSOCIATION GALLERY, 200 N. Main St., FACC, Fairfield. Open to the public for viewing Monday–Friday from 9 a.m.–5 p.m.
DES MOINES ART CENTER. 4700 Grand Ave., Des Moines. (515) 277-4405. Immersive. This multi-part experimental exhibition invites visitors to be literally immersed in artworks from the permanent collection. Instead of moving through traditional gallery spaces, visitors will follow a path from space to space, each filled with light, color, and sound. March 12–June 5. Modern Concepts 1910-1960. Modernist concepts are examined through the lens of various genres, including landscape, cityscape, abstraction, and figuration.  Artists in the show include Natalia Goncharova, Edward Hopper, Paul Klee, and Diego Riviera. Through July 31.
MUSCATINE ART CENTER, 1314 Mulberry Ave., Muscatine. (563) 263-8282.  Art Array 2022. On exhibit are works from artists living within a 50-mile radius of Muscatine. Among the artists featured are Kay Flanders, Peter Xiao, and Nancy Simpson. Through May 29.

***
HOYT-SHERMAN THEATRE, 1501 Woodland Ave., Des Moines. (515) 244-0507. Notable artworks in Hoyt-Sherman's collection are on view.
DUBUQUE MUSEUM OF ART, 701 Locust St., Dubuque. (563) 557-1851. DBQArt.org.
PUBLIC SPACE ONE, 225–229 N. Gilbert St., Iowa City. PublicSpaceOne.com.
HENDERSON'S GALLERY, 53 W. Broadway, Fairfield. (641) 209-1988.
HOYT-SHERMAN THEATRE, 1501 Woodland Ave., Des Moines. (515) 244-0507. Notable artworks in Hoyt-Sherman's collection are on view.
OLSON LARSON GALLERIES, 203 5th St, West Des Moines. (515)-277-6734. 
UI MUSEUM OF ART, Iowa Memorial Union, Black Box Theater, Iowa City. (319) 335-1727.

ART CENTER OF BURLINGTON, 301 Jefferson St., Burlington. (319) 754-8069.
IOWA ARTISANS GALLERY. 207 E. Washington, Iowa City. (319) 351-8686.
MARVIN CONE GALLERY. Coe College, 1220 First Avenue NE, Cedar Rapids. (319) 399-8500. 
UNITY GALLERY, Maharishi International University, 1000 N. 4th St., Fairfield.
CSPS, 1103 3rd St. SE, Cedar Rapids. (319) 364-1530.
JANALYN HANSON WHITE GALLERY. Mount Mercy University, 1330 Elmhurst Dr. NE, Cedar Rapids, IA. (319) 363-8213.
AMERICUS DIAMOND, corner of Main St. and Burlington, Fairfield. Featuring the artwork of Christopher Kufner.
CATICH GALLERY, Galvin Fine Arts Center, St. Ambrose University, 518 W. Locust St., Davenport. 563-333-6444.
ANOMALY GALLERY, 105 N. Court, Ottumwa. (641) 777-8446.
FORT MADISON ART CENTER, 1314 Mulberry Ave. (319) 372-8780.
INDIAN HILLS ART GALLERY, Indian Hills Community College, Ottumwa. (641) 683-5144.
OCTAGON CENTER FOR THE ARTS, 427 Douglas Ave., Ames. (515) 232-5331.

AMANA ARTS GUILD. 1 block north of Highway 220, High Amana. (319) 622-3678.
SIOUX CITY ART CENTER, 225 Nebraska St., Sioux City. (712) 279-6272. Grant Wood's Corn Room Mural. The Corn Room mural was one of four murals commissioned by Omaha businessman Eugene Eppley for his hotels in Council Bluffs, Cedar Rapids, Waterloo, and Sioux City. Originally part of the historical Martin Hotel, the Corn Room was created by Grant Wood in 1927, then lost for decades under paint and old wallpaper, only to be rediscovered in 1979. Ongoing.