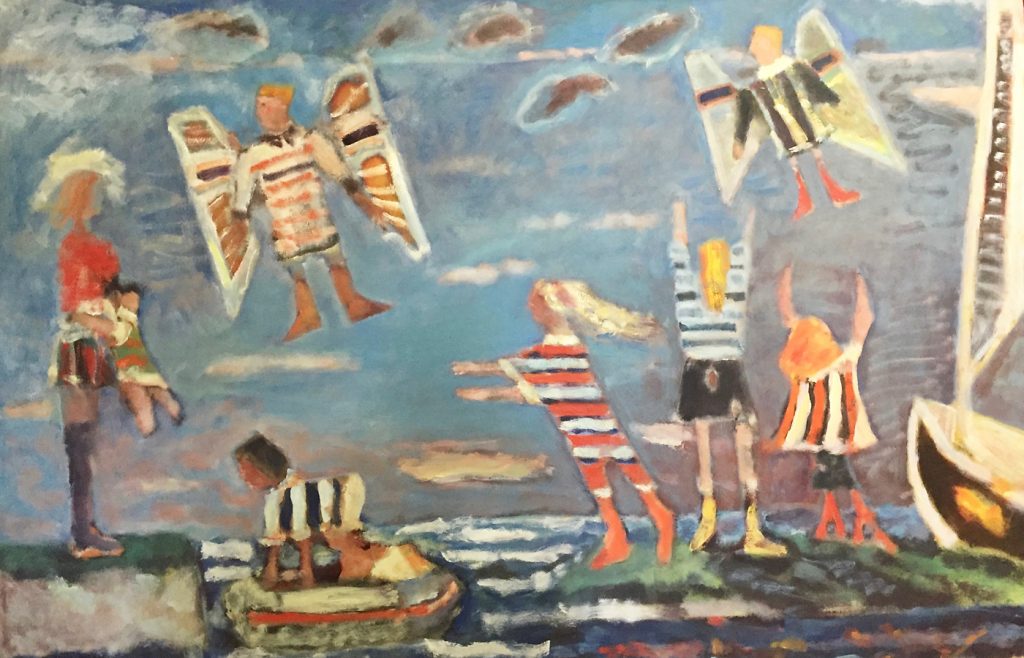 ICON GALLERY, 58 N. Main St., Fairfield. (641) 469-6252. The Art of Geoffrey Baker. In conjunction with ArtFiftyTwo Gallery, ICON presents the delightful impressionist paintings of Geoffrey Baker, a beloved teacher and Fairfield artist. June 7–August 10.
HENDERSON'S GALLERY, 53 W. Broadway. (641) 209-1988. The Watercolor Show. Through July 31.
DES MOINES ART CENTER.  4700 Grand Ave., Des Moines. (515) 277-4405. Jeffrey Gibson: I Was Here. For the past two decades, Gibson has been producing work that addresses themes of race, gender, sexuality, and religion. In this exhibition, the artist explores "how the representation of one's subjective narrative is complex, valid, and never didactic." His first video project, a hybrid of documentary and invented narrative, features Macy, a transgender woman living on the Choctaw reservation in Mississippi. May 24–September 22. Lea Grundig's Anti-Fascist Art. Remarkable prints and one drawing by German artist Lea Grundig (1906–1977) show her daring dissemination of a substantial body of anti-Nazi art while still living in Hitler's Germany. She was virtually the only artist who did so, risking certain death if she were caught. Through August 4. Queer Abstraction. The first exhibition in the center's 70-year history to focus exclusively on queer subject matter, it marks a substantial shift in programming by purposely including queer voices that have been left out of art history. June 1–September 8. Iowa Artists: Noah Doely. Based in Cedar Falls, Noah Doely produces work focused on science and the history of visual perception, as well as the origins of photography, myth, and the world. June 21–October 13.
FIGGE ART MUSEUM, 225 W. 2nd St., Davenport. (563) 326-7804.  Submerged in the Sublime: The Landscape Photography of Kim Keever. Using his engineering background in fluid dynamics, Kim Keever photographs the compositions he creates using various paints and inks added to the water inside a 200-gallon tank. Through the combination of handmade dioramas, carefully orchestrated lighting, and the effects created by paints dissipating in the water, a bizarre landscape appears. The resulting large-scale photographs have often been compared to Hudson River School paintings, simultaneously evoking a primordial landscape and a post-apocalyptic future. Through August 18.  Vanessa German: Miracles and Glory Abound. This exhibition features a modern version of Emanuel Leutze's iconic painting Washington Crossing the Delaware that addresses contemporary issues of racism, nationalism, and the mythologization of history. Through September 1.  Views from the Other Side: American Land, Place, and Region after 1900. Paintings, prints, and photographs show the radical shift in taste America experienced after 1900. On display are works by Eve Drewelow, John Dilg, Ed Rushcha, and others. From the University of Iowa Stanley Museum. Through Sept. 9. Randy Richmond: Verisimilitude. Ten large-format photographs combine aspects of still lifes with the dramatic portraiture of 19th-century photographs. July 6–January 5.
FAULCONER GALLERY, Grinnell College, 1108 Park St, Grinnell. (641) 269-4660. Fiber Artists of Iowa. Featuring traditional as well as innovative fiber arts, this exhibition highlights the wide variety of expertise, imagination, and fiber techniques of 23 artists residing in Iowa. June 15–July 20. Summer Gems: The Jewel Box Quilt Guild. All sizes, techniques, colors, and patterns are included in this exhibition of quilts by Jewel Box members. June 15–July 27.

CEDAR RAPIDS MUSEUM OF ART, 410 3rd Ave. S.E., Cedar Rapids. John Beckelman: Horizon Suite. Using the expressive potential of clay and other materials, Beckelman explores the transitional space where the sky meets the land or sea. The artist, who lives and works in Cedar Rapids, finds a curious intersection between the seemingly enduring character of earth and the fleeting impermanence of the world. Through Jan. 4. Kick Up Your Heels: The Fine Art of Shoes. The humble shoe has been the focus of some of the most outrageous fashion ideas. Inspired by the exhibition Killer Heels: The Art of the High Heeled Shoe from the Brooklyn Museum, this show celebrates the unique design elements in contemporary women's shoes. Through September 1. Bruce Beasley: A New Direction. Beasley selects virtual reality gestures that "sing" and then prints monumental versions of these images onto canvas. He studies the printed gestures, cuts them into fragments, and moves them around like so many puzzle pieces to create the collages on view. Through October 27.  Into the Blue. Iowa artists present a range of artworks on the theme of the color blue. Through September 15.
HOYT-SHERMAN THEATRE, 1501 Woodland Ave., Des Moines. (515) 244-0507. Notable artworks in Hoyt-Sherman's collection are on view.
ICON GALLERY, 58 N. Main St., Fairfield. (641) 469-6252. The Art of Geoffrey Baker. In conjunction with ArtFiftyTwo Gallery, ICON presents the delightful impressionist paintings of Geoffrey Baker, a beloved teacher and Fairfield artist. June 7–August 10.

FAIRFIELD ART ASSOCIATION GALLERY, 200 N. Main St., FACC, Fairfield.

OLSON LARSON GALLERIES, 203 5th St, West Des Moines. (515)-277-6734. 
MUSCATINE ART CENTER, 1314 Mulberry Ave., Muscatine. (563) 263-8282. 
UI MUSEUM OF ART, Iowa Memorial Union, Black Box Theater, Iowa City. (319) 335-1727.

PUBLIC SPACE ONE, 120 N. Dubuque St., lower level of Wesley Building, Iowa City. (319) 331-8893.
ART CENTER OF BURLINGTON, 301 Jefferson St., Burlington. (319) 754-8069.
IOWA ARTISANS GALLERY. 207 E. Washington, Iowa City. (319) 351-8686.
MARVIN CONE GALLERY. Coe College, 1220 First Avenue NE, Cedar Rapids. (319) 399-8500. 
UNITY GALLERY, MUM Library, N. Highway, Fairfield.
CSPS, 1103 3rd St. SE, Cedar Rapids. (319) 364-1530.
JANALYN HANSON WHITE GALLERY. Mount Mercy University, 1330 Elmhurst Dr. NE, Cedar Rapids, IA. (319) 363-8213.
AMERICUS DIAMOND, corner of Main St. and Burlington, Fairfield. Featuring the artwork of Christopher Kufner.
CATICH GALLERY, Galvin Fine Arts Center, St. Ambrose University, 518 W. Locust St., Davenport. 563-333-6444.
ANOMALY GALLERY, 105 N. Court, Ottumwa. (641) 777-8446.
FORT MADISON ART CENTER, 1314 Mulberry Ave. (319) 372-8780.
DUBUQUE MUSEUM OF ART, 701 Locust St., Dubuque. (563) 557-1851.
INDIAN HILLS ART GALLERY, Indian Hills Community College, Ottumwa. (641) 683-5144.
OCTAGON CENTER FOR THE ARTS, 427 Douglas Ave., Ames. (515) 232-5331.

AMANA ARTS GUILD. 1 block north of Highway 220, High Amana. (319) 622-3678.
SIOUX CITY ART CENTER, 225 Nebraska St., Sioux City. (712) 279-6272. Grant Wood's Corn Room Mural. The Corn Room mural was one of four murals commissioned by Omaha businessman Eugene Eppley for his hotels in Council Bluffs, Cedar Rapids, Waterloo, and Sioux City. Originally part of the historical Martin Hotel, the Corn Room was created by Grant Wood in 1927, then lost for decades under paint and old wallpaper, only to be rediscovered in 1979. Ongoing.