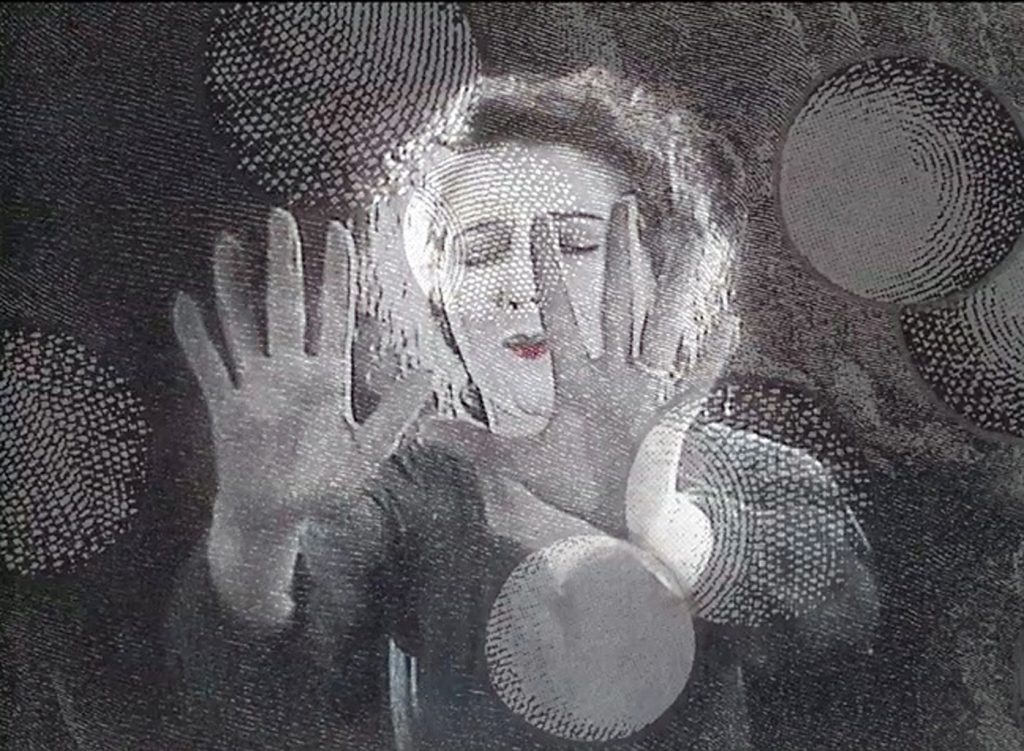 DES MOINES ART CENTER.  4700 Grand Ave., Des Moines. (515) 277-4405. Susan Collins: Without You, the World Goes On. Collins's works are about time, materials, labor, and value. They are replete with conceptual ideas and full of poetic contradictions. Her work questions the structures and methods of its own production, as well as viewers' assumptions about artistic production and display. January 26-May 12. Edge of Alchemy. In this handmade, 19-minute film by Stacey Steers, silent film stars Mary Pickford and Janet Gaynor are cast into a surreal epic that upends the Frankenstein story. Stacey Steers employs found film footage and collages she creates with 19th-century engravings and illustrations. Every second of screen time is comprised of up to eight distinct collages, and the labor-intensive project took Steers five years to complete. Edge of Alchemy is the third film in a trilogy examining women's inner worlds. Music for the film was composed by Lech Jankowski, known for his work with the Brothers Quay. January 18-May 19.
FIGGE ART MUSEUM, 225 W. 2nd St., Davenport. (563) 326-7804. Animals in the Museum. Drawn mostly from artworks in the permanent collection, this exhibition celebrates our bond with animals through paintings, sculptures, prints, photographs, and video works. In the not-so-distant past, animals were an integral part of everyday life as a means of transportation and labor. For most people today, our closest interaction with animals occurs in our homes. This trajectory is reflected in the artworks on display, and allows visitors the chance to explore their own relationship to the animals in their lives. Through April 28. Art Nouveau Amphora. Sinuous plants, youthful maidens, and venomous dragons are among the forms that curl around the art pottery known as Art Nouveau Amphora. Art Nouveau emerged in the late 19th century and is recognized for its use of curvilinear forms inspired by nature and a focus on aesthetic beauty. Art Nouveau gained international popularity and influenced art, architecture, illustration and the decorative arts. Jan. 19-June 16. Submerged in the Sublime: The Landscape Photography of Kim Keever. Using his engineering background in fluid dynamics, Kim Keever takes photographs of compositions he creates using various paints and inks added to the water inside a 200-gallon tank to produce compelling atmospheric effects. Through the combination of handmade diorama elements, carefully orchestrated lighting, and the uncontrollable effects created by paints dissipating in the water, a bizarre landscape appears. The resulting large-scale photographs have often been compared to the paintings of the Hudson River School and simultaneously feel like a primordial landscape and a vision of a post-apocalyptic future. Feb. 9-May 12. Hats Off! From the headdress of an ancient Mayan warrior to a shiny black top hat, head coverings instantly convey meaning. Feb. 9–May 12.
FAULCONER GALLERY, Grinnell College, 1108 Park St, Grinnell. (641) 269-4660. Dread and Delight: Fairy Tales in an Anxious World. This exhibition brings together the work of 19 artists using early-modern European fairy tales as a radical visual and verbal vocabulary. The exhibition considers why artists have turned to fairy tales to unpack the complexities of postmodern life, and celebrates how their work has reinvigorated the seven featured stories. February 1-April 27.
CEDAR RAPIDS MUSEUM OF ART, 410 3rd Ave. S.E., Cedar Rapids. American Visionary: John F. Kennedy's Life and Times. The dramatic scope of JFK's life is revealed in 77 images from the Presidential Library. Feb. 2–May 19.
HOYT-SHERMAN THEATRE, 1501 Woodland Ave., Des Moines. (515) 244-0507. Notable artworks in Hoyt-Sherman's collection are on view.
ICON GALLERY, 58 N. Main St., Fairfield. (641) 469-6252. Anonymous Shiva Linga Paintings: The Hudson Collection. ICON presents over 60 paintings of tantric images donated to the galleryby the family of New York Art gallerist Hudson. March 1-May 25.

FAIRFIELD ART ASSOCIATION GALLERY, 200 N. Main St., FACC, Fairfield.

OLSON LARSON GALLERIES, 203 5th St, West Des Moines. (515)-277-6734. 
MUSCATINE ART CENTER, 1314 Mulberry Ave., Muscatine. (563) 263-8282. 
UI MUSEUM OF ART, Iowa Memorial Union, Black Box Theater, Iowa City. (319) 335-1727.

PUBLIC SPACE ONE, 120 N. Dubuque St., lower level of Wesley Building, Iowa City. (319) 331-8893.
ART CENTER OF BURLINGTON, 301 Jefferson St., Burlington. (319) 754-8069.
IOWA ARTISANS GALLERY. 207 E. Washington, Iowa City. (319) 351-8686.
MARVIN CONE GALLERY. Coe College, 1220 First Avenue NE, Cedar Rapids. (319) 399-8500. 
UNITY GALLERY, MUM Library, N. Highway, Fairfield.
CSPS, 1103 3rd St. SE, Cedar Rapids. (319) 364-1530.
JANALYN HANSON WHITE GALLERY. Mount Mercy University, 1330 Elmhurst Dr. NE, Cedar Rapids, IA. (319) 363-8213.
AMERICUS DIAMOND, corner of Main St. and Burlington, Fairfield. Featuring the artwork of Christopher Kufner.
CATICH GALLERY, Galvin Fine Arts Center, St. Ambrose University, 518 W. Locust St., Davenport. 563-333-6444.
ANOMALY GALLERY, 105 N. Court, Ottumwa. (641) 777-8446.
FORT MADISON ART CENTER, 1314 Mulberry Ave. (319) 372-8780.
DUBUQUE MUSEUM OF ART, 701 Locust St., Dubuque. (563) 557-1851.
INDIAN HILLS ART GALLERY, Indian Hills Community College, Ottumwa. (641) 683-5144.
OCTAGON CENTER FOR THE ARTS, 427 Douglas Ave., Ames. (515) 232-5331.

AMANA ARTS GUILD. 1 block north of Highway 220, High Amana. (319) 622-3678.
SIOUX CITY ART CENTER, 225 Nebraska St., Sioux City. (712) 279-6272. Grant Wood's Corn Room Mural. The Corn Room mural was one of four murals commissioned by Omaha businessman Eugene Eppley for his hotels in Council Bluffs, Cedar Rapids, Waterloo, and Sioux City. Originally part of the historical Martin Hotel, the Corn Room was created by Grant Wood in 1927, then lost for decades under paint and old wallpaper, only to be rediscovered in 1979. Ongoing.