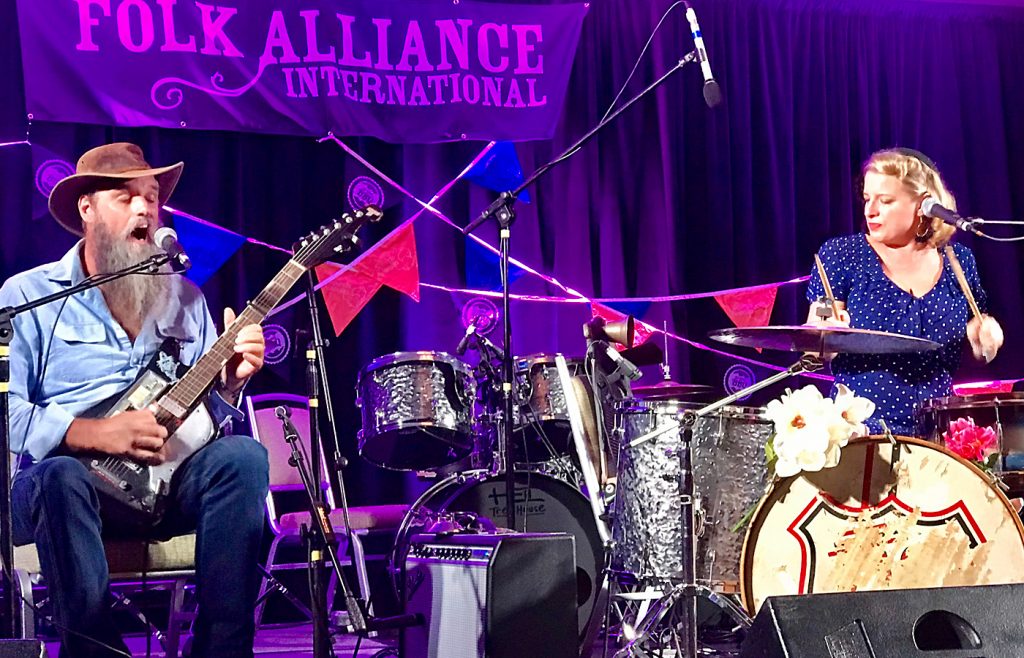 What constitutes folk music today? In February, I attended the Folk Alliance International conference in Kansas City, Missouri, to find out. FAI is the largest folk music organization in the world, celebrating its 30th anniversary this year. Over 2,500 registrants showed up from more than 25 countries.
Until the 20th century, folk music was handed down from one generation to the next as part of our communal culture. By the 1950s, with the advent of records and tapes, folk music had become more universally available, with acts such as the Weavers and the Kingston Trio producing hits by modernizing old material such as "On Top of Old Smokey" and "Tom Dooley." During the '60s, artists such as Bob Dylan and Simon & Garfunkel began incorporating folk themes into their self-penned rock. One could hear the folk roots in songs such as "Like a Rolling Stone" and "The Sound of Silence," but they were clearly different than the folk music of a previous era.
And here we are, 50 years later, with the term "folk music" being more nebulous than ever. For example, the 2018 Grammy Award for Best Folk Album went to Aimee Mann for Mental Illness, but her music could be better described as soft rock. Originally, folk was characterized by its rawness.
The FAI event did not feature big-name talent, and well-known artists such as British folk rocker Richard Thompson and singer-songwriter Mary Chapin Carpenter appeared only as speakers, not performers. The best-known performing musician was John Oates (from Hall & Oates), who has returned to his folk roots.
As this was an international conference, slates of performers came from various countries including Australia, Canada, Ireland, and Scotland, as well as from different states such as Michigan, Minnesota, Oklahoma, and Texas. Despite its geographic proximity, Iowa was poorly represented. Only four Iowa artists were listed in the program: Dan Peart (Clinton), Dave Smith (Blue Grass), Robert Matter (Council Bluffs), and the Savage Hearts (North Liberty).
The conference consisted of various panel discussions and official music showcases by acts from around the globe, but its main attractions were the private showcases that began at 10:30 p.m. every night and ran until 4:00 a.m. the next morning. These 30-minute performances held in about 100 different hotel rooms featured rotating groups of artists. They were like mini-parties—one had to sit on the beds, find a chair, or stand or crouch on the floor while the musicians played.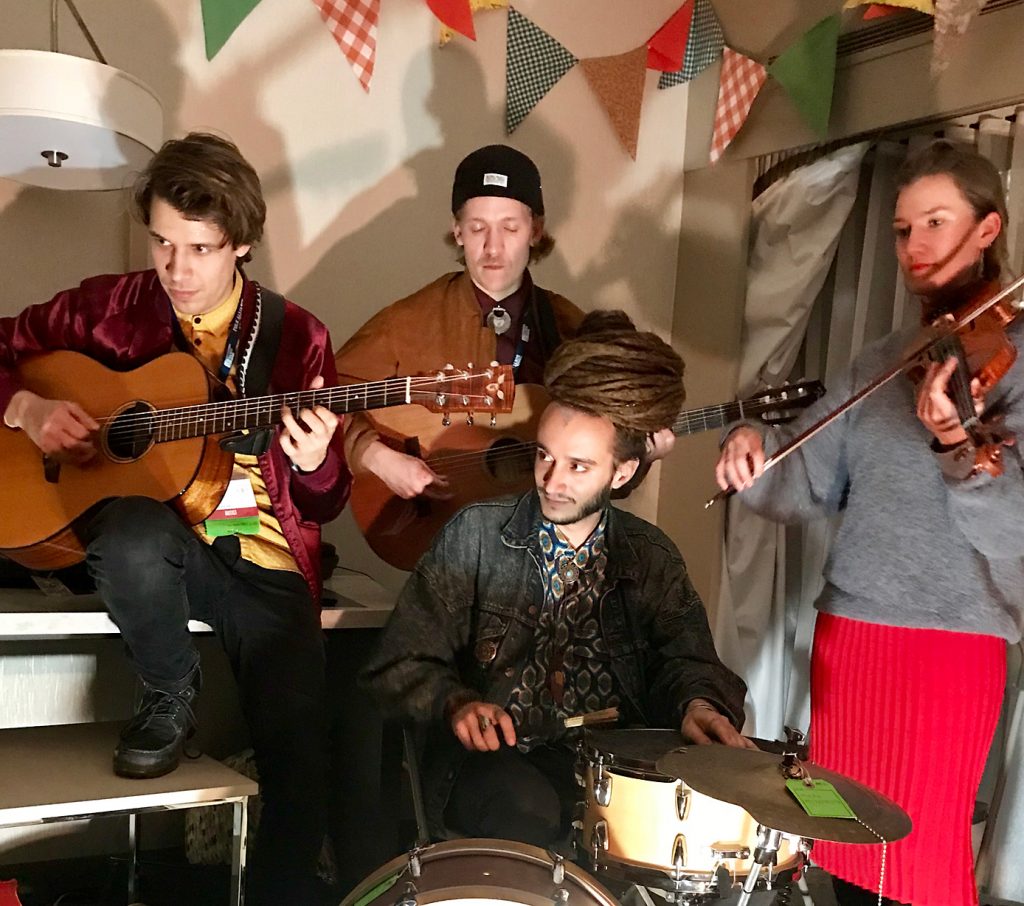 Some rooms featured acts that were linked by country, state, record label, or management company. Others hosted a variety of unrelated acts. Some performers only played one or two private presentations, while many played repeatedly. The four-piece Swedish band Kolonien holds the record for number of shows with a total of 17! Their enthusiasm never flagged. I know, as I attended four of their gigs, including the last two. The band's Scandinavian roots music was one of the highlights of the festival.
My search for a definition of folk faded in importance as I witnessed one wonderful performance after another. I never did make it all the way until 4:00 a.m., but I lasted until 2:00 a.m. every night. One thing I did learn at the conference was that no one believed there could be a strict definition of the term. The Welsh protest singer Martyn Joseph quoted Paul Robeson's description of folk as "the eternal music of our common humanity." FAI's executive director cited Richie Haven's explanation of folk as "the ethos of community and change."
Spirit of Folk Awards winner Richard Gillman, who tracks folk music on the radio, bluntly told me, "Folk is whatever a deejay calls folk. It can be anything." That said, the conference provided evidence that folk music was a community that housed many different styles and genres, from traditional tunes to post-modern creations. The best performers were often the ones who indiscriminately borrowed from various sources.
Consider as evidence the best shows I witnessed. Hat Fitz & Cara came as part of the Australian delegation. Guitarist Fitz is an Aussie, but drummer and fife player Cara Robinson hails from Ireland. They perform music inspired by American blues and gospel, including a forceful self-penned song called "Power" based on YouTube footage they saw of Chicago's Maxwell Street performer Carrie Robinson. In a similar way, Irish singer-songwriter Mick Flannery offered a quietly compelling version of his tune "Bluebird," which he said was based on the poem by the transgressive American poet Charles Bukowski. There was an Oklahoman by way of Israel, Bat-Or Kalo, who intensely rocked the Mississippi blues.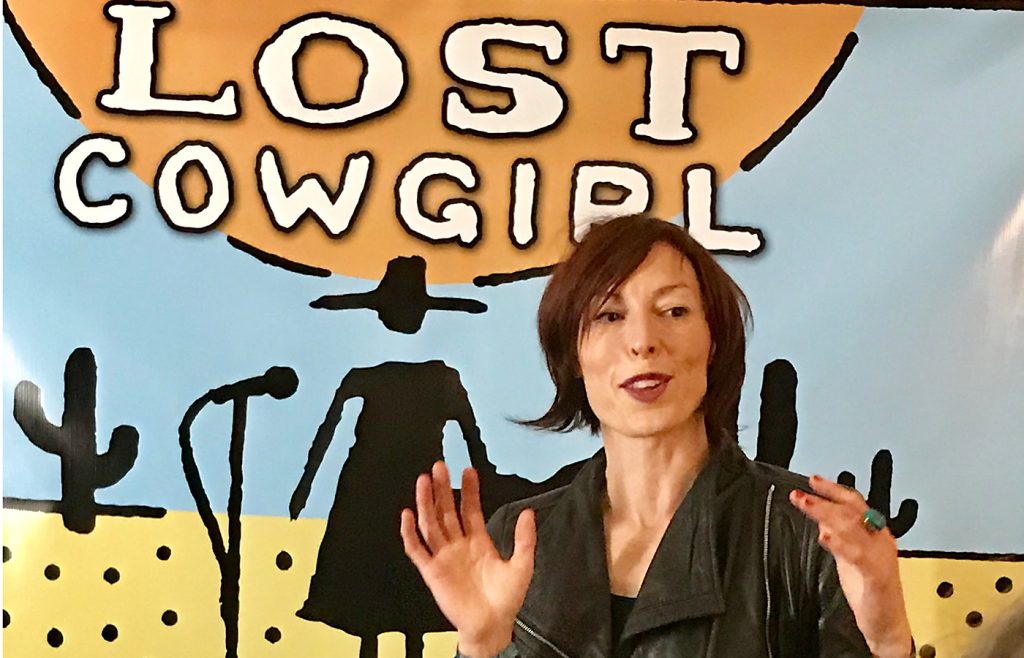 At opposite ends of the spectrum were the formidable American Julia Othmer, who plays electric piano, sometimes sings in French, and has a voice that goes from a whisper to a tornado in nothing flat, and Australian Monique Clare, who has a light touch and began her performance with a Swedish polka. The list goes on and on.
Suffice it to say that folk music is mostly acoustic, but some is not. Folk can be traditional and can also be contemporary. It can be politically progressive but also based on spiritual sources that defy their earthly concerns. Folk music is inclusive and communal, but not one person that I asked really considered Aimee Mann a folk artist. Then again, they all said they would happily accept her as part of the clan if she ever wanted to join the FAI and would never ask her to change her music.