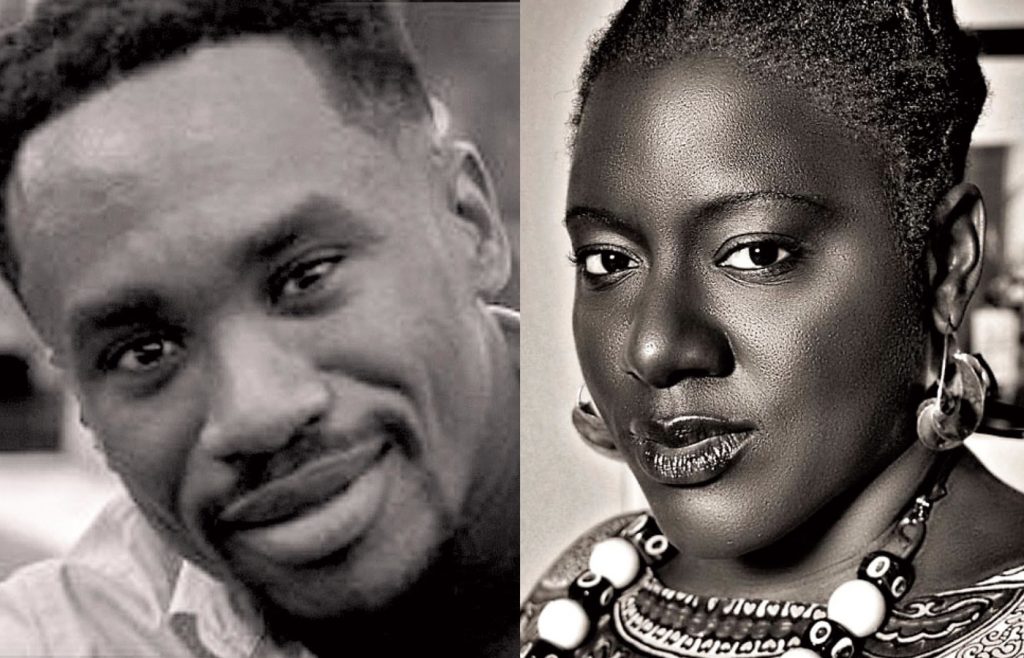 Two Iowa Writers' Workshop writers—Derek Nnuro, born in Kumasi, Ghana, and Tameka Cage Conley, from Shreveport, Louisiana—will lead participants in a transformative literary program to unlock personal histories and write from a deeper voice. The Reclamation Workshop: A Cultural & Literary Intensive will be held April 14-15 at the Englert Theatre in Iowa City. The workshop includes study of Black fiction of the Diaspora, a translation experience, creative writing, and open discussion, culminating with a reading on Sunday.
"Our meaning for 'reclamation' is to reconnect, reconstruct, and heal the distance and divide created by the Middle Passage between Black people on either side of the Atlantic," says Tameka Cage Conley. "We use literatures of the African Diaspora to demonstrate that African American and African writers have long been in conversation, evidenced by similar references to custom, culture, sufferings, and oppressions enacted by white supremacy, colonialism, capitalism, exploitation, and sexism."
The workshop came about from these writers' faith in literature's ability to empower and enrich, and their belief in harnessing personal histories—the triumphs and the challenges—to enliven expression. Students will be encouraged to discover and write from the place of their unique voice and intellectual curiosity.
The Reclamation Workshop will open with a translation exercise, based on an experience Tameka Cage Conley had with Twi, one of three African languages that Derek Nnuro speaks.
"I was curious about the role ancestral memory might play," Cage Conley says, "that even though my ancestors were ripped from their African homeland, and I therefore lost and never knew my native African languages, that something inside of me might discern at least some of any story Derek might communicate to me in Twi. We tested this theory in the fall just before we launched a year-long residency at City High, supported by Arts Share, and I was able to translate his story almost verbatim.
"It confirmed my belief that we would be able to hear each other, even though I don't speak Twi, and we were right. We are still connected, across oceans and histories, despite the trauma of the Middle Passage."
This workshop is part of Englert Wavelength: Deeper Learning Through the Arts, the Englert's arts education series featuring workshops and learning opportunities for youth and adults.
"We envision and hope that participants walk away from the Reclamation Two-Day Intensive Workshop with a renewed sense of self-empowerment as artists, writers, thinkers, and citizens," says Nnuro.
The workshop fee is $185, with some scholarships available. Visit Reclamation Workshop for details.
About the presenters:
Derek Nnuro is a Ghanaian-American fiction writer based in Iowa City. He is a graduate of the fiction program at the Iowa Writers' Workshop, where he was a recipient of the Meta Rosenberg Memorial Fellowship and a Teaching Writing Fellowship. He is working on an untitled novel and teaches novel writing at the University of Iowa.
Tameka Cage Conley, Ph.D., is a literary artist who writes fiction, poetry, plays, librettos, and essays. She received a doctoral degree in English in 2006 from Louisiana State University, where she was a recipient of the Huel Perkins Doctoral Fellowship. She held a Truman Capote fellowship in Fiction at the Iowa Writers' Workshop from 2016-17 and is currently a Graduate Fellow in her last semester of study. She is working on a debut novel that spans six decades, set between Louisiana and New York City.