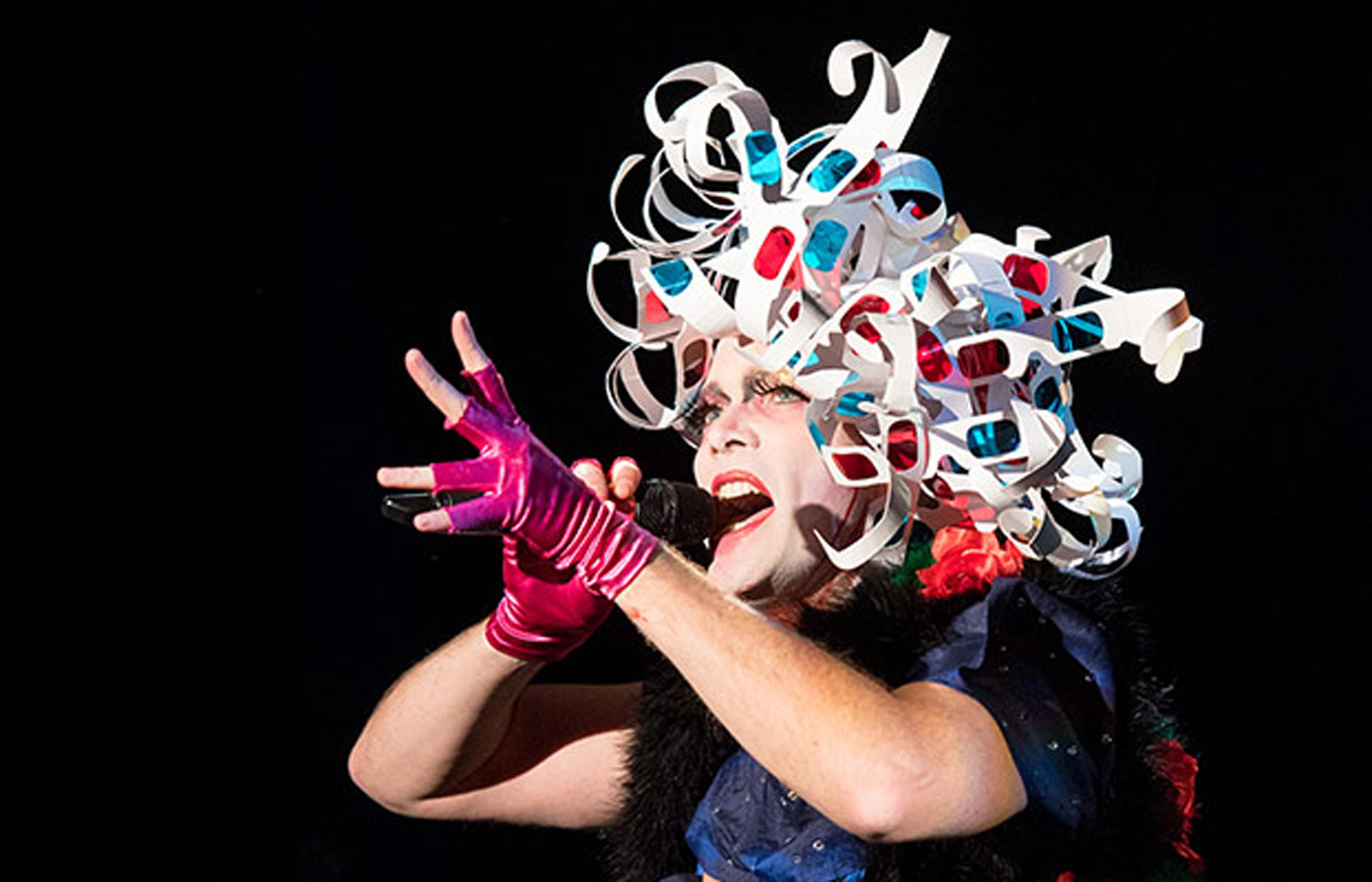 On Saturday, April 28, Taylor Mac returns to Hancher Auditorium to perform his 24-Decade History of Popular Music (Abridged), an astounding subjective history of the past 240 years since America's founding, told through the music of the times.
Hancher was a proud commissioner and presenter of Taylor Mac's 1846–1856 Whitman vs. Foster: Songs Popular Near the Breaking Point, a portion of the artist's acclaimed 24-Decade History of Popular Music. Now, in a condensed version of this magnum opus, Mac will take you out of your comfort zone and into a new conception of our shared story.
Originally performed as a one-time 24-hour event, the abridged version is a highly immersive and outrageously entertaining crash course in American culture and dysfunction. The show journeys through musical styles and artistic voices ranging from murder ballads to Walt Whitman to David Bowie and beyond, while poignantly highlighting stories of peoples whose perspectives are often overlooked by history.
"Within this swirl of pleasure and entertainment, there is also something quite serious at stake, something that we might hazard to call the politics of historical knowledge." —The Helix Queer Performance Network
Joined by music director and arranger Matt Ray and an incomparable band (and on April 28th, Iowa City's own Awful Purdies), Mac will appear on stage decked and bedazzled for a night that will not easily be forgotten. The performance artist takes on a larger-than-life persona, yet manages to connect with every single member of the audience, something astounding—and rare—to witness and experience.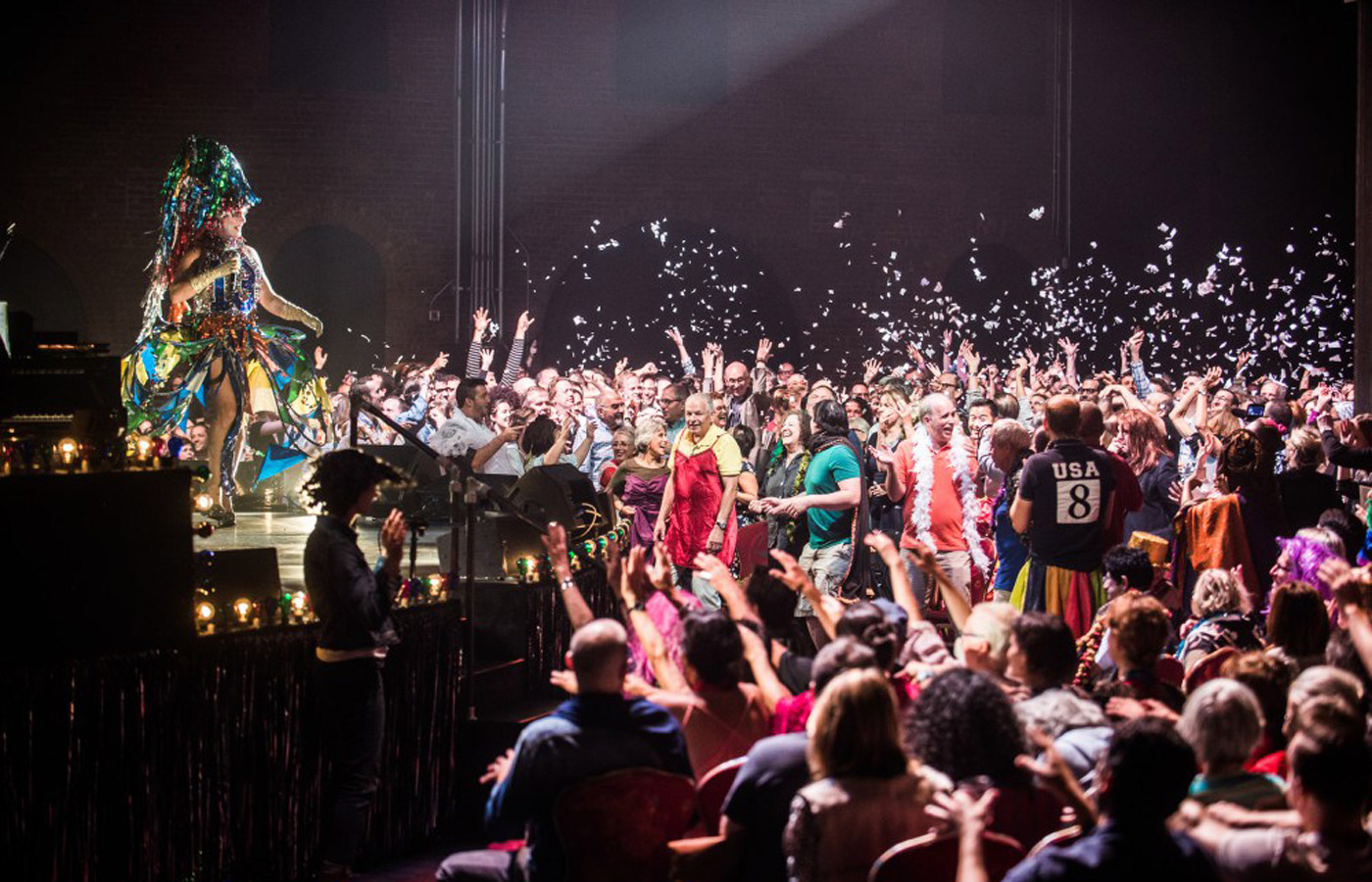 Easily one of the most dazzling performers of our time, Taylor Mac "doesn't just defy categorization; he makes the categories themselves seem irrelevant" (Time Out New York). As a playwright, actor, singer-songwriter, and performance artist, Mac has created internationally award-winning performance events that at once provoke and embrace diverse audiences for nearly two decades. Mac's work has been performed at Lincoln Center, Celebrate Brooklyn, London's Hackney Empire (with the LIFT Festival), LA's Royce Hall, San Francisco's Curran Theater, Magic Theater and MOMA, the Sydney Opera House, Minneapolis's Guthrie Theater, Chicago's MCA and Steppenwolf Theater, Stockholm's Sodra Theatern, the Spoleto Festival, and literally hundreds of other theaters, museums, music halls, opera houses, and festivals around the globe. Mac is the author of 17 full-length works, including Red Tide Blooming, Hir, The Lily's Revenge, and a two-man vaudeville co-created with Mandy Patinkin and Susan Stroman, The Last Two People On Earth.
"Who is Taylor Mac? To answer this philosophical question, one must experience this polymorphous artist onstage. But it's likely that those lucky enough to have been in attendance at Royce Hall will have different opinions on the matter." —LA Times
Creative Matters Lecture: Taylor Mac in Conversation with Garth Greenwell
The University of Iowa also invites you to attend a free Creative Matters Lecture: Taylor Mac in Conversation with Garth Greenwell, on Thursday, April 26, at 7 p.m. in Strauss Hall. Garth Greenwell, the author of What Belongs to You, winner of the British Book Award for Debut of the Year, will join Mac on stage as they discuss and demonstrate his creative process.
Contact Hancher for more information or tickets.