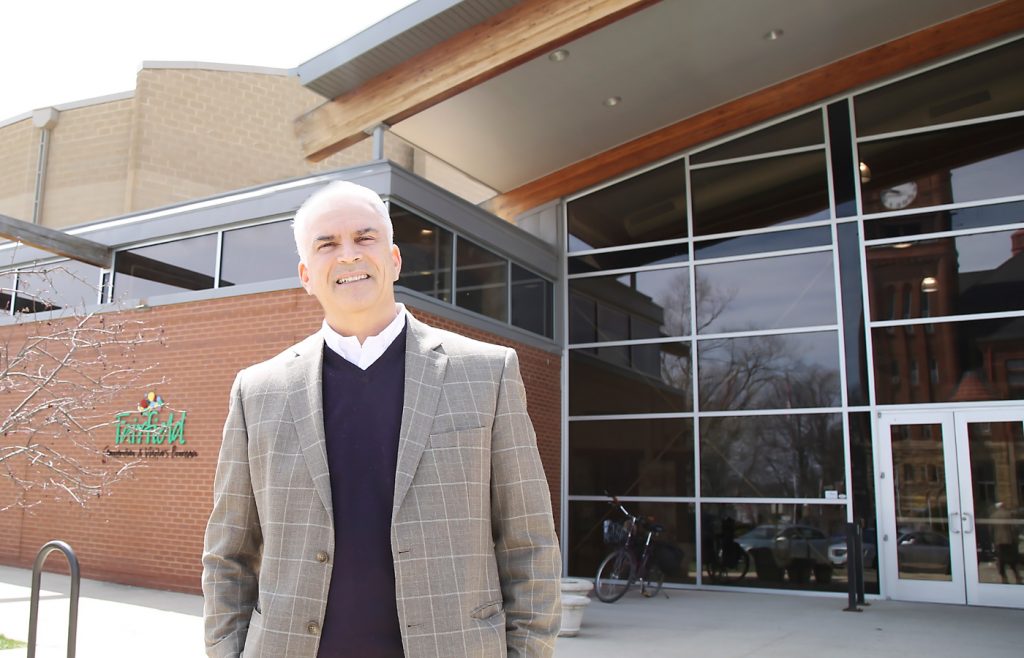 Now in his ninth term in office, Fairfield Mayor Ed Malloy has overseen many positive changes over the years. We sat down to talk with him about his accomplishments and his plans to run for the Iowa State Senate.
Fairfield is a very diverse town and you're well-known for bringing different groups and factions together to accomplish a larger goal. How do you do it?
Ed Malloy: It starts with being yourself, projecting honesty, and with the belief that people are good, and that working together on shared goals brings a positive outcome. I love the diverse nature of our town, which starts with the families who have been here for generations. Their respectful acceptance of so many new residents over the decades since MUM first arrived has been something of a process to achieve, but in the end it's a successful American story.
I have always felt a deep responsibility as a leader to make sure we all came together for the purpose of making Fairfield a great community. Finding common ground on areas of interest and appointing new commissions of people from all backgrounds has been a successful formula for building consensus and getting things done. The internal good nature of everyone takes over from there.
Many people in elected office have had a person or event in their lives that inspired them to serve. What was yours?
What led me to decide to run for office in Fairfield was my desire to serve and my feeling that a new resident could represent everyone. My father's 42 years as a police officer taught me the integrity you need to serve the public. My mother's work with the church as a chairwomen for multiple committees inspired me to give back to my community.
My experience on the council working with former Mayor Bob Rasmussen taught me the stability of responsible governing and its value in underpinning everything in the community.
I have also received inspiration from many of the councilmembers I have served with. Without their cooperation and consensus efforts to support my role as mayor, we would not have been as successful as we have.
In your 24 years in public service, what moments have been the greatest?
There have been many great moments. When I was on the city council, I was a member of the Service Agency, which oversaw the law center. We were under pressure from the state jail inspector to build a new facility. The jail was a problem, but I also saw that our city and county law enforcement needed better facilities. I worked to pass Fairfield's first local option sales tax to fund the new Law Center, and it passed on the first ballot.
Now, passing a tax may not sound like something to be proud of, but after those bonds for the law center were paid, we used the sales tax funds to invest in our community in ways we never could before, funding things like the Fairfield Arts and Convention Center, Downtown Streetscape, Loop Trail, 1st Fridays Art Walk, City Beautification, and many cultural and community events.
Being designated an Iowa Great Place is probably the next great thing, because it came at a point that validated the direction we had taken in 2003 with our City Strategic Plan, which was endorsed by 80 local organizations. It was a moment of great pride for everyone in the community.
Our Go Green Plan published in 2009 received national recognition. Alliant Energy awarded us Hometown Rewards for reducing our citywide energy consumption by 8.5 percent, and we became a designated Blue Zone. We completed the Loop Trail in 2011, the Fairfield Arts and Convention Center in 2007, the pool and Recreation Center in 2016, and the Downtown Façade Project in 2017.
Maybe that's too big a list, but I can't leave off any of those great things our community did together.
What have been some "firsts" for the city of Fairfield during your tenure? Of what are you most proud?
The Fairfield Citywide Strategic Plan was a first of its kind for Fairfield. I appointed a commission of 24 citizens and elected officials to work on a broad plan facilitated by the Institute for Decision Making of the University of Northern Iowa. Neutral and professional facilitation of the process was key, and over 18 months, the commission spent one day a month working on the plan. The vision statement summed up the direction the planning took: "Fairfield in 2012 will be a shining success story in Iowa, featuring a revived and vibrant downtown, a dynamic growing economy, and a leading center for culture and the arts. . . . Fairfield—the best of all worlds." The plan was the platform for achievement of many of the projects that were completed over the next decade.
Following the success of our first community-wide plan in 2008, we launched the Go Green Plan and became one of the first small cities in the country to take a comprehensive approach towards energy conservation, renewable energy, and changing the culture around local resources towards sustainability. I instituted new commissions that have had a powerful impact on the community, including the Beautification Commission, Sustainability Commission, and Recreation Task Force that spearheaded the development of the new outdoor pool and indoor recreation center.
Other new initiatives also arose during that time, like the Convention and Visitors Bureau supported by the passage of the hotel-motel tax, the Fairfield Arts and Convention Center Board, the expansion of the Farmers' Market, and the expansion of economic development organizations: the Fairfield Economic Development Association, Fairfield Area Chamber of Commerce, and Fairfield Entrepreneurs Association.
One of the great projects we completed was the Fairfield Airport runway expansion and new terminal. I personally lobbied the head of the FAA in Washington, DC, to support our airport with a $10 million dollar discretionary allocation from the federal budget, and got the money we needed to complete the project.
Other programs and policies include the Quiet Zone, solar installations on city buildings, housing expansion projects supported by the city, and our new wastewater treatment plant currently under construction. I am proudest of the cooperation between our city council, administration, department heads, and private partners that made all of this possible, always acting for the greater good of the community.
When it comes to issues at the state level, what has the Iowa legislature dealt with in this legislative season that has surprised you?
I am surprised by the proposal to cut the state budget by $1 billion at a time when we have spent through our reserves, our revenues are not meeting projections, and with the threat of international tariffs that will further weaken the Iowa economy. While I understand tax cuts are popular, we are starving important government functions like the Department of Natural Resources and barely funding our public schools. When you add our mental health challenges and the problems with access to care from our privatization of Medicare, the net effect is pushing the burden onto local governments.
I have learned through my years in city government that the revenue side of the ledger is as important as the expenditure side. We have to fund our priorities, and those priorities shift with the political winds in the state legislature. I believe a fresh focus on Iowa's rural economic opportunities will produce more revenues for the state while diversifying our economy at the same time.
What issues are you most anxious to work on if elected to Iowa State Senate?
Even though the legislature passed a water quality bill, I believe they passed the wrong bill, because it will not adequately address the problem of our 750 impaired waterways. We have the opportunity through the Water Trust Fund to make four times the resources available to address the challenge. In 2010 Iowa voters overwhelmingly approved a three-eighths of a cent sales tax for this fund, and there's still a 70 percent approval for its use. Lawmakers need to implement this and raise the state sales tax a fraction of a penny to fund the trust.
We are prepared at every level from state agencies to local conservation districts to deal with this, and I believe we should continue to work for this solution. Our rural communities' future depends on our access to safe drinking water and a livability factor that comes from a clean environment and good stewardship of the land.
An issue connected to this is our loss of soils through erosion. Our best solutions, like cover cropping, can address both our water quality and soil retention challenges.
Among the platform issues on your campaign website, you list health and wellness. Would you explain why you feel that health is a political issue?
This is something we have to talk about and find a way to tie to our health care responsibilities. Our lifestyles are not conducive to good health. Iowa has the 13th highest obesity rate in the country. Obesity leads to high rates of diabetes, hypertension, heart disease, arthritis, and cancer. State-sponsored programs for schools, institutions, and communities can help address this issue through physical exercise requirements, nutrition programs, local foods, food insecurity initiatives, and wellness education. Keeping this theme of health and wellness in every discussion of health care is important to change the trends toward unhealthy behaviors and lifestyle that will only swell our health care budgets.
You express your legislative goal as revitalizing Iowa's rural communities. What is the paramount issue facing rural communities right now?
Since the 2010 US Census, 73 of Iowa's 99 counties have lost population. Jefferson County grew by 7.4 percent. Our efforts to support new initiatives that grow our economy, showcase our cultural diversity, and make our community inviting to people young and old has demonstrated what is possible in our rural communities. I believe that we have to reframe our economic development focus on rural areas so that it features the development of thousands of new small businesses across all economic sectors, creating robust, creative, and livable communities.