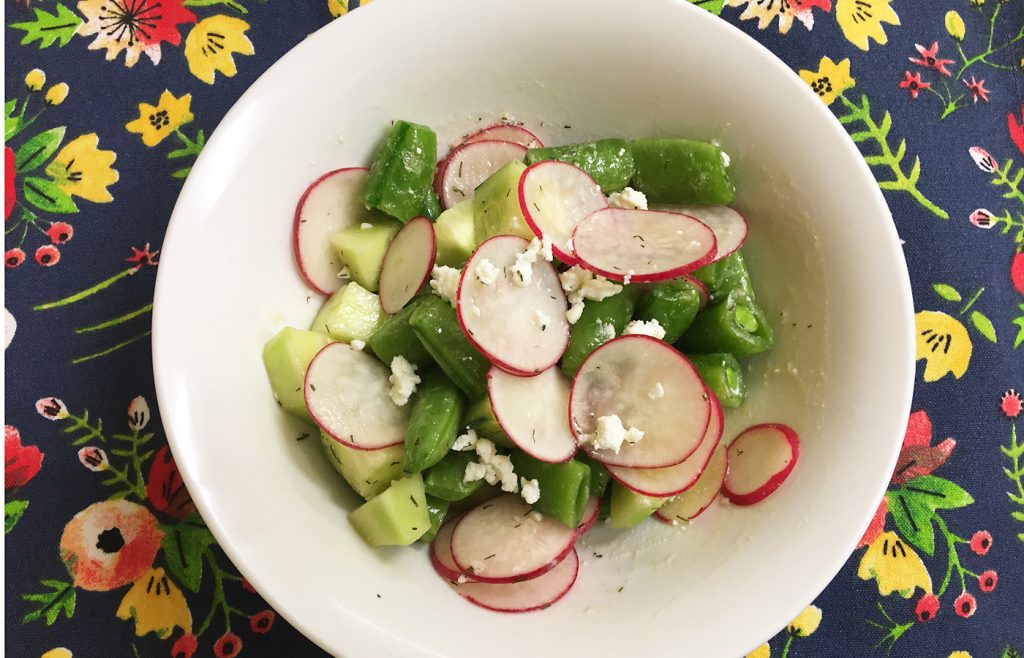 At long last, summer has arrived, that wonderful time when we look to our blossoming yards to get creative in the kitchen. Blissful moments of harvesting fresh fruits, vegetables, and herbs from the luscious garden are on the rise. One of my favorite pastimes of the season is hosting picnics with dishes that are equal parts scrumptious and healthy. And while there's no beach in sight, there are plenty of adorable gazebos and gorgeous parks.
Since fresh is best, I like to go straight to the garden, the farmers market, or a friend's homestead for the highest quality hand-picked ingredients. Local grocers carry fresh-picked produce as well, so be sure to check out all options. Cooking with seasonal produce allows for maximum flavor and enjoyment, and you can have endless fun experimenting with new taste combinations.
As I thought about recipes to share, I remembered my favorite picnic moment last summer. Underneath the shade of a large gazebo, we sat in the midst of summer blossoms and spread out the quintessential picnic tablecloth for a relaxing lunch. Salads, fruits, and freshness abounded, and we savored every bite in the peaceful ambience. My Aunt Carol brought this glorious salad that has since become a favorite—it packs a cool, zippy, and delightfully fresh flavor.
Aunt Carol's Picnic Salad
½ bunch radishes
1 lb. snap peas
1 large cucumber
1/3 c. Feta cheese
2 Tbsp. chopped dill
¼ c. fresh lemon juice
¼ c. olive oil
Salt and pepper to taste
Thinly slice radishes to make about ½ cup. Trim the ends off snap peas and cut in half. Peel the cucumber, cut in quarters lengthwise, and slice into small cubes. Mix olive oil with lemon, and toss everything together in a large bowl. Add dill, pepper to taste, and Feta cheese, if desired. Refrigerate 2 hours before serving.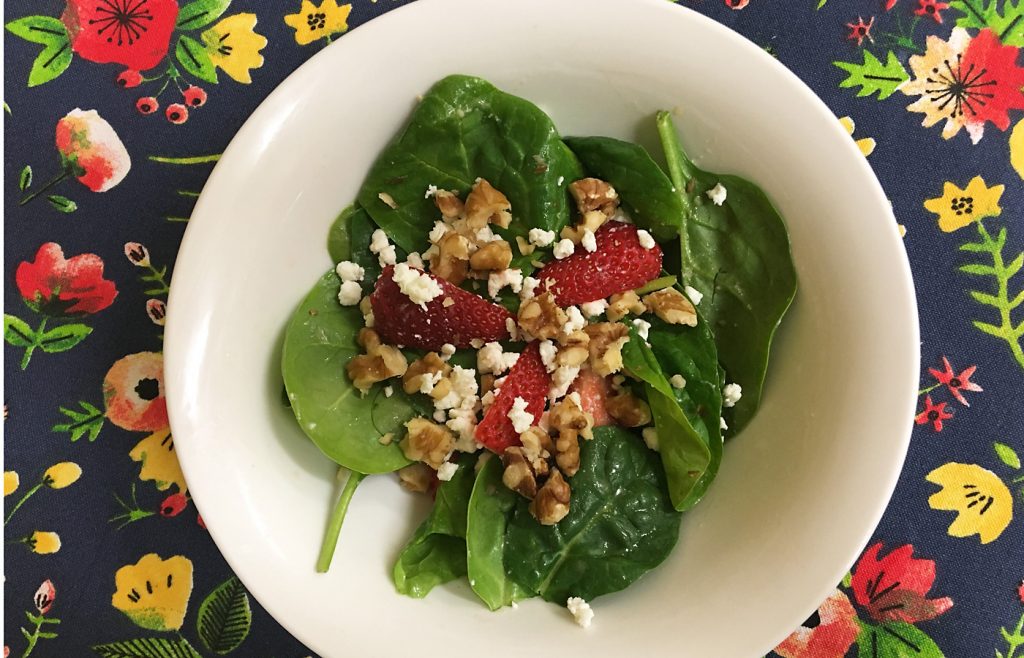 Susie's Superb Spinach Salad
You might think that spinach cravings are weird, but I get them quite often. Call me Popeye! This salad was served a few summers back during a RAGBRAI gathering with friends, and life has felt sweeter ever since.
1 lb. fresh spinach
2 c. strawberries or blueberries
½ c. walnuts
Feta or goat cheese (optional)
2 Tbsp. apple cider vinegar
2 Tbsp. honey
Place walnuts on a pan and toast in the oven at 350 degrees for 5 to 10 minutes.
Wash the spinach and place in a large bowl. Add chopped strawberries (or add whole blueberries). If you're using Feta or goat cheese, crumble it on top of the salad.
Briskly whisk apple cider vinegar with honey. Pour onto salad and gently toss.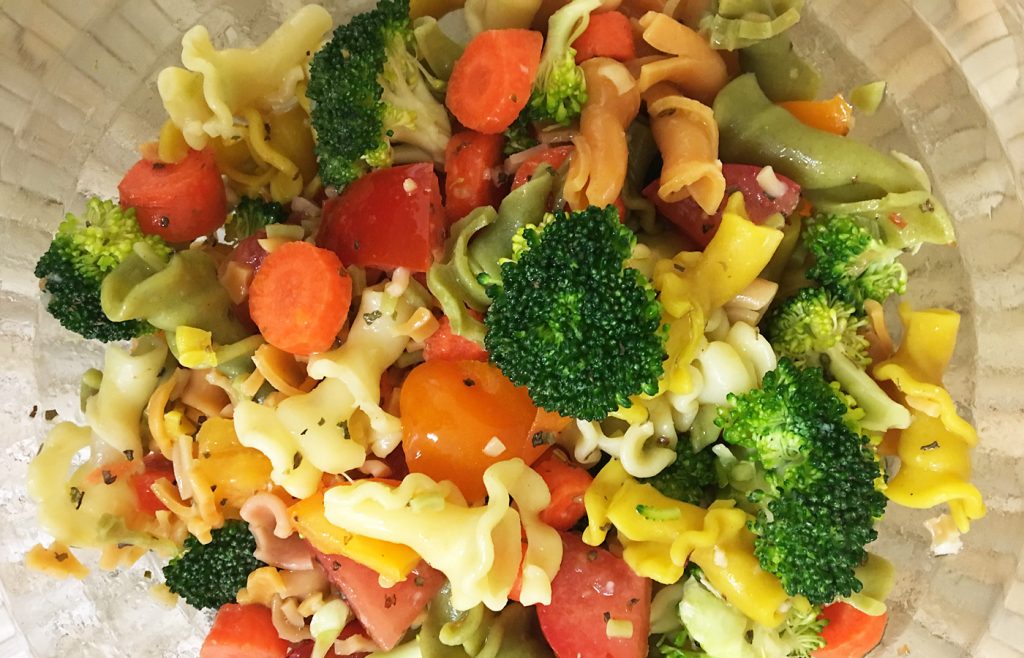 Margaux's Pasta Italiano
Speaking of favorite salads, this Italiano favorito has been made around the house for years. Colorful, beautiful, tasty, and ready to crown a picnic, reunion, or celebratory table, Pasta Italiano is the ever-friendly and perfect pasta salad. Vegetables and noodles and zest, oh my!
Creativity and availability come into play for this one, so feel free to substitute whatever vegetables or noodles you prefer. Taste is the ultimate goal, so go for what you like and what your crowd would enjoy. Below is the "Margaux-fied" version of this classic dish.
12 oz. tricolor rotini pasta
2 c. broccoli florets
2 medium carrots
1 large tomato or 1 c. cherry tomatoes
1 red or yellow pepper
½ cup olive oil
2 Tbsp. white wine vinegar
1 Tbsp. lemon juice
2 Tbsp. fresh basil
1 Tbsp. fresh oregano
2 cloves garlic, minced
¼ tsp. crushed red pepper
Salt and pepper to taste
Shredded Parmesan, optional
Cook and drain pasta according to package instructions. Chop up broccoli, carrots, tomatoes, and peppers into bite-sized pieces. Make the "zesty Italian" dressing by whisking together the olive oil, white wine vinegar, lemon juice, basil, oregano, garlic, crushed red pepper, salt, and pepper. Gently toss pasta and vegetables with dressing and refrigerate until ready to use.
This Italiano gem tastes better with age. Letting the salad sit overnight or a day before enjoying allows the vegetables to soak up the zesty goodness. Also, be sure to offer freshly ground cracked pepper and freshly shredded Parmesan as an optional topping.
Let Your Creativity Shine
Lastly, enjoy all of the fresh herbs, vegetables, and fruits summer has to offer. Creativity coupled with cravings may go a long way in helping to cultivate your next favorite summer salad. Share your bounty with friends and family, and enjoy time in the fresh summer air out there.