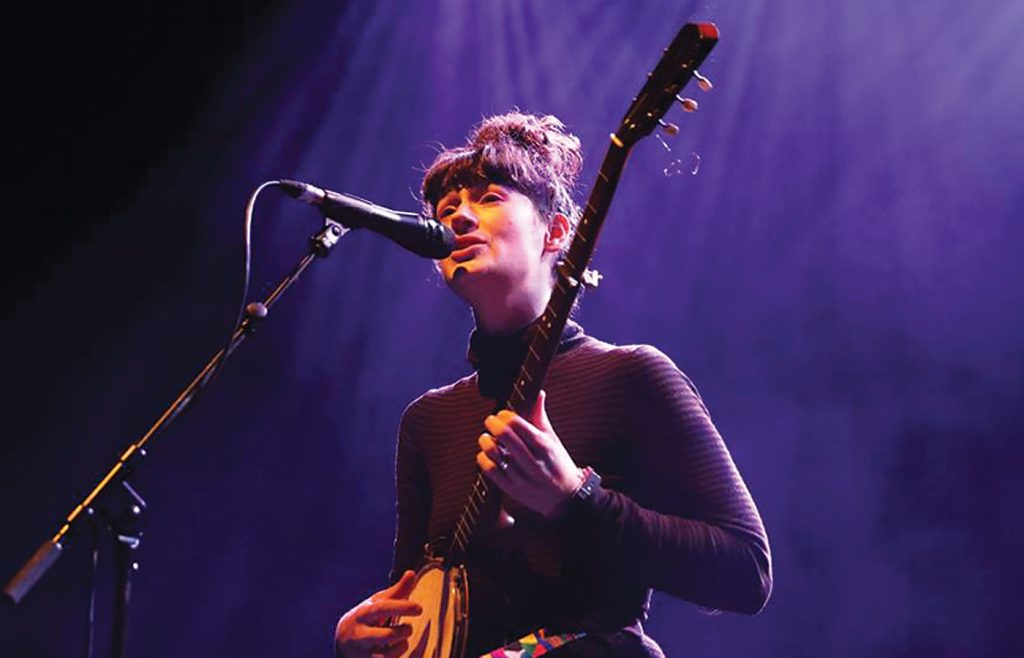 I recently discovered the music of British-born Paris resident Kate Stables, who records under her band's name This Is the Kit. Her simple yet sophisticated, mostly minor-key downtempo songs offer a welcome change to typical alt-folk music. Stables's music resonates remarkably well with that of West Coast singer-songwriter Mia Doi Todd. Todd's music is described on her website as "a kind of medicine, a revelation of life's sweetness, sadness, beauty and joy, all joined together in rhythm, melody, and word." It's an apt portrait of Stables's music, too.
In her 2016 interview with Harry Kaplan on Twangri-La, Todd describes her creative process like this: "Usually, I come up with a little guitar pattern or piano pattern and then I find a melody that it goes with. And then the lyrics come. And the lyrics are always the hardest part. . . . but once they come, they usually come all together in sort of a stream of consciousness." Most of Todd's songs are accompanied by either solo acoustic guitar or simple electric guitar, bass, soft percussion, and a few subtle electronic wisps.
Stables's songwriting runs in a similar vein, but her voice oozes at a slightly higher pitch. Like Todd, Stables has the gift of creating somewhat otherworldly melodies that linger in the mind like the aftertaste of a good wine. Both singers seem to be influenced by Joni Mitchell.
Here are my favorite three songs from each performer.
Kate Stables (This Is the Kit)
Magic Spell (2015). A beautiful sonic experience with both acoustic and electric guitars as well as electronic keyboards, "Magic Spell" invokes the encouragement "to pick yourself up, off your rusty dusty." The music begins with nearly a minute of acoustic guitar work that also provides the foundation for the fading drift of electronic and acoustic splendor at the end.
Moonshine Freeze (2017). Coming with a more moderate beat, this song percolates: "As the change sets in, we have lost our way / As the game begins, we are found again." Later verses settle with resolution, "As the change sets in, we are one again."
Riddled with Ticks (2017). In another beautifully delivered acoustic treat, ticks seem to be the symbol of throwing off that which binds us. The message is that truth triumphs in the long run.
Check out more great songs by This Is the Kit on the albums Bashed Out and Moonshine Freeze.
Mia Doi Todd
Sleepless Nights (2008). Strings and bass soothe Mia's acoustic guitarwork as she searches for herself: "Out on the patio, I told you how long ago / I had abandoned my will / Under the circumstance, I really had no chance / The loss, the letdown, the lameness haunt me still."
My Room is White (2005). Stripped-down acoustic guitar, piano, and soft percussion lay the foundation for Todd's reflections on incompatibility: "I live in silence, my windows / Closed to traffic, all that racket / You are the opposite. I could never fit / Into your apartment / Are we going to give up / Or are we going to try to learn what life is?"
What If We Do? (2005). Pondering the future during the early stages of romance, "We each have travelled and come to a rest / We're trying to make things happen / Neither of us know how to measure success / Hey, we could fall in love and be happy / What if we do?"
Discover more good songs from Mia Doi Todd on the albums Manzanita and Gea.