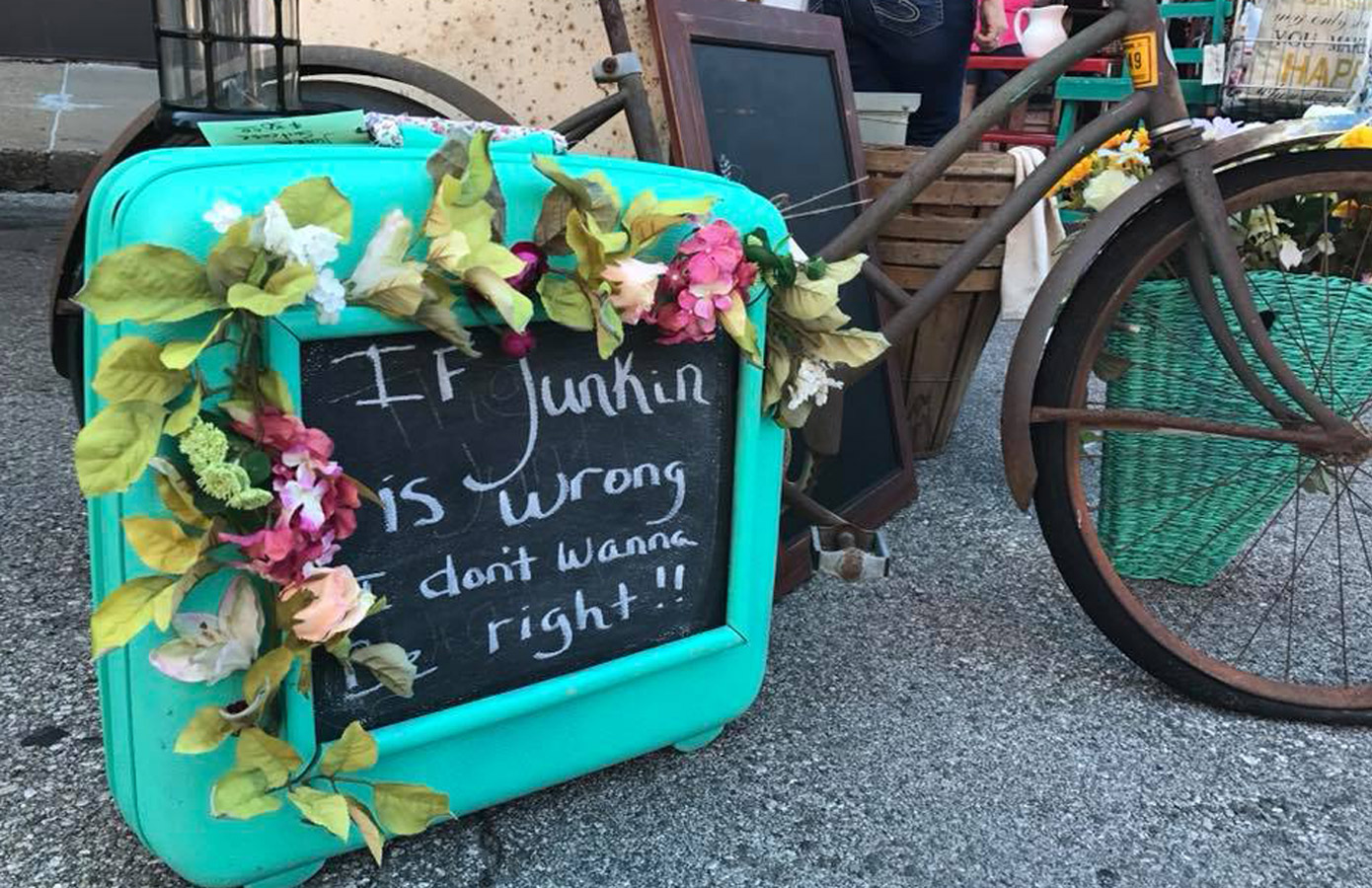 A Very Vintage Market is the annual one-day-only vintage extravaganza in beautiful Burlington. Held this Saturday, July 21, from 9 a.m. to 4 p.m. in the historic downtown district, AVVM will fan the flames of your vintage and handmade fancies.
Browse a scintillating buffet of collections and creations from small businesses, artists, and crafty yokels. Shop from antique and vintage decor; repurposed, reimagined, and upcycled items; handcrafted goods, architectural salvage, and primitive and farmhouse accents—and be sure to save room for some yummy eats.

Gotta love local!
We're not talkin' some crumbly, small-time garage sale. (Not that there's anything wring with that!) But you can expect over 125 vendors, handpicked for the quality and style of their wares. Blocks and blocks of ridiculous charm.
Here's a random sample of this year's Very Vintage vendors to tantalize you: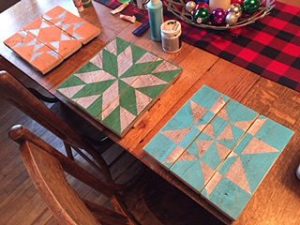 Good Soil • "Good Soil creates and sells one-of-a-kind home decor pieces featuring reclaimed wood, repurposed hardware, and original artwork. We enjoy giving new life to discarded items, reimagining them into something useful and beautiful again! Our business feeds our habits of picking and flea marketing. We love using local 'junk' and turning it into local art to be enjoyed again …"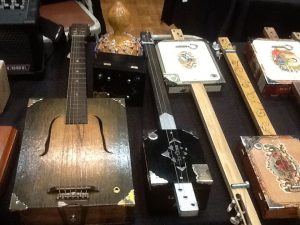 Muddy Creek Guitars • "Playable handmade guitars made from cigar boxes, tins, and other repurposed items. I make microphones out of soup cans and gourd instruments. Own a piece of Americana! Guitars are fully functional and plug into an amp!"

Wallace Metal Works • "Our rust is straight from the farm! We upcycle tin and steel into beautiful pieces of art. We use both old rusty tin and not-so-rusty tin to make authentic repurposed, vintage, and handmade crafts."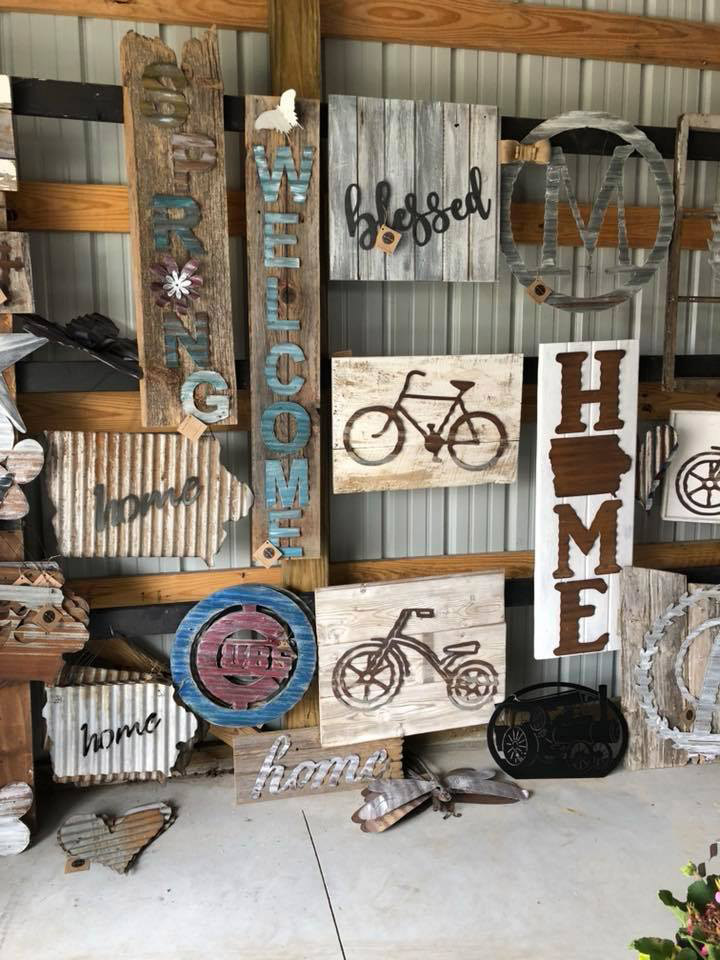 Kimberly's Clutter • "I am a fan of eclectic decorating. I have a pretty even mix of small knickknacks, kitchenware, wall decor, soft goods, and large and small furniture pieces that I have either rescued and spruced up or repurposed into something useful. I am not a fan of perfection and love knowing that everything I have has an interesting history. I get immense satisfaction from rescuing anything I can from an alley, the curb, my neighbors fire pile, or wherever it's ended up, and giving it new life."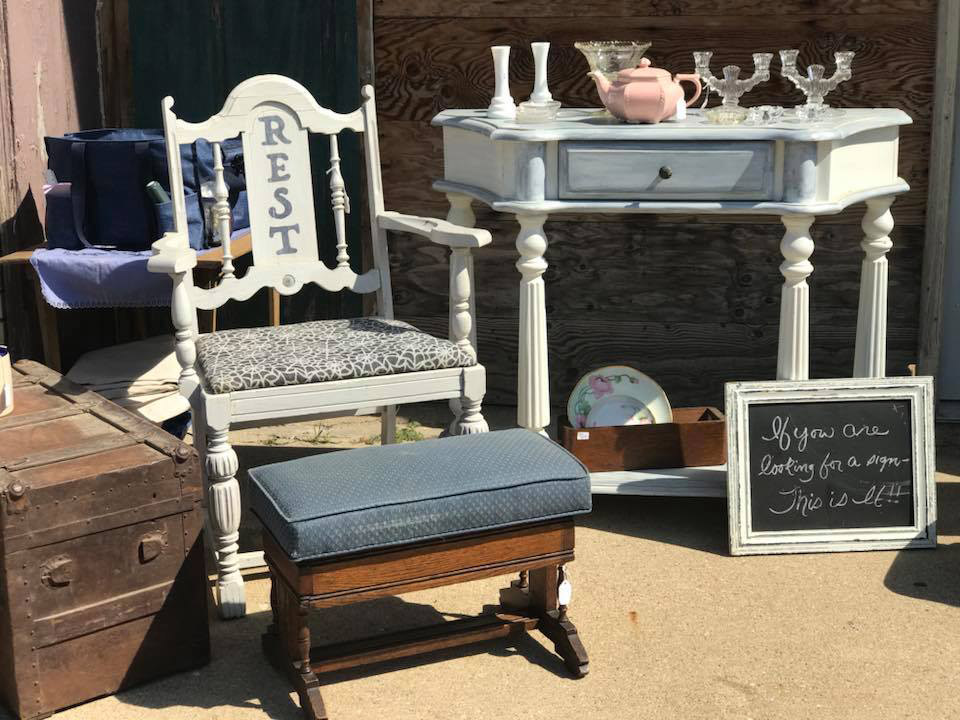 Make a day of the Very Vintage Market, and bring your truck. This Saturday you'll find mid-century modern furniture, handwoven rugs, pressed flower art, gold guilded frames, and soooooo much more.
All in all, it's some pretty neat "junque!"