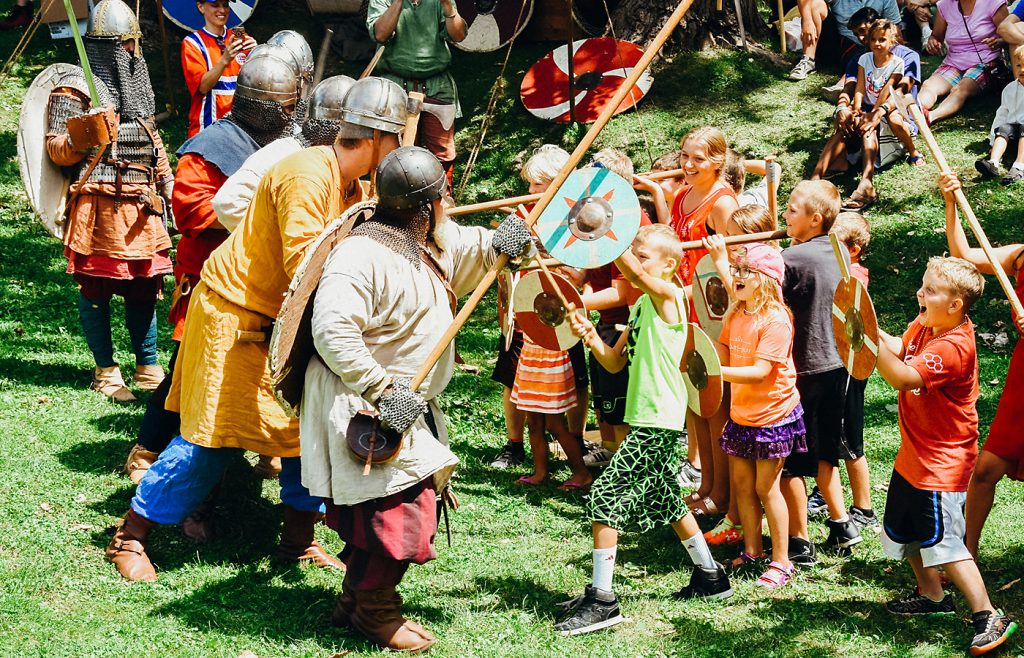 Vikings, folk artists, Norwegian waffles, Nordic roots music, and more—you'll find it all at the 52nd annual Nordic Fest, held July 26-29 in scenic Decorah, northeast Iowa's own Little Switzerland. "Whether you have Norwegian heritage or not, there is plenty to enjoy at this citywide celebration of Nordic traditions and heritage," says Vesterheim Museum event organizer Martha Griesheimer.
A celebration of the spirit of Scandinavia, Nordic Fest includes fun activities for the whole family, with lively dancing, challenging sporting events, delicious food, and lots of other entertainment.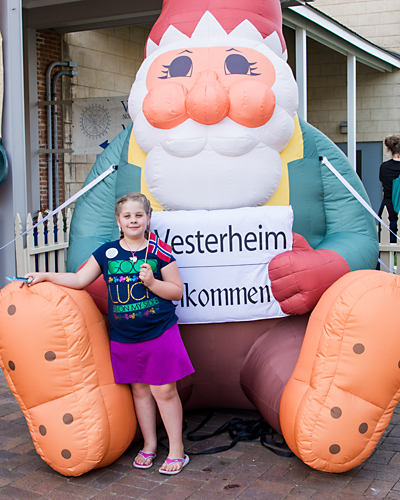 Spend the weekend exploring Vesterheim, the national Norwegian-American museum. Its 12 historic buildings are open Friday and Saturday from 12:00-4:00 p.m. to tour on your own with no admission fee. Guided tours are available at 10:30 a.m., 1:30 p.m., and 2:30 p.m. on Sunday with an admission ticket. The Museum Store has extended hours of 9:00 a.m.-8:30 p.m. on Thursday, Friday, and Saturday.
And there's plenty more to see and do at the museum over the weekend.
Norway's Stine Aasland, the "Waffle Queen," and her company Nordic Waffles will be selling waffles on Water St. by the museum. Nordic waffles are different from American and Belgian waffles and resemble the texture of a crêpe. A meal in themselves, they will be served with sweet or savory toppings—delicious!
Vesterheim welcomes back the re-enactment group "Skjaldborg," from Elk Horn, Iowa. Visit their Viking camp in the museum's Open Air Division to see how Vikings lived. They will entertain with full combat demonstrations.
Musician Arna Rennan will perform in Vesterheim's Bethania Church at 3:00 p.m. on Friday and Saturday. Rennan grew up hearing Norwegian songs in her home and later moved to Norway, where she studied at the Institute of Folk Culture in Telemark. Her performances give audiences a glimpse of the magical world of folklore and traditional folk music with stev ballads from the middle ages, with accompanying overtone flute and langeleik.
The Center for the Study of Upper Midwest Cultures presents "50 Years of Folk Music at Nordic Fest" in Vesterheim's Bethania Church at 1:30 p.m. on Friday and 1:00 p.m. on Saturday. Anna Rue, Marcus Cederstrom, and Nate Gibson from this center at the University of Wisconsin, Madison, tell all about the history of the Folk Music Festival, held during Nordic Fest starting in 1968. They'll highlight some of the archived festival recordings and talk about their project at the university.
"Ole Oleson," portrayed by living history presenter Roger Hellesvig from Minneapolis, will be in Vesterheim's Haugan House from 12:00-4:00 p.m. Friday and Saturday. He'll bring the story of Norwegian immigration to life with storytelling and conversation.
There will be an exclusive film screening of Album in the Viking Theater on Saturday at 3:00 p.m. Album is an introduction to Norwegian photographer Knud Knudsen's world of images, produced by the Norwegian Film Institute. Knudsen (1832-1915) is considered one of Norway's most important photographers and his photographs are featured in the Vesterheim exhibit Rocks and Hard Places: Emigration through the Lens of Knud Knudsen.
Vesterheim's "National Norwegian-American Folk Art Exhibition of Folk Art" will be on view through Saturday, July 28, 9:00 a.m. to 5:00 p.m. daily. Visitors can enjoy this exceptional exhibition of knifemaking, rosemaling, weaving, and woodworking by some of the best contemporary American artists. Many of the pieces will be for sale by silent auction. Come and vote for the People's Choice Award.
Outstanding folk artists in the Norwegian tradition will demonstrate their crafts throughout the campus. The Folk Art School Demonstrators, showcasing a variety of folk arts, will be under tents in the courtyard next to the Main Building. Additional award-winning woodworkers and rosemalers will be in Westby-Torgerson Education Center on the third floor. There will be many folk-art items for sale by various artists and organizations, including the Country Gallery Antiques, the Oneota Weavers and Spinners Guild, and Vesterheim Ribbon-Winning Rosemalers.
Local artist Carl Homstad will be on hand on Saturday to show and sell his popular Decorah-area landscape woodcut prints.
The museum's Open Air Division will come to life with Living Heritage Demonstrators from Minnesota, Virginia, and Wisconsin. Watch experts at blacksmithing, spoon and beam carving, knifemaking and leatherwork, stave container construction and decoration, and jewelry making.
Representatives from the Norwegian-American Genealogical Center will be available from 9:00 a.m.- noon and 1:00-5:00 p.m. both days to offer genealogical research advice.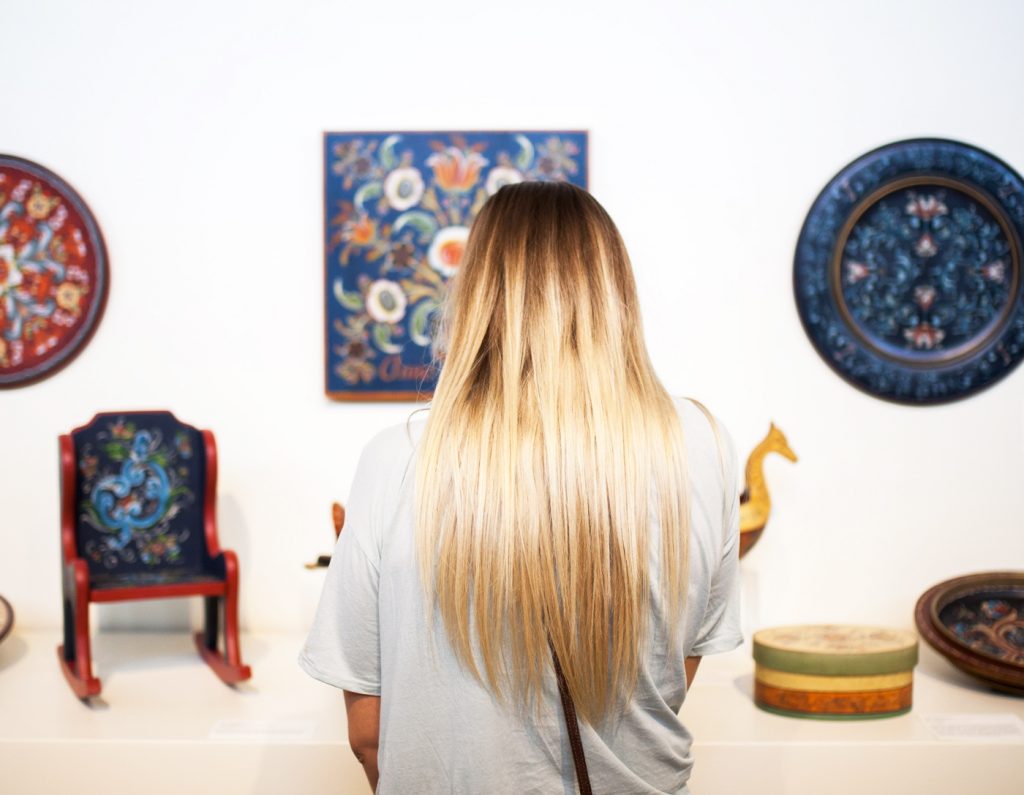 For a schedule of events, call (800) 382-FEST or check out the Nordic Fest site at www.nordicfest.com.
Through 33,000 artifacts and 12 historic buildings, Vesterheim, the national Norwegian-American museum and heritage center in Decorah, Iowa, shares the most comprehensive collection of Norwegian-American artifacts in the world. This treasure is also a center for folk-art education, offering a wide variety of classes in authentic Norwegian folk art every year. For more information, check Vesterheim's website at vesterheim.org, call (563) 382-9681, or write to Vesterheim Norwegian-American Museum, 502 W. Water St., P.O. Box 379, Decorah, IA, 52101-0379.