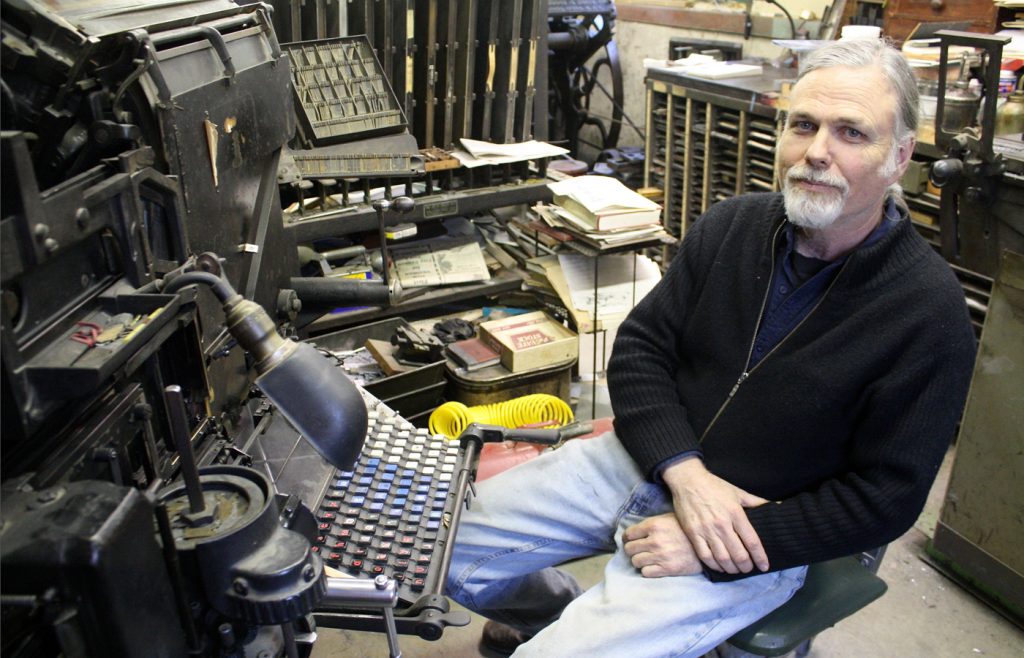 Join Timothy Fay for a reading from the final issue of the Wapsipinicon Almanac on Friday, January 25, 7 p.m. at Prairie Lights Books in Iowa City. Tim will be accompanied by several contributors to the new issue: Erika Billerbeck, Kelley Donham, Avery Gregurich, Steve Maravetz, David Miller, and John Peterson.

***
While ordering sushi with my friend Seth, we had the nerve to be whining about how everything comes so easy these days. Bam! Spicy tuna maki right there on your plate. A video camera built into your phone. Home robots who play you classical music and tell you if it's going to rain. So much of our oh-so-modern world is made possible by a mysterious virtual network. Seth and I agreed somewhat morbidly as we shoved maki rolls into our faces, "It feels like everything we have could just as easily disappear into thin air."
Sometimes you just need to hold something real in your hands. That's how I feel when I'm holding a copy of the Wapsi­pinicon Almanac.
I've joined the club of dedicated readers of this truly Iowan publication a little late in the game. Okay, a lot late. After 30 years, the Almanac is about to publish its final—and I mean FINAL—issue. (Cut to: a lonely tear streaming down her cheek.)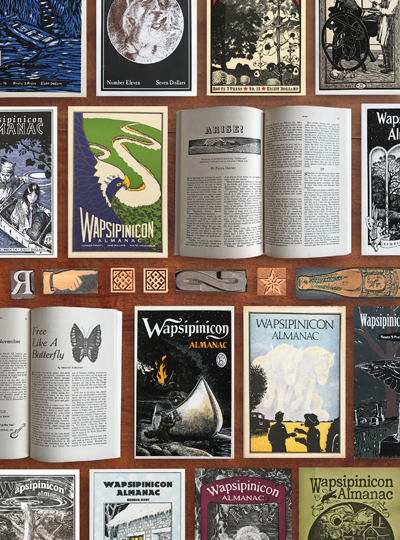 Born in 1988 right next to the Wapsi­pinicon River in Anamosa, Iowa, and conceived by printer and editor Timothy Fay, the Wapsipinicon Almanac is a handheld treasure of Iowa voices. Each issue is a carefully curated collection of critical essays, short stories, book reviews, Iowa history, news blurbs, poetry, and beautiful artwork, all with a sharp but somehow lighthearted focus on Midwestern concerns—and culled from a variety of perspectives.
To take in the Wapsi from cover to cover is an absolute pleasure.
I picture Wapsi readers through the years pouring over its hard-won pages with just a little drool collecting in the corners of their mouths. After all, they've had to pine 12 whole months for the issue they are now cradling in their palms.
I see them sipping coffee at the diner and laughing at an ironic bit of news about "designer caskets" on page 23; or tucked in bed, getting lost in a short-story heartbreaker about Grandma's china sitting at the bottom of the crick; or relaxing on the john while they browse a scathing book review about the plight of the small-town business and its nemesis, Walmart; or waiting at the Amtrak station and smiling with pleasure at the charming black and white advertisements of the mom-and-pop businesses who support the Almanac and serve their communities in every aspect from the arts to agriculture. It's all so romantic. And wistful. And sobering. And hilarious.
Pick one up. You'll see what I mean.
In addition to darn good writing, part of the real appeal of the Wapsi is that it's printed on an antique press. If you're under the age of 60, there's a good chance you've only ever seen the likes of this sort of equipment in museums. Please read my riveting description of the Almanac's antiquated printing process and picture it in your head as best you can. I worked really hard to get it right, so you better damn well appreciate it.
This is How It's Done, Folks!
For the Wapsipinicon Almanac, every line of copy has been punched in by hand, molded out of hot lead on a mammoth machine called a Linotype, and positioned alongside its brothers in a galley of type. The lead "slugs" get proofed on the galley proof press, corrected, sawed to length, and fashioned into pages. Slugs create the physical building blocks that compose the relief surface of every character to be precisely translated into ink on the page. They're arranged by hand in their rightful places alongside engravings, decorative borders, and ads—some of which are designed digitally and made into polymer-plate engravings. Occasionally, the graphics chosen are made from actual woodcuts, or picked from Timothy's collection of decorative engraved line drawings made from magnesium, copper, or zinc. Display lines (meaning section titles, etc.) are also sometimes selected letter by letter from his stash of foundry type.
The Wapsi's pages are printed eight per side in one pass through the 1950s Miller flatbed letterpress, Timothy's most modern piece of equipment—a very rare machine that can handle printing two colors at once. "They didn't make very many of these," Timothy explained. The pages are repositioned into the correct sequence on a hand-fed folding machine, creating 10 "signatures" (16-page booklets) which are stacked side-by-side and squeezed together for several days between wooden blocks so the final magazine is flat enough to slide into the toaster. Not that you would. Just making sure you are still paying attention.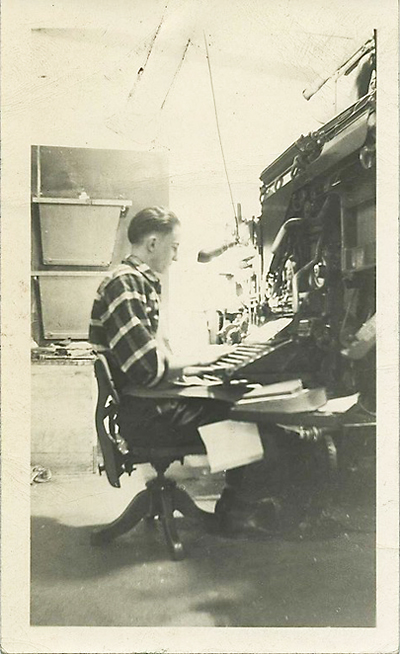 Spines are tied together by hand and sturdily wire-stapled, and the Almanac gets trued up and trimmed down on a powerful (and sharp!) paper cutter that can slice the edges of the foot, head, and side of the book all in one pass, 12 at a time. Don't worry, Timothy still has all of his fingers.
Each Almanac is at last adorned with its exquisitely designed cover—carefully glued on with a paintbrush—and positioned, spine down, for drying.
Everything about the process is hands-on, physical, extremely technical, and takes an extraordinary amount of patience, planning, and skill. And clearly, passion. Every Almanac, produced in batches of 1,500 each fall, has taken Timothy a year to curate, and several weeks to print, fold, bundle, and bind, just in time for Thanksgiving.
Over the decades, Timothy has had help from his "deeply competent" linecasting operator Eldon Meeks, now 93 years old, and his invaluable proofreader, Marge Hummel. But by and large, Tim has done the lion's share of the work, always with his eye on the prize. "My aim these days is to present good writing to Iowans," he states on his website.
"I Gave it a Shot 30 Years Ago. Still Here."
Timothy studied journalism in college at the University of Montana, but shortly after moving back home to Iowa, started "collecting this old equipment that was very inexpensive because it was, even then, obsolete—we're talking late '70s," he said. "I figured I'd better learn how to run the stuff right."
"Such a great magazine! A work of art. The only magazine where the ads are the first thing I read. Tim takes such care with every word of the editing, design and printing. It captures the true Iowa experience. And then some."  —Mary Swander, Poet Laureate of Iowa
Timothy's home near Anamosa is situated in a sweet spot at the western edge of the Driftless Area, a crossroads between Mount Vernon, Dubuque, Iowa City, and Cedar Rapids, and he made some valuable connections doing job printing and odd jobs in rural areas in those 13 years before publishing his first Almanac. "I did a lot of work for quite a wide spectrum of customers," he explains. "You get to know musicians and artists, radicals. . . . There's a little bit of everything, you know, around here.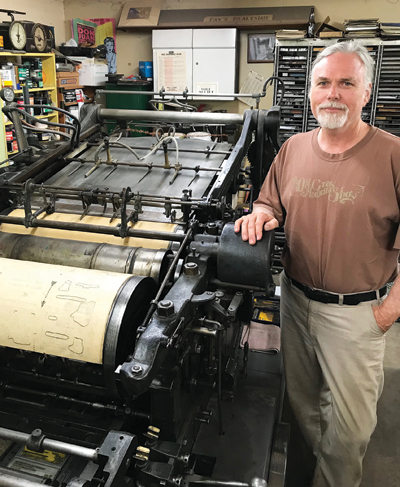 "What I did at the very beginning was put together a letter that I sent to people who I thought might be interested advertisers or writers," he explained. The response was enthusiastic, so he forged ahead "sorta blindly into that first issue in 1988, and hoped something good would happen."
Public reception was pretty fantastic. Reviews on the Almanac and its design were favorable, and the first issue sold out. "I was really lucky, too," Timothy added, "because Iowa Public Television saw it and they came out and did an incredible feature story. They ended up running that like five times, quite a lucky break."
Morgan Halgrin ("the 'Charity Nebbe' of the time," says Timothy) introduces the segment with a near-perfect description: "It's called the Wapsipinicon Almanac, and though totally unassuming, it is as pretty, and as thought-provoking, and as winding, and as alive as the valley from which it takes its name."
The name Wapsipinicon itself, though steeped in a Native American love-story legend, is titled after the "swan potato," a.k.a. arrowroot plant, that used to grow prolifically on the river's banks.
Fussin' Over Favorites
It's not fair to have to pick your favorite child, but I asked anyway: "Tim, of the 24 issues published so far, do you have any that really stand out for you?"
"One of my very favorites would be number four," he recalls. "I did a four- or five-color cover that was a total nightmare, but it turned out pretty well. Learned a lot. And I think there were just some really interesting designs and graphics and some great [pieces] . . . but there are things about all of them that I really like. And there are things I can look back and think, 'What was I thinking? Why did I use that typeface or why did I try that border instead of this one?' . . . But it comes to a point when . . . you just gotta quit fussin' with stuff and make it happen."
I wondered, too, if Timothy ever had second thoughts about the pieces he chose to publish. Nah. Not really, was the gist. "I suppose a lot of people would think that some of the environmental things we publish are a little bit out there, but I think the current state of affairs is way out there."
Must This Be the End?
Why, you must be wondering, is Timothy Fay shutting down this beloved publication in its 30th year? Dear God, how can this be happening? And can we blame Walmart for this, too?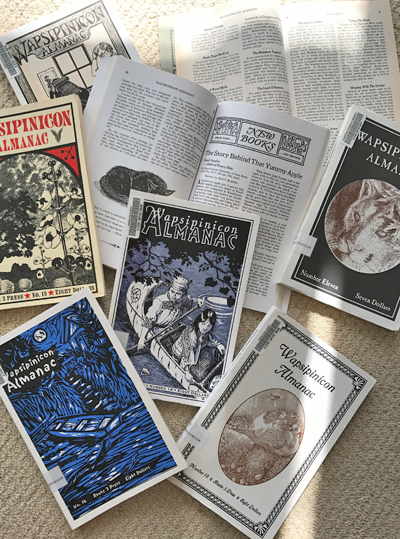 Tim's reply was, "I've always really loved doing this, but I want to go out feeling good about it. And I don't want it to rust out. I feel very strongly about that."
I asked him if he's had any doubts about the decision. "Oh, all the time," he admitted. "I've had a lot of people tell me they've really appreciated this." He paused a while. "But you gotta hang it up sometime."
I also inquired if he'd ever considered having anybody else take it over. I'll admit, I was having wild and irrational ideas about offering to grab the reins, but I kept that idea to my crazy self.
"I figure I birthed it, and I'll bury it," he said with absolute clarity. "Because if I were to hand it over to somebody, maybe they'd do a much better job," he chuckled.
I have a hard time imagining that scenario.
"I have other interests, too," he continued, "I want to get more into the fine printing, smaller publications, and I've got a farm here that's been in our family for 153 years now, and I want to put efforts into that." Through the Conservation Reserve Program (CRP), he and his brother have been converting the farm into a native prairie and forest preserve.
"And fall is my favorite time of year," he added with a smile. After three decades, Timothy will finally get to enjoy Iowa's most spectacular season instead of racing toward a November deadline. "I'm really looking forward to that."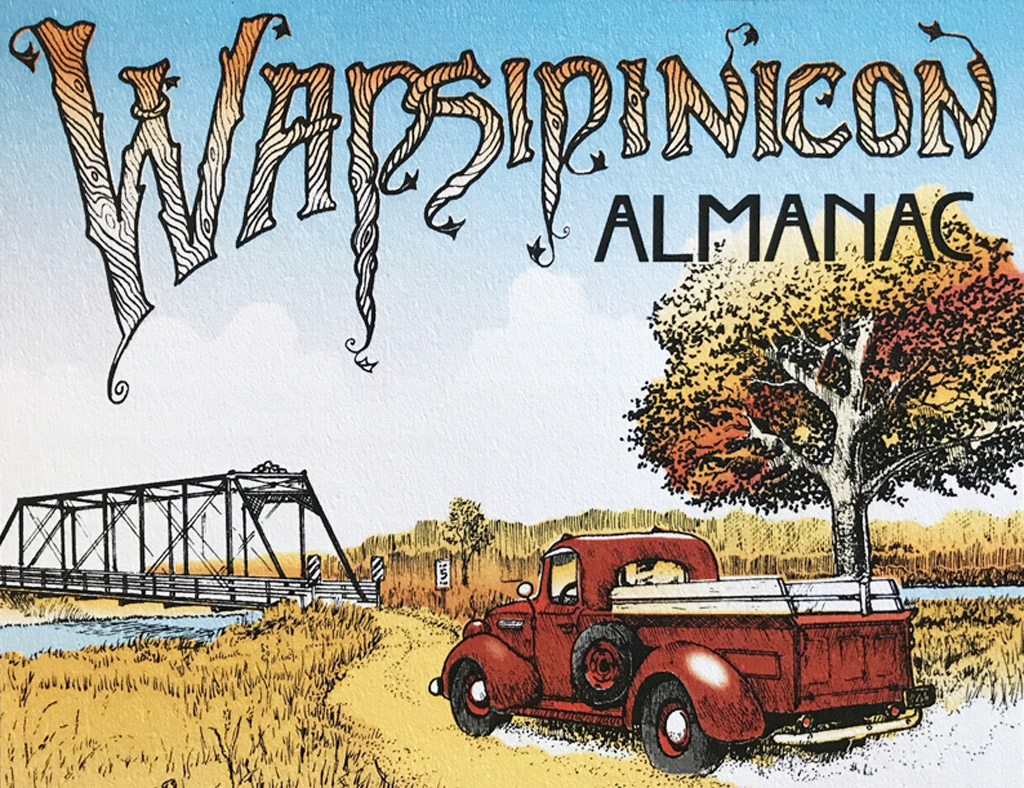 Is there Hope for the Antique Press?
The legacy of antique presses, Timothy thinks, will probably survive okay—well, certain aspects of it, anyway. The good news is, in the last decade there has been a tremendous resurgence of interest in vintage printing techniques.
"You've been to Mount Pleasant to the Printers Hall?" he asked. "That's an interesting dynamic, especially when the Ladies of Letterpress, the national organization, has their thing there for two or three days. You get all these young, hip women, covered with tattoos, and then the old crusty guys, who are, you know, shall we say, 'droll' characters … and everybody's interacting, and they all share the love of this stuff. And it's neat. It really is."
Another hopeful sign is, "You're seeing book-arts programs pop up in universities and some colleges," says Timothy. "And the internet has changed so much—there are discussion groups where young printers can ask questions and the old guys will answer them. It's really cool."
But it's not a cheap career to get into. Timothy explains, "A Vandercook Proof Press, which is the go-to press for so many young artistic types—back in the '70s and early '80s I could have hauled those off for nothing. Now they're going for eight or ten thousand dollars? It's crazy."
He continues, "What I'm doing, there's probably no future, because most young people don't want to deal with a nine-ton press or a one-ton Linotype."
Not many antique printers are attempting projects of the same scope as the Wapsi—160 pages of excellent, substantive writing presented in a meticulously illustrated layout its readers have cherished from day one. Timothy will release the final issue of the Wapsipinicon Almanac in November, 2018.
"Tim really deserves some kudos for all these years of putting Iowa, and the environment, and the people first."  —Melinda Stockwell, Calico Press
The irony is not wasted on me that Google Maps wasn't able to get me to Timothy Fay's doorstep, where I was due to interview him for this article in July. My so-called smartphone dumped me out in the middle of some guy's cornfield. What I probably needed to re-orient myself was an actual map in my hands. Printed on paper. With words and graphics and a squiggly blue line depicting the Wapsipinicon River. Something real.
I take heart in the fact that my local library has nine issues of the Wapsi available to me on any rainy day. Your library might, too. And if you're desperate, Timothy Fay keeps a small stash of back issues at his Route 3 Press, possibly available to a fellow Iowan for the right price. Which, having met him now, I'm guessing is probably still just a few dollars.
Current issues of the Wapsi are available for purchase at Prairie Lights in Iowa City, Everybody's Whole Foods and Revelations Cafe in Fairfield, and many more fine establishments in Eastern Iowa. Find out more at WapsipiniconAlmanac.com.