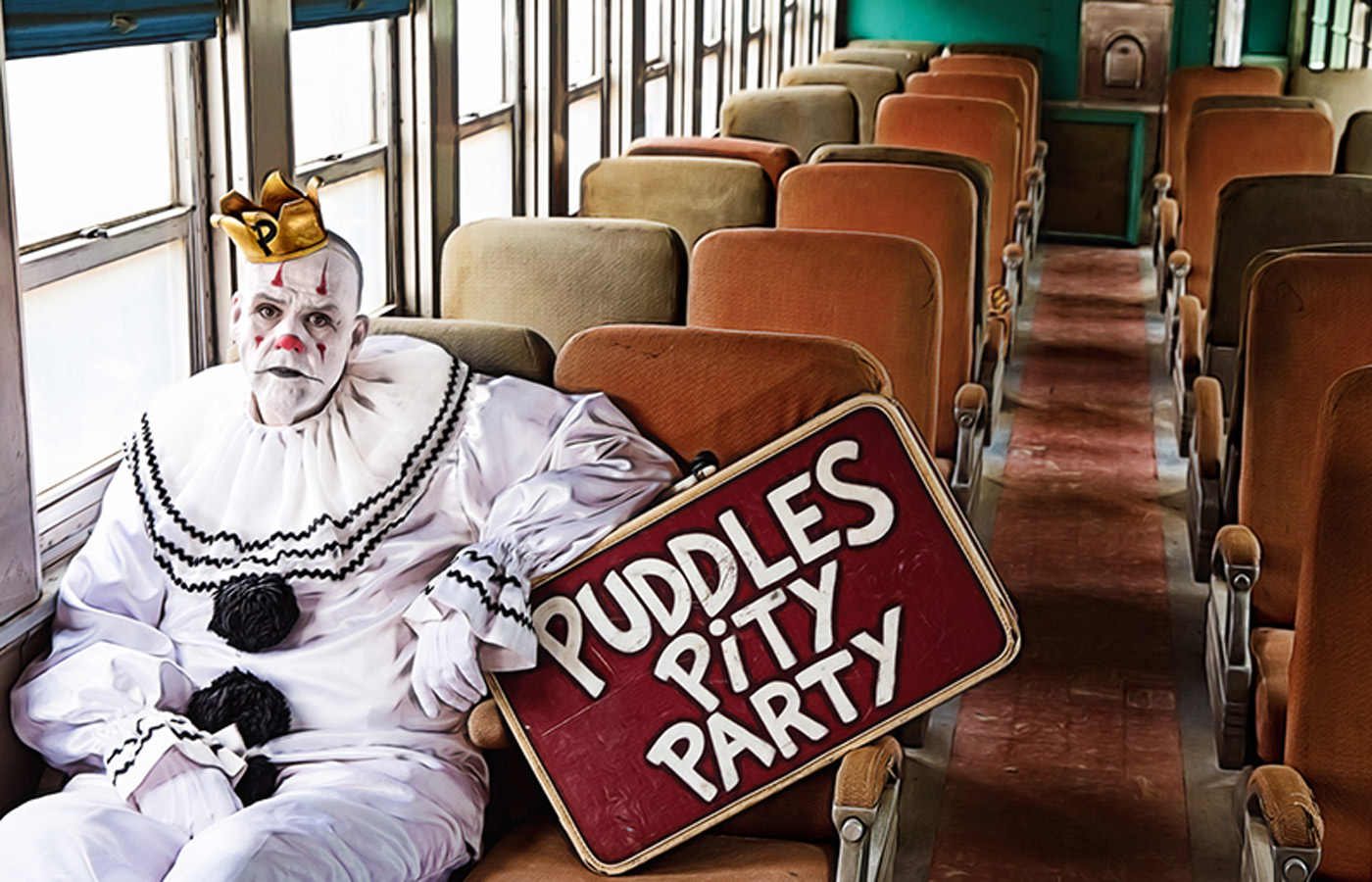 The "Sad Clown with the Golden Voice" is visiting Des Moines this Friday night with his heartfelt anthems and suitcase full of wet hankies. But this pity party is not 100% down in the mouth. Puddles' performance is also doused with a sense of the absurd, mixing some humor in with the awkward, tender moments.
A veritable "Pagliacci by way of Pee-Wee Herman and David Lynch" (The AJC), Puddles Pity Party is known for his indelible interpretations of classics by ABBA, David Bowie, Cheap Trick, and Queen. And don't forget his brilliant mashup of "Pinball Wizard" and "Folsom Prison Blues."
Originally from River City before kicking around Atlanta, the sulking serenader gained momentum after hitting the road as guest performer on the 2010 Aqua Teen Hunger Force Live tour and 2013 Eels tour and making special appearances at Seattle's Teatro ZinZanni and NYC's Sleep No More.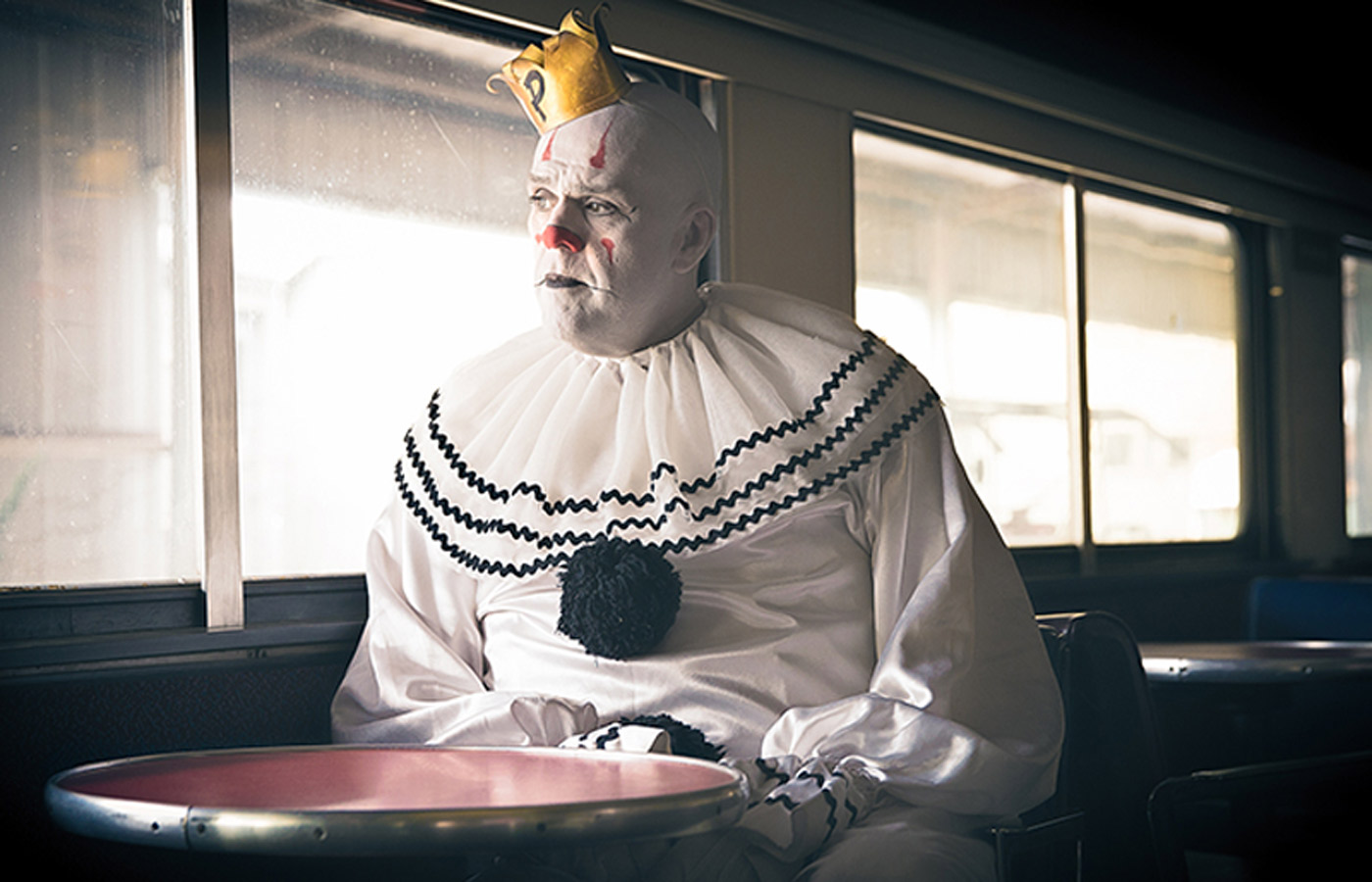 It was Halloween 2013 when Puddles then teamed up with Scott Bradlee's Postmodern Jukebox to record an epic version of Lorde's hit song "Royals," which instantly went viral on YouTube. The sad clown captivated audiences and media from around the world, building a fan base of more than 346,000 on Facebook and over 440,000 subscribers to the Puddles Pity Party YouTube channel.
Puddles has since performed all over the planet, garnering rave reviews at festivals like Edinburgh Fringe, Adelaide Fringe, Perth Fringe, Melbourne International Comedy Fest, Belgium's Gent Fest, and the Kennedy Center's District of Comedy Festival. He was a featured performer in La Soiree's 2014 Southbank show in London, which won the Olivier Award. He was handpicked by Neil Patrick Harris to perform Just for Laugh's "Circus Awesomeus" gala filmed for HBO Canada, and Jack Black selected Puddles for multiple performances at Festival Supreme. You might also recognize Puddles from recent appearances on America's Got Talent.
Today, the softhearted crooner continues to wander the world with melancholic pop anthems and free hugs for all the party people.
"Puddles gives an emotive performance that resonates with all kinds of folks," says Big Mike Geier, Puddles' confidant and spokesperson. "The crowd really responds to him. There's something about a giant sad singing clown that comforts us, lets us know it's okay to feel, to show our feelings. It's a sad and beautiful world, and we're all in it together, even when we're totally alone."
Tickets to Puddles Pity Party on Friday, August 24, at 8 p.m., can be purchased in person at the Hoyt Sherman Place box office (1501 Woodland Ave., Des Moines), charged by phone at (800) 745-3000, or online at Ticketmaster.com.