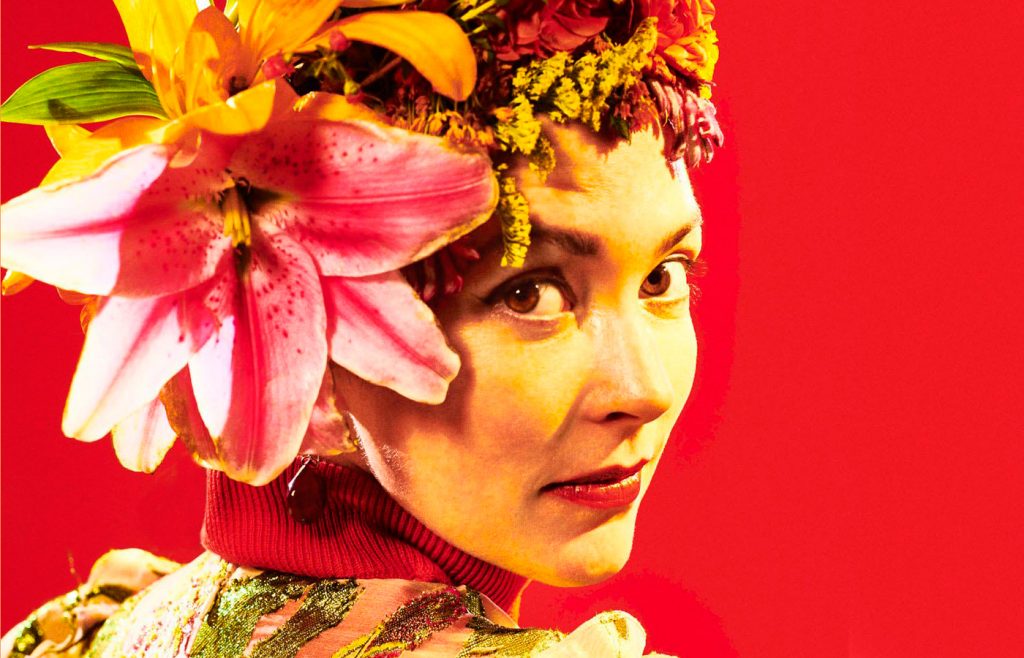 Singer, songwriter, and fiddler extraordinaire Amanda Shires will be returning to Iowa, this time with a band and ready to rock. The Nashville resident has performed in the Hawkeye State several times before, even at the same venue where she will appear on September 21, the Englert Theatre in Iowa City.
But her latest record and tour reveal she's no longer simply an Americana artist. And that's saying something, because in 2017 she won the Americana Music Honors & Awards for Emerging Artist of the Year. Now she's a full-fledged rocker.
Shire's fifth solo release, To the Sunset, contains 10 hard-driving original songs full of sneers, feedback, and clanging drums. "I don't ever sit down and write songs and think what I want to do instrumentally," she said over the telephone from her Tennessee home. "I just sit down and start writing and working, and let the song tell me what it wants to be."
Shire said she's always improvised the sounds to match the ones in her head but was not always able to reproduce them. The fact that this disc rocks is the result of the tools available to her this time, and she maintains it's not as great a departure from her past work as it might seem. This record was produced by Dave Cobb (who has also produced country acts such as Chris Stapleton and Sturgill Simpson) and recorded in Nashville's famed RCA Studio A.
Or maybe the rockin' is the result of writing the songs while hiding in her bedroom closet. Shires said she initially did this to get some privacy. If her two-year-old daughter Mercy heard Shires singing or playing, Mercy would start to jam with her mother. So Shires said she took to the wardrobe to find peace and found the intimacy of the room comforting.
"I would rip out pages from my notebooks and tape them to the wall and try to make songs out of them," she said. "The ones that didn't make it I put in the shredder and added them to the compost pile with the vegetable peels and put the result in my garden. Maybe the produce will make a good alphabet soup!" Shires joked.
Shires is well-known as an instrumentalist. She began her career as a teenager playing fiddle for the Texas Playboys, Billy Joe Shaver, and more recently as part of her husband Jason Isbell's award-winning band, the 400 Unit. But Shires is also a wordsmith who highly values language. She recently earned her MFA in poetry from Sewanee: The University of the South.
She described the difference between writing poetry and writing song lyrics for herself: "My poems are much smaller and concentrated. I focus on the moment and expand and explore what the moment means. In songs I tend to use more than a single perspective. I will add vignettes and broaden the picture."
Consider the first lines from the song "Parking Lot Pirouette," which opens her new record, "I never learned the names / the space between the stars / the shapes that constellations make / the burnin' jewels suspended in air / Aquariuses everywhere." The poetic quality of the language is clear and the lines typical of Shire's facility with words.
Shire has also become a videographer. She created the video for "Parking Lot Pirouette" using only her smartphone. "I was inspired to do this by the question, will what I am trying to express be translated correctly—visually? I am by no means a studied or schooled cinematographer, but I really had fun making it. I used the lighting apps and other features and just played around until it felt complete. I plan to make more," Shires said, then joked, "I have so much time, so many hours in the day to fill up where I am doing nothing."
Her trip to Iowa is part of a cross-country-and-back circuit that will run most of August and September. We spoke just before she was headed to Rhode Island to play the Newport Folk Festival. She wasn't worried about how her music would be perceived because she knows other rockers have successfully performed there.
When Shires played at the Englert Theatre the first time, she was the opening act for a more successful artist. This time she is the headliner (with special guest Leah Blevins). "Anytime you support someone else's show," she said, "it feels like there is not enough time to express what you want to express or take improvisational journeys." Shires paused for minute, then continued to show her careful consideration. "When you headline, you play longer. Time gets stretched out, and you get to be one with the people in the room. That's why every show is different."
Shires appears on John Prine's new album, The Tree of Forgiveness, which was also produced by Dave Cobb. She has performed with Prine many times over the years and he is her daughter's godfather. Shires greatly admires Prine for his many talents, and also expresses her admiration for the late Leonard Cohen. "Maybe I will do what he did at the rock Isle of Wight Festival and read poetry to calm down the angry crowd," she joked.
But upon reflection, she said that probably wouldn't happen. She would just turn up the volume a notch.