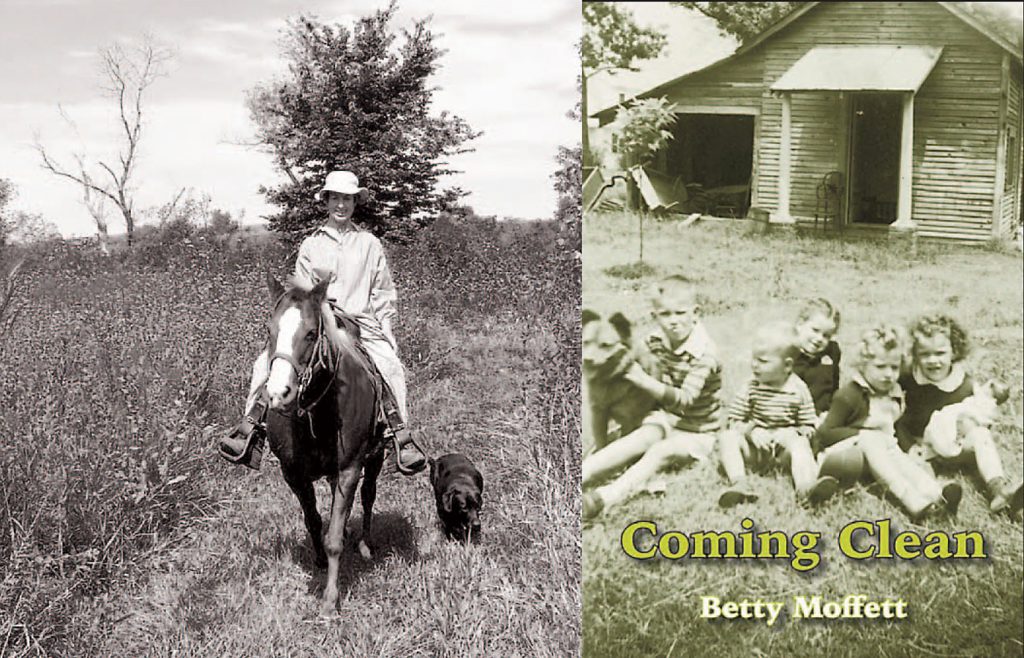 Betty Moffett's Coming Clean, released this month by Ice Cube Press, is a collection of 19 vibrant stories, by turns quiet and surprising and humorous.
Moffett is a storyteller from way back, and many of the stories recounted here are fashioned from those she heard as a child. But exactly where any story comes from may not matter all that much. Almost certainly, Moffett wrote them down as she remembered them. Just as certainly, she altered them, amended them, dressed them up, and put them on this stage for our entertainment.
The tales in Coming Clean cover a lot of ground—from tobacco country in North Carolina to the prairie in Iowa to a dude ranch in Wyoming. Set primarily in rural locations, the stories feature "regular" people, working-class folks who farm or teach school or cut hair. One especially interesting figure is a cowboy, made from the whole cloth of his reading of Western novels. Another character is a corpulent riding instructor who once performed in the center ring of a circus, and will not speak to the retired clown who now teaches trapeze in the same town. Plenty of animals, most often horses and dogs, populate the stories as well.
The main events are various, too: a quirky séance generates a ghost story, a schoolyard bully rescues his pocket knife from the bosom of his teacher, a newlywed shoots a hole in the wall of his in-laws' brand-new house, two teenage girls go off to a dance that becomes precarious.
Problems arise everywhere. Most get sorted out; some are simply accepted and absorbed.
What holds these stories together is the artful, accomplished voice of the speaker. She knows what makes for a good story. And she knows we want the answer to the most essential question posed by any good story—what happens next?
Other questions follow:
"Did that horse really pull that car out of the ditch?"
"Your aunt said what again?"
"Do you mean to tell me that . . ."
Yes, Moffett meant to tell you that. And more. These are durable stories. They wear well. We can hear them again and again.
Hear Betty Moffett read a short selection from Coming Clean on October 30 at Cafe Paradiso in Fairfield as part of an evening of "Haunted" short stories by regional writers.
For more information, visit Ice Cube Press.