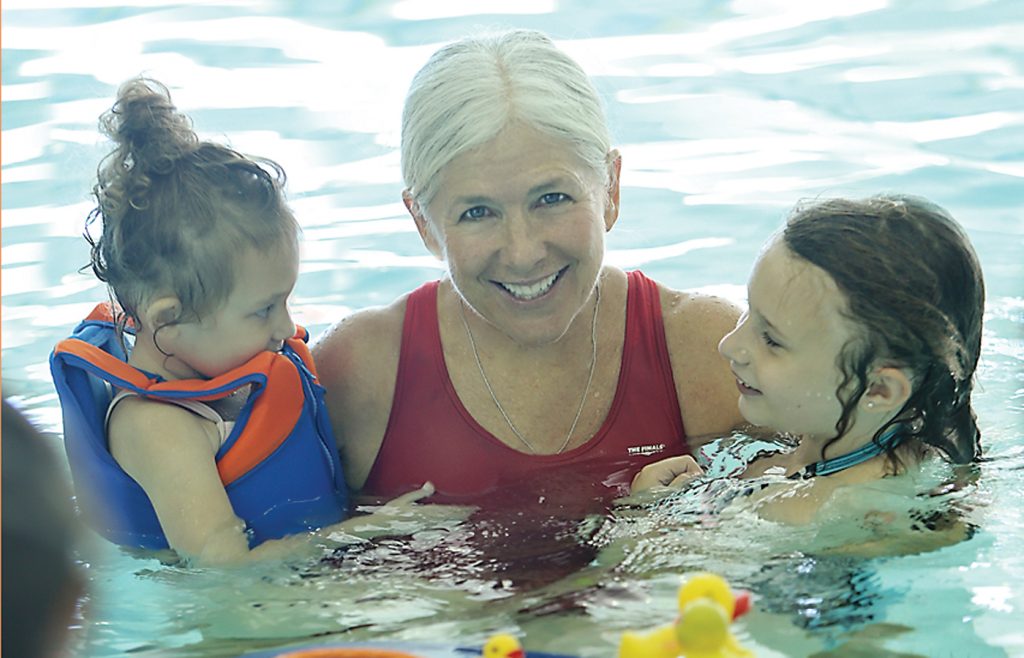 Swimming has always been part of Shane Orne's life. Her father was an amateur underwater photographer, so when she wasn't swimming in her neighborhood's five-acre lake, she was spending frequent summers in the Caribbean, snorkeling and scuba diving.
Orne firmly believes that everyone should learn to swim. "Swimming is an important skill," she says. "It'll save your life, or your kid's life." Orne became a Red Cross-certified swim instructor and lifeguard in 2015, and is currently teaching Adult Swim Classes at the Fairfield Park and Rec Center.
Swimming Rehab
Orne knows firsthand the powerful physical impact swimming can have. At 16, she fell off her horse and broke her back. She was racing a friend bareback and started to slip off her horse. When she made the split-second decision to jump, she didn't realize "I was pushing myself off over a cliff. The surgeon thinks I landed on my head."
She had two compression fractures between her shoulder blades. The osteopathic surgeon told her father, "If you want her to have a healthy back and walk again, you're going to have to make her swim."
Her father took her to a public pool in St. Louis where she swam a mile three times a week. "I completely rehabbed my back," Orne says, adding that swimming regularly has helped her regain the height she lost due to the accident. "Swimming's really good stuff, especially the crawl, for rehabbing a compression fracture such as I had. Doing the crawl really expands your vertebra, builds up the muscles in your back, strengthens them, and puts a lot of space and loft in the tissue."
Swimming puts your body in a virtually weightless environment, similar to space. "In space people get taller," Orne says. "Where there's little or no gravity, the body just spreads out." This makes swimming really good for joints. "Whether you do the crawl or any of the other strokes, it makes a difference," says Orne. "Swimming is also really good for the lymphatic system because the constant flow of water past your skin flushes it out."
Swimming is for Everyone
Orne says everyone can swim. Her class participants have ranged from preschoolers to grandparents, and she thinks basic water safety skills are important. With young children and those dealing with water trauma, she focuses on making the water safe and fun. She says the most important thing to learn is how to float, and the second is how to tread water.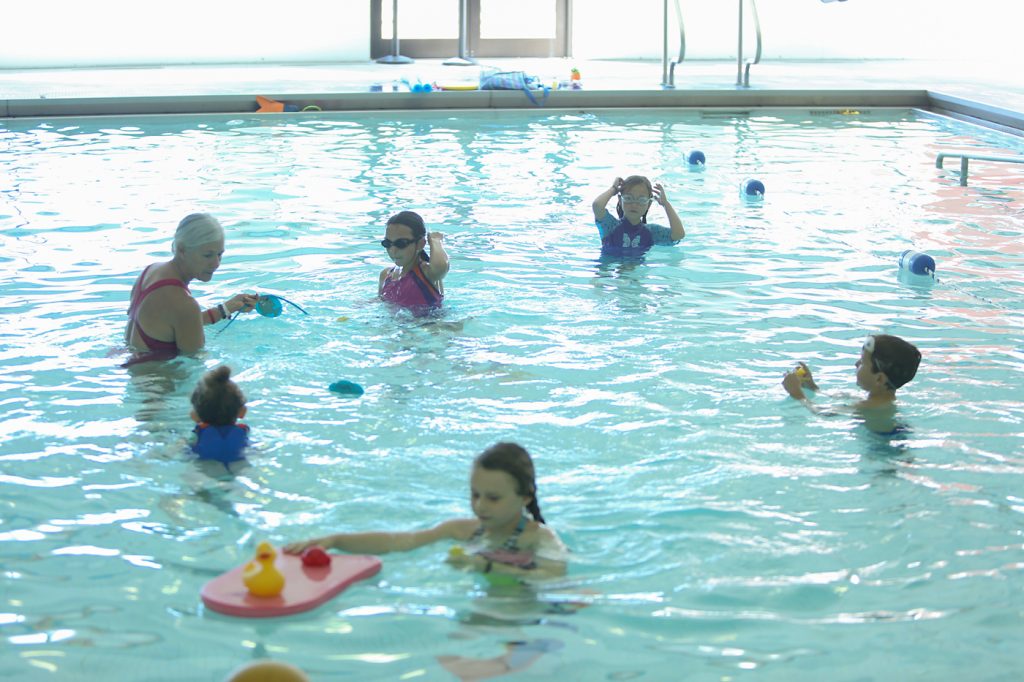 Once these basic skills are established, she can move on to teaching swim strokes. Orne always teaches the crawl first, because it's the fastest stroke, and speed is important if you need to get to safety. These basic survival skills will help anyone who suddenly ends up in the water.
"If you're ever in a boating accident, God forbid, or if your bus fell off a cliff and landed in a stream or a lake, or you were in a flash flood without any warning, you need to know how to tread water, to float, and to swim to save your life, even if it's badly."
Water Rescues
Orne has been part of some notable rescues, but none of them happened while she was on duty. One time, she'd gone to the pool to swim laps, and someone became dizzy in the Jacuzzi. Orne got the attention of the lifeguard on duty, and they got him out, gave him cold water, and reduced his body temperature.
Another time, she was hanging out at the pool and saved a small child in distress. "The first time I went to the pool after passing my certification to be a Red Cross Water Safety Instructor, I walked into the water and saw that a little kid was drowning. He hadn't gone under the water yet, but he was struggling to keep himself up, over in the corner where the lifeguard couldn't see because of the bulkhead. He'd gotten in too deep." Orne helped get the child out of the water and back to his mother.
When she was much younger, her diving partner had a potentially dangerous episode in the ocean after getting wave vertigo. Orne says they were out of air and supposed to be swimming back to the boat, but her partner turned in the opposite direction toward the open sea. Orne had to swim quite a distance to catch her. "The boat looked like a little toy boat in the distance by the time I caught up with her," she says. Her diving partner was conscious but incoherent, so Orne had her lie on her back and pulled her to the boat, where the other divers helped them get on board. Afterwards, her diving partner had no memory of what happened. "I think I saved her life," Orne says.
The Red Cross Swim Program
Orne teaches basic swim strokes such as the crawl, the breast stroke, the backstroke or the back crawl, and the butterfly. Red Cross Learn to Swim classes range from preschool, beginning, and intermediate to advanced. "The Red Cross Swim program, or the Water Safety Program, is the best I know," says Orne. Once a swimmer finishes advanced swim class, Orne says, "they know how to dive, they know how to do flip turns, they're ready for competition."
She usually starts teaching preschool age children, but has taught mother-baby or parent-child classes, where parents are taught different handholds and fun activities." Babies are too young to learn strokes, so Orne keeps the emphasis on "teaching them how to be safe in the water, how to look forward to going to the pool and enjoying water." She uses lots of toys—diving rings, little plastic jewels, hula hoops, and different kinds of floaty toys—to help entice the babies to enjoy the water and have a fun time.
Classes for older students focus on developing skills. Orne reminds students to wear sunblock during outdoor swims and shower beforehand, in addition to teaching them basic water safety. She asks them, "What would you do in the case of an emergency? Who would you call?" She makes sure they know where the lifeguard is and what somebody looks like when they're in trouble, and even teaches them a little water safety training.
"We have little riddles in Red Cross," Orne says. "One is: Reach or throw, don't go." This is because it's better to throw out a life preserver or reach out a noodle, a floatation device, or a towel and draw in the drowning person instead of physically trying to grab them. In the panic of trying to save themselves, a person in distress will grab ahold of whomever is trying to help and push them down to get air.
Orne encourages her students to problem solve. She gives them hypothetical real-life situations: "What if little Davy from next door gets away from his parents and ends up in your pond?" and helps them come up with solutions. She adds that kids or adults who are drowning generally don't yell for help, since they're using all of their energy to keep their heads above water. Someone frantically dog paddling, with their nose barely above water and a scared look in their eyes, probably needs help, so reach out with a noodle or toss them a life jacket.
Part of water safety is knowing what to do and what not to do. Orne says it's important to always have a buddy when swimming in a pond, lake, or ocean and for children to have adult supervision. Orne cautions against diving into water when you can't see the bottom and don't know how deep it is. "There have been a lot of deaths because people jump off rocks, not realizing that the water is too shallow or there are sharp rocks," she says. "People can knock themselves out or hurt themselves badly."
Orne says walking in the water without knowing what the bottom looks like can also be treacherous. "That's a problem in Iowa, because we have very limited visibility in our lakes and streams. The water is very murky, so you have to be extra careful."
Water safety is an issue with winter sports as well. The local swimming hole can become an ice rink, and it's important to make sure the ice is thick enough before venturing out on it. "You want to make sure ice is four inches thick," Orne says. If the ice does start to crack, lie down on it, with arms and legs splayed out to distribute your weight more evenly. This makes the ice less likely to crack underneath you. You can carefully ease your body over the ice or be pulled back towards shore.
A Sport for Everyone
Orne encourages everyone to swim, even as a cross-training sport. "Even if your sport is basketball or pickleball or running, swimming on the off days will improve your flexibility and your cardiovascular system as well as tone and strengthen your body," she says. "If you only have time for one sport, I'd say swimming is the best."
In Fairfield, she says we're lucky to have a whole sports complex at the Park and Rec now. "People can lift weights, they can run, or they can play sports—and then they can go and swim. There's no excuse to be out of shape." 
Shane Orne teaches Adult Swim classes. Private lessons can be scheduled by appointment. A Water Exercise class taught by Candace Greenley is held on Tuesdays and Fridays at 10 a.m. Contact the Fairfield Park and Rec office at proberts@fairfieldiowa.gov or (641) 472-6159 for more information.