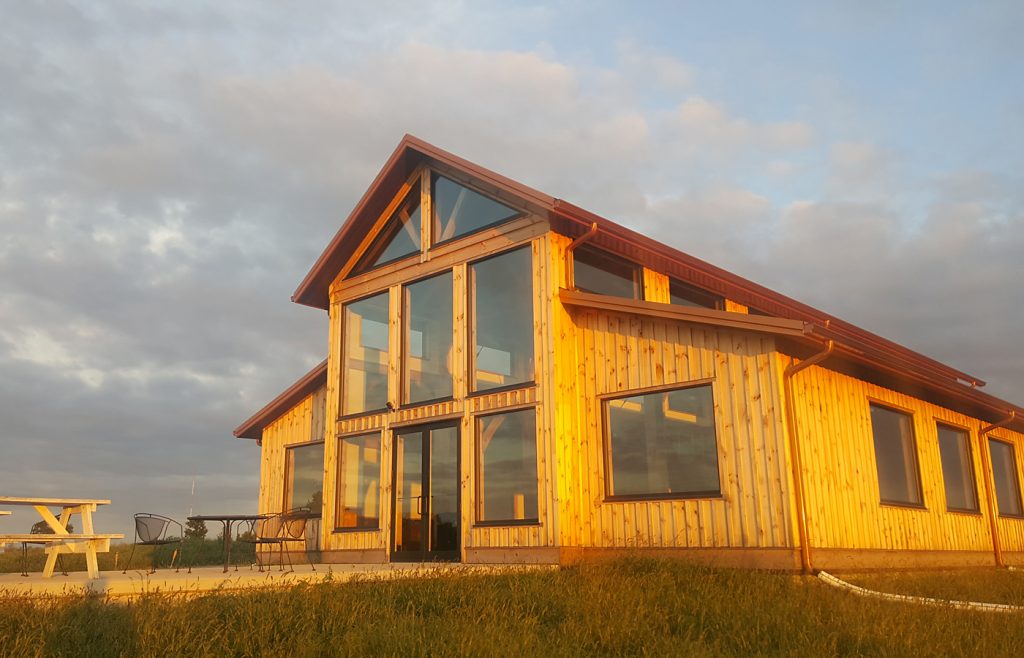 The founders of one of Fairfield's most popular hangouts, the Cider House, are returning to their roots—brewing hard cider—and have crafted a stunning, locally sourced building to house their new taproom and event space.
Friends and cofounders Hopi James, Clint Stephenson, Annalisa Thompson, and Cole Fishback opened the Cider House 1949 in late August, just outside of Fairfield on Pleasant Plain Road. Since then, this gorgeous country retreat has hosted corporate parties, birthday parties, school fundraisers, an art reception, and three weddings.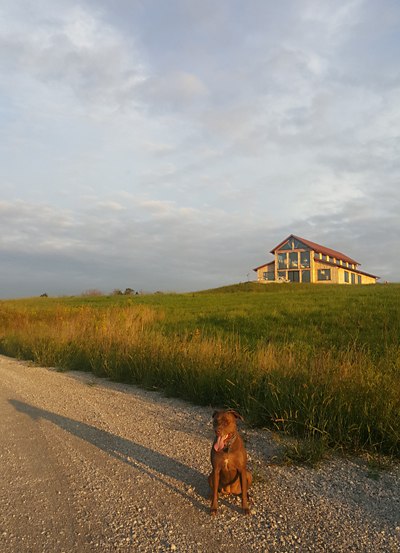 The impressive new building, with large windows and a strikingly modern feel, is situated at the end of a gently winding road, at the top of a hill, with their apple orchard nearby. "The sunset view from here is just incredible," says James.
Cider House 1949 is a much larger venue than the former downtown location. It can seat 150 to 200 people for dinner or host 300 for a concert, with a patio that offers extra outdoor seating.
Local Resources, Local Talent
The Cider House crew consulted with an architect friend in L.A. but designed the building themselves, with help from Ian Montgomery and Ryan Terrien of Honest Builders, Inc., and master woodworker Duncan McMaster. Just as with the downtown Cider House renovation, the new taproom building has been created using many sustainable, local resources.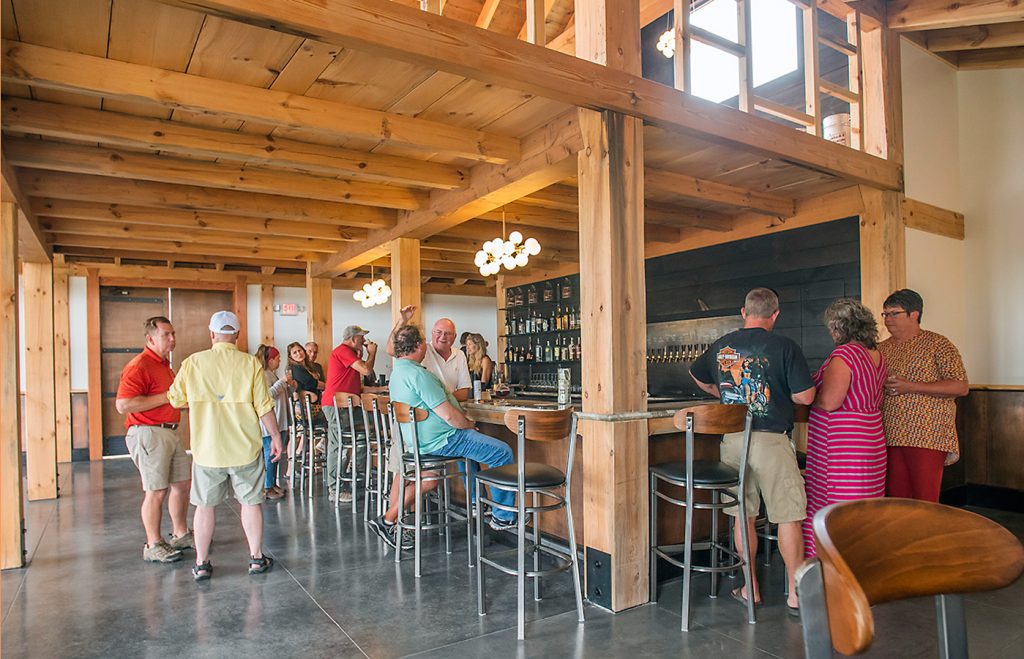 "We wanted to keep everything as local as possible, so we included as many local businesses as we could," James says. "It was really fun to work with the local craftsmen on things."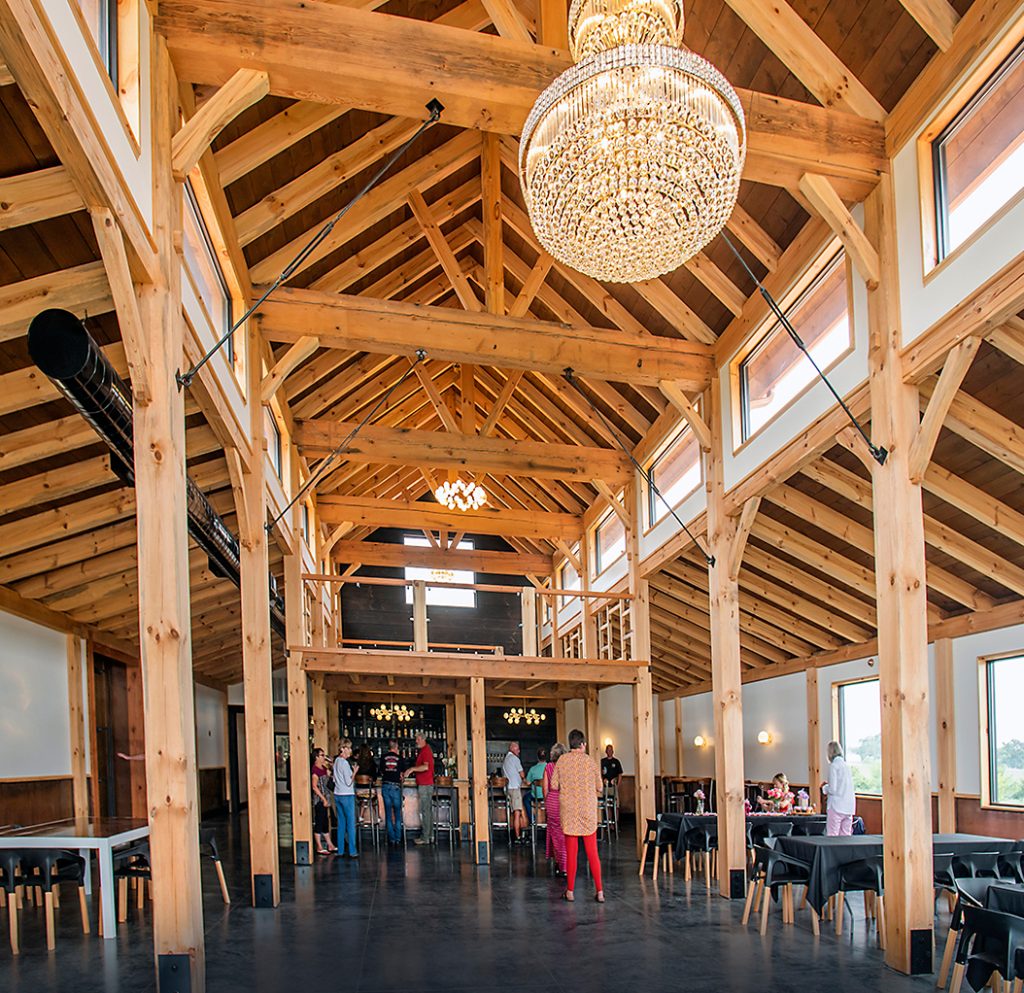 The building is designed around large beams of old-growth Douglas fir, salvaged from American Fork and Hoe in Fort Madison, a warehouse built in 1854. In 1983, Denny and Elmer Adam helped dismantle the warehouse, and they stored the beams in their barn until last year, when a windstorm brought it down. Knowing Montgomery's trade, they asked him if he was interested in the beams. The rest of the red and white pine was harvested from Livingston Timber in Jefferson County and it was all milled on site. "It's all very sustainable," Thompson says. "The forest was ready to be thinned out so that the remaining trees could mature properly."
The building design showcases the impressive old-growth beams. Montgomery worked closely with McMaster on the traditional mortise and tenon joinery. Everything was expertly handcrafted.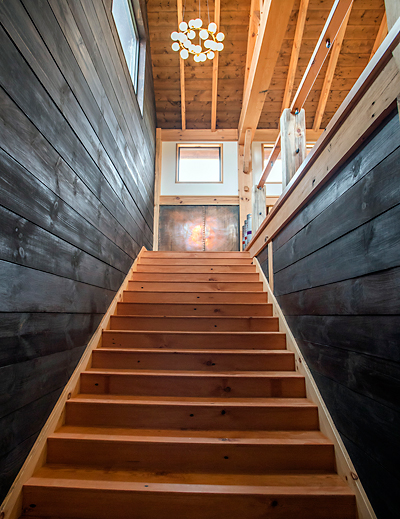 "They used traditional Japanese hand tools and built small models to make sure everything would come together perfectly, then worked the real pieces," Thompson says. "It was so fun watching it come together—it was like a giant puzzle."
The accent wall behind the bar, the wall on the far staircase, the baseboards, and the trim all use a traditional Japanese wood-preservation technique called shou sugi ban, which involves burning the wood until it's completely charred and then oiling it.
James says real copper, aged and textured, is used throughout the building to give it a "rich and luxurious" feeling. The front doors are handmade of copper, the women's bathroom has a "beautiful bright copper vanity," and the men's room has a half-wall made of copper.
The sleek, modern tables, with metal frames and solid pine tops, were custom made for the space. They were all welded on site by Honest Builders, and the tabletops are made from the same pine harvested for the building. The front door handles and foot rail were made by local engineers Schaus-Vorhies.
Refocusing on the Cidery
When asked why they shifted focus from a restaurant to a taproom, co-owner Thompson says, "Our end goal has always been cider. Really, we opened the restaurant to showcase the cider."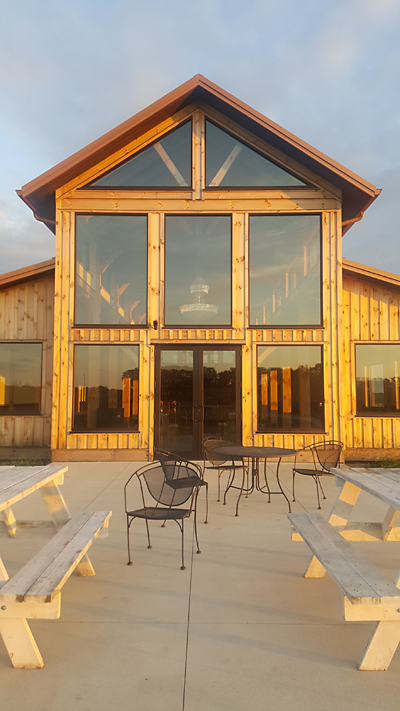 She says they got to the point where cider production was going so well that it made more sense to close the restaurant and focus on production and distribution. But they weren't willing to give up their relationship with the community.
"We still really wanted to be involved and have that regular interaction with our community," Thompson continues. "Having a taproom connected to our cidery is just a way to do it all under one roof."
Sadly, for those of us hoping for a return of their award-winning burgers and tantalizing side dishes, Cider House 1949 does not offer food. It does, however, have a full-service bar offering wine, local Iowa beer on tap, house cider, and cocktails. For large catered events, there is a separate room for food setup.
Fishback & Stephenson Ciders
Currently, they process anywhere from 16,000 to 30,000 pounds of apples a week, turning all that fruit into their signature Fishback & Stephenson cider. After the apples are pressed into juice, some of it gets fermented into hard cider and some of it gets pasteurized to be used as a sweetener. "We sweeten and flavor our ciders with the fresh pressed juice," Thompson says.
The whole process from beginning to end is done on site. "So we get the apples," James says, "we crush them, we make our own juice, we ferment, can, and keg. We do everything here from start to finish. It's all handcrafted cider."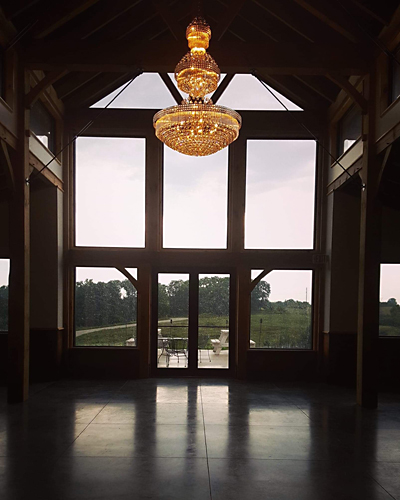 Thompson explains that they're focused on their three core brands of cider: the Iowa Strangler, a hard cider flavored with with local, organic aronia berries; the Coyote Verde, a classic green apple hard cider; and First Crush, a pink watermelon cider.
"We're always experimenting with new flavors, especially now that we have our taproom," Thompson says, adding that they'll have limited runs of specials for people to try at the taproom in addition to the three core brands that are available year-round.
If you're not in the vicinity, you can still purchase their cider at various locations around the state. "Most Hy-Vees carry us," Thompson says. "If your neighborhood Hy-Vee doesn't carry Fishback & Stephenson hard cider, just make a request through the wine and spirits manager."
Special Events
Cider House 1949 is open 4 to 7 p.m. Tuesdays through Thursdays. The weekends are reserved for special events or parties. On weekends with no special bookings, the Cider House crew intends to throw parties or host concerts.
"We plan to have some fun events for the whole community to enjoy the space," Thompson says. Their first concert is scheduled for November 21 with Fairfield favorites Steve and Michaela McLain and Michael Dugan, followed by a dance party with DJ Big Will.
For more information, email cider@fishbackandstephenson.com, follow Cider House on Instagram, @fishbackstephenson, or visit fishbackandstephenson.com.