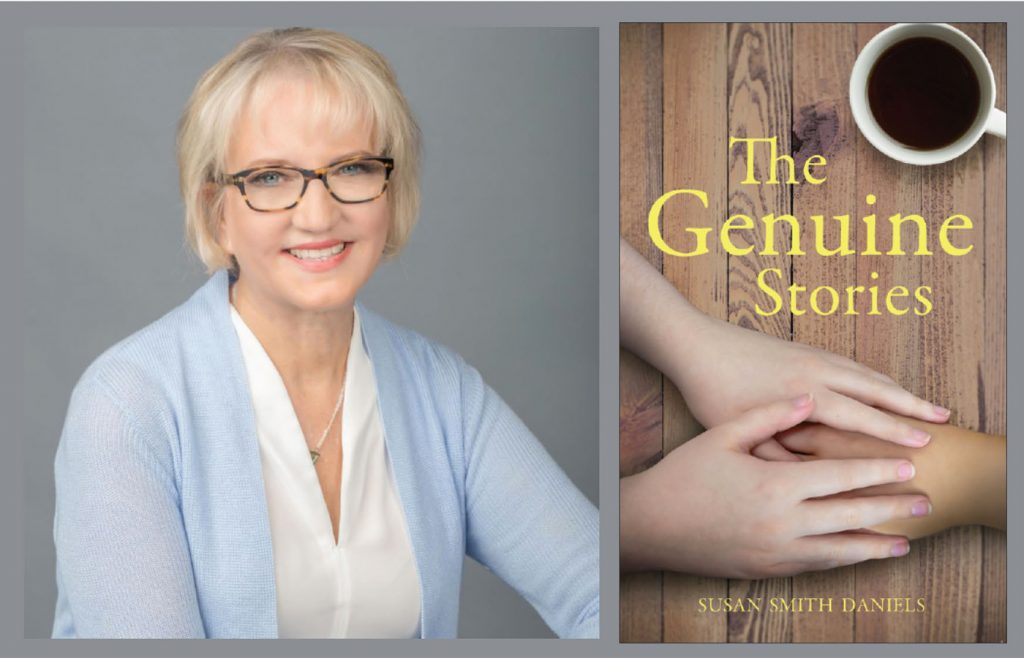 Susan Daniels will read from her first novel, The Genuine Stories, on Sunday, February 24, 3 p.m., at Prairie Lights Books in Iowa City. The book revolves around a woman who discovers at a young age that she has a natural ability to heal others. Daniels's sure and confident prose pulls the reader into 16 linked short stories of warm compassion and quiet intelligence.
The Genuine Stories has received praise from critics and readers alike, winning the Fairfield University M.F.A. Book Prize in 2017.
"I loved these stories," wrote author Meghan Daum, winner of the 2015 PEN Center Literary Award. "I love this character. I can't remember the last time I found a book to be both a total page-turner and also an authentically satisfying literary experience."
"The Genuine Stories is 205 pages of sheer wonder and amazing storytelling . . . ," wrote Ed Pierce in The Journal Tribune. "It's one of those rare books that leaves you pondering for days after reading it how you personally would react to situations she describes."
Born and raised in Philadelphia, Daniels moved to Fairfield with her family in 1981. She now divides her time between Iowa and California. We interviewed the author earlier this month to find out more about her writing process.
This is a work of fiction, of course, but with a healer as your central character, how did you research the world of healers? Did you have any personal experience with one?
I think my interest in healers and healing came more from the nurse's training I took in my late 40s and early 50s. I didn't start out to write about a healer though. I was experimenting with writing fiction, learning the craft, etc. [The chapter] "Possum Days" started with a dead possum in the road and I wrote about it, and then Genuine's character came as part of the story. I wrote other stories to submit for my M.F.A. application and didn't come back to Genuine immediately. I think I wrote Lillian and Fred and Alejandro next (I love revisiting characters I've created). When I was in the M.F.A. program at Fairfield University, I started to write more Genuine stories. And then I finished most of the collection for my graduate thesis, though I spent years after revising and adding some more.
I generally avoided research on healers while I was immersed in Genuine. I didn't want anything to influence the way I saw or felt her character. I have to inhabit my characters while I'm writing, even as I'm developing them. I have to be open to the way their voice develops even before I make the decisions myself. And I can't know them in their entirety, they have to have their own mysteries for me to try and suss out. But I made a conscious decision for Genuine's ability to come from an unknown source, so that it wouldn't fall into something that was a trope.
People who are into healing and have read the book said that Genuine's experience while healing is similar to what they feel.
I believe you said this took ten years to write!
It was more like nine years to publication. I wrote the first draft of "Possum Days" in the fall of 2009. I won the Fairfield M.F.A. Prize in July of 2017, which included the publishing contract with New Rivers Press. We were editing and revising up until September of 2018, two months before publication.
So how did you keep going over the course of a decade?
There were some difficult times. It's very difficult to get an agent for a book of short stories, particularly if you have't published a novel. I had agents who liked the writing but didn't think they could sell it.
Did you ever feel that you would give up?
After sending it out many times with no luck, I applied for a Ph.D. program at Bath Spa University in the UK. It's a low-residency program and they are very selective, so getting in was a good boost to my ego. I thought, if I can't get published, I should just keep learning. And possibly, just write something different. Many writers have first works that never got published. I'm glad that didn't happen to me.
What kept you going?
The dissertation hanging over my head! Also, I submitted the book for the Fairfield Prize in 2015 and was one of five on the shortlist. That helped a bit, even though I didn't win. Al Davis, a former professor who also worked at New Rivers Press at the time, told me I should submit for the contest again (the prize is given every other year), so I did in 2017 and won. Meghan Daum, who is a PEN award-winning author and columnist, judged the five finalists. In addition, I have the best writer friends/former mentor friends who encourage me.
Now that you've created a compelling character, would you be willing to revisit her world with more stories?
I really am looking forward to writing more stories about Genuine. I just have to finish the dissertation novel next. I hope to be back to Genuine this time next year if not earlier. Also, I really like the short story form. It works for me.
What is the most valuable thing you've learned from writing this book?
Patience. Letting go. I once complained to a friend that I might not get published until I was 80. She said, you're going to be 80 anyway, keep going.
Another thing that's really important for writers is to know when to trust an editor and when to trust your voice.
"The stories and their characters remain memorable long after the pages are turned. This captivating book will leave you breathless." —Eugenia Kim, author of The Kinship of Secrets and The Calligrapher's Daughter