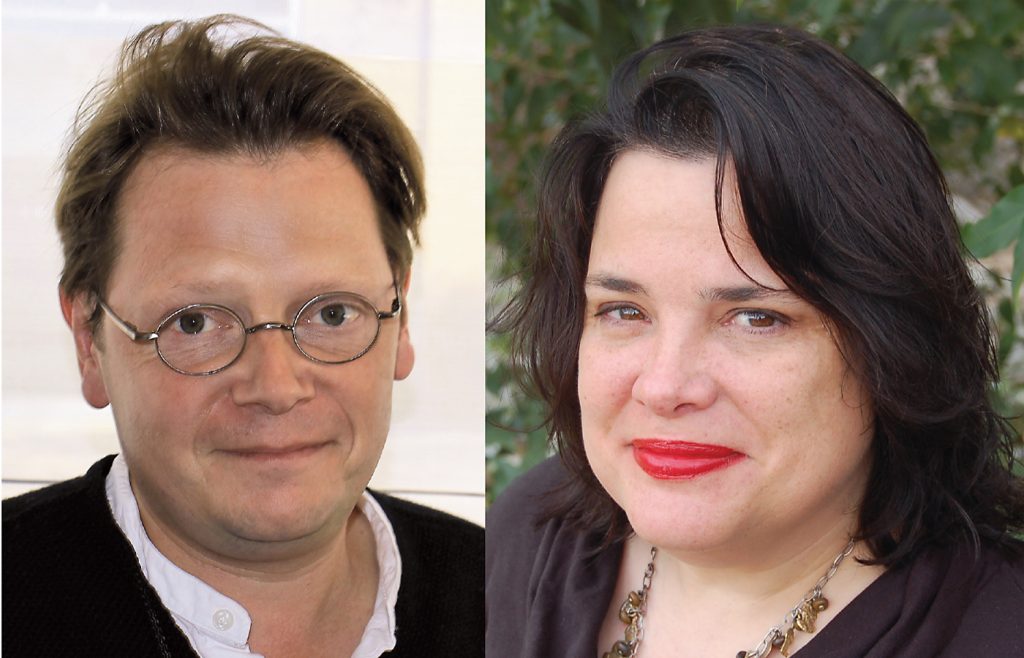 The Dallas Morning News recently deemed Elizabeth McCracken and Edward Carey "the most unassuming literary power couple in Texas." The couple are transplants to Texas—she's originally from Massachusetts and he hails from Norfolk, England. They met at a party in New York, where they discovered they were fans of each other's work.
It's easy to see why. Both writers are fascinated by the quirky and unusual, both bring characters vividly to life, and both can make you laugh out loud while breaking your heart. Their recent novels are simply outstanding. McCracken and Carey may be unassuming, but their work is unassailable.
Bowlaway, by Elizabeth McCracken
It's been more than 17 years since Elizabeth McCracken—Iowa Writers' Workshop alum and acclaimed writer of fiction as well as a beautiful, heartrending memoir—published a novel. Her new book, Bowlaway, will delight readers of her previous novels, The Giant's House and Niagara Falls All Over Again, as well as those discovering her prowess as a novelist for the first time, or after reading her award-winning 2014 short story collection, Thunderstruck.
Bowlaway begins with the mysterious arrival of Bertha Truitt in Salford, Massachusetts, in the early 20th century. With her past shrouded in mystery, Truitt opens—and then rules over—a candlepin bowling alley. She also marries Leviticus Sprague, and her mixed-race marriage further sets her apart from her adopted community. The novel introduces us to several generations of characters, many of whom are haunted by their memories of or connections to Bertha Truitt.
McCracken has always been a master of bringing quirky characters to life—and Bowlaway is chock-full of peculiar personages. Among them is Margaret Vanetten, who longs to be the mother of Bertha's daughter, Minna, rather than just her nanny. In an exceptional, subtle passage, McCracken uses a visit to an art gallery to explore mother-and-child relationships. Here Minna reflects on art—and on her relationship with Margaret:
"Certain paintings made Minna feel loved. Needed. This painting, for instance, required her above all other people to look at it. Sculptures were haughty; landscapes were tureens of soup, nice enough, sustaining for a while, but too democratic in their purpose. But the right painting—the Mother and Child by the Master of Nervi, for instance—was like music, a kind of flattering invited intimacy. She knew she couldn't explain this to Margaret Vanetten, who always seemed to be examining her for highfalutin notions which, left unremarked upon, might develop into delusions, or suffrage. Margaret did not want to strive to understand the world. She wanted the world to simplify, so that she might understand it."
Many of McCracken's gifts are on full display here. She deftly sketches her character's emotions and thoughts while offering up memorable images ("landscapes were tureens of soup") and humorous, pointed asides ("might develop into delusions, or suffrage") and finishing with a sweeping, yet deeply personal analysis of another character ("She wanted the world to simplify…").
All of which is to say, McCracken has written a masterfully crafted, moving novel filled with memorable characters for whom she feels great empathy—empathy she inspires in her readers as well. Readers, undoubtedly, will be bowled over by Bowlaway.
Little, by Edward Carey
In Little, Edward Carey imagines the life of Marie Grosholtz—called Little—who will become the famed Madame Tussaud. Marie relates the events of her life from her introduction to the creation of wax-replica body parts as an orphaned child, through the triumphs and tragedies of rendering famous heads in wax during the tumultuous late 18th century in France, and on through her departure for England. It is a story of humor and pathos, horrors and reconciliations—all of it rendered in Carey's inimitable style and winningly illustrated by his hand (though the drawings—from the banal to the macabre—are credited to his protagonist).
Carey, who was a fellow in the University of Iowa's International Writing Program, is a master list maker, adept at conjuring a place or a person or an event via lists both long and short. He has an uncanny ability to put the right word in the perfect spot—sometimes over and over. Here, we are given some of the early history of Marie's mentor's career as a maker of heads. Carey blends his propensity for list making with an effective repetition of the word "hospital":
"The fourth head Curtius made was that of a hospital governor. Having seen the heads of the surgeon and the hospital chaplain, the governor wanted his own. Here is a truth: people are very fascinated by themselves. He came to Welserstrasse; Curtius was astounded by the attention. The hospital governor put the hospital governor's head in the hospital atrium. He contrived to stand in front of it, often. Soon people who had nothing to do with the hospital, people who were entirely healthy, perhaps even sprightly, people whose only disease was curiosity, entered through the black gates of the hospital just to see the hospital governor standing beside the hospital governor's head."
Marie's engaging voice never wavers as she shares her story of people—and their wax doppelgangers—both famous and obscure with whom she crosses paths. Even as blood flows in the streets of Paris, Marie finds a way forward, her facility with wax offering solace even when her work riles the wrong people at the wrong moment.
Little is an exceptional novel, beautifully written, plotted, and illustrated by one of the most delightfully offbeat writers working today.