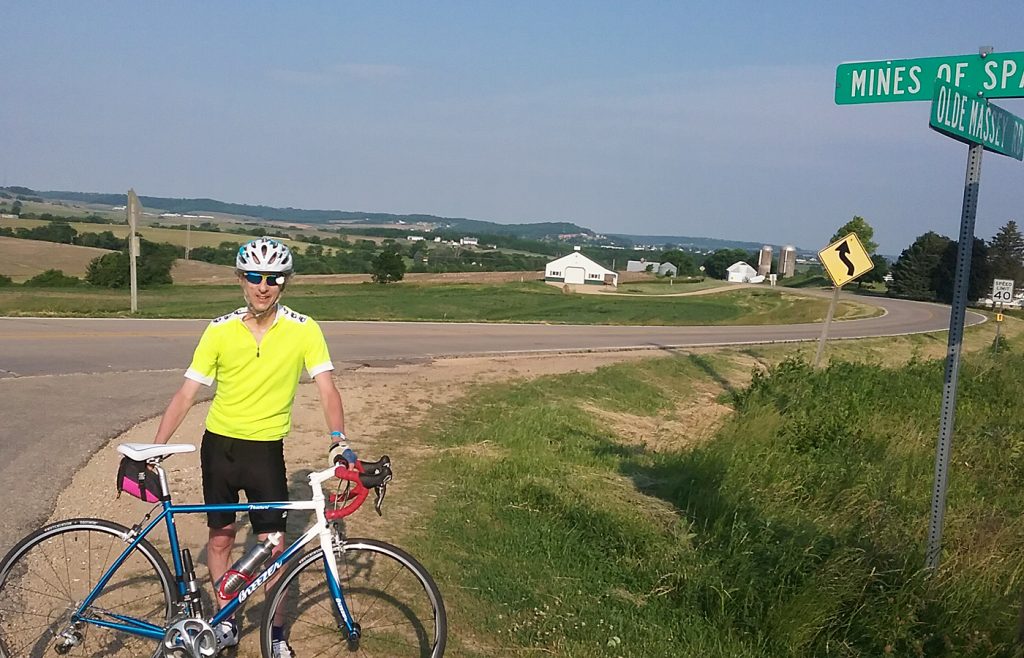 First held in 1973 with only a few hundred riders, RAGBRAI has grown to become the largest organized bike-touring event in the entire world, with over 12,000 estimated riders.
RAGBRAI is an acronym and registered trademark for the Register's Annual Great Bicycle Ride Across Iowa. Founded by Alex Karras and Donald Kaul, RAGBRAI is not a competitive event but rather a fun-filled tour organized by the Des Moines Register.
My First RAGBRAI: 1985
I found out about RAGBRAI a few years after I moved to Fairfield from the East Coast. At that time, in 1985, about 3,000 participants accepted the challenge of riding their bikes across the state in the hottest time of year—July. So I decided to give it a shot, and I talked a few of my buddies in the newly formed Fairfield Bike Club into riding the weeklong 540-mile journey.
Little did I know that I had ridden the longest RAGBRAI on record. The average seven-day mileage for RAGBRAI is 468 miles, while the daily mileage average is 67 miles.
RAGBRAI always starts on the Missouri River (west side) and ends on the Mississippi (east side) seven days later. As a RAGBRAI ritual, many riders begin by dipping their back wheel in the Missouri on a Sunday, and end by dipping their front wheel in the Mississippi the following Saturday.
My first impression of riding out those first few days was, wow, I'd never ridden in a race or tour with so many people from so many walks of life—men, women, mothers, fathers, young and old—most camping out along the way in the overnight host towns.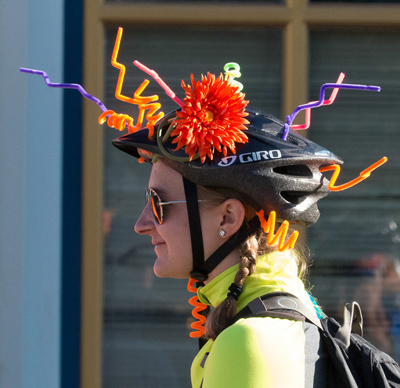 One day on the ride, I met two young ladies riding top touring bikes. They looked tired, grimy, and well-suntanned but were in good spirits. Since the RAGBRAI trucks will transport gear for registered riders, I asked them why they were carrying their heavy sleeping bags and tents. Turns out they had come from California and had been touring for two months when they reached western Iowa on a Sunday. Picking a quiet rural route, they were suddenly engulfed by a huge caravan of bikers stretching out as far the eye could see. So they happily finished their ride with RAGBRAI over the week.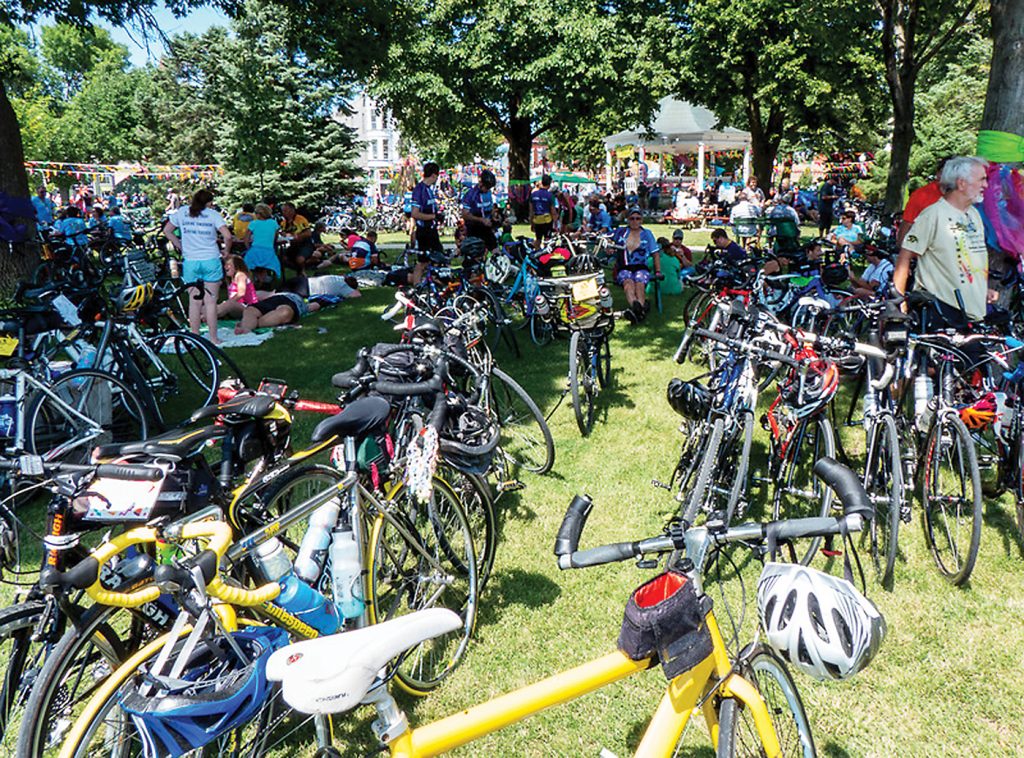 I was also struck by the variety of human-powered vehicles I saw. Of course the vast majority were high-performance road bikes, with mountain bikes a far distant second, but I also saw tandems, recumbent trikes (both tadpole and delta), recumbent bikes with cool-looking covered fairings to cut aerodynamic drag, and even a fellow on a unicycle. I asked him how far he was going on that one-wheeled thing whose balance he had adroitly mastered. He said just a day, but he wanted to break a new record for the longest unicycle ride on RAGBRAI and maybe even the world.
A few days later I heard about a healthy 82-year-old man on an old Schwinn one-speed who attempted to cross the state—just for fun. He carried a sign on the back of his bike saying "gears are for wimps."
In one of my later years on RAGBRAI, I rode on a special century loop for those trained cyclists who wanted to accomplish a 100-mile ride in one day. I did it in 5 hours, 45 minutes—a personal record unbroken to this day.
Riding 50 Miles Nonstop
On my third RAGBRAI, I told my bike club buddies that I was going to see how far I could ride without stopping and getting off. After cruising through a few small towns where most riders stopped for rest and refreshment, I kept going. When my trip odometer read 30 miles, I realized I was thirsty and out of water. Luckily, within a mile, a kid with a garden hose was shooting riders with water and gleefully laughing as they rode by. Riding up slowly and cautiously—and before he could squirt me—I asked him to please fill up my water bottle while I went around the block. Sure enough, when I came back he was there holding out the filled bottle. I slowed down enough to grab it, put in the bottle holder, and thank him before taking off. At the end of the day I reached my goal of riding 50 miles nonstop.
RAGBRAI Just Keeps Growing
Over the years, the number of riders has grown and the campgrounds have become more crowded, as have lines for showers and porta-potties. In fact, RAGBRAI has become such a big Iowa tourist attraction that it has had nationwide media exposure, inspiring statewide rides elsewhere. RAGBRAI has also attracted a few former pro football stars, race car drivers, former pro cyclists like Lance Armstrong and Greg LeMond, and a few politicians, like former presidential candidate Howard Dean.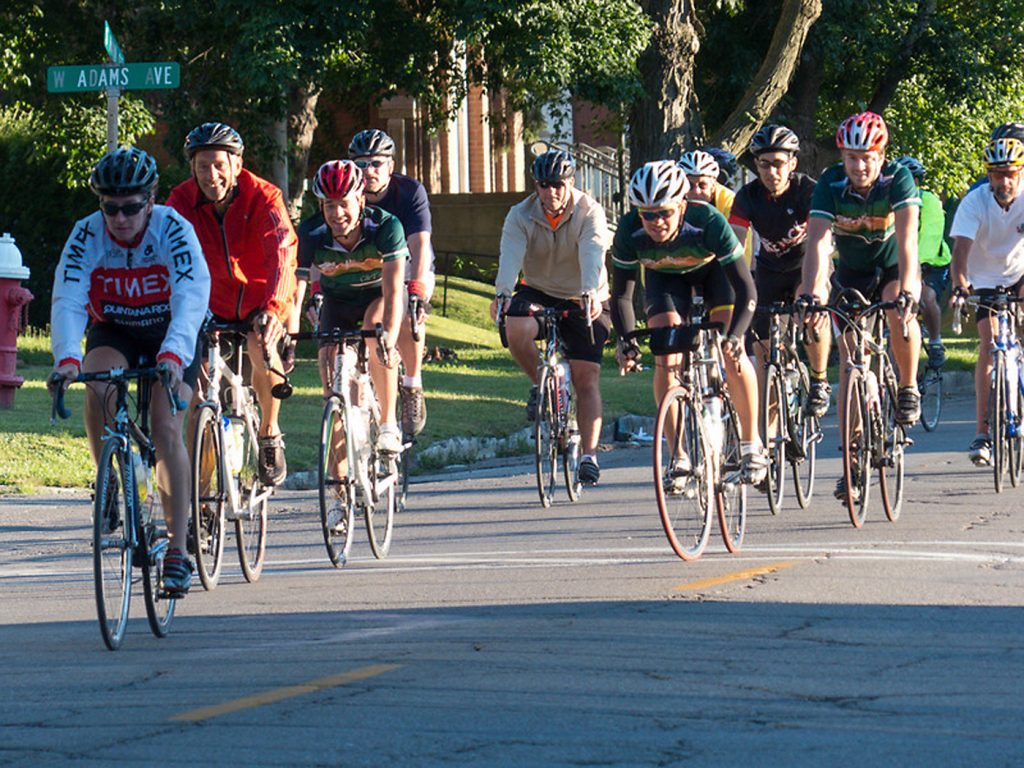 With its never-ending popularity every year and with the RAGBRAI organizers having to use a lottery to register a flood of incoming rider applications as early as January, one wonders what is it about Iowa that makes cycling such a rewarding and fun experience? Other states have tried to organize large rides from one end of the state to the other, but none of them has anywhere near the large numbers of participants, festive atmosphere, and carnival-like activity of RAGBRAI that motivate many to do it again the following year.
Well, one could argue that Iowa is flat, so it's not as much work for someone out of shape to cross the state. But, whoa—wait a minute! Iowa does have hills, and plenty of them, especially in the northeast and southwest parts of the state.
In my experiences on RAGBRAI as well as riding tens of thousands of miles with the Fairfield Bike Club, I've realized that Iowa has an unusually large network of paved, clean, relatively well-maintained back county roads—in fact, more back county roads per capita than most states.
Moreover, the people of Iowa tend to be very hospitable toward cyclists. Riding RAGBRAI brings a greater appreciation of Iowa's cultural and community values, especially riding through the numerous small towns along the way.
Fairfield is happy again to host RAGBRAI riders on Thursday, July 25. If anyone would like to ride with the Fairfield Bike Club for one or two days, go to RAGBRAI.org to register, or contact me at johnwsalerno@gmail.com. For those who want to get in shape, even for a day ride, the Fairfield Bike Club will be hosting RAGBRAI training rides every Saturday or Sunday (depending on weather) starting at 9 a.m. in front of the Fairfield Arts & Convention Center on Main Street.
Happy pedaling!