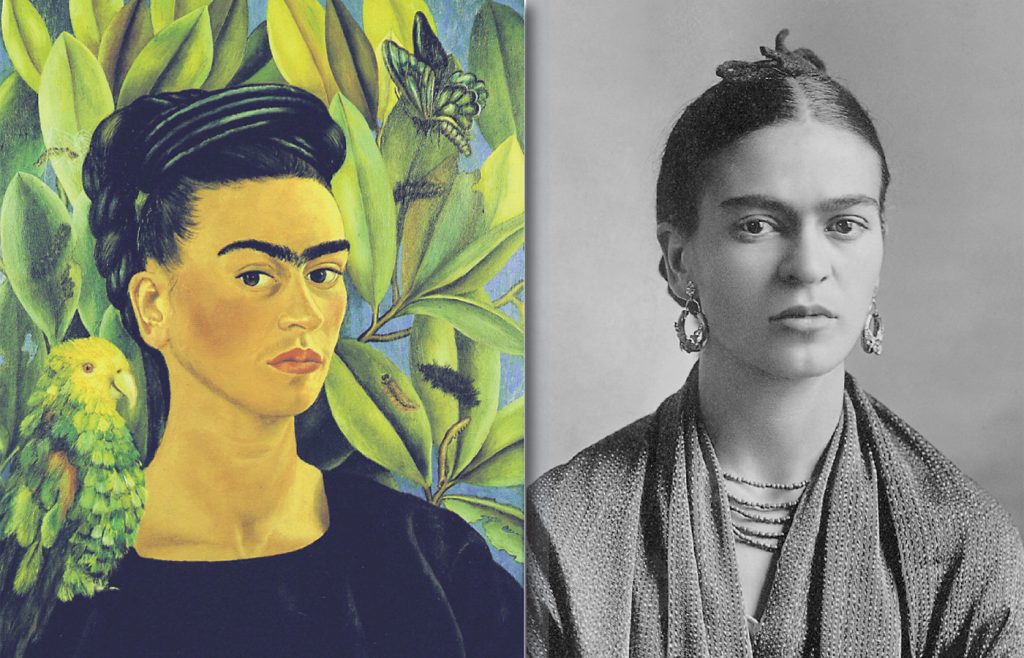 In the middle of May, I heard that the show Frida Kahlo: Appearances Can Be Deceiving had just closed at the Brooklyn Museum of Art. It was the largest U.S. exhibition in ten years devoted to the iconic painter and the first in the United States to display a collection of her clothing and other personal possessions. I was so happy to see that a show had been mounted that showed her entire life as a work of art.
It got me thinking about Frida and what I might do at ICON Gallery to celebrate her brief existence on planet Earth. I decided to devote several days to her and call it "Frida Week." It will include a Quest for Beauty slide show on the artist on July 24, a screening of the film Frida on July 25, and two nights of a Kahlo-themed "Party & Paint" on July 26 and 27.
Frida Kahlo (1907-1954) has assumed a role of mythic proportions in art and culture. The intertwining of tragedy, beauty, and the heroic female in her life has made her a legend.
Suffering from polio at an early age and then critically injured in a bus accident at age 18, Kahlo endured pain and suffering her entire life. And yet she persevered to usher her vision of beauty, cultural integrity, and truth into the world.
Living in the shadow of her world-famous husband, artist Diego Rivera, she created paintings that would one day surpass his accomplishments in the international art world and make her an icon. She forged the way for younger women artists with works that were personal, poignant, and rebellious. Young women from all over the world have found her to be a powerful role model.
Andre Breton, the leader of the Surrealist movement, adopted Frida as one of their own. He arranged shows for her in New York (1938) and Paris (1939). These shows established her as a significant modern artist in her own right. However, her work transcends Surrealism. Layered and complex, it embodies realism, surrealism, fantasy, allegory, and historical storytelling, and that's what makes it so good. But beyond these categories, it is just plain aesthetically exciting.
"Mexican artist Frida Kahlo's unique and immediately recognizable style was an integral part of her identity. Kahlo came to define herself through her ethnicity, disability, and politics, all of which were at the heart of her work."  —Brooklyn Museum Exhibition Catalogue
Frida Week Events at ICON Gallery
On Wednesday, July 24, as part of the Quest for Beauty art history series, Bill Teeple will present a slide show of over 300 images that not only illustrate her artistic accomplishments but also her life as a work of art. Fee is $10. No RSVP is required.
For ICON Thursday Video Night on July 25, the film Frida will be screened. Free to ICON members. Others are asked for a $2 donation. The two-hour film starts at 7:30.
On Friday and Saturday, July 26 & 27, at 7:30-9:30 p.m., Bill will lead two "Party & Paint" sessions. The idea of these evenings is to give people who would never dream of taking an art class a chance to have the fun of making a work of art. Bill will take the group step by step through the creation of a simple painting by Frida Kahlo. Each night will have a different painting to copy. Experienced artists are also invited to join in, doing their own variations on the evening's theme. Along with the image selected for beginners to copy, Bill will provide extra images for more advanced artists to interpret.
The fee of $25 includes canvas and all art supplies, plus beverages and refreshments. 7:30 to 9:30 p.m.. Please sign up in advance: iconbillteeple@gmail.com or (641) 919-6252.
ICON Gallery is located on the Fairfield Square at 58 N. Main St. in Fairfield.