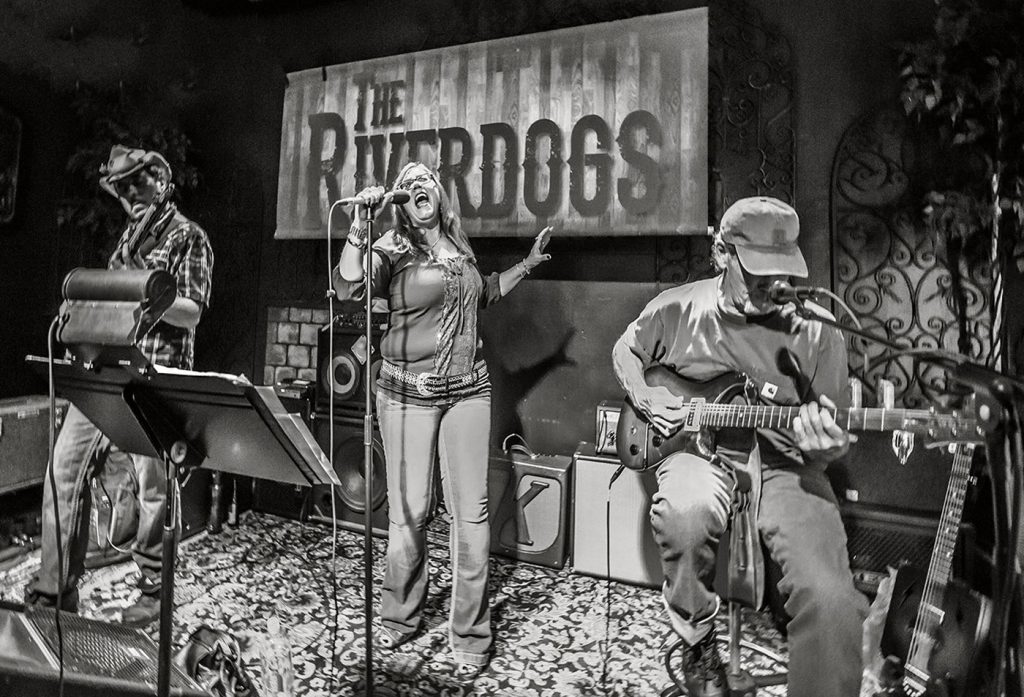 There's nothing like the growl and sting of a slide guitar—part molasses, part diamond cutter, all soul-tethered. Just something primal, effortless, and liquid the way it's able to lift spirits skyward, wherever one might be emotionally—standing in a swamp, knee-deep in the mud, or high upon a rocky bluff, head in the clouds. The ease and depth through which slide reaches the heartstrings bely the skill and deft touch it takes to pull it off. You gotta be dead on or it's damn awful. That's one reason you don't see it featured all that much in civilian life, so to speak.
And that's why Fairfield is so lucky to have, right in its midst, the Riverdogs, a musical institution really, built around the ebb and flow of the languid, slanky, gut-busting slide guitarwork of Randy Walker. These Mississippi mudpuppies have been entertaining audiences in the area for many moons now, opening for major blues acts like Tommy Castro, Eddie Turner, and Chris Duarte.
Matching Walker's sweet sting and command are the stirring, emotive vocal stylings of Bonnie Van Buskirk, who sings with everything she's got, every time. Her ability to connect with audiences in a personal way is well-known in these parts and another reason why the dance floor is so often full when the Riverdogs play. That, and a finely tuned repertoire, which ranges from country blues to rhythm & blues to boogie to Aretha soul to rock 'n' roll, even an occasional unexpected pop tune like Adele's "Rolling in the Deep."
That said, as we speak, the Big Muddy is almost as deep as it's ever rolled. Not to stretch this too far, but dare I point out the Dogs' version of the Stone's classic "Gimme Shelter" is a perennial crowd favorite?
Oh, a storm is threat'ning
My very life today
If I don't get some shelter
Oh yeah, I'm gonna fade away
Okay, all prophetic meandering aside, there is one other key element that literally anchors the Riverdog sound. Bassplayer William Ted Clancy provides both the bottom and specially produced percussion tracks. Clancy's articulate playing carries power and punch, providing the perfect foundation that allows, encourages even, Walker to stretch out and soar on any of his coterie of guitars that always surround him on stage, from acoustic to gut bucket, to Tele and more.
So what's the big deal about slide guitar, you ask?
I'll give you 19 good examples off the top of my head: Bonnie Raitt, Duane Allman, Mac Gayden, Derek Trucks, and Delta blues slingers from Lead Belly to Robert Johnson to Mississippi Fred McDowell to Son House to Muddy Waters to Hound Dog Taylor to Elmore James up through Brian Jones, Mick Taylor, Ry Cooder, Johnny Winters, David Lindley, Sonny Landreth, Junior Brown, and Jerry Douglas, to name just a few.
For all these artists, the slide has played a key role. But they also never fail to honor the groove and the vibe of each piece of music, going wherever it leads. It's all about the song, man, and the given feel. Music, after all, in the best sense of the word, is a celebration of life. And that is just what the Riverdogs do best.
The Riverdogs perform at 8 p.m. Thursday, July 25, 2019, at Cafe Paradiso in downtown Fairfield.