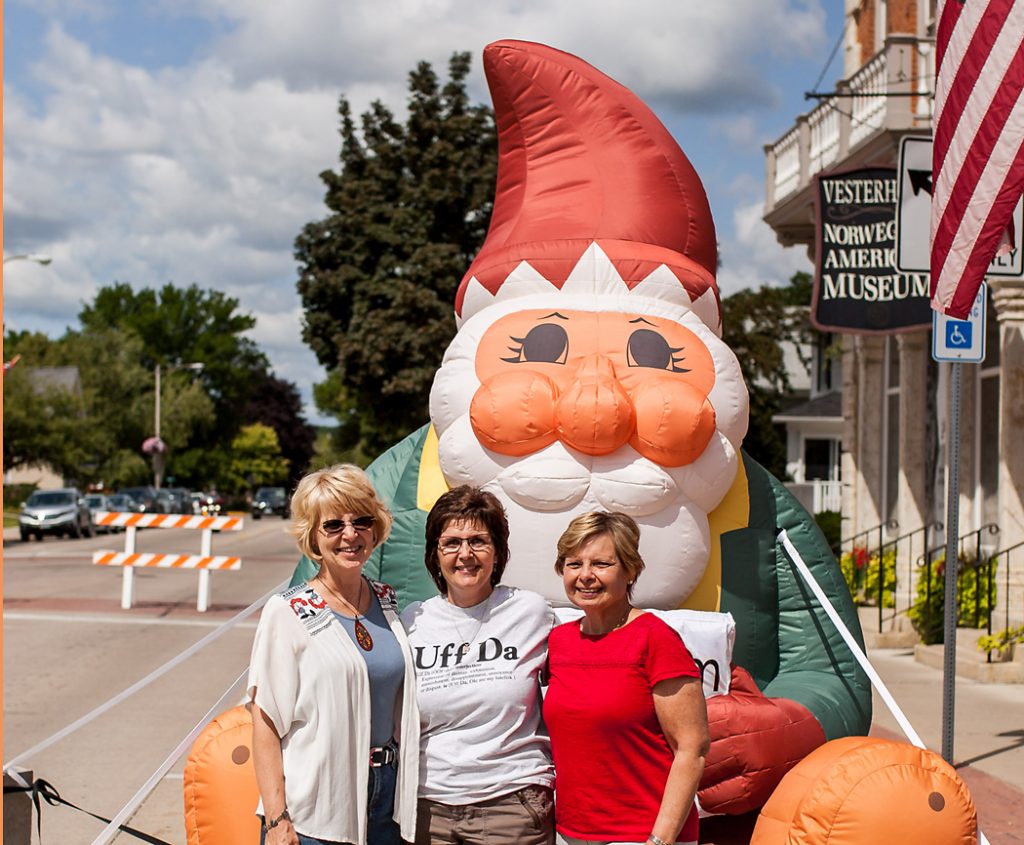 Vikings, folk-artists, live tattooing, music, and more—explore Vesterheim, the national Norwegian-American museum and heritage center, during Decorah's 53rd Annual Nordic Fest.
"Whether or not you have Norwegian heritage," says Vesterheim event organizer Martha Griesheimer. "there is plenty to enjoy at this citywide celebration of Nordic traditions and heritage—join the fun!"
The festivities kick off with opening ceremonies on Thursday evening, July 25, 2019. Vesterheim will be open from 9:00 a.m. to 5:00 p.m. daily, with free admission on Thursday, July 25, and special events all day on Friday and Saturday, July 26 and 27.
Historic buildings in Vesterheim's Heritage Park will be open Friday and Saturday to tour on your own from 12:00-4:00 p.m. with no admission fee. Guided tours of the Heritage Park are at 10:30 a.m., 1:30 p.m., and 2:30 p.m. on Thursday (free) and Sunday (with admission ticket.) The Museum Store has extended hours from 9:00 a.m. until 8:30 p.m. on Thursday, Friday, and Saturday.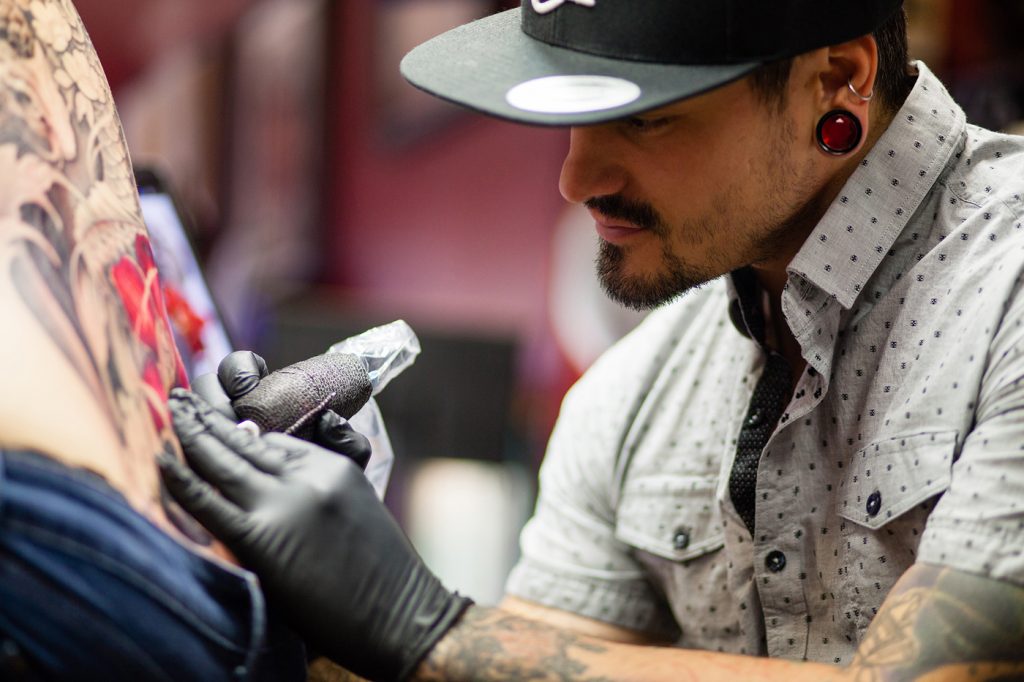 Vesterheim Event Highlights
There will be live tattooing demonstrations in the exhibit Tattoo: Identity through Ink in Vesterheim's Main Building. On Thursday, visitors can watch award-winning tattoo artist Brock Swenson create his designs. Swenson's tattoo appointments are pre-arranged. Throughout the day on Friday and Saturday, Erica Bessler from Brock's Valhalla Tattoo will offer walk-in flash art tattoos on a first-come, first-served basis. Create a special Nordic Fest memory by getting a new tattoo at Vesterheim.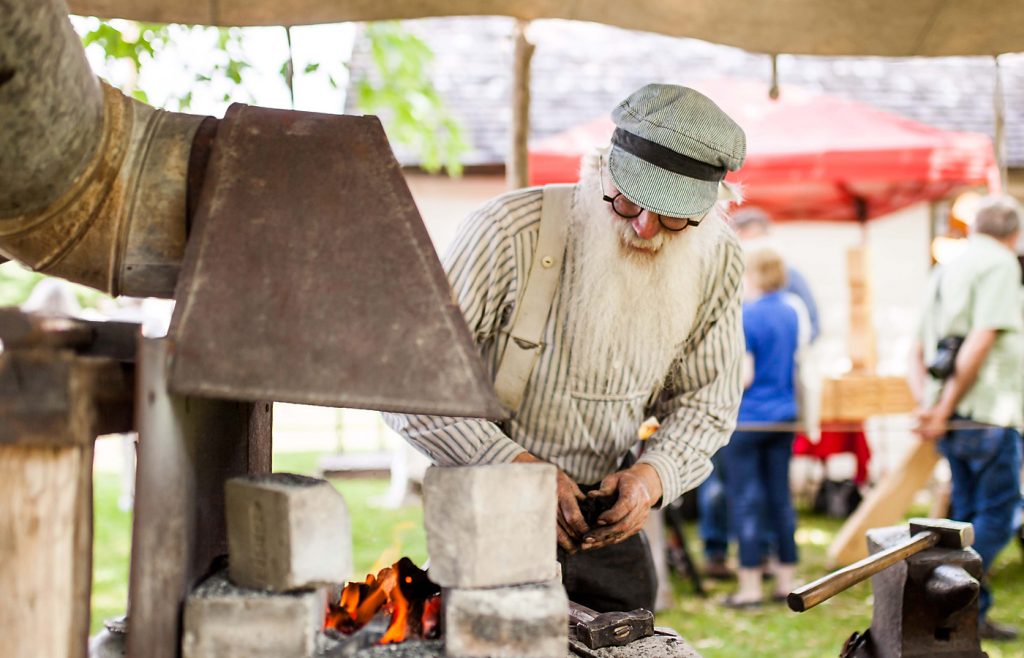 The museum's Heritage Park will come to life with Living Heritage Demonstrators. The craftspeople demonstrating include Tom Latané, blacksmithing; John Drewes, leatherwork and knifemaking; Bill Jaeger, figure carving; KJ Groven, forging; Jock Holmen, dragon entry portal carving; Kitty Latané, bandweaving; and Dick Enstad, ropemaking. New this year are Paul and Katie Nyborg, pottery and woodworking, and Marshall Scheetz, coopering (stave containers).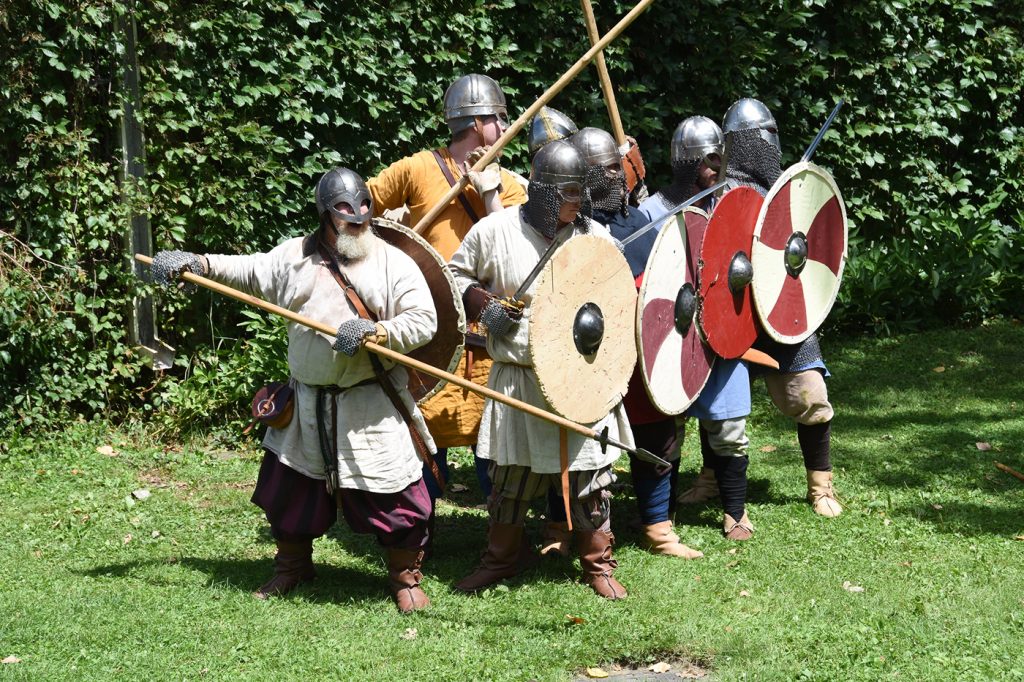 Vesterheim welcomes back the Viking re-enactment group "Skjaldborg," from Elk Horn, Iowa. Visit their Viking camp in the museum's Heritage Park to see how Vikings lived. They entertain with full combat demonstrations.
Ladies of the Fjord will perform in Vesterheim's Bethania Church at 1:30 p.m. on Saturday. This Hardanger fiddle duo of Karen Rebholz and Carlyce Skjervem will feature music from the Hardanger region with four different tunings and seven fiddles total. Performance includes lively stories and information about the tunes. This concert is dedicated to the memory of Gary D. Svenson (1939-2005) by his family.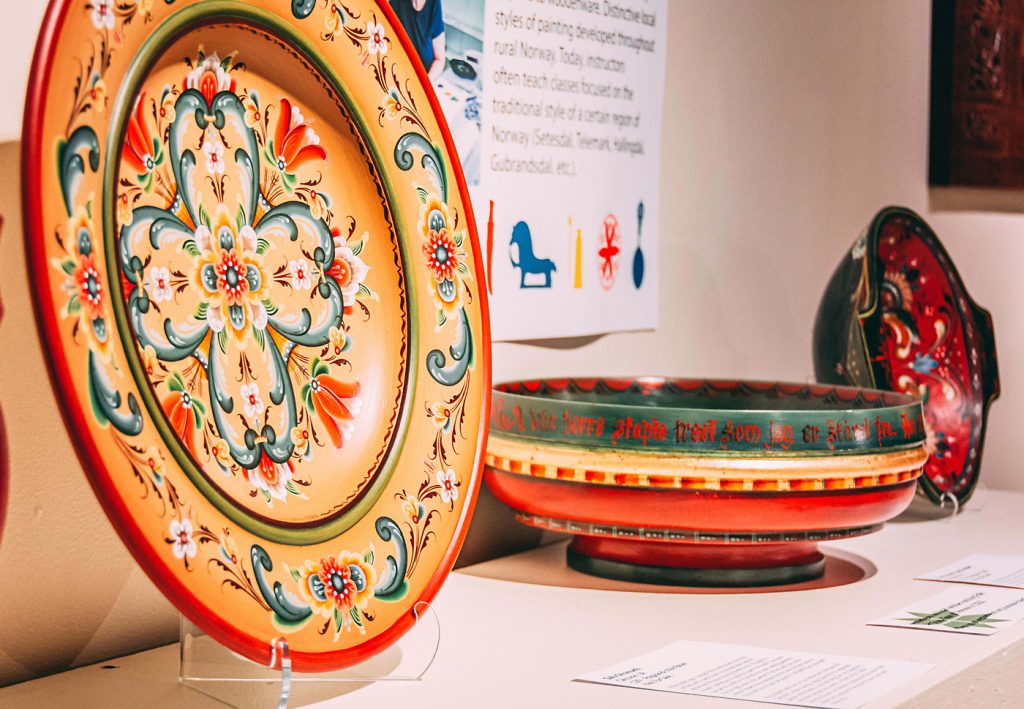 Vesterheim's National Norwegian-American Folk Art Exhibition will be on view through Saturday, July 27, 9:00 a.m. to 5:00 p.m. daily. Visitors can enjoy this exceptional exhibition of knifemaking, rosemaling, weaving, woodworking, and metalworking by some of the best contemporary American artists. Many of the pieces will be for sale by silent auction. Come and vote for People's Choice Award.
Outstanding folk artists in the Norwegian tradition will demonstrate their crafts throughout the campus. The Folk Art School Demonstrators, showcasing a variety of folk arts, will be under tents in the courtyard next to the Main Building. In Westby-Torgerson Education Center, there will be additional woodworkers, including Anneli Engeland from Norway, Steve Speltz, Becky Lusk, Philip Odden, and Else Bigton; and rosemalers, including Anne Hesvik from Norway, Patty Goke, Trudy Peach, Louise Bath, and Nancy Odalen; and Norwegian knifemaker Olav Mortensen.
There will be many folk-art items for sale by various artists and organizations, including the Country Gallery Antiques, Vesterheim Ribbon-Winning Rosemalers, and the Oneota Weavers Guild.
Explore the world of weaving, spinning, and textile production at Fiber Fun!, a new interactive space on the third floor of the Westby-Torgerson Education Center. There will be a variety of demonstrators and hands-on fiber activities, and skinnfell coverlets demonstrations by artist Britt Solheim from Norway.
Beatrice Hole and Floyd Foslien will give psalmodikon demonstrations. A psalmodikon is a stringed wooden musical instrument, primarily used in Scandinavia to play chorales for church singing.
Representatives from the Norwegian American Genealogical Center will be available from 9:00 a.m.- noon and 1:00-5:00 p.m. both days to offer genealogical research advice.
Todd Hoeg will take orders for the famous painted wooden Hoeg nisser, and local artist Carl Homstad will be on hand on Saturday to show and sell his popular Decorah-area landscape woodcut prints.
Nordic Fest is a celebration of the spirit of Scandinavia and includes fun activities for the whole family. Traditions new and old abound throughout the weekend. There will be lively dancing, challenging sporting events, delicious food, and lots of other entertainment. To learn more about other aspects of the fest, call 800-382-FEST, or check out the Nordic Fest website.
Through 33,000 artifacts and 12 historic buildings, Vesterheim, the national Norwegian-American museum and heritage center in Decorah, Iowa, shares the most comprehensive collection of Norwegian-American artifacts in the world. This treasure is also a center for folk-art education, offering a wide variety of classes in authentic Norwegian folk art every year. For more information on the museum's exhibitions, classes, events, membership opportunities, and ways to donate, check Vesterheim's website at vesterheim.org, call (563) 382-9681.