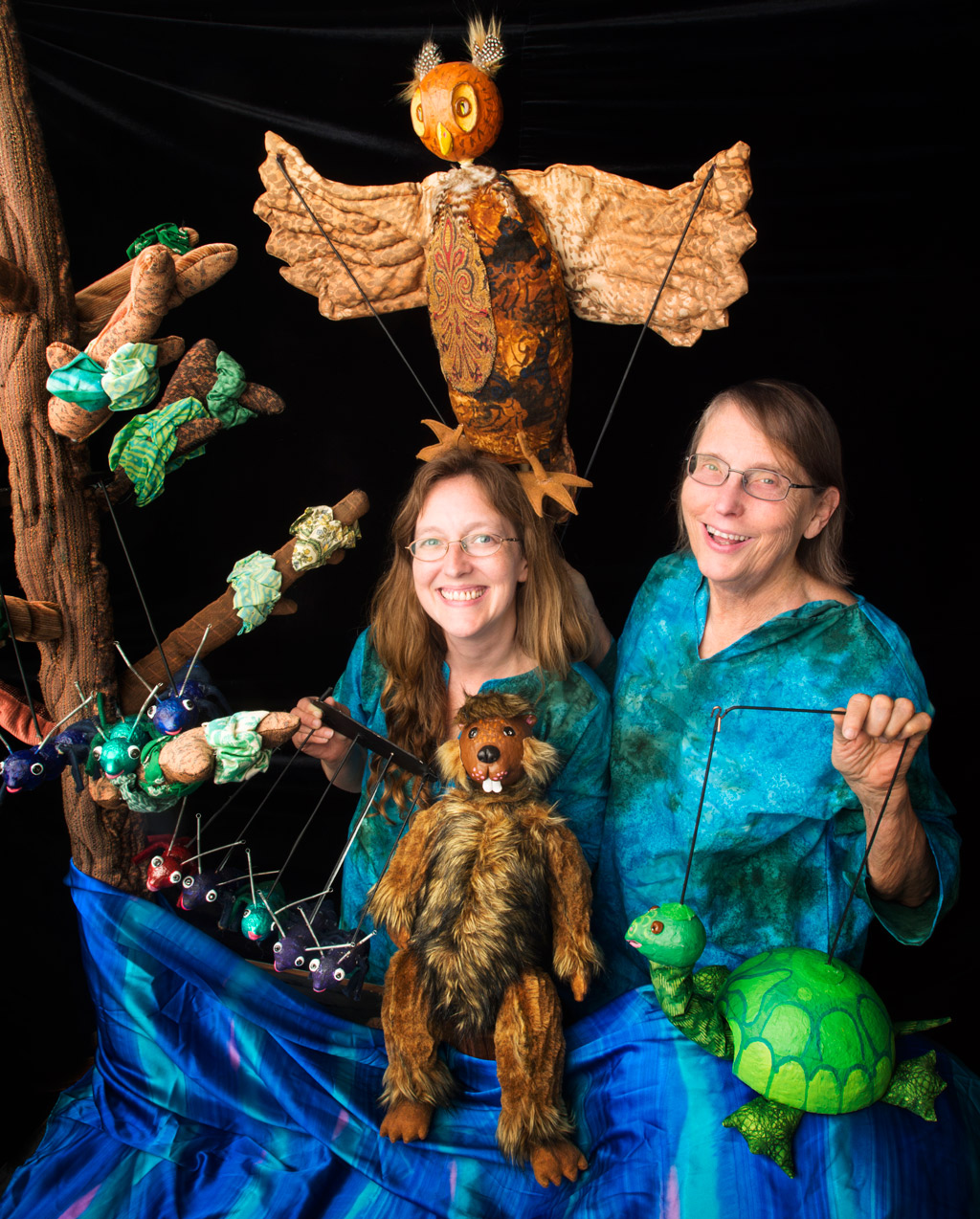 Who will win The Big Election for Leader of the Beasts? Will it be Benny P. (for Progress) Beaver … or will it be Terry E. (for Environment) Turtle? Listen to their stump speeches and decide who YOU want to vote for! But how about that colony of ants? There are a zillion of them; they could change the outcome! And Worm: will her vote count for anything? Madame Owl will keep you informed with her reports from the top of a tree.
Eulenspiegel Puppets' latest show, The Big Election, brought to you by puppeteers Monica Leo and Stephanie Vallez, will activate your kids' interest in our election process in a fun, fantastical, and imaginative way. This highly entertaining, interactive performance includes a mock election with paper ballots counted by "The Bunny Board of Elections." Children in attendance will receive an "I voted" sticker and a few other goodies—and will enjoy learning a catchy song about voting.
Thanks to support from HNI, ACT, U of I Community Credit Union, the Stanley Foundation, and generous donations to the Teri Jean Breitbach Memorial Fund, Eulenspiegel has been bringing puppet shows and workshops to Eastern Iowa neighborhoods all summer. Many performances of The Big Election are still to come in the Iowa City area and Muscatine County.
Iowa City
Thurs, August 1, 6:30 p.m., Terry Trueblood, Iowa City
Thurs. August 15, 6:30 p.m., Iowa City, Fairmeadows Park
Thurs, Aug. 22, 6:30 p.m., Riverfront Crossings Park, Iowa City
Thurs, Aug. 29, 6:30 p.m., Creekside Park, Iowa City
Sun, Sept. 8, 3 p.m., Reno Street, Iowa City
Sun, Sept. 22, 4 p.m., North Market Square, Iowa City
Sun, Sept. 29, 4 p.m., Benton Hill Park, Iowa City
Muscatine County:
Wed, Aug. 7, 5:30 p.m., Ron-de-Voo Park, West Liberty
Sat, Aug. 17, 2 p.m., Park Theater, Nichols
Email Monica Leo or call (319) 627-2487 for more information or to request a show in your neighborhood or at your school.