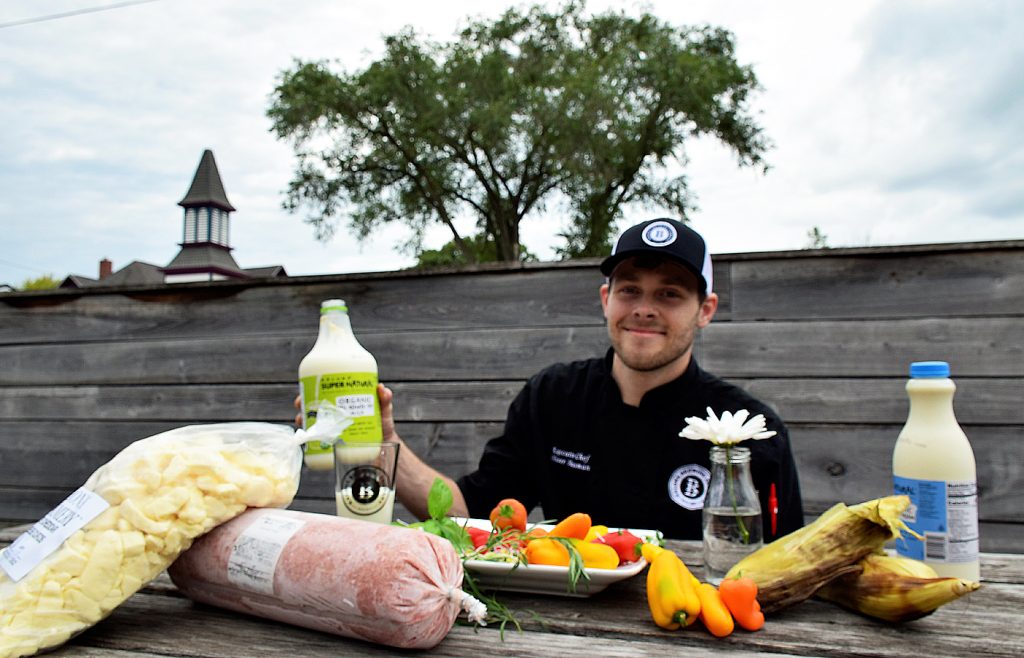 At Kalona Brewing Company restaurant, the owners and staff strongly believe in the importance of eating locally produced food, so regional ingredients are used whenever possible.
The elegantly cozy restaurant pairs their award-winning craft brews with delicious meals prepared in their largely from-scratch kitchen. The menu features wood-fired pizzas and flatbreads, burgers and other sandwiches, and daily fine-dining features. They hand cut their own French fries and make their sauces, soups, ketchup, mozzarella, and pickles in-house. Vegetarian, vegan, and gluten-free options are available. The restaurant uses 100 percent non GMO ingredients including non-GMO sunflower fryer oil.
Local suppliers include Kalona Organic Greens, Kalona SuperNatural, Farmer's Henhouse, Kalona Creamery, local grower Alan Horesowsky, Pavelka's Point Meats in Mount Pleasant, Under a Tin Roof in Wellman, and Ebert Honey in Mount Vernon.
Head Chef Oliver Hassman also has an "open door" invitation to local growers and producers, which allows them to make an appointment to stop in and show off their weekly harvest. Sometimes that produce will end up in a weekly special. Additionally, the staff picks fresh-grown herbs directly from their kitchen garden.
Hassman, who grew up seven miles south of Kalona with his two siblings, is a rising star in the culinary world. He enjoys creating new culinary delights using locally sourced ingredients that pair well with KBC's craft brews or wine.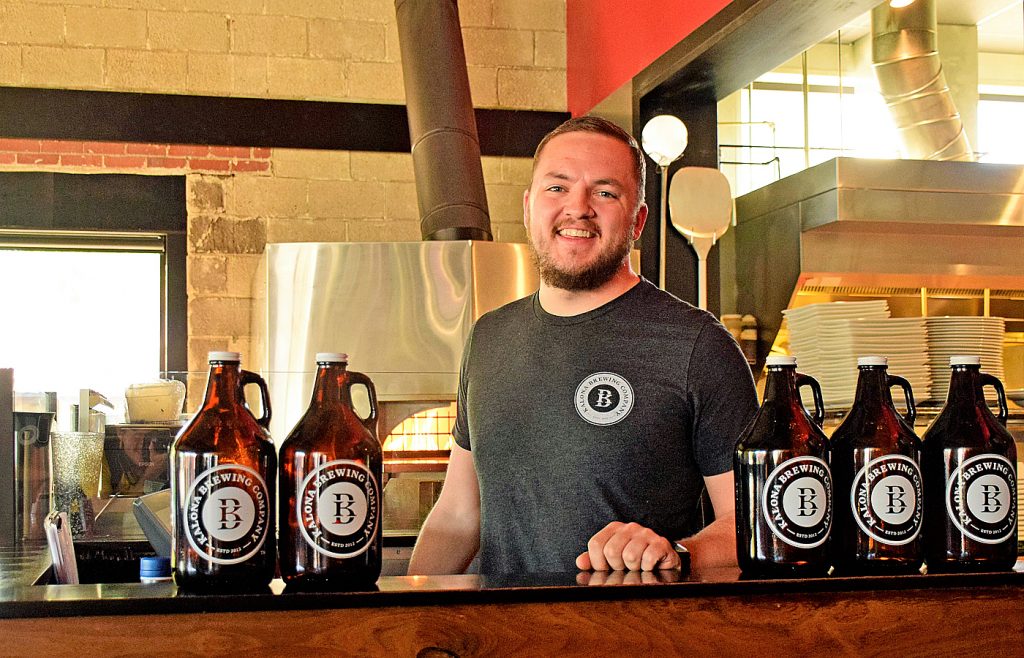 We asked Oliver Hassman and General Manager Elliot Lamb to answer some questions about their passion for using locally sourced food.
What drew you to Kalona Brewing Company?
Oliver Hassman: While I finished Culinary school at Kirkwood Community College, I got my first head chef position at Vesta in Coralville. I heard about an opening at the Kalona Brewing Company and I decided to apply, because it was back in my hometown and I had heard great things about their food and beer throughout the years. I knew I would fit in.
Elliot Lamb: While I was attending the U of I, I had a friend that worked here, and he said they were looking for a host. I started hosting a few days a week, and then slowly moved my way through the front of house positions, and then was eventually offered the job of general manager.
Why do you think it's important to use locally sourced food?
Elliot: Kalona is a very unique town that has a huge community focus, and we wanted to be a part of that as much as we are able.
Oliver: I believe in using locally sourced food as much as possible because it only helps local businesses thrive, and it helps make Kalona a destination place for so many people to visit. Not to mention the quality of locally organic foods that help bring out flavors in recipes.
Do you work with the same farmers and producers throughout the year?
Oliver: Some farmers can supply year round and some farmers are more seasonal with different types of produce.
How long have you been working with your farmers and producers?
Elliot: We have been working with farmers and producers from the opening of the restaurant in 2013.
Oliver: I started my Executive Chef position in October of 2018 and have been working with local farmers since then and trying to grow my relationships with new farmers around the area.
Do you come up with special menus to incorporate seasonal ingredients?
Oliver: Special menus would be used for a farm-to-table dinner with beer or wine pairings. On occasion, I'll create beer pairings that customers can order. I'll also create featured menu items as much as possible with local ingredients that are available.
How often does the menu change? Does your menu change seasonally?
Oliver: The menu changes two to three times a year, so I can work with farmers as much as I can.
Do you have a favorite food and drink pairings?
Oliver: I have done more wine pairings in my professional career than I have beer. With beer pairings, I've found that I very much enjoy trying to incorporate certain beers into my recipes. I plan to continue experimenting.
How is the KBC restaurant different from other restaurants?
Elliot: I believe we are different from other restaurants because of our from-scratch kitchen. We make almost every sauce and dressing, we make our pizza crust, we even make our own mozzarella.
Oliver: Atmosphere. Owners Ted Nagy and his wife, Becky, have done an outstanding job in accomplishing a great atmosphere, creating a place where people can come and talk about everything from the beers they're drinking to the food they're sharing.
What do you want people to know about the KBC restaurant that they might not be aware of?
Elliot: We're a from-scratch kitchen. We're not like most breweries when it comes to food.
Oliver: The desire for growth and improvement. We're always looking ahead at what our next steps can be. It keeps everything interesting and keeps the employees happy and valued.
What's your favorite thing about the KBC restaurant?
Elliot: My favorite thing about KBC is something that Ted and Becky Nagy instilled from day one, which is a family atmosphere. We're in a small town and supporting each other, and family is what makes this place a great fun environment.
Oliver: My favorite thing about KBC would have to be the staff. Coming to work everyday with coworkers that want to be here, experiment with something new, and have good attitudes is what makes KBC most enjoyable.